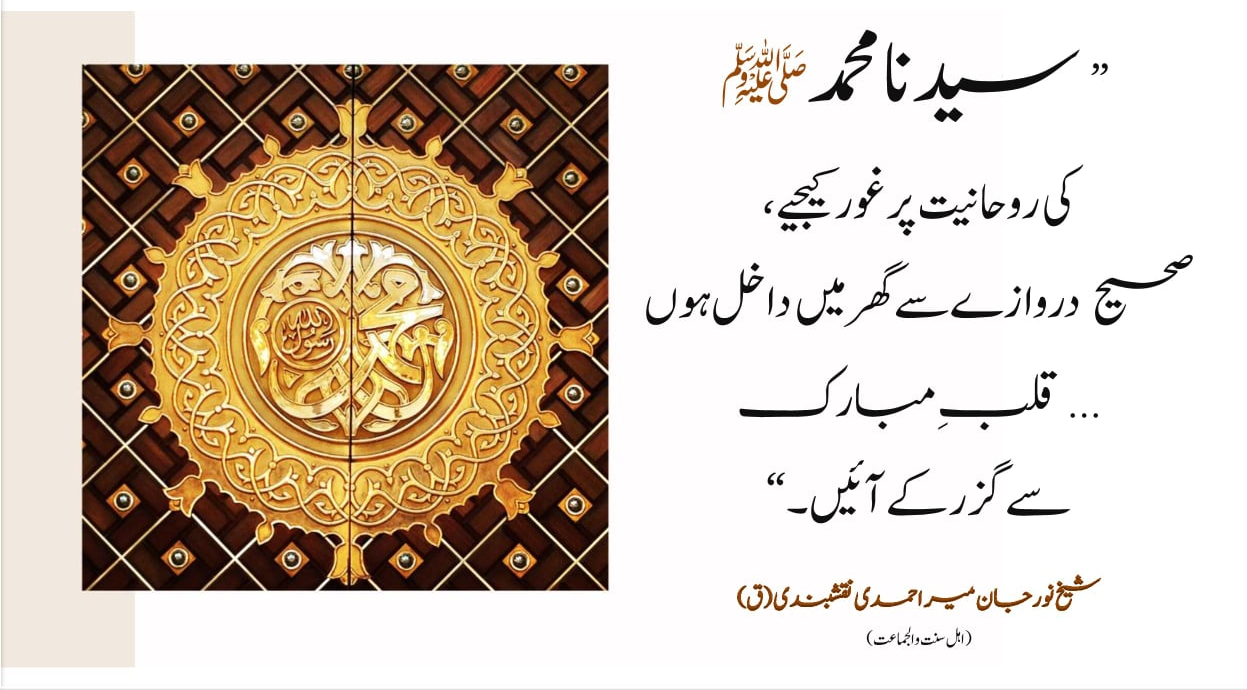 Urdu – روحانی سلاسل مادیت (ظاہر) پر غور نہیں کرتے: لوگ دریافت کرتے ہیں کہ وہ حضر…
روحانی سلاسل مادیت (ظاہر) پر غور نہیں کرتے: لوگ دریافت کرتے ہیں کہ وہ حضرت محمد ﷺ کو دیکھنا چاہتے ہیں۔ یہ سمجھنا ضروری ہے کہ نبی محمد ﷺ ہر جگہ موجود ہیں۔ فِيكُمْ ! وہ رسول اللہ ﷺ آپ کے درمیان موجود ہیں۔ وہ دروازہ تو مادیت کا ہے ہی نہیں جس سےگزر کےروحانی سلاسل اور طریقت آگے بڑھتے ہیں ۔ وہ ظاہری راستے سے گزر کے آنے اور صرف اِسی پر نظر جمانے کی تلقین نہیں کررہے ۔
وہ ظاہری حقائق کے لوگ ہیں جو کہتے ہیں کہ سب کچھ صرف سیدنا محمد ﷺ کی ظاہری ذات کے متعلق ہے ، وہ صرف سیرت طیبہ ( پڑھنا) چاہتے ہیں۔ وہ صر ف رسول اللہﷺ کی جسمانی زندگی کے بارے میں بات کرنا چاہتے ہیں ، رسول ﷺ کے ظاہری خصوصیات کے بارے میں بات کرنا چاہتے ہیں اور حضور ﷺ کے ابرو ، چہرہ اقدس کے نقوش، اُنکے مبارک ہاتھوں اور انکی لمبائی بیان کرتے رہتے ہیں– جو بہت خوبصورت حقائق ہیں۔ لیکن اولیاء اللہ کیلئے اللہ عزوجل فرما رہے ہیں:
' سیدنا محمد ﷺ کی روحانیت پرغور کیجیے۔'
…ۗ وَأْتُوا الْبُيُوتَ مِنْ أَبْوَابِهَا ۚ وَاتَّقُوا اللَّـهَ لَعَلَّكُمْ تُفْلِحُونَ
…"اور گھروں میں دروازوں سے داخل ہوا کرو ۔ اور اللہ کا شعور رکھو ، تاکہ تم کامیاب ہوجاؤ ۔ "
قرآن مجید( 2:189 )
وہ صحیح دروازہ جس کو پیغمبر اکرم ﷺ رو حانی سلاسل کیلئے ترجیح دے رہے ہیں، وہ یہ ہے کہ ' میرے قلب ِمبارک سے گُزر کے آئیں ۔ میری ظاہری شکل پر بےحد توجہ دینا، آپ کیلئے اہم نہیں ہے ۔ میرے قلب ِمبارک میں آجائیں اور میرے قلب سے آپ میری روح میں داخل ہو جاؤ گے'۔ اگر آپ اُن کی روح کے پاس جائیں گے تو اللہ (عز و جل) آپ کے نور کو رسول اللہ ﷺ کی روح میں داخل ہونے کی اجازت دےدیں گے۔
جبکہ ظاہری دنیا میں مستقل طور پر جدائی ہے–ایک گلاس اور ایک گلاس، جمع دو گلاس ہیں۔ لہذا مادیت کے دروازے پر آکر ، نبیﷺ کو ظاہری شکل میں دیکھنا، اور اپنے آپ کو مادیت کے عالم میں محدود رکھنے سے، آپ دو (الگ) ہو گئے۔اسِ طرح حقیقتِ محمدیہ ﷺ میں داخل ہونا زیادہ مشکل ہو جائے گا۔
تو وہ( اولیا٫اکرام) کیوں اِس (ظاہری) حقیقت پر فوکس نہیں کرتے ، کیونکہ نبی ﷺ نے فرمایا ہے ، "میری ظاہری شکل پر توجہ نہ دو ، اِسکے بارے میں فکر مندنہ ہوں ۔ یہ آپکو وہاں تک نہیں لے جائیگی، جہاں آپ پہنچناچاہتے ہیں۔ " ہمیں الفاظ کےساتھ محتاط رہنا ہوگا کیونکہ ہم سیدنا محمدﷺکے بارے میں بات کر رہے ہیں۔ "جہاں آپ پہنچناچاہتے ہیں وہ میرےقلبِ مبارک کی جانب ہے۔ مادی جسم کی فکر نہ کرو ، میری روحانیت باطن پر غوروفکر کیجیئے۔
نورِ محمدیہﷺ تک رسائی کا راستہ:
تب عاشقین نبیﷺ ہماری زندگی میں تشریف لاتے ہیں اور فرماتےہیں ،"درود شریف پڑھتے رہو ، درود شریف پڑھتے رہو " کیونکہ آپ کی فریکوئنسی (Frequency)اُس مقام پر نہیں ہے، جہاں نبی کریمﷺ کی روشنی میں داخل ہوا جاسکے ۔ قل جاء الحق ، (جب حق آئے گا) تو آپ ' زہوقا ' (فنا ہوجائیں گے)۔
وَ قُلْ جَآءَالْحَقُّ وَزَهَقَ الْبَطِلُ، إِنَّ الْبَطِلَ كَانَ زَهُوقًا
اور کہو ، " حق آگیا ، اور باطل مٹ گیا۔ ، یقیناً باطل (اپنی فطرت کے مطابق) تھا بھی نابود ہونے واﻻ"
قرآن مجید( 17:81)
اللہ عز و جل فرماتے ہیں: جب حق اور باطل آ منے سامنےہوں، تو باطل فطرتاً خودبخود مٹ جائے گا۔ تواگر آپ نبی ﷺ کی موجودگی میں بہت تیزی سے آنا چاہیں، تو آپ فنا ہوجائیں گے ، آپ کا وجود باقی نہیں بچے گا۔
شیخ نورجان میر احمدی نقشبندی (ق)
Our Translation of a passage from "I Want to See Sayyidina Muhammad (saws)"
Watch here: https://www.youtube.com/watch?v=mz4R3SDiTDM&feature=youtu.be
Read More: https://nurmuhammad.com/i-want-to-see-sayyidina-muhamm…/
Spiritual Paths Don't focus on the Physicality: People ask that they want to see Prophet Muhammad (saws)". It is important to understand that Prophet (saws) is everywhere. That Prophet (saws) Feekum, he is amongst you. To focus on the Physicality is not the door in which the Turuq and Tariqa is moving through.They are not asking to come through the physicality and to be fixated upon the physicality. Those are the people of external realities; that everything to do with Sayyidina Muhammad ﷺ, they want to do Seerah. They want to talk about the external life of Prophet ﷺ , talk about the external features of Prophet (sallallahu alayhi wa sallam) and keep describing the eyebrows, the holy face features, the hands and their length.
Focus on the Spirituality of Sayyidina Muhammad (saws): That is beautiful but for Awliyaullah where Allah (Azza wa Jal) is saying: enter the house through the correct door.
ۗ
وَلَـٰكِنَّ الْبِرَّ مَنِ اتَّقَىٰ ۗ وَأْتُوا الْبُيُوتَ مِنْ أَبْوَابِهَا ۚ وَاتَّقُوا اللَّـهَ لَعَلَّكُمْ تُفْلِحُونَ ﴿١٨٩…
2:189 – "… wa' tol buyoota min abwabiha, wat taqollaha la'allakum tuflihoon." (Surat al Baqara)
"… but righteousness is [in] one who is conscious of Allah. And enter houses from their doors. And be Conscious of Allah that you may succeed." (Holy Quran 2:189)
The correct door that Prophet ﷺ is preferring for the Turuq is: that come through my heart. That this fixation of my form is not important for you. Come to my heart and in my heart you will enter into my soul. If you come to his soul Allah (Azza wa Jal) will allow your light to enter into the soul of Prophet ﷺ .
Where the world of form is constantly separated, one glass and one glass are two glasses. So by coming to the door of the form, to see Prophet ﷺ in form, and to keep yourself in the world of form, you are two. That will become much harder to enter into the reality.
So why they (saints) don't focus on that reality is, that Prophet ﷺ said, "Don't focus on my form, don't worry about that. That is not going to get you where you want to go." We have to be careful with the words because we are talking about the Sayyidina Muhammad ﷺ . "Where you want to get to is to my heart. Don't worry about the physicality, worry about my spirituality."
The Way to Approach the Light of Prophet (saws): Then `Ashiqeen [lovers of the Prophet (saws)] come into our lives and say, "Keep making darood sharif, keep making durood shareef," because your frequency is not at a place with which to enter the light of Prophet ﷺ . Qul jaa al haqq, (when Truth comes) you will be zahooqa (annihilated).
وَ قُلْ جَآءَالْحَقُّ وَزَهَقَ الْبَطِلُ، إِنَّ الْبَطِلَ كَانَ زَهُوقًا
17:81 – "Wa qul jaa alhaqqu wa zahaqal baatil, innal batila kana zahooqa." (Surat Al-Isra)
"And say, "Truth has come, and falsehood has perished. Indeed falsehood, [by its nature], is ever perishing/bound to perish (The Night Journey 17:81)
Allah (Azza wa Jal) says: when the truth and falsehood come, falsehood by its nature will perish. Then if you come too quickly into the presence of Prophet ﷺ you will perish, you will be nonexistence.
(Sh. Nurjan Mirahmadi Naqshbandi Q)