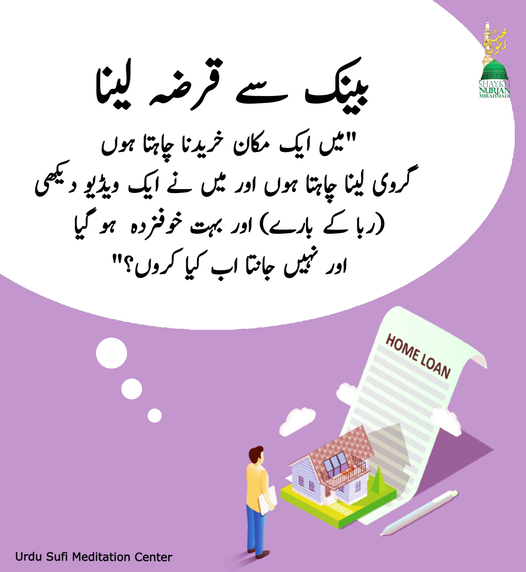 Urdu – ربا، مو رگیج، کریڈٹ کارڈز، بینک سے قرضہ لینا— کیا اس کی اجازت ہے؟ |Riba, Mortgag…

ربا، مو رگیج، کریڈٹ کارڈز، بینک سے قرضہ لینا— کیا اس کی اجازت ہے؟
|Riba, Mortgage, Credit Cards, Bank se Qarza lena— kya is ki ijazat hai ?
Riba, Mortgage, Credit Cards, Bank Loans, … is it permissible?
مولانا شیخ سید نور جان میر احمدی نقشبندی (ق) کی سنہری تعلیمات
اَعُوْذُ بِاللہ مِنَ الشَّیْطٰنِ الرَّجِیْمِ ۞
بِسْمِ اللہ الرَّحْمٰنِ الرَّحِیْمِ ۞
اَلَّھُمَّ صَلِّ عَلَی سَیَّدِنَا محَمَّدٍ ﷺ وَعَلَی آلِ سَیَّدِنَا محَمَّدٍ ﷺ
ربا (سود) ، 'یاشیخ میں ایک مکان خریدنا چاہتا ہوں ، میں گروی لینا چاہتا ہوں اور میں نے ( اس بارے میں ) ایک ویڈیو دیکھی اور میں بہت خوفزدہ ہو گیا اور اب پتہ نہیں میں کیا کروں'۔ اور نہیں ، درست نہیں ، آپ قرض لے سکتے ہیں، فکر نہ کریں، انشاء اللہ ۔ ربا کے مفہوم معانی ہے 'لون شارک' ( ایسی شرائط پہ قرض دینے والا ، جس سے چھٹکارا پانا زندگی بھر کیلئے ناممکن ہو) اور نبی کریم (ﷺ) ایسے قرض سے ہمیں خبردار فرما رہے تھے – لون شارکنگ ۔ لون شارک یہ ہے کہ آپ کسی ایسے لین دین میں داخل ہو جائیں جس سے آپ کبھی باہر نہیں نکل سکتے اور مثال کے طور پرانے وقتوں میں قرض دینے والے لون شارک 10 فیصد یومیہ پہ قرض دیتے تھے ، یعنی آپ نے جا کر 100 ڈالر قرض لیا اور ہفتہ بعد 1000 ڈالر قرض چڑھ گیا , آپ اس سے کبھی نہیں نکل سکتے تھے۔ یہ غلامی کی ایک شکل تھی کہ کسی کو قرض کی ادائیگی کے نظام میں ایسے غلام بنا لیتے کہ وہ کبھی چھٹکارا نہیں پا سکتے اور پرانے وقتوں میں وہ اُسے 'ایک پاونڈ گوشت 'کہا کرتے تھے ، اگر آپ نے ادائیگی نہیں کی تو وہ آئیں گے اور وہ آپ کے جسم کے کچھ حصے کاٹ لیں گے، اگر آپ قرض ادا نہ کر سکے، اور موت ہو جانے پر بھی قرض ختم نہ ہوتا ، یعنی اگر تم مر گئے تو قرض بچوں میں منتقل ہو جائے گا اور یہ مکمل طور پر حرام قرار دیا گیا تھا کیونکہ یہ قوم کو غلام بنانے کی ایک طریقہ تھا اور اس بارے میں نبی کریم (ﷺ) نے خبردار فرمایا تھا تھا ۔
|Riba,' ya Shaykh mein aik makaan khareedna chahta hon, mein girwi lena chahta hon aur mein ne ( is baray mein ) aik video dekhi aur mein bohat khaufzadah ho gaya aur ab pata nahi mein kya karoon '. Aur nahi, durust nahi, aap qarz le satke hain, fikar nah karen, InshaAllah . Riba ke mafhuum ma-ani hai' Loan Shark' (aisi sharait pay qarz dainay wala, jis se chhutkara paana zindagi bhar ke liye namumkin ho ) aur Nabi Kareem [saws] aisay qarz se hamein khabardaar farma rahay thay loan sharking. Loan Shark yeh hai ke aap kisi aisay lain-dain mein daakhil ho jayen jis se aap kabhi bahar nahi nikal satke aur misaal ke tor puranay waqton mein qarz dainay walay Loan Shark 10% yomiya pay qarz dete thay, yani aap ne ja kar 100 dollar qarz liya aur hafta baad 1000 dollar qarz charh gaya, aap is se kabhi nahi nikal satke thay. Yeh ghulami ki aik shakal thi ke kisi ko qarz ki adaigi ke nizaam mein aisay ghulam bana letay ke woh kabhi chutkara nahi pa satke aur puranay waqton mein woh ussay' aik pound gosht' kaha karte thay, agar aap ne adaigi nahi ki to woh ayen ge aur woh aap ke jism ke kuch hissay kaat len ge, agar aap qarz ada nah kar sakay, aur mout ho jane par bhi qarz khatam nah hota, yani agar tum mar gaye to qarz bachon mein muntaqil ho jaye ga aur yeh mukammal tor par haraam qarar diya gaya tha kyunkay yeh qoum ko ghulam bananay ki aik tareeqa tha aur is baray mein Nabi Kareem [saws] ne khabardaar farmaya tha tha .|
From the Golden Teachings of
Mawlana Shaykh Sayed Nurjan Mirahmadi Naqshbandi (qs)
Riba (usury), 'Oh shaykh I want to buy a house I want to get a mortgage and I saw a video and I was very scared and now I don't know what to do.' And no, not correct, you can get a loan don't worry inshaAllah. Riba is in its understanding is loan shark and what Prophet [saws] wanted for us to be aware is – loan sharking. Loan shark is that you enter into a relationship you can never get out of and old loan sharks it was 10 % per day for example, that you went and borrowed a hundred dollars by the end of the week you owed a thousand dollars. You could never get out of that. It was a form of slavery to enslave somebody into a payment system that they could never leave and in old days they called 'A pound of flesh,' if you didn't pay they came and they would cut you take parts of your body if you didn't pay the debt.
اب وہ لوگ جو ' ربا ' کے اس تصور کو بڑھاوا دیتے ہیں وہ غالباً ان ربا بینکوں کیلئے ہی کام کر رہے ہیں جو ' ربا بینک' ہیں، جہاں آکر کہتے ہیں: 'ٹھیک ہے ہم آپ کے ساتھ سرمایہ کاری کریں گے ، آپ آدھی ( رقم ) لائیں آدھا ہم ملاتے ہیں لیکن ( ساتھ میں ) 3500 کرایہ ادا کرو '۔ لہذا وہ سودی لین دین کا صرف نام بدل رہے ہیں اور ایک قسم کا کھیل کھیل رہے ہیں ، یہ سب سود کے مترادف ہے، اور وہ اپنی سرمایہ کاری سے شاید زیادہ رقم بٹورتے ہیں ، جتنی لگائی ہے اُس سے زیادہ لیتے ہیں ۔ لہذا یہ حل نہیں ہے۔ وہ صرف ایک مسئلے کو بڑھاوا دینا ہے اور ایک غلط فہمی اور غلط حل دینا چاہتے ہیں کہ 'ہمارا سسٹم استعمال کریں جس میں ہم آپ کی جائیداد کا 50 فیصد لیں گے اور آپ اُتنی ہی رقم کی ادائیگی کریں گے، اگر آپ بینک کے رہن کے ساتھ موازنہ کریں ، تو وہ صرف چیزوں کا نام تبدیل کر رہے ہیں اور اللہ (عزوجل) کے دین کے ساتھ چالیں چل رہے ہیں۔
|Ab woh log jo' riba' ke is tasawwur ko brhhawa dete hain woh ghaliban un 'Riba banks' ke liye hi kaam kar rahay hain jo' Riba bank' hain, jahan aakar kehte hain :' theek hai hum aap ke sath sarmaya kaari karen ge, aap aadhi ( raqam ) layein aadha hum milatay hain lekin ( sath mein ) 3500 kiraya ada karo '. Lehaza woh soodi lain deen ka sirf naam badal rahay hain aur aik qisam ka khail khail rahay hain, yeh sab sood ke mutradif hai, aur woh apni sarmaya kaari se shayad ziyada raqam batorty hain, jitni lagai hai uss se ziyada letay hain. Lehaza yeh hal nahi hai. woh sirf aik maslay ko brhhawa dena hai aur aik ghalat fehmi aur ghalat hal dena chahtay hain ke' hamara system istemaal karen jis mein hum aap ki jaedad ka 50% len ge aur aap utni hi raqam ki adaigi karen ge, agar aap bank ke rehan ke sath mawazna karen, to woh sirf cheezon ka naam tabdeel kar rahay hain aur Allah (AJ) ke deen ke sath chaalein chal rahay hain.|
And the debt was not excusable in your death, that if you died the debt went to your children and that was completely haram (forbidden) because it was a form of enslaving the nation and that was what Prophet [saws] warned us from. Now the people who push this idea of 'Riba' they're probably working for those riba banks which are 'Riba banks' where they come and they say that 'Okay we'll invest with you, you put half we put half but pay $3,500 a month rent to us.' So they're just renaming something of interest and playing some sort of a game, that's all same as interest and they're probably taking a bigger stake than what they should be taking for the investment that they put, so that's not the solution. That they only want to magnify a problem and give a false understanding and solution that 'Use our system in which we're going to take 50% of your property and you're going to end up being paying the same amount that if you compared with your bank mortgage. They're just renaming things and playing tricks with Allah's (AJ) religion .
لہذا، پھر وہی مذہب ( مکتبہ فکر ) اس نظام کو قائم کررہا ہے ۔ یہ ایسا ہے جیسے بنی اسرائیل کو اللہ (عزوجل) کا حکم ہو ا : سبت (عبادت کے دن ) مچھلی کا شکار مت کرو اور انہوں نے کہا: ٹھیک ہے اللہ (عزوجل) ہم سبت پر مچھلی نہیں پکڑیں گے۔ انہوں نے اپنا جال سمندر پر بچھا دیا اور جا کر نماز پڑھنے لگے اور جب واپس آئے تو جال مچھلیوں سے بھر گیا۔ اور اللہ (عزوجل نے فرمایا) یہ تم کیا کر رہے ہو؟ تم نے تو یومِ سبت مچھلی کا شکار نہیں کرنا تھا ۔ کہنے لگے : نہیں ہم نے نہیں کیا ، ہم نے جال بچھایا اور اس نے پکڑلیا جو اس (جال) نے پکڑنا تھا ۔
وَاسْأَلْهُمْ عَنِ الْقَرْيَةِ الَّتِي كَانَتْ حَاضِرَةَ الْبَحْرِ إِذْ يَعْدُونَ فِي السَّبْتِ إِذْ تَأْتِيهِمْ حِيتَانُهُمْ يَوْمَ سَبْتِهِمْ شُرَّعًا وَيَوْمَ لَا يَسْبِتُونَ ۙ لَا تَأْتِيهِمْ ۚ كَذَٰلِكَ نَبْلُوهُم بِمَا كَانُوا يَفْسُقُونَ ۞
اور آپ ان سے اس بستی کا حال دریافت فرمائیں جو سمندر کے کنارے واقع تھی، جب وہ لوگ سبت کے دن حد سے تجاوز کرتے تھے اور یہ کہ مچھلیاں سبت ہی کے دن ابھر ابھر کر سطح پر ان کے سامنے آتی تھیں اور سب کے سوا باقی دنوں میں نہیں آتی تھیں۔ یہ اس لیے ہوتا تھا کہ ہم ان کی نافرمانیوں کی وجہ سے ان کو آزمائش میں ڈال رہے تھے
سورۃ الاعراف (7) آیت 136
|Lehaza, phir wohi mazhab (maktaba fikar) is nizaam ko qaim kar raha hai. Yeh aisa hai jaisay Bani Israel ko Allah (AJ) ka hukum ho a : sabt ( ibadat ke din ) machhli ka shikaar mat karo aur unhon ne kaha : theek hai Allah (AJ) hum sabt par machhli nahi pakren ge. Unhon ne apna jaal samandar par bichaa diya aur ja kar namaz padhany lagey aur jab wapas aaye to jaal machhliyon se bhar gaya. Aur Allah ( AJ ne farmaya ) yeh tum kya kar rahay ho? Tum ne to yome sabt machhli ka shikaar nahi karna tha. Kehnay lagey: nahi hum ne nahi kya, hum ne jaal bichhaya aur is ne pakerliya jo is ( jaal ) ne pakarna tha [ Quran 7:136: "Aur aap un se is bastii ka haal daryaft farmaen jo samandar ke kinare waqay thi, jab woh log sabt ke din had se tajawaz karte thay aur yeh ke machhliyan sabt hi ke din ubhar ubhar kar satah par un ke samnay aati theen aur sab ke siwa baqi dinon mein nahi aati theen. yeh is liye hota tha ke hum un ki nafarmaniyo ki wajah se un ko azmaish mein daal rahay thay"]
So again that's that same madhab (school of islamic law) is putting out that system, that was like similar to when Bani Israel (Children of Israel) were told by Allah (AJ) that 'Do not fish on Shabbat' and they said "Okay Allah (AJ) we won't fish on shabbat," they threw their net onto the ocean then they went and prayed and when they came back the net was filled with fish. And Allah (AJ), 'What are you doing? You weren't supposed to fish on shabbat.' Said "No we didn't, we put the net and it caught what it caught" [they replied].
وَاسْأَلْهُمْ عَنِ الْقَرْيَةِ الَّتِي كَانَتْ حَاضِرَةَ الْبَحْرِ إِذْ يَعْدُونَ فِي السَّبْتِ إِذْ تَأْتِيهِمْ حِيتَانُهُمْ يَوْمَ سَبْتِهِمْ شُرَّعًا وَيَوْمَ لَا يَسْبِتُونَ ۙ لَا تَأْتِيهِمْ ۚ كَذَٰلِكَ نَبْلُوهُم بِمَا كَانُوا يَفْسُقُونَ ﴿١٦٣﴾
7:163- "Was'alhum 'anil qaryatil latee kaanat haadiratal bahri iz ya'doona fis Sabti iz ta'teehim heetaanuhum yawma Sabtihim shurra'anw wa yawma laa yasbitoona laa ta'teehim; kazaalika nabloohum bimaa kaanoo yafsuqoon." (Surah Al-A'raf)
"Ask them concerning the town standing close by the sea. Behold! they transgressed in the matter of the Sabbath. For on the day of their Sabbath their fish did come to them, openly holding up their heads, but on the day they had no Sabbath, they came not: thus did We make a trial of them, for they were given to transgression." ( The Heights,7:163)
ہاں ، لوگ ہوشیار بننے اور لوگوں کو خوفزدہ کرنے کی کوشش کر رہے ہیں۔ اب جدید دور کے بینکنگ سسٹم کو دیکھیں کہ اگر آپ مکان خریدنے جاتے ہیں اور کوئی آپ کے ساتھ 30 سال کا وقت سرمایہ کرنے لگا ہے اور وہ آپ کو خریداری کی قیمت کا 70فیصد دے رہا ہے اور وہ صرف 2 سے 3 فیصد چارج کرے گا، آپ کو خاندان کا ایک فرد ایسا نہیں ملے گا جو ایسا کرے ، جو صرف 3 فیصد لے اور 30 سال ( رقم کی واپسی ) کا انتظار کرے ۔ اس میں ایسا کچھ بھی نہیں، کچھ بھی نہیں ہے ، سود جیسا کچھ نہیں، (بلکہ ) یہ ایک بری سرمایہ کاری لگتی ہے کیونکہ کون اپنی رقم کی واپسی کیلئے 30 سال انتظار کرے گا ؟
| Haan, log hooshiyar ban'nay aur logon ko khaufzadah karne ki koshish kar rahay hain. Ab jadeed daur ke banking system ko dekhen ke agar aap makaan kharidne jatay hain aur koi aap ke sath 30 saal ka waqt sarmaya karne laga hai aur woh aap ko kharidari ki qeemat ka 70 feesad day raha hai aur woh sirf 2 se 3 feesad charge kere ga, aap ko khandan ka aik fard aisa nahi miley ga jo aisa kere, jo sirf 3 feesad le aur 30 saal ( raqam ki wapsi ) ka intzaar kere. Is mein aisa kuch bhi nahi, kuch bhi nahi hai, sood jaisa kuch nahi, ( balkay ) yeh aik buri sarmayakaari lagti hai kyunkay kon apni raqam ki wapsi ke liye 30 saal intzaar kere ga ?|
Yeah, people trying to be clever and make people to be scared. Now look at the modern day banking system that if you go to buy a house and somebody is going to invest 30 years of time with you and they're going to give you 70 % of the purchase price and they're only going to charge you 2 to 3% percent, you can't find a single family member who would do that, who will only take 3% and wait 30 years for you to pay them back. That has nothing, nothing, anything like riba, that just sounds like a bad investment because who's going to sit there for 30 years waiting to get their money back?
حقیقت یہ ہے کہ وہ ایسا کرتے ہیں، الحمد اللہ، یہ ایک ایسی قوم کیلئے نعمت ہے جدھر ایک ایسا نظام موجود ہے جس کا مقصد لوگوں کیلئے دولت بنانا ہے ۔ لوگوں کا کہنا ہے کہ یہ ایک اجنبی طریقہ ہے ، کیونکہ انہوں نے کبھی یہ نہیں سنا ۔ یہ امریکہ اور کینیڈا کی بے انتہا برکات ہیں ، مجھے یورپ کے بارے میں علم نہیں ، میں نہیں سمجھتا کہ ایسا نظام یورپی بینکوں میں موجود ہیں۔ وہ (قوم ) دولت اور مواقع پیدا کرتے ہیں جسے وہ 'آزاد سرزمین' کہتے ہیں، ان کا نظام یہ ہے کہ لوگوں کیلئے دولت کیسے پیدا جائے ، اس نظام پہ مبنی تھا ، کہ کوئی بھی شخص جس کے پاس کچھ نہ ہو ، تھوڑا بہت پیسہ بچائے اور زمین کا مالک بن سکے اور اس نتیجے میں ان کی ساری زندگی بدل جائے گی۔
|Haqeeqat yeh hai ke woh aisa karte hain, Alhamdulilah, yeh aik aisi qoum ke liye nemat hai jidhar aik aisa nizaam mojud hai jis ka maqsad logon ke liye doulat banana hai. Logon ka kehna hai ke yeh aik ajnabi tareeqa hai, kyunkay unhon ne kabhi yeh nahi suna. Yeh America aur canada ki be intahaa barkaat hain, mujhe Europe ke baray mein ilm nahi, mein nahi samjhta ke aisa nizaam Europi bankon mein mojood hain. Woh ( qoum ) doulat aur mawaqay peda karte hain jisay woh' azad sarzameen' kehte hain, un ka nizaam yeh hai ke logon ke liye doulat kaisay peda jaye, is nizaam pay mabni tha, ke koi bhi shakhs jis ke paas kuch nah ho, thora bohat paisa bachaaye aur zameen ka maalik ban sakay aur is nateejay mein un ki saari zindagi badal jaye gi.|
The fact that they do that alhamdulillah this is a.. it's a blessing for a nation that has a system in which to make wealth for people. That's a bizarre way of people saying, because they've never heard that. That the immensity of the blessings of America and Canada, I don't know about Europe I don't think European banks are in that system, they create wealth and opportunity in what they call 'The land of the free.' Their system of how to create wealth for people was based on this, that somebody from nothing could save a little bit of money and become a landowner and their whole lives would change as a result of that.
تو ایک ایسا ادارہ بنا جو آ کر 70 سے 80فیصد پیسہ لگائے گا ، ماہانہ کی بنیاد پر تھوڑی سی فیس وصول کرے گا، امید ہے کہ تم اسے ادا کرو اور اگر تم اسے ادا نہیں کرتے ہیں اور دیوالیہ جمع کرواتے ہو ، تو خسارہ اُن کا ہے ۔ لیکن اس کے نتیجے میں، دولت بنانے کا ایک زبردست موقع ملا۔ لہذا سوچئے کہ اگر مسلم کمیونٹی مکانات خریدے اور جائیدادیں خریدے ، تو ان کی کتنی طاقت ہوگی ، معاشرے میں ان کی معاشی طاقت ہوگی لیکن پھر شیطان آکر ان سے کہتا ہے کہ 'یہ ربا ، ربا ، ربا ' ، تاکہ آپ اُن لوگوں (لون شارک ) کے گروپ کے ساتھ بینک کریں ، یا آپ بینک کے پاس جائیں ہی ناں اور آپ صرف اپارٹمنٹ کرایہ پر لیتے رہیں۔ لہذا ، اس کا لون شارکنگ سے کوئی تعلق نہیں ، جدید دور کا نظام دراصل ایک ایسا نظام ہے جو لوگوں کو اپنے مالی حالت تبدیل کرنے کا موقع دیتا ہے کہ جو گھر آپ نے خریدا، 10 سال میں 30 فیصد کے ساتھ ،اگر اس ( کی مالیت ) بڑھ جاتی ہے اور ہر سال 10 فیصد اضافہ ہو تا ہے تو اس خریداری کے نتیجے میں آپ کی دولت میں کتنا اضافہ ہوا ۔
|Toh aik aisa idaara bana jo aa kar 70 se 80 feesad paisa lagaye ga, mahana ki bunyaad par thori si fees wusool kere ga, umeed hai ke tum usay ada karo aur agar tum usay ada nahi karte hain aur dewalia jama kerwatay ho, to khasara unn ka hai. lekin is ke nateejay mein, doulat bananay ka aik zabardast mauqa mila. lehaza sochye ke agar Muslim community makanaat khareeday aur jayidadin khareeday, to un ki kitni taaqat hogi, muashray mein un ki muashi taaqat hogi lekin phir shaytan aakar un se kehta hai ke' yeh riba, riba, riba ', taakay aap unn logon ( Loan Shark ) ke group ke sath bank karen, ya aap bank ke paas jayen hi naa aur aap sirf apartment kiraya par letay rahen. lehaza, is ka loan sharking se koi talluq nahi, jadeed daur ka nizaam darasal aik aisa nizaam hai jo logon ko –apne maali haalat tabdeel karne ka mauqa deta hai ke jo ghar aap ne khareeda, 10 saal mein 30% ke sath, agar is ( ki maliyat ) barh jati hai aur har saal 10% izafah hotaa hai to is kharidari ke nateejay mein aap ki doulat mein kitna izafah huwa.|
So there was an institution that would come and put 70 % of the money 80 % of the money, charge a small fee on a monthly basis, hope that you pay it and if you don't pay it and file bankruptcy they lost, but as a result it opened a tremendous opportunity for wealth. So imagine if the Muslim community bought homes and bought properties, the strength they would have, financial strength they would have within the community but then shaitan (satan) comes and tells them 'This riba, riba, riba,' so that you bank with those groups or you don't bank at all and you just keep renting an apartment. So no it has nothing to do with loan sharking, the modern day system is actually a system that allows people to change their financial condition for the house that you bought with 30 % in 10 years if it went up and appreciated 10 % per year imagine how much your wealth has increased as a result of that purchase.
تو یہ وہ مواقع ہیں، جن کی اجازت صرف کچھ ممالک میں ہے ، دوسرے ممالک کو ، لوگوں کیلئےجائیداد خریدنے کی کوئی فکر نہیں اور ان کی آبادی ہمیشہ غربت کی حالت میں رہتی ہے ۔ تو یہ سب ایک نعمت ہے جو اللہ(عزوجل) نے دی۔ جب یہ مغربی دنیا قائم ہورہی تھی ، پوری دنیا میں زمینداروں کا ایک نظام تھا ، تو جب زمیندار سینکڑوں اور ہزاروں ایکڑ اراضی کے مالک ہوں اور اگر آپ کے پاس اس زمین کی ملکیت ہو تو اسے فروخت کرنے کی کوئی وجہ نہ تھی ، آپ نے ان لاکھوں ایکڑ زمین کو اپنی اولاد کے حصے میں دے دیا، انہوں نے مزید دس ہزار ایکڑ خرید لئے، مزید دس ہزار ایکڑ خریدے۔ پھر کیا ہوا، 1 فیصد سے بھی کم (آبادی) تمام زمین کی مالک بن گئی ۔ یہ قوم سمجھ گئی کہ ہماری عوام، ان کی دولت اور آزادی کا واحد راستہ یہ ہے کہ انہیں زمین کا مالک بننا پڑے گا ، آپ جانتے ہیں کہ امریکہ قائم ہوا اور یہ ممالک قائم ہوئے ، کہ عوام کو مالک بننا پڑے گا تو انہوں نے اسلام سے کیا سمجھا؟ انہوں نے پراپرٹی ٹیکس بنایا۔ لہذا پراپرٹی ٹیکس کی ایجاد کا مقصد ان زمینداروں سے زمین لینا تھی ، کوئی لاکھ ایکڑ پر بیٹھا ہوا تھا ، حکومت نے کہا 'ٹھیک ہے اگر تم اس (زمین ) پر قبضہ رکھو گے اور لوگوں کو نہیں دو گے تاکہ لوگ آکر خریدسکیں، اور کھیتی باڑی کریں اور زمین پر کام کریں اور اپنی زندگیاں بہتر بنائیں تو اب تم پر پراپرٹی ٹیکس لازم ہے۔ ' ٹھیک ہے اس سے سب اپنی تمام بنیا دی پراپرٹی فروخت کرنے پر مجبور ہوئے ، ' ٹھیک ہے ، ہم اپنے پاس یہ (زمین )نہیں رکھنا چاہتے ، سب بیچ دیتے ہیں' اپنی بنیادی چیزوں کے علاوہ جو ضروری تھیں۔
|Toh yeh woh mawaqay hain, jin ki ijazat sirf kuch mumalik mein hai, dosray mumalik ko, logon ky liye jaedad kharidne ki koi fikar nahi aur un ki abadi hamesha gurbat ki haalat mein rehti hai. To yeh sab aik nemat hai jo Allah (AJ) ne di. Jab yeh maghribi duniya qaim horahee thi, poori duniya mein zamindaron ka aik nizaam tha, to jab zamindar senkron aur hazaron aekar araazi ke maalik hon aur agar aap ke paas is zameen ki malkiat ho to usay farokht karne ki koi wajah nah thi, aap ne un lakhoon aekar zameen ko apni aulaad ke hissay mein day diya, unhon ne mazeed das hazaar aekar khareed liye, mazeed das hazaar aekar khareeday. Phir kya hwa, 1 feesad se bhi kam ( abadi ) tamam zameen ki maalik ban gayi. Yeh qoum samajh gayi ke hamari awam, un ki doulat aur azadi ka wahid rasta yeh hai ke inhen zameen ka maalik ban'na parre ga, aap jantay hain ke America qaim hwa aur yeh mumalik qaim hue, ke awam ko maalik ban'na parre ga to unhon ne islam se kya samjha? Unhon ne propert tax banaya. lehaza properly tax ki ijaad ka maqsad un zamindaron se zameen lena thi, koi laakh aekar par betha hwa tha, hukoomat ne kaha' theek hai agar tum is ( zameen ) par qabza rakho ge aur logon ko nahi do ge taakay log aakar kharid saken, aur khaiti baari karen aur zameen par kaam karen aur apni zindaganian behtar banayen to ab tum par property tax lazim hai.' theek hai is se sab apni tamam baniadi properly farokht karne par majboor hue,' theek hai, hum apne paas yeh ( zameen ) nahi rakhna chahtay, sab beech dete hain' apni bunyadi cheezon ke ilawa jo zaroori theen.|
So those are opportunities that are only allowed in certain countries, other countries have no concern for people to buy property and their population are always put into a position of poverty. So all of these are a ni'mat (blessing) that Allah (AJ) brought. When this western world was being established, the whole world had a system of land owners so when landowners they would own hundreds and thousands of acres and if you owned the land there was no reason to sell it, you gave those hundred thousand acres to your children, they bought another ten thousand acres, another ten thousand. What happened is then less than 1 % owned everything. This nation understood that our people their only way of wealth and independence is they have to own land, you know America was established and these countries were established, that the people have to own so what did they understood from Islam – they created property tax. So the invention of property tax was to take land away from these landowners, somebody sitting with 100,000 acres, the government said 'Okay if you're going to sit on it and not give it to the people so that people can come and buy the land and farm the land and work the land and improve their lives then you owe us now a property tax.' Well that made everybody sell all their essential property, 'That's it we're not going to hold it, sell everything,' except the core things that they want.
یہ نبی کریم (ﷺ) کی طرف سے قائم کیا گیا نظام تھا، جسے ہم زکوة (صدقہ) کہتے ہیں ، ایک ہی مفہوم ہے ۔ نبی کریم (ﷺ) جانتے ہیں کیونکہ یہ آسمان سے ایک ہدایت نامہ ہے کہ اگر ان لوگوں کو اپنی رقم ملے ، اپنا سونا، اپنا مال ملے اور اس پر بیٹھ جائیں گے اور یہ دولت کمیونٹی میں کبھی گردش نہیں کرے گی اور اس کے نتیجے میں کمیونٹی بنجر ہو جائے گی – جی جیسے خاندانوں کا ایک چھوٹا سا گروپ ہر چیز کا مالک بن جائے اور باقی سب بس غریب رہیں۔ لہذا ، تصور یہ تھا کہ اگر وہ اس پر قبضہ کر کے رکھیں گے تو آپ ان پر ٹیکس لگادیں اور اسی وجہ سے آپ کی ہر ملکیت پر زکوۃٹیکس عائد ہے۔ اگر آپ کے پاس سونا ہے ، آپ اس کے مالک رہنا چاہتے ہیں ،کوئی حرج نہیں ہے آپ اس پر بارہا ٹیکس ادا کریں اور ہر سال آپ اس پر ٹیکس دیتے رہیں گے ہیں ، آپکی سیونگز ( بچت ) پہ ، جو نقد رقم آپکے پاس ہے ، آپکی رہائشی املاک پہ ، آپ کے پاس جو اثاثہ جات ہیں ، سب کچھ پہ ٹیکس ادا کریں گے ۔
|Yeh Nabi Kareem [saws] ki taraf se qaim kya gaya nizaam tha, jisay hum zakaat ( sadqa ) kehte hain, aik hi mafhuum hai. Nabi Kareem [saws] jantay hain kyunkay yeh aasman se aik hadaayat nama hai ke agar un logon ko apni raqam miley, apna sona, apna maal miley aur is par baith jayen ge aur yeh doulat community mein kabhi gardish nahi kere gi aur is ke nateejay mein community banjar ho jaye gi – jee jaisay khandano ka aik chota sa group har cheez ka maalik ban jaye aur baqi sab bas ghareeb rahen. Lehaza, tasawwur yeh tha ke agar woh is par qabza kar ke rakhen ge to aap un par tax lgadin aur isi wajah se aap ki har malkiat par zakat tax aed hai. Agar aap ke paas sona hai, aap is ke maalik rehna chahtay hain, koi harj nahi hai aap is par baar'ha tax ada karen aur har saal aap is par tax dete rahen ge hain, apkee savings ( bachat ) pay, jo naqad raqam apke paas hai, apkee rehaishi amlaak pay, aap ke paas jo asasa jaat hain, sab kuch pay tax ada karen ge.|
That was established by Prophet [saws] in what we call zakat (Charity), same understanding. Prophet [saws] knows because this is a manual from heaven, that if these people take their cash take their gold take their wealth and sit on it they will never move that money in the community and as a result the community will become barrens – you know a small group of families owning everything and everyone else just poor. So the concept was, if they're going to hold it you're going to tax them and so that's why zakat is taxed on everything you own. If you have gold you held it no problem you're going to pay tax on it again and every year you pay tax on it, pay tax on the savings you have, cash you have, real estate you have, assets you have, everything.
اور اب اس زمین پر خیرات کے پیسے کا سب سے بڑا بہاؤ زکوٰۃ فنڈز ہے۔ لہذا وہ اسلام کی عظمت جاننا چاہتے ہیں اور اللہ (عزوجل) نے کیحکم دیا ہے ، انہوں نے یہ ساری حقیقتیں اسلام سے (ہی )سیکھی ہیں۔ چونکہ تھامس جیفرسن اسلام کا مطالعہ کر رہے تھے وہ سمجھ گئے تھے کہ ان کا نظام ِزکوٰۃ کس طرح ہے اور وہ جانتے ہیں کہ ان املاک کے مالکان سے لڑنے کے لئے آپ کو ان پر ٹیکس لگانا ہوگا بصورت دیگر وہ بنجر زمینیں بنا لیں گے اور لوگوں کو کچھ بھی منتقل نہیں ہوگا۔ تو الحمد للہ ، وہ واپس گئے ، ربا، ربا نہیں ہے انشاء اللہ ۔ ربا میں صرف ایک ہی چیز قابلِ اعتراض ہے، وہ ، کریڈٹ کارڈ ہیں ، جبکہ سب لوگ اب ایک کریڈٹ کارڈ استعمال کرتے ہیں لیکن وہ قرضے پہ گھر تعمیر کرنا نہیں چاہتے ۔
|Aur ab is zameen par khairaat ke paisay ka sab se bara bahao zakat funds hai. Lehaza woh Islam ki Azmat janna chahtay hain aur Allah (AJ) ne hukam diya hai, unhon ne yeh saari haqeqteen Islam se sikhi hain. Chunkay Thomas Jefferson Islam ka mutalea kar rahay thay woh samajh gaye thay ke un ka nizaam zakaat kis terhan hai aur woh jantay hain ke un amlaak ke malkaan se larnay ke liye aap ko un par tax lagana hoga basorat deegar woh banjar zameenai bana len ge aur logon ko kuch bhi muntaqil nahi hoga. To alhamdulilah, woh wapas gaye, riba, riba nahi hai InshaAllah . Eiba mein sirf aik hi cheez qabil e aitraaz hai, woh, credit cards hain, jabkay sab log ab aik credit card istemaal karte hain lekin woh qarzay pay ghar taamer karna nahi chahtay .|
And the largest flow of charity money on this earth now are zakat funds, so they want to know the greatness of Islam and what Allah (AJ) has prescribed, they learned all of these realities from Islam. Because Thomas Jefferson was studying Islam he understood that, how their system of zakat and he knew that to battle these property owners you have to tax them otherwise they'll hold like barrens and nothing will move for people. So alhamdulillah, they go back to the riba is not riba inshaAllah. The only thing that is questionable on riba are credit cards, now that's the one that everybody uses a credit card but they don't want to get a home loan.
لہذا کریڈٹ کارڈ خطرناک ہے کیونکہ ، واقعی تم اس سے کبھی باہر نہیں نکل سکتے۔ اگر آپ خود کو دس ہزار ، بیس ہزار ڈالر کے کریڈٹ کارڈ پر رکھتے ہیں اور اس سے پہلے کہ آپ کو اندازہ ہو آپ کریڈٹ کارڈ خرچ کر جاتے ہیں لیکن سود پر 25 فیصد دینا پڑتا ہے۔ آپ کے سود کی ادائیگی ماہانہ 900 ڈالرہوجاتی ہے صرف آپ کے کریڈٹ کارڈ کی اینٹرسٹ پیمنٹ۔ تو یہ سب سے بڑا خطرہ ہے ، کریڈٹ کارڈ کے استعمال میں محتاط رہنے کی کوشش کریں ، گھر کیلئے قرضہ ایک بڑی سرمایہ کاری ، اچھی سرمایہ کاری ہے ، بینک رسک لیتا ہے اور رسک کی وجہ سے یہ لون شارکننگ نہیں ہے۔ صرف کریڈٹ کارڈ کا استعمال اعتدال پسندی سے ہو کیونکہ اگر آپ اس رقم کی ادائیگی 25 فیصد کے بغیر کرسکتے ہیں تو آپ ہر مہینے چلا سکتے اور بیلنس کی ادائیگی کرتے رہیں اور یہ انشاءاللہ زندگی گزارنے کا ایک محفوظ طریقہ ہے ۔
بحرمۃ محمد المصطفی و بسر سورۃ الفاتحہ
|Lehaza credit card khatarnaak hai kyunkay, waqai tum is se kabhi bahar nahi nikal satke. Agar aap khud ko das hazaar, bees hazaar dollar ke credit card par rakhtay hain aur is se pehlay ke aap ko andaza ho aap credit card kharch kar jatay hain lekin sood par 25% dena parta hai. Aap ke sood ki adaigi mahana 900 dollar ho jati hai sirf aap ke credit card ki interest payment. to yeh sab se bara khatrah hai, credit card ke istemaal mein mohtaat rehne ki koshish karen, ghar ke liye qarza aik barri sarmaya kaari, achi sarmaya kaari hai, bank rissk laita hai aur rissk ki wajah se yeh loan sharking nahi hai. Sirf credit card ka istemaal aitdaal pasandi se ho kyunkay agar aap is raqam ki adaigi 25% ke baghair kar saktay hain to aap har mahinay chala satke aur balance ki adaigi karte rahen aur yeh InshaAllah zindagi guzaarne ka aik mehfooz tareeqa hai.|
So the credit card is the dangerous one because that really you can't get out of. If you put yourself on a ten-thousand, twenty-thousand dollar credit card and before you know it you pay down the credit card but the interest at 25 %! Your interest payment becomes $900 a month just interest payment on your credit card. So that's the biggest danger, is try to be careful with the use of credit cards, home loan is an immense investment good investment, the bank takes a risk so because of their risk factor it's not loan sharking. Just the credit card is something to be sort of in moderation because if you can pay it off without incurring that 25% then you live every month and pay off the balance and that's a safe way of living inshaAllah.
Bi hurmati Muhammad al-Mustafa wa bi siri Surat al-Fatiha.
یہ بیان اس لنک پر دیکھا جا سکتا ہے
Watch this Bayan on YouTube
اپنے سوالات اور دعا کی درخواست ای میل کیجئے
Ask Your Questions or Need Prayers
Email: [email protected]