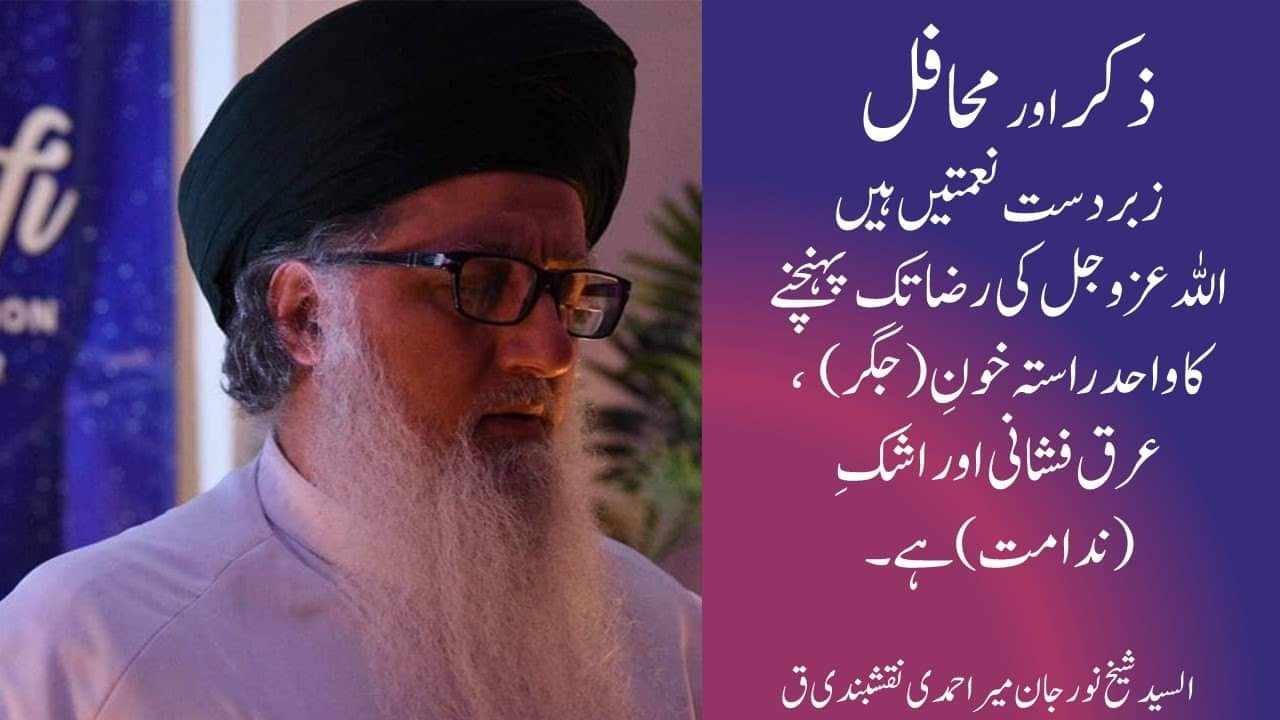 Urdu – 'ذکر کے بہشتی میزوں(دسترخوانوں) سے لطف اندوز ہوں' وہ سیدنا عیسیٰ علیہ…
'ذکر کے بہشتی میزوں(دسترخوانوں) سے لطف اندوز ہوں'
وہ سیدنا عیسیٰ علیہ السلام کے پاس آئے،کہ ہم جنت سے ایک میز چاہتے ہیں جو ہمیں دکھائے کہ آپ کون ہیں اور اللہ عزوجل نے سیدنا عیسیٰ کو متنبہ فرمایا کہ اگر ہم یہ دسترخوان بھیج دیں تو وہ اِس پر کھانے پر مجبور ہوں گے اور جو اِس پر سے نہیں کھائیں گے وہ سخت سزا کے مستحق ہونگے۔آپ اللہ عزوجل سے کچھ لے نہیں سکتے ، آپ اللہ عزوجل کے معجزوں سے کچھ دیکھ نہیں سکتے کہ پھر ان پر سے (یونہی)گزر جائیں۔اب آپ جو کچھ کرتے ہیں اس کے لیے جوابدہ ہیں! (اللہ عزوجل) نے فرمایا (اُس) نے انتباہ کی ، آپ یہ کرنا چاہتے ہیں؟انہوں(ع) نے فرمایا نہیں نہیں ، ہم جنت سے کوئی میز نہیں لینا چاہتے (لیکن) میں انہیں دکھانا چاہتا ہوں۔ یہ سب کچھ معجزے کے اظہار کیلئے تھا۔ جیسے ہی یہ میزیں زمین تک پہنچنے لگیں۔متکبر:(کہہ اٹھے)'ہمیں اس سے کھانے کی حاجت نہیں ہے'، اور وہ پلٹ گئے۔ اور غرور اور برا کردار ہمیشہ بغض اور حسد کے باعث اللہ عزوجل کی نشانیوں کو رد کرتے ہیں وہ واقعی کسی معجزے کی تلاش میں نہیں تھے وہ صرف سیدنا عیسیٰ علیہ السلام کی ذات سے حسد کرتے تھے۔ جیسے ہی انہوں نے یہ ثابت کیا کہ میں اللہ عزوجل کے ساتھ منسلک ہوں ،اب میز پر نظر ڈالو۔ وہ کہنے لگے کہ یہ شاید جادو ہے اور وہ وہاں سے چلے گئے۔یہ دسترخوان سیدنا محمدﷺ کی امت کے لئے ہمیشہ آرہا ہے۔ یہ(محض) ایک بار نہیں آتا۔ ذکر اور محافل زبردست نعمتیں ہیں۔لیکن یہ رجال اور اللہ عزوجل ہمارے دلوں میں کیا الہام کرنا چاہتا ہے۔ اللہ عزوجل مادی دنیا اور ناسوت کیلئے دلچسپی نہیں رکھتا ہے اللہ عزوجل روح ملکوت اور عالمِ بالا کیلئے متوجہ ہے۔ اللہ عزوجل زمان و مکاں سے آزاد ھے۔ یہ مقام الاحسان کے رجال کی تفصیل ہے۔ یہ وہ لوگ ہیں جو اہل بصیرت ہیں ان کے دل بیدار ہیں۔ وہ جو کام کرتے ہیں اسلیے کہ اللہ عزوجل انہیں اسکے بدلے نوازے گا لہذا وہ پیسے کے لیے کام نہیں کرتے وہ مقام اور درجے مرتب نہیں کرتے کہ اگر آپ یہ رقم ادا کرتے ہیں تو آپ کو یہ مقام مل جاتا ہے ، اگر آپ یہ رقم ادا کرتے ہیں تو آپ یہ مقام حاصل کرلیں گے، اللہ عزوجل فرماتا ہے کہ نہیں ایسا کچھ نہیں ہوتا۔میرے رجال،یہ کچھ نہیں مانگتے ،یہ کچھ بھی نہیں مانگتے،یہاں کوئی فیس نہیں ہے جو آپ ادا کریں اور (اعلیٰ) درجات تک پہنچ جائیں۔اللہ عزوجل کی رضا تک پہنچنے کا واحد راستہ یہ خونِ(جگر) ،عرق فشانی اور اشکِ (ندامت)ہے۔
السید شیخ نورجان میراحمدی نقشبندی ق
Urdu Transliteration :
ZIKAR KE BEHASHTI MAIZOO(DASTAR-KHWANOO) SE LUFT ANDOZ HUN
Wo Sayyidina Isa AS ke pass aae, ke hum jannat se aik maiz chahtay hain jo hamein dikhae ke App kon hain aur Allah AJ ne Sayyidina Isa AS ko mutannabba farmaya ke agar hum ye dastarkhwan bhej dein tu wo iss Par khanay Par majboor hongay aur jo iss Par se nahi khaein ge wo sakht saza ke mustahiq hongay App Allah AJ se kuch Le nahi saktay, App Allah AJ ke moj'zoo se kuch dekh nahi saktay ke phir inn Par se(yuhni) guzar jaein.Ab Ap jo kuch kartay hain iss ke liye jawab deh hain! Allah AJ ne farmaya :(ousnay) intibah ki, "App ye karna chahtay hain? "Onhu(As)ne farmaya Nahi Nahi, hum jannat se koi maiz nhi leina chahtay(lekin)mein inhein dikhana chahta hun ye sab kuch mojzay ke izhaar ke liye tha jesay hi ye maizain zameen tak phunchnay lagein, Mutaqqabir ;(keh uthay) "hamein iss se khanay ki Hajat nahi ha" aur wo chalay gae aur Garoor aur bura kirdaar hamesha bughaz aur hasad ke bais Allah AJ ki nishaaniyon ko radd kartay hain wo waqai ksi mojzay ki talash mein nahi thay wo sirf sayyidina isa AS ki zaat se hasad kartay thay jesay hi onhu ne saabit kia ke mein Allah AJ se munsalik hun, Ab maiz Par nazar daalo!! Wo kehnay lagay ke ye shaid jaado ha aur wo palat gaye ye Dastar-khwan Sayyidina Muhammad Sallallahu Alayhi wa sallam ki ummat ke liye hamesha aa raha ha.ye (mehaz) aik baar nahi aataa zikar aur Mahafil zabardast naimatein hain lekin ye Rijal aur Allah AJ hamaray dilon mein kia ilham karna chahta ha??Allah AJ maadi duniya aur nasoot ke liye dilchasbi nahi rakhta, Allah AJ Ruh, Malakoot aaur Alim e Bala keliye Mutta'wajjeh ha Allah AJ zaman o makan se azad ha ye Maqam al Ihsan ke rijal ki tafseel ha ye wo log hain jo Ahl e baseerat hain onkay Dil baidar hain wo jo kam kartay hain isliye ke Allah AJ inhein iskay badlay nawazaty ga lehaza wo paisay ke liye kam nahi kartay wo maqam aur darjay murattab nahi kartay ke agar ap ye raqam ada kartay hain tu Apko ye maqam Mil jata ha, agar ap ye raqam ada karein tu ap ye maqam haasil karleinge Allah AJ farmata ha ke nahi aisa kuch nahi hota! Meray Rijal ye kuch nahi mangtay, ye kuch bhi nhi mangtay, yahan koi fees nahi ha jo Ap adaa karein aur(Alaa) Darajaat tak phunch jaein Allah AJ ki raza, tak phunchnay ka wahid raasta khoon e jigar, Arq fishaani(Paseena) aur Ashk e Nidamat(ansoo) ha.
Original Lecture:
Eat from the Heavenly Tables of Ziker!!
They came to sayyidina Isa AS ,so we want a table from heaven to show us who you are and Allah AJ warns Sayyidina Isa AS if we send this table they are forced to eat at it and those who don't eat at it will be severely punished.you can't take something from Allah AJ ,you can't see something from Allah's AJ miracles and then walk from them.you are now accountable for what you do!(Allah AJ) Said (that) a warning, you want to do that?
He (AS) said no no, we don't want to have a table from heaven (but) I want to show them.It was all about showing miracles.as soon as these tables begins to approach to the earth the proud ones ;we don't need to eat from that.and they left.and pride and bad character always rejects the signs of Allah AJ because of Hasad and jealousy they were not really looking for a miracle they were just jealous of what sayyidina Isa AS had.as soon as he proved it know that I am connected with Allah AJ now look at the table.they say it is probably magic and they walked away. This table is always coming for the nation of sayyidina Muhammad Sallalahu Alayhi wa sallam.it is not one time.Tables of zikar and Mahafil tremendous blessings.but what these rijal and what Allah AJ want to inspire within our hearts. Allah AJ is not interested for the world and the physical world Allah AJ is interested for soul and Malakoot, the heavens.Allah AJ has no time. This is the description of the people of maqam al ihsaan.these are people whom are Ahlil baseera their hearts are open. They do what they do for what Allah AJ is going to reward them so means they don't do things for money they don't setup maqams and stations that if you pay this money, you get this maqam, if you pay this money you get this maqam, Allah AJ says no that doesn't, how it works. My Rijal they ask nothing ,they ask nothing, there's no fee that you pay and you reach the darajat. It is blood, Sweat and tears ,the only way to reach Allah's satisfaction.
Watch here:
https://youtu.be/oBszm_7Ud18