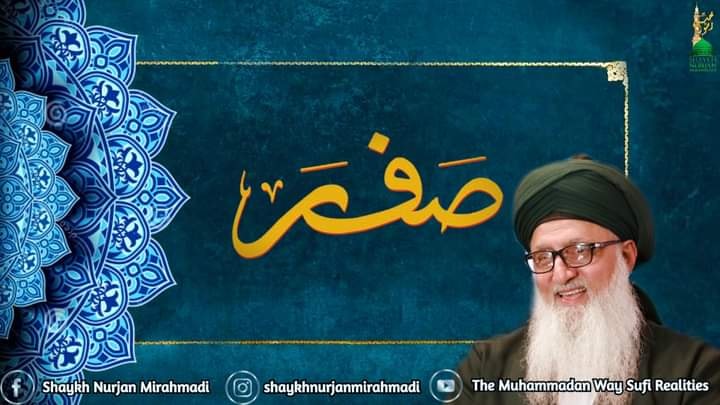 Urdu – دوسرا قمری مہینہ: صفر – صَفَرْ المُظَفَّرْ ۱۸ 9x 2 =18 داخلی راستہ:18 اٹھارو…
دوسرا قمری مہینہ: صفر – صَفَرْ المُظَفَّرْ ۱۸
9x 2 =18
داخلی راستہ:18
اٹھارواں اسمِ رسول ﷺ : رسول الرحمۃ (رسولِ رحمت)
اٹھارواں أسماء اللہ الحسنیٰ : الفتاح
قرآن کریم کی اٹھارویں سورة : سورة الكهف ‎(غار کے لوگ)
فَاۡوُوا اِلَی الۡکَہۡفِ یَنۡشُرۡ لَکُمۡ رَبُّکُمۡ مِّنۡ رَّحۡمَتِہٖ وَیُہَیِّیٔۡ لَکُمۡ مِّنۡ اَمۡرِکُمۡ مِّرۡفَقًا
(16 – الکھف)
" تمہارا رب تم پر اپنی رحمت نچھاور کرے گا، سلامتی کے غار میں پناہ لو " [القران الکریم 18:16]
حجابِ ھیبت (جاہ و جلال): 11,000 مرتبہ ثناء بیان کریں ۔
سُبْحَانَ الْعَلِيْمُ الْحَكِيمْ
پاک ہے میرا پروردگار جو سب کچھ جاننے والا حکمت والا ہے
ماہِ صفر کیلئے اورادِ نقشبندیہ
ادبِ ماہِ صفر
"یہ سال کے مہینوں میں سے ایک ہے اور رسول اللہ (ﷺ) نے اس کا نام صفر الخیر رکھا۔"
پچھلی قوموں کی بڑی تعداد اس مہینے کے دوران ہلاک ہوئی۔
ماہ صفر کا یومیہ ادب:
تحفظ و سلامتی کی نیت سے تلاوت کریں:
· 3 مرتبہ کلمہ شہادت
· 300 مرتبہ استغفار
· 7 مرتبہ سورة الفيل (قران الکریم کی 105 ویں سورة)
· 7 مرتبہ آية الكرسی (قرانِ مجید 2:255)
· روزانہ صدقہ دیں، اللہ عزوجل کی خاطر، مصائب کو دور کرنے کی نیت سے
ماہِ صفر کے آخری بدھ کے آداب( اعمال):
مولانا سلطان الاولیاء شیخ ناظم(ق) فرماتے ہیں:
"صفر کے آخری بدھ کو ستر ہزار آفات نازل ہوتی ہیں ، لہذا جو شخص بھی ان آداب کو ملحوظ رکھے گا جو ہم نے بتائے ہیں، اللہ رب العزت اُس کی حفاظت فرمائے گا۔"
ماہِ صفر کے آخری بدھ کی شام کو عصر اور مغرب کے درمیان گھر سے باہر جانے سے گریز کریں۔
3 مرتبہ کلمہ شہادت
300 مرتبہ استغفار
استغفر الله (اللہ سے معافی طلب کرنا) ۔
7 مرتبہ سورة الفيل (القران الکریم کی 105 سورة) کی تلاوت کریں۔
اَلَمۡ تَرَ کَیۡفَ فَعَلَ رَبُّکَ بِاَصۡحٰبِ الۡفِیۡلِ ؕ﴿۱﴾
کیا آپ نے نہیں دیکھا کہ آپ کے رب نے ہاتھی والوں کے ساتھ کیا سلوک کیا،
اَلَمۡ یَجۡعَلۡ کَیۡدَہُمۡ فِیۡ تَضۡلِیۡلٍ ۙ﴿۲﴾
کیا اس نے ان کے مکر و فریب کو باطل و ناکام نہیں کر دیا،
وَاَرۡسَلَ عَلَیۡہِمۡ طَیۡرًا اَبَابِیۡلَ ۙ﴿۳﴾
اس نے ان پر (ہر سمت سے) پرندوں کے جھنڈ کے جھنڈ بھیج دیئے،
تَرۡمِیۡہِمۡ بِحِجَارَۃٍ مِّنۡ سِجِّیۡلٍ ۪ۙ﴿۴﴾
جو ان پر کنکریلے پتھر مارتے تھے،
فَجَعَلَہُمۡ کَعَصۡفٍ مَّاۡکُوۡلٍ (۵)
پھر (ﷲ نے) ان کو کھائے ہوئے بھوسے کی طرح (پامال) کر دیا،
7 مرتبہ آية الكرسی (قرانِ مجید 2:255)
اَللّٰہُ لَاۤ اِلٰہَ اِلَّا ہُوَۚ اَلۡحَیُّ الۡقَیُّوۡمُ ۬ۚ لَا تَاۡخُذُہٗ سِنَۃٌ وَّ لَا نَوۡمٌ ؕ لَہٗ مَا فِی السَّمٰوٰتِ وَ مَا فِی الۡاَرۡضِ ؕ مَنۡ ذَا الَّذِیۡ یَشۡفَعُ عِنۡدَہٗۤ اِلَّا بِاِذۡنِہٖ ؕ یَعۡلَمُ مَا بَیۡنَ اَیۡدِیۡہِمۡ وَ مَا خَلۡفَہُمۡ ۚ وَ لَا یُحِیۡطُوۡنَ بِشَیۡءٍ مِّنۡ عِلۡمِہٖۤ اِلَّا بِمَا شَآءَ ۚ وَسِعَ کُرۡسِیُّہُ السَّمٰوٰتِ وَ الۡاَرۡضَ ۚ وَ لَا یَـُٔوۡدُہٗ حِفۡظُہُمَا ۚ وَ ہُوَ الۡعَلِیُّ الۡعَظِیۡمُ ﴿۲۵۵﴾
(255 – البقرۃ)
ﷲ، اس کے سوا کوئی عبادت کے لائق نہیں، ہمیشہ زندہ رہنے والا ہے (سارے عالم کو اپنی تدبیر سے) قائم رکھنے والا ہے، نہ اس کو اُونگھ آتی ہے اور نہ نیند جو کچھ آسمانوں میں ہے اور جو کچھ زمین میں ہے سب اسی کا ہے، کون ایسا شخص ہے جو اس کے حضور اس کے اِذن کے بغیر سفارش کر سکے، جو کچھ مخلوقات کے سامنے (ہو رہا ہے یا ہو چکا) ہے اور جو کچھ ان کے بعد (ہونے والا) ہے (وہ) سب جانتا ہے، اور وہ اس کی معلومات میں سے کسی چیز کا بھی احاطہ نہیں کر سکتے مگر جس قدر وہ چاہے، اس کی کرسیء (سلطنت و قدرت) تمام آسمانوں اور زمین کو محیط ہے، اور اس پر ان دونوں (یعنی زمین و آسمان) کی حفاظت ہرگز دشوار نہیں، وہی سب سے بلند رتبہ بڑی عظمت والا ہے،
تلاوت کے بعد ، اپنے آپ پر اور اپنے اہل خانہ کے تحفظ کےلئے دم کریں۔
ماہِ صفر کےاہم واقعات:
حضرت شیخ یعقوب ال چرخی (ق) کا عرس مبارک، سلسلہ نقشبندیہ
کی سنہری لڑی کے انیسویں شیخ____5 صفر
امام حسن علیہ السلام کی شہادت، نواسہ رسول اللہ صلی اللہ علیہ وآلہ وسلم اور دوسرے امام____7 صفر (سنہ 50ہجری)
امام موسیٰ کاظم علیہ السلام کا یوم پیدائش، ساتویں امام____7 صفر (سنہ 128 ہجری)
شیخ عبد اللہ دہلوی (ق) کا عرس، سلسلہ نقشبندیہ کی سنہری گولڈن چین کے تیسویں شیخ____12صفر
امام علی رضا علیہ السلام کا عرس،آٹھویں امام____17 صفر(سنہ 203 ہجری)
شیخ فاروقی سرہندی (ق) کا عرس سلسلہ نقشبندیہ کی سنہری گولڈن چین کے پچیسویں شیخ___17 صفر
اربعین( چہلم) کربلا میں نبی اکرم صلی اللہ علیہ وآلہ وسلم کے خانوادہ کی شہادت کا چالیسواں دن____20 صفر
عرس مبارک حضرت سیدنا امام حسن علیہ السلام (دوسرے امام اور سرکارِ دوعالمﷺ کے نواسے )___28 صفر
ماہِ صفر سے متعلق مولانا شیخ نورجان میراحمدی نقشبندی (ق) کے مضامین:
اصحابِ کہف کی غار میں پناہ لیں۔ہجرۃ ، غار ، سیدنا ابوبکر صدیق علیہ السلام (یارِ غار) کی حقیقت
https://nurmuhammad.com/?p=11982
18 کے اسرار،صفر اصحابِ کہف، سورۃ کھف کا بیان
https://nurmuhammad.com/secrets-of-18-safar-people-of-…/
غار میں داخل ہوں ، 7 محوِ خواب، وجھة اللہ کی 7 مقدس صفات اچھے اخلاق چاہتی ہیں
https://nurmuhammad.com/enter-cave-7-sleeps-7-holy-att…/
غار کے راز اور عدد 18 – صفر – ماہ صفر اور سورۃ الکہف کے حقائق (اصحابِ کھف)
https://nurmuhammad.com/?p=4900
پاک ہے وہ ذات جس کے دستِ (قدرت) میں عالمِ ملک اور عالم ِ ملکوت کی بادشاہت ہے
– https://nurmuhammad.com/?p=13661
نور اور ھیبت اُنکے ہاتھوں کو طاقت بخشتے ہیں
– https://nurmuhammad.com/?p=13118
عباداللہ ( اللہ کے بندوں) کی رفاقت کیسے رکھی جائے؛ وہ جنہیں اللہ ( عزوجل) نے تعلیم دی ہے ۔
– https://nurmuhammad.com/?p=10118
چاند جیسا بن جایئے اور سورج کی تقلید کیجئے ؛ خواہ آپ نبی موسی ؑ ہی کیوں نہ ہوں
– https://nurmuhammad.com/?p=9752
تین امتحانات جو سیدنا موسیؑ کی زندگی کا عکس تھے؛ سورۃ کھف میں بیان قصص سیدنا موسیؑ اور سیدنا خضر ؑ
– https://nurmuhammad.com/?p=6084
منازلِ قلب اور ۹ لطائف اور غار کے حقائق
– https://nurmuhammad.com/?p=901
__________________________________
The second Islamic month : Safar صَفَرْ or ( Safar al Muzaffar صَفَرْ الْمُظَفَّرْ) – 18
9x 2 =18
Entry Way: 18
18th Ismur Rasol: Rasool ur Rahma (The Messenger of Mercy)
18th Ismu Allah: Al Fattah (The Opener)
18th Chapter of Holy Quran: Surat Al-Kahf (People of Cave),
(Allah will Shower His Mercy on you, run to the cave of Safety) (Quran 18:16)
فَأْوُوا إِلَى الْكَهْفِ يَنشُرْ‌ لَكُمْ رَ‌بُّكُم مِّن رَّ‌حْمَتِهِ وَيُهَيِّئْ لَكُم مِّنْ أَمْرِ‌كُم مِّرْ‌فَقًا ﴿١٦…
18:16 "…fawoo ilal kahfi yanshur lakum rabbukum mir rahmatihi wa yuhayyi lakum min amrikum mirfaqa." (Surat al Kahf)
"…betake yourselves to the Cave: Your Lord will shower His mercies on you and disposes of your affair towards comfort and ease." (The Cave)
𝐕𝐞𝐢𝐥 𝐨𝐟 𝐆𝐫𝐚𝐧𝐝𝐞𝐮𝐫, 𝟏𝟏,𝟎𝟎𝟎 𝐗 𝐏𝐫𝐚𝐢𝐬𝐢𝐧𝐠 𝐛𝐲 𝐬𝐚𝐲𝐢𝐧𝐠:
سُبْحَانَ الْعَلِيْمُ الْحَكِيمْ
Subhanal 'Alim al-Hakim
(Glory be to my Lord, the All-Knowing, the Wise)
𝐃𝐚𝐢𝐥𝐲 𝐀𝐝𝐚𝐛 (𝐏𝐫𝐚𝐜𝐭𝐢𝐜𝐞) 𝐨𝐟 𝐦𝐨𝐧𝐭𝐡 𝐨𝐟 𝐒𝐚𝐟𝐚𝐫
Naqshbandiyya Awrad for Month of Safar Adab of the month of Safar'' It is one of the months of the year and Prophet(s) nicknamed it Safar Al-Khayr.
Great number of previous nations perished during this month
Daily Adab:From the Adab of this month to be performed daily with the intention of being protected and safeguarded:
1- Shahada ( 3 times)
2- Astagfirullah ( 300 times)
3- Daily sadaqa for the sake of Allah(s) with the intention of removal of afflictions.
4- Recite surah Al-FIL( 7 times)
5- Ayat-ul Kursi ( 7 times)
On the last Wednesday of Safar:Blow on yourself and your family after the recitation of surat Al-Fil. Amongst the best one could do on this day is to avoid going out of one's home.
On this Mawlana(q) says:'' On the last Wednesday of Safar seventy thousand afflictions come down; so whoever keeps the adab that we mentioned Allah(s) will protect him. InshAllah '
Surah al-Fiil:
Bismillaahir Rahmaanir Raheem
1. Alam tara kaifa fa'ala rabbuka bi ashaabil feel
2. Alam yaj'al kai dahum fee tad leel
3. Wa arsala 'alaihim tairan abaabeel
4. Tar meehim bi hi jaaratim min sij jeel
5. Faja 'alahum ka'asfim m'akool
Seest thou not how thy Lord dealt with the Companions of the Elephant?
Did He not make their treacherous plan go astray?
And He sent against them Flights of Birds,
Striking them with stones of baked clay.
Then did He make them like an empty field of stalks and straw, (of which the corn) has been eaten up.
Ayatul Kursi:
Bismillaahir Rahmaanir Raheem
Allahu laaa ilaaha illaa huwal haiyul qai-yoom; laa taakhuzuhoo sinatunw wa laa nawm; lahoo maa fissamaawaati wa maa fil ard; man zallazee yashfa'u indahooo illaa be iznih; ya'lamu maa baina aideehim wa maa khalfahum; wa laa yuheetoona beshai 'immin 'ilmihee illa be maa shaaaa; wasi'a kursiyyuhus samaa waati wal arda wa la ya'ooduho hifzuhumaa; wa huwal aliyyul 'azeem
"Allah! There is no god but He – the Living, The Self-subsisting, Eternal. No slumber can seize Him Nor Sleep. His are all things In the heavens and on earth. Who is there can intercede In His presence except As he permitteth? He knoweth What (appeareth to His creatures As) Before or After or Behind them. Nor shall they compass Aught of his knowledge Except as He willeth. His throne doth extend Over the heavens And on earth, and He feeleth No fatigue in guarding And preserving them, For He is the Most High. The Supreme (in glory)."
𝐀𝐝𝐚𝐛 (𝐏𝐫𝐚𝐜𝐭𝐢𝐜𝐞) 𝐨𝐟 𝐋𝐚𝐬𝐭 𝐖𝐞𝐝𝐧𝐞𝐬𝐝𝐚𝐲 𝐨𝐟 𝐒𝐚𝐟𝐚𝐫
Mawlana sultan ul Awliya Shaykh Nazim ( ق ) said: "On the last Wednesday of Safar seventy thousand afflictions come down, so whoever keeps the adab that we mentioned Allah (swt) will protect him."
– Avoid going out of the house between 'Asr and Maghrib in the evening of last Wednesday of Safar.
1. 3 X Shahadah (Testimony of Faith)
2. 300 X Isteghfar – Astaghfirullah (asking forgiveness from Allah)
3. 7 X Recite Surat al-Fil (The Elephant) Chapter 105 of Holy Quran)
– After the recitation, blow on yourself and your family for protection
4. 7 X Ayat al-Kursi (the Throne verse) (Holy Quran 2:255)
𝐈𝐦𝐩𝐨𝐫𝐭𝐚𝐧𝐭 𝐄𝐯𝐞𝐧𝐭𝐬 𝐢𝐧 𝐒𝐚𝐟𝐚𝐫:
• 5th of Safar – Urs (Passing) of Shaykh Yaqub al Charkhi (Q) (19th Shaykh of Naqshbandi Golden Chain)
• 7th of Safar (128 AH) – Birthday of Imam Musa Kazim (as) [ 7th Holy Imam)
• 12th of Safar – Urs of Shaykh Abdullah Dahlawi (Q) (30th Shaykh of Naqshbandi Golden Chain)
• 17th of Safar (203 AH) – Urs of Imam Ali Rida (as) [8th Holy Imam)
• 17th of Safar – Urs of Shaykh Faruqi Sirhindi (Q) (25th Shaykh of Naqshbandi Golden Chain)
• 20th of Safar – Arbayeen [40th day of Martyrdom of holy family of Prophet Muhammad ﷺ in Karbala)
• 28th of Safar (50 AH) – Urs Mubarak (blessed Passing) of Imam Hassan (as) (2nd Holy Imam and Grandson of Prophet Muhammad ﷺ
𝐑𝐞𝐥𝐚𝐭𝐞𝐝 𝐀𝐫𝐭𝐢𝐜𝐥𝐞 𝐛𝐲 𝐌𝐚𝐰𝐥𝐚𝐧𝐚 𝐒𝐡𝐚𝐲𝐤𝐡 𝐍𝐮𝐫𝐣𝐚𝐧:
• Seek Refuge in the Cave of Ashab e Kahf – Reality of Hijrah, Cave, Abu Bakr Siddiq (companion of the Cave)
– https://nurmuhammad.com/?p=11982
• Secrets of 18, Safar People of the Cave Surah Kahf Lessons
–https://nurmuhammad.com/secrets-of-18-safar-people-of-…/
• Enter the Cave, 7 Sleeps, 7 Holy Attributes of Divine Face Require Good Manners
–https://nurmuhammad.com/enter-cave-7-sleeps-7-holy-att…/
• Secrets of the Cave and No. 18 – Safar – Realities of the Month of Safar and Surat al Kahf (Companions of the Cave)
–https://nurmuhammad.com/?p=4900
• Secret Power of the Hands – 18 & 81 – Realities of number 18 (١٨) on Right hand and 81 (٨١) on left hand
– https://nurmuhammad.com/?p=3257
• Glory to the Hands with the Authority over Mulk wal Malakut (Heaven and Earth) 36:83
– https://nurmuhammad.com/?p=13661
• Light and Majesty Dress their Hands – (Quran 57:12 & 36:65)
– https://nurmuhammad.com/?p=13118
• How to Accompany 'Ibadullah (Servants of Allah) – The Ones whom Allah has Taught
– https://nurmuhammad.com/?p=10118
• Be the Moon & Follow the Sun – Even if you are Nabi Musa (as)
– https://nurmuhammad.com/?p=9752
• Three Tests that Reflected the life of Musa (as) – Story of Musa (as) and Khidr (as) in Surat Kahf (18)
– https://nurmuhammad.com/?p=6084
• Levels of the Heart and 9 Points and Secrets of the Cave
– https://nurmuhammad.com/?p=901
𝐕𝐢𝐬𝐢𝐭 𝐨𝐮𝐫 𝐰𝐞𝐛𝐬𝐢𝐭𝐞 𝐭𝐨 𝐫𝐞𝐚𝐝 𝐭𝐡𝐞𝐬𝐞 𝐚𝐫𝐭𝐢𝐜𝐥𝐞𝐬 𝐚𝐧𝐝 𝐨𝐧 𝐭𝐡𝐞 𝐦𝐨𝐧𝐭𝐡 𝐨𝐟 𝐒𝐚𝐟𝐚𝐫 : https://nurmuhammad.com/muharram/…
To Download App: https://nurmuhammad.com/app/