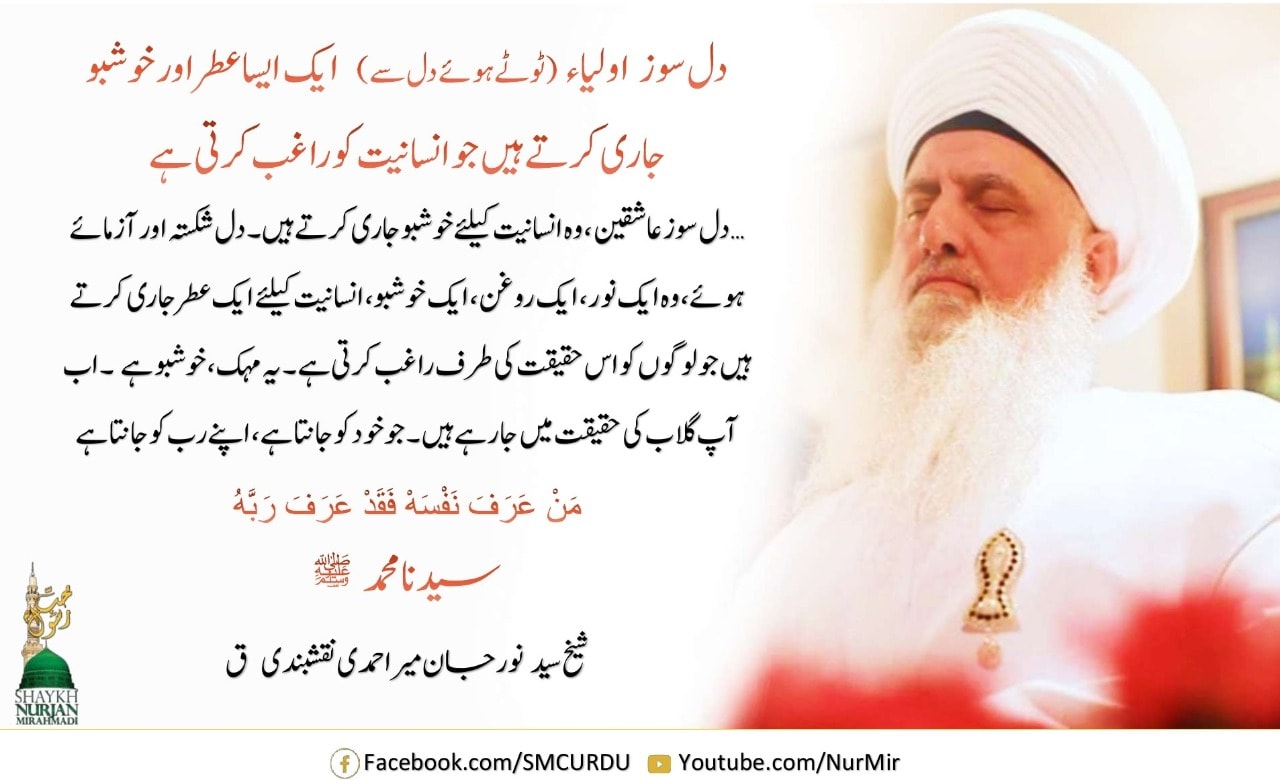 Urdu – دل سوز اولیاء (ٹوٹے ہوئے دل سے) ایک ایسا عطر اور خوشبو جاری کرتے ہیں جو انسانیت…
?دل سوز اولیاء (ٹوٹے ہوئے دل سے) ایک ایسا عطر اور خوشبو جاری کرتے ہیں جو انسانیت کو راغب کرتی ہے?
اس کا مطلب ہے دل سوز عاشقین ، وہ انسانیت کیلئےخوشبو جاری کرتے ہیں۔ دل شکستہ اور آزمائے ہوئے، وہ ایک نور ، ایک روغن ، ایک خوشبو ، انسانیت کیلئےایک عطر جاری کرتے ہیں جو لوگوں کو اس حقیقت کی طرف راغب کرتے ہیں۔ یہ مہک ہے ، اب آپ گلاب کی حقیقت میں جا رہے ہیں۔ جو خود کو جانتا ہے ، اپنے رب کو جانتا ہے ۔
مَنْ عَرَفَ نَفْسَهْ فَقَدْ عَرَفَ رَبَّهُ
"جو خود کو جانتا ہے ، اپنے رب کو جانتا ہے۔"
سیدنا محمد ﷺ
شیخ سید نورجان میراحمدی نقشبندی ق ?
Broken Heart Awliya Release an Essence & Fragrance That Attract Humanity
This means the broken hearted, ashiqeen, they release a fragrance for humanity. The broken hearted and tested, they release a light, an oil, a fragrance, an essence for humanity that attracts people to that reality. It's the fragrance, now you going into the reality of the rose. Who knows himself, will know his Lord.
مَنْ عَرَفَ نَفْسَهْ فَقَدْ عَرَفَ رَبَّهُ
"Man 'arafa nafsahu faqad 'arafa Rabbahu"
"Who knows himself, knows his Lord." Prophet Muhammad ﷺ
Shaykh Sayyid Nurjan Mirahmadi Naqshbandi Q ?