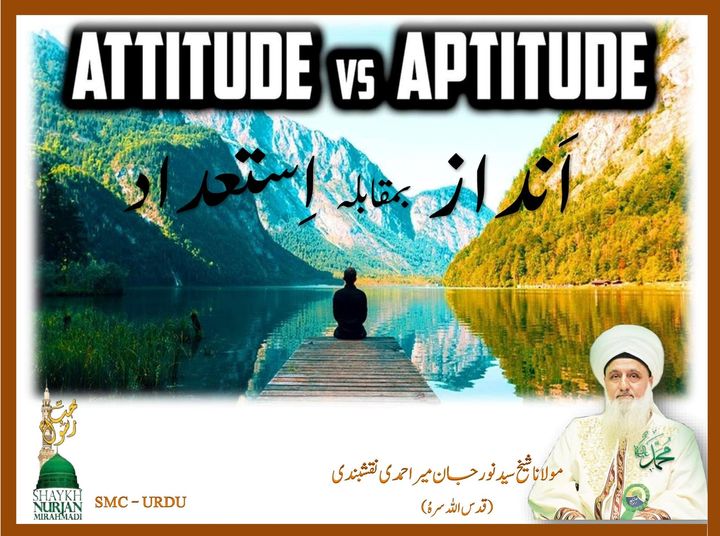 Urdu – خدمت میں زندگی گزارنے کی عظمت۔ اپنی ذات کو کھانا کھلانا جسم کیلئے اچھا ہے مگر دو…

خدمت میں زندگی گزارنے کی عظمت۔ اپنی ذات کو کھانا کھلانا جسم کیلئے اچھا ہے مگر دوسروں کو کھانا کھلانا روح کیلئے اچھا ہے۔ یہ کردار ہے جو اہم ہے، اگر اعمال طاقتور ہیں مگر کردار بُرا ہے تو اُن اعمال کی قبولیت نہیں ہوتی۔
Khidmat Mein Zindagi Guzaarne Ki Azmat. Apni Zaat Ko Khana Khilana Jism Ke Liye Acha Hai Magar Doosron Ko Khana Khilana Rooh Ke Liye Acha Hai. Yeh Kirdaar Hai Jo Ahem Hai, Agar 'Amal Taaqatwar Hain Magar Kirdaar Bura Hai To Unn Aamaal Ki Qabuliat Nahi Hoti.
𝐈𝐦𝐦𝐞𝐧𝐬𝐢𝐭𝐲 𝐨𝐟 𝐥𝐢𝐯𝐢𝐧𝐠 𝐚 𝐥𝐢𝐟𝐞 𝐨𝐟 𝐬𝐞𝐫𝐯𝐢𝐜𝐞 𝐚𝐧𝐝 𝐩𝐚𝐫𝐭𝐢𝐜𝐢𝐩𝐚𝐭𝐢𝐨𝐧. 𝐓𝐨 𝐟𝐞𝐞𝐝 𝐨𝐮𝐫𝐬𝐞𝐥𝐯𝐞𝐬 𝐢𝐬 𝐠𝐨𝐨𝐝 𝐟𝐨𝐫 𝐨𝐮𝐫 𝐛𝐨𝐝𝐲, 𝐛𝐮𝐭 𝐭𝐨 𝐟𝐞𝐞𝐝 𝐨𝐭𝐡𝐞𝐫 𝐩𝐞𝐨𝐩𝐥𝐞 𝐢𝐬 𝐠𝐨𝐨𝐝 𝐟𝐨𝐫 𝐭𝐡𝐞 𝐬𝐨𝐮𝐥. 𝐓𝐡𝐞 𝐜𝐡𝐚𝐫𝐚𝐜𝐭𝐞𝐫 𝐢𝐬 𝐰𝐡𝐚𝐭'𝐬 𝐢𝐦𝐩𝐨𝐫𝐭𝐚𝐧𝐭, 𝐈𝐟 𝐭𝐡𝐞 𝐝𝐞𝐞𝐝𝐬 𝐚𝐫𝐞 𝐬𝐭𝐫𝐨𝐧𝐠 𝐛𝐮𝐭 𝐭𝐡𝐞 𝐜𝐡𝐚𝐫𝐚𝐜𝐭𝐞𝐫 𝐢𝐬 𝐛𝐚𝐝, 𝐭𝐡𝐞𝐧 𝐭𝐡𝐨𝐬𝐞 𝐚𝐜𝐭𝐢𝐨𝐧𝐬 𝐚𝐫𝐞 𝐧𝐨𝐭 𝐚𝐜𝐜𝐞𝐩𝐭𝐞𝐝.
——————————–
——————————–
مولانا شیخ سید نورجان میراحمدی نقشبندی (ق) کی سنہری تعلیمات سے۔
بِسْمِ اللهِ الرَّحْمَنِ الرَّحِيْم
اَللَّهُمَّ صَلِّ عَلَى مُحَمَّدٍ وَعَلَى آلِ مُحَمَّدٍ وَسَلِّم
ہم نہ صرف لوگوں کے لیے آکر محافل کا انعقاد کرتے ہیں بلکہ الحمدللہ ہم پوری دنیا میں فلاحی کام کر رہے ہیں۔ ہمارے پروجیکٹس پاکستان میں ہیں، ہمارے پروجیکٹس وینکوور میں ہیں اور ہمارے پروجیکٹس لاس اینجلس میں ہیں ۔ اور اس سال ہم نے دو گاڑیاں مزید شامل کی ہیں الحمدللہ ۔ایک گاڑی وینکوور میں ہے اور فاطمہ زہرا وین جسے آپ نے باہر دیکھا اور فاطمہ زہرا ہیلپنگ ہینڈ وین جو لاس اینجلس میں ہے اور الحمدللہ یہ بڑی کامیابی کے ساتھ جاری و ساری ہے۔ اس وین کا مشن کھانا تلاش کرنا تھا جسے لوگ پھینکنا چاہتے ہیں اور اس کو دوبارہ تقسیم کرنا ہے۔ اور آج تک اور پچھلے چھ سات مہینوں میں، جب انہیں وین ملی، تو ہزاروں پاؤنڈز کا کھانا بچایا جا چکا ہے۔ ایک ایئر لائن سے ایک موقع پر 7000 پاؤنڈ کھانا بچایا گیا۔ کہ ایئر لائن کے پاس وہ کھانا تھا جسے وہ پھینکنا چاہتے تھے یہ سب منجمد (frozen) ہے۔اور فاطمہ زہرا کے مہذب حضرات نے ان سے رابطہ کیا اور انہیں یہ کھانا ملا جسے انہوں نے وینکوور کے علاقے میں مختلف مشنز میں تقسیم کیا ہے اور وہ تمام کھانا مختلف ریٹیل کی دوکانوں سے اٹھاتے ہیں اور وہ انہیں ڈاون ٹاون (downtown) میں مسلمانوں کے فوڈ بینک میں اور جہاں بھی ممکن ہوتا ہے تقسیم کر دیتے ہیں۔
URUD TRANSLITERATION:
Hum nah sirf logon ke liye aakar Mahafil ka ineqad karte hain balkay Alhamdulillah hum poori duniya mein falahi kaam kar rahay hain. Hamaray projects Pakistan mein hain, hamaray projects Vancouver mein hain aur hamaray projects Los Angeles mein hain. Aur is saal hum ne do gariyaan mazeed shaamil ki hain Alhamdulillah. Aik gaari Vancouver mein hai aur fatima Zahra van jisay aap ne bahar dekha aur fatima Zahra helping hand van jo Los Angeles mein hai aur Alhamdulillah yeh barri kamyabi ke sath jari o saari hai. Is van ka mission khana talaash karna tha jisay log phenkna chahtay hain aur is ko dobarah taqseem karna hai. Aur aaj tak aur pichlle chay saat mahino mein, jab inhen van mili, to hazaron pounds ka khana bachaya ja chuka hai. Aik air line se aik mauqa par 7000 pound khana bachaya gaya. Ke air line ke paas woh khana tha jisay woh phenkna chahtay thay yeh sab munjamad ( frozen ) hai. Aur fatima Zahra ke mohazab hazraat ne un se rabita kya aur inhen yeh khana mila jisay unhon ne Vancouver ke ilaqay mein mukhtalif missions mein taqseem kya hai aur woh tamam khana mukhtalif retail ki dukanon se uthatay hain aur woh inhen downtown mein musalmanoon ke food bank mein aur jahan bhi mumkin hota hai taqseem kar dete hain.
ENGLISH TRANSCRIPT:
Not only we come and recite for people but alhamdulillah we have charitable works all around the world. Our projects in Pakistan, our projects in Vancouver and our projects in Los Angeles. And alhamdulillah this year we added two vans – one van in Vancouver and the Fatima Zahra van that you saw outside and Fatima Zahra Helping Hand van in Los Angeles, and alhamdulillah with a great success. The mission of that van was to find food that people want to throw away and redistribute out. And till today and the last six, seven months when they got the van, thousands of pounds of food have been salvaged. 7000 meals on one occasion from an airline. That the airline had the food they wanted to throw away, it's all frozen. And the gentlemen from the Fatima Zahra contacted them and they received that food, they distributed to different missions in the Vancouver area. They pick up all the food from the different retail outlets and they distribute them downtown into the Muslim food bank, wherever is applicable.
تو الحمدللہ ان حضرات کے لیے جو یہ سب مل کر کھانا تلاش کرنے کے لیے ، کھانا تقسیم کرنے کے لیے انتھک محنت کر رہے ہیں اور ہماری زندگی کو ، ہماری زندگی کے دین کو، ہمارے دین کو عمل میں لاۓ ہیں ۔ کہ اعمال ان الفاظ سے زیادہ بلند تر آواز میں بولتے ہیں یعنی کہ لوگوں کو کھلانا الحمدللہ خود کو کھلانا جسم کے لیے بہت اچھا ہوتا ہے لیکن دوسرے لوگوں کو کھانا کھلانا روح کے لیے بہتر ہوتا ہے۔ فاطمہ زہرا ہیلپنگ وین جیسی وین لاس اینجلس میں بھی بھی کھانے کو ، کھانے پینے کی اشیاء کو جمع کرتی ہے اور پھر اس کھانے کو تقسیم کرتی ہے اور اسلام کی ایک بہت ہی مثبت اور محبت بھری تصویر پیش کر رہی ہے ۔پاکستان میں ہمارے پروجیکٹس (جس میں) ہمارے پانی کے کنویں اور یتیم خانوں کے لیے کھانے کی تقسیم اور یتیم خانوں کی مرمت (ہوتی ہے)۔ اگلے دو دنوں میں ان کی طرف سے پاکستان میں جشن میلاد النبی ﷺ کے حوالے سے ایک زبردست عظیم میلاد منایا جائے گا اور ان کے پاس تقریباً 300 مختلف یتیم ہیں جنہیں وہ بس کے ذریعے ایک جگہ پر لے کر آتے ہیں وہ خوبصورت میلاد النبی ﷺ مناتے ہیں اور بہت سے (دوسرے مختلف) پراجیکٹس بھی کرتے ہیں ۔ لہذا اس لیے ہم دعا گو ہیں کہ لوگ رات بھر کی محفل سے فیض یاب ہو رہے ہوں اور اور وینکوور میں ہونے والے پروجیکٹ سے لطف اندوز ہو رہے ہوں ، میلاد سے فیض یاب ہو رہے ہوں اور یہ سب لوگوں کے تعاون سے ممکن ہے۔ برطانیہ میں حاجی یوسف قاضی ماشااللہ سے یہاں اور پاکستان میں اس پورے پروگرام کو سپانسر کر رہے ہیں اور حاجی فیض خان کے لیے کہ وہ یہاں تمام منعقد ہونے والے پروگرام کو اسپانسر کر رہے ہیں اور تمام مختلف فیملیز جو کہ نہایت معاون ہیں اور ان کی سخاوت اور ان کی برکات ہیں۔ ہم نے شروع میں ہی درس دینے کی کوشش کی کہ حضرت ابو بکر صدیق علیہ السلام کا قول ہے، اور اصحاب النبی ﷺ سے بہت ساری احادیث روایت ہیں کہ "میلاد النبی ﷺ کی راہ میں صرف ایک درہم دینا جو کہ ایک ڈالر کے برابر ہے جنت کا دروازہ ہے "۔ یہ ایک عظیم نعمت ہے عظیم عظیم نعمت ہے ۔
حضرت سیدنا ابوبکر صدیق رضی اللہ تعالی عنہا کا ارشاد ہے "جس نے حضور ﷺ کے یوم ولادت پر ایک درہم بھی خرچ کیا وہ جنت میں میرے ساتھ ہوگا"۔(النعمۃالکبری ، صفحہ نمبر ۷/۸)
URUD TRANSLITERATION:
To Alhamdulillah un hazraat ke liye jo yeh sab mil kar khana talaash karne ke liye, khana taqseem karne ke liye anthak mehnat kar rahay hain aur hamari zindagi ko, hamari zindagi ke deen ko, hamaray deen ko amal mein laye hain. Ke aamaal un alfaaz se ziyada buland tar aawaz mein boltay hain yani ke logon ko khilana Alhamdulillah khud ko khilana jism ke liye bohat acha hota hai lekin dosray logon ko khana khilana rooh ke liye behtar hota hai. Fatima Zahra helping van jaisi van Los Angeles mein bhi bhi khanay ko, khanay peenay ki ashya ko jama karti hai aur phir is khanay ko taqseem karti hai aur islam ki aik bohat hi misbet aur mohabbat bhari tasweer paish kar rahi hai. Pakistan mein hamaray projects ( jis mein ) hamaray pani ke kunvey aur yateem khaanoon ke liye khanay ki taqseem aur yateem khaanoon ki murammat ( hoti hai ). Aglay do dinon mein un ki taraf se Pakistan mein jashnn milaad unNabi (S) Ke hawalay se aik zabardast azeem milaad manaya jaye ga aur un ke paas taqreeban 300 mukhtalif yateem hain jinhein woh bas ke zariye aik jagah par le kar atay hain woh khobsorat milaad un Nabi (S) Manate hain aur bohat se ( dosray mukhtalif ) projects bhi karte hain. Lehaza is liye hum dua go hain ke log raat bhar ki mehfil se Faiz yab ho rahay hon aur aur Vancouver mein honay walay project se lutaf andoz ho rahay hon, milaad se Faiz yab ho rahay hon aur yeh sab logon ke taawun se mumkin hai. Bartania mein haaji Yousuf qaazi masha allah se yahan aur Pakistan mein is poooray programme ko spansr kar rahay hain aur haaji Faiz Khan ke liye ke woh yahan tamam munaqqid honay walay programme ko sponsor kar rahay hain aur tamam mukhtalif familes jo ke nihayat Muawin hain aur un ki sakhavat aur un ki Barkaat hain. Hum ne shuru mein hi dars dainay ki koshish ki ke hazrat abbu baker Seddiq alaihi salam ka qoul hai, aur ashaab un Nabi (S) se bohat saari ahadees riwayat hain ke" milaad un Nabi (S) ki raah mein sirf aik darham dena jo ke aik dollar ke barabar hai jannat ka darwaaza hai ". Yeh aik azeem Nemat hai azeem azeem Nemat hai .
Hazrat syedna abubaker Seddiq razi Allah taala anha ka irshad hai "jis ne huzoor (S) ke yom e wiladat par aik darham bhi kharch kya woh jannat mein mere sath hoga."
ENGLISH TRANSCRIPT:
So, alhamdulillah for these gentlemen for putting this together, working hard to find the food, to distribute the food and to put our life – our life's religion – our deen in action. That the actions speak louder than the words. That to feed people and to feed ourself is alhamdulillah good for our body, but to feed other people is good for the soul. The Fatima Zahra Helping van similar in Los Angeles; collecting food, food items and then going back into the Skid Row areas and distributing that food and giving a very positive and loving image of Islam. Our projects in Pakistan, our water wells and food distribution for orphanages and the repairing of orphanages. In the next two days they'll have a grand Mawlid (celebration of the birthday of Prophet ﷺ) in Pakistan for all yateems (orphans). And they have about 300 different yateem they bring by bus into an association. They put a beautiful Mawlid un Nabi ﷺ (celebration of the birthday of Prophet ﷺ) and many different projects. So, we pray that people enjoying tonight, enjoying the projects in Vancouver, enjoying the Milad. And that it's all capable or possible by the support of people. Haji Yusuf Qazi out of the UK for mashaallah sponsoring the entire event here and in Pakistan. For Haji Faiz Khan – he's sponsoring the entire event of all of here. And all the different families that are immensely supportive and their generosity and their blessings. We tried to teach at the beginning that Sayyidina Abu Bakr as Siddiq (as), and there are many hadith from the holy companions that, 'Just giving one dirham – the equivalent of one dollar in the way of Mawlid un Nabi ﷺ is a door to paradise,' it's an immense blessing, immense, immense blessing.
Hadrat Sayyiduna Abu Bakr as-Siddique (Radi Allahu Ta'ala Anhu) says :
,من أنفق درهما على قراءة مولد النبي صلى الله عليه وسلم كان رفيقي في الجنة
"Whosoever spends one dirham on the birthday of the Holy Prophet ﷺ, will be with me in Jannah." [An-Ne'matul Kubra, Pages 7/8, Published by Hakikat Kitabevi, Istanbul, Turkey]
ایک ایسے معاشرے میں رہنے کا تصور کریں جہاں لوگ سیدنا محمد ﷺ کے بارے میں کچھ نہیں جانتے اس کا موازنہ (مسلمان ملک ) سے نہیں کیا جاسکتا جہاں آپ کے پاس لاکھوں لوگ میلاد کے لیے آتے ہیں۔ اور لوگ کہتے ہیں کہ، "اوہ، ہمارے اپنے ملک میں دس ہزار بیس ہزار لوگ شرکت کرتے،" ہیں یہ بہت اچھا ہے کیونکہ آپ کا ملک مسلمان ملک ہیں لیکن یہ ملک مسلمان نہیں ہیں اور اس ملک میں یہ ظاہر کرنا ضروری ہے کہ "نہیں، ہمیں سیدنا محمد ﷺ سے بے پناہ محبت ہےاور یہ کہ ہم محمدی لوگ ہیں۔" کہ ہم چاہتے ہیں کہ اللہ عزوجل ہمیں نور محمدی سے فیض یاب کرے اور اللہ عزوجل ہمیں اس کے تمام تر نور اور تمام تر تسکین سے ہمیں فیض یاب کرے، ہمیں ملبوس کرے کہ جب سیدنا محمد صلی اللہ علیہ ہم پر نظر فرمائیں تو آپ ﷺ ہم سے خوش اور راضی ہوں کہ آپ کا کردار یعنی اخلاق – اخلاق و کردار اہم ہے۔ طریقہ (روحانی راستہ) ہماری زندگی میں آتا ہے اور ہمارے اور دوسرے سینٹرز کی درس و تدریس میں جو فرق ہے وہ یہ ہے کہ یہاں اخلاق پر یعنی کردار پر بہت زور دیا جاتا ہے۔ اور بہت ساری احادیث ہیں جو آپ ﷺ نے ارشاد فرمائی ہیں ۔" ایسے لوگ ہیں کہ ان کے اعمال بہت زیادہ ہیں وہ نماز بہت پڑھتے ہیں وہ روزے بہت رکھتے ہیں وہ پڑھائی بہت کرتے ہیں لیکن ان کے اخلاق بہت برے ہیں کہ بارگاہ الہی میں (ایسے) عمل کی کوئی قدر نہیں ہے' اور پھر بیان کیا 'ایسے لوگ ہیں جن کے عمل کمزور ہیں لیکن ان کا خُلُق ان کے کردار مضبوط ہیں اور اللہ عزوجل ان سے بہت راضی ہوتا ہے '۔ مطلب کہ اگر آپ کا اخلاق اچھا ہے اگر آپ کا کردار اچھا ہے ،تو اللہ عزوجل آپ کے دل میں ڈال دیتا ہے،' جاؤ اپنی نماز کو وقت پر ادا کرو'۔ اگر آپ کا کردار اچھا ہے, تو اللہ عزوجل آپ کے دل میں ڈالتا ہے ،'اپنی زکواة ادا کرو۔' اگر آپ کا کردار اچھا ہوتا ہے تو آپ کی نماز بھی قبول ہوتی ہے کیونکہ اللہ عزوجل اس بندے سے خوش ہوتا ہے ۔ لہذا خلق، اخلاق بہت اہمیت رکھتا ہے نہ کہ عمل ۔ یعنی کہ اچھا کردار – کوئی غیبت نہیں ، کوئی بری گفتگو نہیں، کوئی غصیلہ پن نہیں ، تمام بد اخلاقیات کو ظاہر نہ پونے دینا اور یہی جہاد اکبر یعنی عظیم جہاد ہے۔ جہاد اکبر اپنے نفس سے اور اور اپنے برے کردار سے لڑنا ہے ۔
حضرت جابرؓ سے روایت ہے کہ نبی کریم ﷺ نے جنگ سے واپس آنے والے صحابہ کرام ؓ سے فرمایا 'تمہارا آنا مبارک ہو، تم چھوٹے جہاد سے بڑے جہاد کی طرف آئے ہو۔صحابہ کرام نے عرض کی یارسول اللہ ﷺ ! بڑا جہاد کیا ہے ؟ بڑا جہاد، بندے کا اپنے نفس سے لڑنا ہے ۔ ('بیقہی ۱۳، ۴۹۸)
URUD TRANSLITERATION:
Aik aisay muashray mein rehne ka tasawwur karen jahan log Syedna Mohammad (S) ke baray mein kuch nahi jantay is ka mawazna ( musalman mulk ) se nahi kiya ja sakta jahan aap ke paas lakhoon log milaad ke liye atay hain. Aur log kehte hain ke, "Oh, hamaray apne mulk mein das hazaar bees hazaar log shirkat karte, " hain yeh bohat acha hai kyunkay aap ka mulk musalman mulk hain lekin yeh mulk musalman nahi hain aur is mulk mein yeh zahir karna zaroori hai ke "Nahi, hamein Syedna Mohammad (S) se bey panah mohabbat hai aur yeh ke hum Muhammadi log hain. " ke hum chahtay hain ke Allah azzwajal hamein noor Muhammadi se Faiz yab kere aur Allah azzwajal hamein is ke tamam tar noor aur tamam tar taskeen se hamein Faiz yab kere, hamein malbos kere ke jab syedna Mohammad (S) hum par nazar farmaen to aap (S) hum se khush aur raazi hon ke aap ka kirdaar yani ikhlaq – ikhlaq o kirdaar ahem hai. Tareeqa ( Rohani rasta ) hamari zindagi mein aata hai aur hamaray aur dosray centers ki dars o tadrees mein jo farq hai woh yeh hai ke yahan ikhlaq par yani kirdaar par bohat zor diya jata hai. Aur bohat saari ahadees hain jo aap (S) Ne irshad farmai hain." aisay log hain ke un ke aamaal bohat ziyada hain woh namaz bohat parhte hain woh rozay bohat rakhtay hain woh parhai bohat karte hain lekin un ke ikhlaq bohat buray hain ke bargaah ellahi mein ( aisay ) amal ki koi qader nahi hai' aur phir bayan kya' aisay log hain jin ke amal kamzor hain lekin un ka khalq un ke kirdaar mazboot hain aur Allah azzwajal un se bohat raazi hota hai '. Matlab ke agar aap ka ikhlaq acha hai agar aap ka kirdaar acha hai, to Allah azzwajal aap ke dil mein daal deta hai,' jao apni namaz ko waqt par ada karo '. Agar aap ka kirdaar acha hai, to Allah azzwajal aap ke dil mein dalta hai,' apni zakat ada karo.' agar aap ka kirdaar acha hota hai to aap ki namaz bhi qubool hoti hai kyunkay Allah azzwajal is bande se khush hota hai. Lehaza Khalq , ikhlaq bohat ahmiyat rakhta hai nah ke amal. Yani ke acha kirdaar – koi gheebat nahi, koi buri guftagu nahi, koi ghaseela pan nahi, tamam bad ikhlaqiaat ko zahir nah pauney dena aur yahi jehaad akbar yani azeem jehaad hai. Jehaad akbar apne nafs se aur aur apne buray kirdaar se larna hai .
Hazrat jabir se riwayat hai ke nabi kareem (S) ne jung se wapas anay walay sahaba karaam (ra) se farmaya' tumhara aana mubarak ho, tum chhootey jehaad se barray jehaad ki taraf aaye ho. Sahaba karaam ne arz ki Ya Rasul Allah (S)! Bara jehaad kya hai? Bara jehaad, bande ka apne nafs se larna hai.
ENGLISH TRANSCRIPT:
Imagine living in a society where they don't know anything about Sayyidina Muhammad ﷺ. So, these are not comparable to back home where you have hundred thousand people coming for Milad and they say, 'Oh back home we do ten-thousand, twenty-thousand.' That's great, you should be because you're a Muslim country. But this country is not Muslim and this country it's important to show that, 'No, we have an immense love for Sayyidina Muhammad ﷺ and that we are Muhammadiyoon.' That we want Allah (AJ) to dress us from Nurul Muhammadi ﷺ (light of Prophet Muhammad ﷺ). And that Allah (AJ) dress us and bless us with all of its beauty and all of its satisfaction that when Sayyidina Muhammad ﷺ looks upon us that he be happy and pleased. That the character – the khuluq; the khuluq (character) is important. The tariqahs (spiritual paths) come and the difference between our teaching and many other teachings that you'll find in different centers is the emphasis on the khuluq – on the character. And there are many hadith that Prophet ﷺ described, 'There are people that their 'amal (action) is very high. They pray a lot. They fast a lot, they read a lot but their khuluq is bad. That 'amal has no value in the Presence of Allah (AJ).' And then described that, 'There are people whom their 'amal is weak but their khuluq – their character is strong and Allah (AJ) is very pleased with them.' Means if you have good khuluq – if you have good character Allah (AJ) inspires your heart, 'Go make your salah (daily prayer) on time.' If you have good character, Allah (AJ) inspire your heart that, 'Give your zakah (charity).' When you have good character your salah it counts because Allah (AJ) is happy with that servant. So, khuluq is important not 'amal, khuluq. That the good character; no back biting, no bad talking, not being angry, not showing all the bad characteristics – and that is the Jihad al Akbar (Greatest Struggle). The Jihad al Akbar is to fight yourself and all your bad character.
عَنْ جَابِرُ قَالَ قَدِمَ عَلَى رَسُولُ اللَّهِ ﷺ قَوْمٌ غَزَاةٌ. فقَالَ النَّبِيُّ ﷺ: " قَدِمْتُمْ خَيْرَ مَقْدَمٍ مِنْ الْجِهَادِ الْأَصْغَرْ إِلَى الْجِهَادِ الْأكْبَرْ." قِيْلَ وَمَا اَلْجِهَادِ الْأكْبَرْ؟ قَالَ ﷺ: " مُجَاهَدَةُ الْعَبْدِ هَوَاهُ ." [البيهقى في كتاب الزُّهدِ الْكَبِير ٣٧٣ والخطيب البغدادي في كتاب تاريخ بغداد، جزء ١٣، ٤٩٨]
"An Jabiru (as) qala, 'qadema 'ala Rasulullahi ﷺ qawmun ghazatun. Faqalan Nabiyu ﷺ : "Qademtum khaira maqdamin min jihadil Asghar ilal Jihadil Akbar." Qeela "wa ma al Jihadil Akbar?" Qala ﷺ : "Mujahidatul 'abdi hawahu." [ Bayhaqi fi Kitab Az Zuhdil Kabir & al Khatib al Baghdadi fi Kitabi Tarikh Baghdad, Juz' 13/498]
Jabir (as) narrated: 'Some warriors came to the Holy Prophet (pbuh). The Prophet (Muhammad) (pbuh) said to them, "Welcome back from the minor Jihad/Struggle to the greater Struggle." It was asked, 'What is the greater struggle Oh Prophet of Allah (Pbuh)?" The Prophet (pbuh) replied: "it is the servant's fight/struggle against his own Ego/worldly desires." [Bayhaqi in book of 'The Great Asceticism & Al Khatib Baghadadi in book of History of Baghdad, Vol 13, 498]
جیسے ہی آپ کا منہ کسی کے بارے میں غیبت کرنا چاہے، اپنی زبان کو تھام لیں۔ جیسے ہی آپ کسی کے بارے میں برا کہنا چاہیں، اپنی زبان کو تھام لیں۔ اپنے بُرے کردار کو باہر آنے کی اجازت نہ دیں۔ اگر آپ کا کردار برا ہے اور 30 سالوں سے آپ نماز پڑھ رہے ہیں تو اس کا مطلب ہے کہ اللہ عزوجل نے آپ کی نماز کو قبول نہیں کیا۔ آپ بھلا کیوں نماز ادا کر رہے ہیں کہ جب آپ کا کردار ہی برا ہے؟ اگر 'عمل' آپ کے اخلاق کو بہتر کرنے میں مدد نہیں کرتا ہے تو اس کا مطلب ہے کہ اللہ عزوجل نے اسے قبول نہیں کیا۔ کوئی کہہ رہا تھا ،'شیخ ،میں تیس سالوں سے نماز پڑھ رہا ہوں لیکن میں بہت غصیلا ہوں۔' یعنی آپ کی نماز اللہ عزوجل نے قبول نہیں کی۔ جب اللہ عزوجل آپ کی نماز کو قبول کرتا ہے تو آپ کا اخلاق بدلتا ہے(بہتر ہو جاتا ہے ) کیونکہ اس عمل میں اخلاص شامل ہوتا ہے اس میں خلوصِ نیت ہوتی ہے۔ اگر عمل میں خلوص نہیں ہے اور کردار اچھا نہیں ہے تو عمل ضائع ہو جاتا ہے۔ وہ بس اس عمل کو کرنے میں مصروف رہتے ہیں ،کرتے رہتے ہیں، کرتے رہتے ہیں۔ لیکن وہ برا بولتے ہیں ۔وہ بد فعل ہوتے ہیں۔ لہذا اس کا مطلب ہے کہ وہ عمل آسمانوں تک نہیں پہنچا۔ لہذا طریقت آتی ہے یعنی روحانی راستے ہماری زندگیوں میں آتے ہیں، اور اہل سنت والجماعت، سارے طروق، ان میں کوئی بھی اہل سنت والجماعت کے شیخ ایسے نہیں ہیں جن میں ذوق نہ ہو۔ وہ سب مذہب کی پیروی کرتے ہیں اور ان میں ذوق ہے۔ ان کا ایک اندازِ ذوق ہے۔ چاہے وہ قادری ہوں ، شافعی ہوں، وہ نقشبندی ہوں، چشتی ہوں، سارے مختلف طروق ان میں ذوق ہے۔ یعنی کہ یہ طروق یہ سکھانے کے لیے آتے ہیں کہ کردار کی تعمیر کرو، ایسا کردار بناؤ جس سے اللہ عزوجل راضی ہو۔ جب بھی آپ غصہ ہونا چاہیں ،جس وقت بھی آپ برا کرنا چاہیں ،آپ برا بولنا چاہیں ،اپنی زبان کو روک دیں۔ اپنی زبان کو تھام لیں اسے کچھ نہ کہنے دیں جس کے نتیجے میں اللہ عزوجل اس بندے کو اخلاص سے نوازے گا ۔جب بندہ خلوص نیت والا ہوگا اس میں نرمی ہوگی اس کے دل میں شرم و حیا ہو گی۔ تو اگر وہ کچھ برا کہتے ہیں اگر وہ کچھ برا کرتے ہیں تو انہیں اللہ عزوجل کے سامنے شرمندگی محسوس ہوتی ہے ،انہیں اداسی ہوتی ہے ،انہیں رونا آتا ہے۔
ہم دعا گو ہیں کہ اللہ عزوجل میلاد النبی ﷺ کے توسل سے ہر برے کردار کو دور کر دے ، ہمیں حفظ و امان میں رکھے ،ہمارے بچوں کی حفاظت کرے ،اور ہمارے معاشرے کی حفاظت فرمائے۔ اور یہ کہ میلاد النبی ﷺ کی روشنیاں اور نور ہماری قبروں میں داخل ہوں اور ہمیں قبر کی مشکلات سے بچا لیں۔
سُبْحٰنَ رَبِّكَ رَبِّ الْعِزَّةِ عَمَّا یَصِفُوْنَۚ ۞
وَ سَلٰمٌ عَلَى الْمُرْسَلِیْنَۚ ۞وَالْحَمْدُ لِلّٰهِ رَبِّ الْعٰلَمِیْنَ۠ ۞
بِحُرْمَةِ (سیدنا) مُحَمَّدِ الْمُصْطَفیٰ وَبِسِرِّ سُورَۃِ الْفَاتِحَه
URUD TRANSLITERATION:
Jaisay hi aap ka mun kisi ke baray mein gheebat karna chahay, apni zabaan ko thaam len. Jaisay hi aap kisi ke baray mein bura kehna chahain, apni zabaan ko thaam len. Apne buray kirdaar ko bahar anay ki ijazat nah den. Agar aap ka kirdaar bura hai aur 30 saloon se aap namaz parh rahay hain to is ka matlab hai ke Allah azzwajal ne aap ki namaz ko qubool nahi kya. Aap bhala kyun namaz ada kar rahay hain ke jab aap ka kirdaar hi bura hai? Agar' amal' aap ke ikhlaq ko behtar karne mein madad nahi karta hai to is ka matlab hai ke Allah azzwajal ne usay qubool nahi kya. Koi keh raha tha,' Sheikh , mein tees saloon se namaz parh raha hon lekin mein bohat ghasila hon.' yani aap ki namaz Allah azzwajal ne qubool nahi ki. Jab Allah azzwajal aap ki namaz ko qubool karta hai to aap ka ikhlaq badalta hai ( behtar ho jata hai ) kyunkay is amal mein ikhlaas shaamil hota hai is mein khuloos niyat hoti hai. Agar amal mein khuloos nahi hai aur kirdaar acha nahi hai to amal zaya ho jata hai. Woh bas is amal ko karne mein masroof rehtay hain, karte rehtay hain, karte rehtay hain. Lekin woh bura boltay hain. Woh bad feal hotay hain. Lehaza is ka matlab hai ke woh amal asmano tak nahi pouncha. Lehaza tareqat aati hai yani Rohani rastay hamari zindagion mein atay hain, aur ahal sunnat wa-aljamaat, saaray turuq, un mein koi bhi ahal sunnat wa-aljamaat ke Sheikh aisay nahi hain jin mein zouq nah ho. Woh sab mazhab ki pairwi karte hain aur un mein zouq hai. Un ka aik andaz zouq hai. Chahay woh qadri hon, Shafi hon, woh nqshbndi hon, Chishti hon, saaray mukhtalif turuq un mein zouq hai. Yani ke yeh turuq yeh sikahnay ke liye atay hain ke kirdaar ki taamer karo, aisa kirdaar banaao jis se Allah azzwajal raazi ho. Jab bhi aap gussa hona chahain, jis waqt bhi aap bura karna chahain, aap bura bolna chahain, apni zabaan ko rokkk den. Apni zabaan ko thaam len usay kuch nah kehnay den jis ke nateejay mein Allah azzwajal is bande ko ikhlaas se nawaze ga. Jab bandah khuloos niyat wala hoga is mein narmi hogi is ke dil mein sharam o haya ho gi. To agar woh kuch bura kehte hain agar woh kuch bura karte hain to inhen Allah azzwajal ke samnay sharmindagi mehsoos hoti hai, inhen udasi hoti hai, inhen rona aata hai.
Hum dua go hain ke Allah azzwajal milaad un Nabi (S) ke Tawassal se har buray kirdaar ko daur kar day, hamein hifz o Amaan mein rakhay, hamaray bachon ki hifazat kere, aur hamaray muashray ki hifazat farmaiye. Aur yeh ke milaad un Nabi (S) ki roshniyan aur noor hamari qabron mein daakhil hon aur hamein qabar ki mushkilaat se bacha len .
ENGLISH TRANSCRIPT:
As soon as your mouth wants to backbite somebody, hold your tongue. As soon as you want to speak bad about somebody, hold your tongue. Don't use your bad character to come out. If you have bad character and thirty years you're praying means Allah (AJ) didn't accept your salah. Why you're praying and you still have bad character? The 'amal if it didn't help you means Allah (AJ) didn't accept it. Somebody saying, 'Shaykh I'm praying thirty years but I'm very angry,' means your salah was not accepted by Allah (AJ). When Allah (AJ) accepts your salah, your khuluq changes because it has ikhlas – it has sincerity. If the action is not sincere and the character is not good, the 'amal is wasted. They're just busy moving, moving, moving, doing, doing, doing, but they talk bad, they act bad. So, means that the 'amal didn't even raise up into the heavens. So, the tariqahs come and the turuqs (spiritual paths) come and traditional Ahlus Sunnah wal Jama'ah (People of Prophetic Tradition and of the Majority) – all tariqah. There is not a Ahlus Sunnah wal Jama'ah shaykh that doesn't have a zawq (taste). They all follow the madhabs (schools of Islamic law) and they have a zawq – they have a way of tasting. Either they're Qadiri, Shaf…. They're, they're Naqshbandi. What do you have in…? No, the Chishti, all the different tariqahs – the way of the zawq and taste. Means that these turuqs they came to teach that – build the character, a character in which Allah (AJ) to be happy. Every time you want to be angry, every time you want to exhibit something bad, you want to talk bad; bite your tongue. Hold you tongue not to say it! As a result Allah (AJ) grants the servant to be sincere. When the servant is sincere they have khushiya, they have a shyness in their heart. They feel like crying, they feel sad, they feel ashamed in front of Allah (AJ) if they say something bad, if they do something bad. We pray that Allah (AJ) by means of Milad un Nabi ﷺ to take away every bad characteristic, to save ourself, to save our children and to save our communities. And that the light of these Mawlud, the light of this Milad to enter into the qabr (grave) and to save us from the difficulties of the qabr.
Subhana rabbika rabbal 'izzati 'amma yasifoon, wa salaamun 'alal mursaleen, walhamdulillahi rabbil 'aalameen. Bi hurmati Muhammad al-Mustafa wa bi siri Surat al-Fatiha.
——————————–
یہ بیان یوٹیوب پر دیکھنے کیلئے
Watch this Bayan on youtube:

اس آرٹیکل کو انگلش میں پڑھنے کیلئے
𝐈𝐦𝐦𝐞𝐧𝐬𝐢𝐭𝐲 𝐨𝐟 𝐥𝐢𝐯𝐢𝐧𝐠 𝐚 𝐥𝐢𝐟𝐞 𝐨𝐟 𝐬𝐞𝐫𝐯𝐢𝐜𝐞 𝐚𝐧𝐝 𝐩𝐚𝐫𝐭𝐢𝐜𝐢𝐩𝐚𝐭𝐢𝐨𝐧. 𝐓𝐨 𝐟𝐞𝐞𝐝 𝐨𝐮𝐫𝐬𝐞𝐥𝐯𝐞𝐬 𝐢𝐬 𝐠𝐨𝐨𝐝 𝐟𝐨𝐫 𝐨𝐮𝐫 𝐛𝐨𝐝𝐲, 𝐛𝐮𝐭 𝐭𝐨 𝐟𝐞𝐞𝐝 𝐨𝐭𝐡𝐞𝐫 𝐩𝐞𝐨𝐩𝐥𝐞 𝐢𝐬 𝐠𝐨𝐨𝐝 𝐟𝐨𝐫 𝐭𝐡𝐞 𝐬𝐨𝐮𝐥. 𝐓𝐡𝐞 𝐜𝐡𝐚𝐫𝐚𝐜𝐭𝐞𝐫 𝐢𝐬 𝐰𝐡𝐚𝐭'𝐬 𝐢𝐦𝐩𝐨𝐫𝐭𝐚𝐧𝐭, 𝐈𝐟 𝐭𝐡𝐞 𝐝𝐞𝐞𝐝𝐬 𝐚𝐫𝐞 𝐬𝐭𝐫𝐨𝐧𝐠 𝐛𝐮𝐭 𝐭𝐡𝐞 𝐜𝐡𝐚𝐫𝐚𝐜𝐭𝐞𝐫 𝐢𝐬 𝐛𝐚𝐝, 𝐭𝐡𝐞𝐧 𝐭𝐡𝐨𝐬𝐞 𝐚𝐜𝐭𝐢𝐨𝐧𝐬 𝐚𝐫𝐞 𝐧𝐨𝐭 𝐚𝐜𝐜𝐞𝐩𝐭𝐞𝐝.
یو ٹیوب چینل ابھی سبسکرایب کیجئے
Subscribe Now: The Muhammadan Way Sufi Realities
Www.youtube.com/channel/UC4E8QX7OgwYDgyuuXTBMrcg
شیخ سید نور جان میر احمدی نقشبندی (ق) کا آفشیل فیس بک پیج لائک کیجئے
Official Page: Shaykh Nurjan Mirahmadi
Https://www.facebook.com/shaykhnurjanmirahmadi/
► 𝐀𝐧𝐝𝐫𝐨𝐢𝐝 𝐀𝐩𝐩: https://play.google.com/store/apps/details?Id=com.nurmuhammad.muhammadanway
► 𝐢𝐏𝐡𝐨𝐧𝐞 𝐀𝐩𝐩: https://apps.apple.com/us/app/muhammadan-way/id1244297852
► 𝐒𝐨𝐮𝐧𝐝𝐂𝐥𝐨𝐮𝐝: https://soundcloud.com/muhammadanway
► 𝐃𝐨𝐧𝐚𝐭𝐞 (𝐏𝐀𝐊𝐈𝐒𝐓𝐀𝐍 𝐚𝐧𝐝 𝐖𝐎𝐋𝐑𝐃𝐖𝐈𝐃𝐄) : https://nurmuhammad.com/donate
Please Subscribe and Share