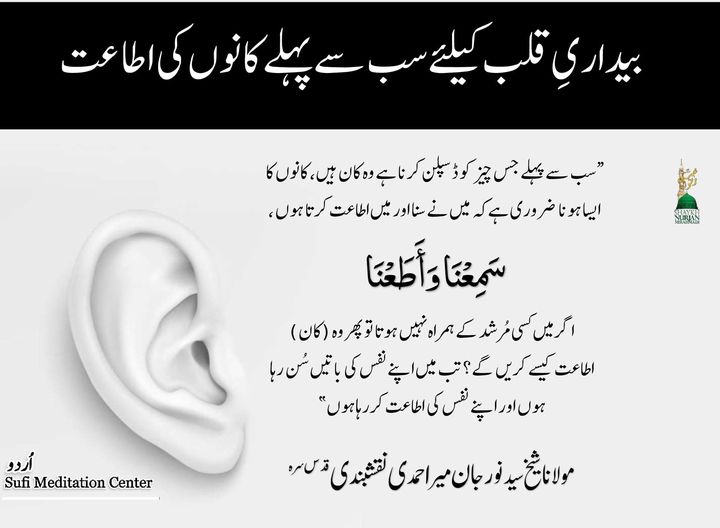 Urdu – خاموش رہیں اور اپنے تمام حواس پر قابو رکھیں |Khamosh Rahai Aur Apne Tamam Hawas …

خاموش رہیں اور اپنے تمام حواس پر قابو رکھیں
|Khamosh Rahai Aur Apne Tamam Hawas Per Qabu Rakhen|
𝐒𝐭𝐚𝐲 𝐒𝐢𝐥𝐞𝐧𝐭 𝐚𝐧𝐝 𝐂𝐨𝐧𝐭𝐫𝐨𝐥 𝐀𝐥𝐥 𝐘𝐨𝐮𝐫 𝐒𝐞𝐧𝐬𝐞𝐬
مولانا شیخ سید نورجان میر احمدی نقشبندی (ق) کی تعلیمات مولانا کے حقائق سے
اَعُوْذُ بِاللہ (عزوجل) مِنَ الشَّیْطٰنِ الرَّجِیْمِ ۞بِسْمِ اللہ (عزوجل) الرَّحْمٰنِ الرَّحِیْمِ ۞
روحانیت کی بنیاد محبت اور دل کی طہارت ہے
|Ruhaniyat ki bunyad Muhabet aur Dil ki Taharat hai|
𝐓𝐡𝐞 𝐁𝐚𝐬𝐞 𝐨𝐟 𝐒𝐩𝐢𝐫𝐢𝐭𝐮𝐚𝐥𝐢𝐭𝐲 𝐢𝐬 𝐋𝐨𝐯𝐞 𝐚𝐧𝐝 𝐏𝐮𝐫𝐢𝐟𝐢𝐜𝐚𝐭𝐢𝐨𝐧 𝐨𝐟 𝐭𝐡𝐞 𝐇𝐞𝐚𝐫𝐭
ہم مادی جسم کیلئے طہارت کا ایک درجہ حاصل کرنا چاہتے ہیں۔ سفر مادی جسم کی طہارت پر ختم نہیں ہوتا، یہ محض ایک شروعات ہے ، جس میں ہمیں اپنی لازوال حقیقت کی طرف جانا ہے ۔ وہ لازوال حقیقت، روح ہے اور اس روح کی حکومت اور اس کی اینرجی، محبت ہو گی ۔ مُرشد ہمیں تعلیم دیتے ہیں کہ اہم بات یہ ہے اس حقیقت کو بیدار کیسے کیا جائے ۔ پھر، قلب اور محبت —محبت کا بیج دل ہے۔ لہذا ہر سمت جدھر آپ دیکھو گے، آپ کو واپس دل پہ آنا ہوگا۔ وہ (مرشد) ہمیں جو سمجھانا چاہتے ہیں، وہ روحانیت اور جسم کے افعال ہیں ۔ اس لئے ، کیونکہ تم مادی جسم کے ڈسپلن( نظم و ضبط) کے زریعے ایک درجہ حاصل کرنے کی کوشش کر رہے ہو ، دل کی حقیقت بیدار کرنے کیلئے ، روحانیت ، روح کی بنیاد جس کی اساس محبت ہے۔
𝐓𝐫𝐚𝐧𝐬𝐥𝐢𝐭𝐞𝐫𝐚𝐭𝐢𝐨𝐧: Hum maadi jism ke liye taharat ka aik darjah haasil karna chahtay hain. Safar maadi jism ki taharat par khatam nahi hota, yeh mehez aik shuruwaat hai, jis mein hamein apni lazawaal haqeeqat ki taraf jana hai. Woh lazawaal haqeeqat, ruh hai aur is ruh ki hukoomat aur is ki energy, Muhabet ho gi. Murshid hamein taleem dete hain ke ahem baat yeh hai is haqeeqat ko beedar kaisay kya jaye. Phir, Qalb aur Muhabet — Muhabet ka beej dil hai. Lehaza har simt jidhar aap dekho ge, aap ko wapas dil pay aana hoga. Woh ( Murshid ) hamein jo samjhaana chahtay hain, woh rohaniyat aur jism ke af-aal hain. Is liye, kyunkay tum maadi jism ke discipline (nazam o zabt ) ke zariye aik darja haasil karne ki koshish kar rahay ho, dil ki haqeeqat beedar karne ke liye, rohaniyat, ruh ki bunyaad jis ki asaas Muhabet hai.
𝐎𝐫𝐢𝐠𝐢𝐧𝐚𝐥 𝐀𝐫𝐭𝐢𝐜𝐥𝐞:
From the Realities of Mawlana (Q) as taught by Shaykh Nurjan Mirahmadi.
A'uzu Billahi Minash Shaitanir Rajeem, Bismillahir Rahmanir Raheem
I seek refuge in Allah from Satan, the rejected one
In the Name of Allah, the Most Beneficent, the Most Merciful
We want to achieve a rank of purification for the physicality. The journey doesn't end with the purification of the physicality; it is merely a beginning, in which to reach towards our timeless reality. The timeless reality is the soul and that soul is governed by, and its energy, is going to be love. The guides teach us that how to open that reality is what is important. Then heart and love, the seed of love is the heart. So every direction you look, you have to come back to the heart. What they want for us to understand is the spiritual and the physiology of the body. That is because you are trying to achieve a rank by disciplining the physicality, to open the reality of the heart, the spirituality, the base of the soul which is based off of love.
پہلا قدم اللہ (عزوجل) کی وحدانیت کا اقرار اور دماغ کی نفی ہے
|Pehla qadam Allah (AJ) ki wahdaniyat ka iqraar aur Dimagh ki nafi hai|
𝐓𝐡𝐞 𝐅𝐢𝐫𝐬𝐭 𝐒𝐭𝐞𝐩 𝐢𝐬 𝐭𝐨 𝐀𝐜𝐜𝐞𝐩𝐭 𝐀𝐥𝐥𝐚𝐡'𝐬 𝐎𝐧𝐞𝐧𝐞𝐬𝐬 & 𝐒𝐚𝐲 𝐍𝐨 𝐭𝐨 𝐭𝐡𝐞 𝐇𝐞𝐚𝐝
پھر مُرشد سکھاتے ہیں کیونکہ یہ ابدی عمل/ دائرہ ہے۔ ابتدائی مرحلے میں سر کو اطاعت میں جھکنا ہوگا۔ تو پہلا ذکر لا الٰہ الا اللہ ہے ( کوئی معبود نہیں، ماسوائے اللہ)۔ لا — آپ پیشانی پر اپنی اینرجی لاتے ہیں، الٰہ— دائیں طرف (سینے کی جانب )، الااللہ بائیں طرف (دل) ۔ اس کا مطلب ہے کہ اینرجی آرہی ہے اور یہ اینرجی سر (دماغ) کی طرف جاتی ہے۔ سر (دماغ) لا ہے۔ پھر دائیں طرف ، الٰہ ۔ اور پھر اینرجی کی تمام توجہ دل میں آجاتی ہے، الا اللہ ۔ تو، لا الہ الا اللہ (پیشانی سے دائیں طرف ، پھر بائیں طرف، پھر دل کی طرف)۔ لہذا ، پھر یہ وحدانیت کی شہادت (گواہی) ہے، کچھ نہیں ماسوائے خدا ؛ کچھ نہیں ہے سوائے خدا کے؛ کچھ نہیں ہے، سوائے اللہ (عزوجل) کے۔ تم خدا بھی نہیں کہہ سکتے کیونکہ ان کے ہاں ، خدا دیوتا اور دیویاں ہیں۔ اللہ (عزوجل) کا کوئی جمع نہیں، اللہ (عزوجل) حضرۃ الہی / حضورِ حق کیلئے عربی لفظ ہے۔ اس کی کوئی جمع نہیں ، نہ کوئی مذکر ہے ، نہ ہی مونث ۔ لہذا لا الہ الا اللہ (پیشانی ، دائیں ، بائیں) وحدانیت میں آنے کیلئے۔
𝐓𝐫𝐚𝐧𝐬𝐥𝐢𝐭𝐞𝐫𝐚𝐭𝐢𝐨𝐧: Phir Murshid sikhate hain kyunkay yeh abdi amal / daira hai. Ibtidayi marhalay mein sir ko itaat mein jhukna hoga. to pehla zikr Laa ilaha ilAllah hai (koi mabood nahi, masiwaye Allah). LA — aap peshani par apni energy laatay hain, Ilaha — dayen taraf ( seenay ki janib ), IlAllah baen taraf ( dil ). Is ka matlab hai ke energy aa rahi hai aur yeh energy sir ( dimagh ) ki taraf jati hai. Sir ( dimagh ) LA hai. phir dayen taraf, Ilaha.Toh Laa ilaha ilAllah ( peshani se dayen taraf, phir baen taraf, phir dil ki taraf ). Lehaza, phir yeh wahdaniyat ki shahadat ( gawahi ) hai, kuch nahi masiwaye Khuda ؛ kuch nahi hai siwaye khuda ke ؛ kuch nahi hai, siwaye Allah (AJ) ke. Tum khuda bhi nahi keh satke kyunkay un ke haan, khuda daiwata aur dewaiyan hain. Allah (AJ) ka koi jama nahi, Allah (AJ) Hadrat ilahi / Hazur-e-Haq ke liye Arabi lafz hai. Is ki koi jama nahi, nah koi muzakar hai, nah hi monas. Lehaza Laa ilaha ilAllah ( peshani, dayen, baen ) wahdaniyat mein anay ke liye .
𝐎𝐫𝐢𝐠𝐢𝐧𝐚𝐥 𝐀𝐫𝐭𝐢𝐜𝐥𝐞: Then the guides teach because it is an eternal loop. In the beginning phase the head has to be in submission. So the first zikr is laa ilaha ilAllah (there is no deity except Allah). Laa – you bring your energy to the forehead, ilaha – to the right (side of chest) ilAllah to the left (the heart). It means the energy is coming in and moving that energy to the head. Head is laa. Then to the right, ilaha. And then bringing all the focus of the energy into the heart, ilAllah. So laa ilaha ilAllah (energy from forehead, to right side, then towards the heart on the left). So then it is the testimony of Oneness, 'there is nothing but God, there is nothing but God, there is nothing but Allah.' You can't even say God because they have gods and goddesses. Allah has no plural, Allah is the Arabic word for the Divinely Presence. It has no plural, no masculine, no feminine. So laa ilaha ilAllah (forehead, right, left) to bring into Oneness.
نفس ، شیطان کے ساتھ شریک ہو جاتا ہیں اور دماغ کو ہائی جیک (اغوا) کر لیتا ہے
|Nafs, Shaytan ke sath shareek ho jata hain aur dimagh ko Hijack (Ighwa) kar laita hai|
𝐇𝐞𝐚𝐝 𝐄𝐠𝐨 𝐏𝐚𝐫𝐭𝐧𝐞𝐫𝐬 𝐰𝐢𝐭𝐡 𝐒𝐚𝐭𝐚𝐧 𝐚𝐧𝐝 𝐇𝐢𝐣𝐚𝐜𝐤 𝐭𝐡𝐞 𝐇𝐞𝐚𝐝
مرشد یہ سکھانا شروع کرتے ہیں کہ دل کھولنے کا واحد راستہ دماغ کو تابع کرنا ہے۔ تو پھر وہ ہمیں تعلیم دینے لگتے ہیں ، ہم جو بات سیکھنے کی کوشش کر رہے ہیں ، اس کا فوکس یہ ہے کہ سر (دماغ) کو اطاعت گزار بننا ہے۔ غلطی سے ، دماغ اس جسم کا حاکم ادارہ ہے ۔ دماغ اس سلطنت کی حکومت کا دعوی ٰکرتا ہے، (یہ دعوی) نفس اور شیطان کی شراکت کے ذریعہ ہے۔ اللہ (عزوجل) کے ساتھ ، خدا کے ساتھ کوئی شراکت نہیں ہوسکتی ، لہذا اللہ (عزوجل) کے ساتھ کوئی شریک نہیں ۔ اللہ (عزوجل) ہمیں وارننگ دے رہا کہ آپ کا نفس ، شیطان کے ساتھ شریک بن رہا ہے اور تم دونوں میری آسمانی سلطنت کے خلاف بغاوت کر رہےہو۔ میرا نور آپ کے دل میں ہونا چاہئے اور میری سلطنت آپ کے دل میں ہونی چاہئے ، جیسے جنت میں ہے؛ جیسے تم اِسے جنت میں چاہتے ہو اور تم میری بادشاہت کے تحت اور جنت میں میری سلطنت میں رہنا چاہتے ہو ، پھر تمہیں اس حقیقت کی ایک چھوٹی سی ریاست بننا ہوگا۔ ہمارے دل میں یہ نور (روشنی ) لازمی ہونی چاہئے اور قلب کے اندر حضورِ حق کی حکومت قائم ہونی چاہئے۔ لہذا وہ (مرشد)یہ درس دینے لگتے ہیں کہ شیطان اور وہ (نفس) ساتھی ہیں تاکہ ہمیں نیچے گرائیں۔ انہوں نے دماغ کو اغوا کر لیا ہے۔ تو پھر ہمارا پہلا ہدف سر کاٹ دینا ہے— جسمانی نہیں بلکہ روحانی اصطلاح میں بات ہور ہی ہے ۔ "لا الہ الا اللہ " کہنے سے ، اس سے مراد ہے کہ آپ خود کو یہ سکھانے کی کوشش کر تے ہیں کہ میرے دماغ کی کوئی اہمیت نہیں ، میرا دماغ ہر بات اُلجھا رہا ہے۔ میرا دماغ میرے راستے کو الجھا رہا ہے۔ میں اپنے مغز کے زریعے غور کررہا ہوں کہ اللہ کون ہے، اعوذ باللہ ، أستغفر الله ، رسول اللہ (ﷺ) کون ہیں؟ میرے شیخ کون ہے؟ میرے استاد کون ہے؟ سب کون ہیں؟ میں اِسے اپنے دماغ میں ڈال رہا ہوں۔ اور دماغ کے پاس کچھ جاننے کی فیکلٹی (طاقت )نہیں ہے۔
𝐓𝐫𝐚𝐧𝐬𝐥𝐢𝐭𝐞𝐫𝐚𝐭𝐢𝐨𝐧 : Murshid yeh sikhana shuru karte hain ke dil kholnay ka wahid rasta dimagh ko tabay karna hai. To phir woh hamein taleem dainay lagtay hain, hum jo baat seekhnay ki koshish kar rahay hain, is ka focus yeh hai ke sir ( dimagh ) ko itaat guzaar ban-na hai. Ghalti se, dimagh is jism ka haakim idaara hai. Dimagh is saltanat ki hukoomat ka daawa Karta hai, ( yeh daawa ) nafs aur Shaytan ki shiraakat ke zareya hai. Allah (AJ) ke sath, Khuda ke sath koi shiraakat nahi hosakti, lehaza Allah (AJ) ke sath koi shareek nahi. Allah (AJ) hamein jo warning day raha ke aap ka nafs, Shaytan ke sath shareek ban raha hai aur tum dono meri aasmani saltanat ke khilaaf baghaawat kar rahay ho. Mera noor aap ke dil mein hona chahiye aur meri Saltanat aap ke dil mein honi chahiye, jaisay jannat mein hai; jaisay tum isay jannat mein chahtay ho aur tum meri badshahat ke tehat aur jannat mein meri Saltanat mein rehna chahtay ho, phir tumhe is haqeeqat ki aik chothii si riyasat ban-na hoga. Hamaray dil mein yeh noor ( roshni ) laazmi honi chahiye aur Qalb ke andar Huzoor haq ki hukomat qaim honi chahye. Lehaza woh ( Murshid ) yeh dars dainay lagtay hain ke Shaytan aur woh ( nafs ) saathi hain taakay hamein neechay grayin. Unhon ne dimagh ko ighwa kar liya hai. To phir hamara pehla hadaf sir kaat dena hai — jismani nahi balkay Rohani istilaah mein baat horahi hai. "Laa ilaha ilAllah," kehnay se, is se morad hai ke aap khud ko yeh sikahnay ki koshish karte hain ke mere dimagh ki koi ahmiyat nahi, mera dimagh har baat uljha raha hai. Mera dimagh mere rastay ko uljha raha hai. mein apne maghaz ke zariye ghor kar raha hon ke Allah kon hai, Audbillah, Astaghfarullah Rasul Allah (saws) kon hain? Mere Shaykh kon hai? Mere ustaad kon hai? Sab kon hain? mein isay apne dimagh mein daal raha hon. Aur dimagh ke paas kuch jan-nay ki faculity ( taaqat ) nahi hai .
𝐎𝐫𝐢𝐠𝐢𝐧𝐚𝐥 𝐀𝐫𝐭𝐢𝐜𝐥𝐞: The guides begin to teach that the only way to open the heart is to bring the head into submission. So then they begin to teach us, the focus of what we are trying to learn is that the head has to submit. The head is the governing entity of this body, incorrectly. That kingdom that the head has claimed, is through the ego and the partnership of Satan. There can be no partnership with Allah , with God, so there is no sharik (partner) with Allah . What Allah is warning us is that your ego is becoming a partner with Satan. And the two of you are coming against My Heavenly Kingdom. My light should be within your heart and My Kingdom should be in your heart, as it is in Heaven. As you want it to be in Heaven and you want to be under My Dominion and in My Kingdom in Heaven, then you must be a mini kingdom of that reality. We must have that light in our heart and the dominance of the Divinely Presence within the heart. So they begin to teach that Satan and they are in partnership to bring us down. They have hijacked the head. So then our first goal is to cut the head, in spiritual terminology not the physical. By saying, "Laa ilaha ilAllah," it means you are trying to teach yourself there is no importance in my head, that my head is confusing everything. My head is confusing my path. I am contemplating through my head, who Allah is, a'uzubillah, astagfirullah, who Prophet (saws) is, who my Shaykh is, who my teacher is? Who is everyone? I am putting it through my head. And the head does not have the faculty to know anything.
ہمیں دل بیدار کرنے کیلئے کانوں کو ڈسپلن کرنا ہوگا
|Hamein dil bedaar karne ke liye kaanon ko discipline karna hoga|
𝐖𝐞 𝐌𝐮𝐬𝐭 𝐃𝐢𝐬𝐜𝐢𝐩𝐥𝐢𝐧𝐞 𝐭𝐡𝐞 𝐄𝐚𝐫𝐬 𝐓𝐨 𝐎𝐩𝐞𝐧 𝐭𝐡𝐞 𝐇𝐞𝐚𝐫𝐭
پھر مُرشد تعلیم دینے لگتے ہیں ، اگر آپ دل کی بیداری چاہتے تو ، سر پر دھیان دیں۔ جانئے کہ سب سے پہلے جس چیز کو ڈسپلن کرنا ہے وہ کان ہیں۔ کانوں کا ایسا ہونا ضروری ہےکہ میں نے سنا اور میں اطاعت کرتا ہوں ، میں نے سنا اور میں اطاعت کرتا ہوں۔
سَمِعْنَا وَأَطَعْنَا غُفْرَانَكَ رَبَّنَا وَاِلَيْكَ الْمَصِيْرُ۞
ہم نے سنا اور اطاعت کی، اے ہمارے رب! ہم تیری بخشش کے طلب گار ہیں اور ہمیں تیری ہی طرف لوٹنا ہے۔
سورۃ البقرۃ(2) آیت(285)
تب ہمیں یہ اندازہ ہونے لگتا ہے کہ یہ عمل کتنا مشکل ہے۔ یہ ایک تاحیات عمل ہے۔ اس کا مطلب ہے کہ یہ (کبھی ) مکمل نہیں ہوتا، کہ آپ نے اس میں مہارت حاصل کرلی اور اب آپ آگے بڑھیں گے۔ نہیں ، کیونکہ حتی کہ اللہ (عزوجل) ہم سے سکھا رہا ہے : " رسول اللہ (ﷺ) سے ایسے بات نہ کرو کہ میری بات سنیئے ، بلکہ درخواست کریں مجھ پہ نظر فرمائیں، کیونکہ ، آپ (ﷺ) کی سماعت کامل ، خدا کیلئے، اللہ (عزوجل) کیلئے ہے۔
… يَا أَيُّهَا الَّذِينَ آمَنُوا لَا تَقُولُوا رَاعِنَا وَقُولُوا انظُرْنَا وَاسْمَعُوا۞
اے ایمان والو (نبی اکرم ﷺکو اپنی طرف متوجہ کرنے کے لئے) رَاعِنَا مت کہا کرو بلکہ (ادب سے) اُنْظُرْنَا (ہماری طرف نظرِ کرم فرمائیے) کہا کرو اور (ان کا ارشاد) بغور سنتے رہا کرو،
سورۃ البقرۃ(2) آیت(104)
𝐓𝐫𝐚𝐧𝐬𝐥𝐢𝐭𝐞𝐫𝐚𝐭𝐢𝐨𝐧: Phir Murshid taleem dainay lagtay hain, agar aap dil ki baydaari chahtay to, sir par dheyaan den. Janye ke sab se pehlay jis cheez ko discipline karna hai woh kaan hain. kaanon ka aisa hona zurori hai ke mein naay suna aur mein itaat karta hon, mein naay suna aur mein itaat karta hon. ' [Surat al Baqarah 2:285 – "Hum ne suna aur itaat ki, ae hamaray Rab! hum teri bakhshish ke talabb gaar hain aur hamein teri hi taraf lootna hai" ] Tab hamein yeh andaza honay lagta hai ke yeh amal kitna mushkil hai. Yeh aik tahayaat amal hai. Is ka matlab hai ke yeh ( kabhi ) mukammal nahi hota, ke aap ney is mein mahaarat haasil karli aur ab aap agay barheen ge. Nahi, kyunkay hatta ke Allah (AJ) hum se sikha raha hai :" Rasul Allah (saws) se aisay baat nah karo ke meri baat suniye, balkay darkhwast karen mujh pay Nazar farmaayen, kyunkay, Aqaa (saws) ki samaat kaamil, Khuda ke liye, Allah (AJ) ke liye hai . [Surat al Baqarah 2:104 – "Aey imaan walo ( Nabi akram saws ko apni taraf mutwajjah karne ke liye Raina mat kaha karo balkay ( adab se ) Unzurna ( hamari taraf Nazre karam frmayie ) kaha karo aur ( un ka irshad ) baghore suntay raha karo"]
𝐎𝐫𝐢𝐠𝐢𝐧𝐚𝐥 𝐀𝐫𝐭𝐢𝐜𝐥𝐞: Then the guides begin to teach, if you want to open the heart, focus on the head. Know that the first thing that has to come into discipline is the ears. The ears have to be, 'I heard and I obey, I heard and I obey.'
سَمِعْنَا وَأَطَعْنَا غُفْرَانَكَ رَبَّنَا وَاِلَيْكَ الْمَصِيْرُ
2:285 – "…Sam'ina wa ata'na, ghufranaka Rabbana wa ilaykal masir." (Surat al Baqarah)
"…We hear, and we obey: (We seek) Your forgiveness, our Lord, and to You is the end of all journeys." (Holy Quran, 2:285)
Then we begin to realize how difficult that process is. That is a lifelong process. It means it doesn't come complete, you have mastered it, and now you go on. No, because even Allah (AJ) was asking us: "Don't talk to Prophet (saws) by saying, 'listen to me,' but ask Prophet (saws) to look at you," because his (saws) hearing is in perfection for God, for Allah (AJ).
…يَا أَيُّهَا الَّذِينَ آمَنُوا لَا تَقُولُوا رَاعِنَا وَقُولُوا انظُرْنَا وَاسْمَعُوا
2:104 – "Yaa ayyuhal ladheena aamano, laa taqolo ra'yina wa qolu unzurna wasma'o; … " (Surat al Baqarah)
"O you who believe! Do not say (to Prophet Muhammad (saws)) Raina, listen to us, and say Unzurna (gaze upon us) and you listen (to him (saws), … " (Holy Quran, 2:104)
کانوں پر قابو پانے کیلئے ، ہمیں مُرشد کا ساتھ چاہئے
|Kaanon par Qaboo panay ke liye, Hamein Murshid ka Sath chahiye|
𝐓𝐨 𝐂𝐨𝐧𝐭𝐫𝐨𝐥 𝐭𝐡𝐞 𝐄𝐚𝐫𝐬, 𝐖𝐞 𝐍𝐞𝐞𝐝 𝐭𝐨 𝐀𝐜𝐜𝐨𝐦𝐩𝐚𝐧𝐲 𝐚 𝐆𝐮𝐢𝐝𝐞
پھر وہ (مُرشد ) تعلیم دیتے ہیں کہ سماعت کو کامل کرنے کیلئے اُس کامل درجے تک پہنچنا ہے۔ تو پھر میری توجہ میرے کانوں پر ہونی چاہئے ، میرے کانوں کو اطاعت کرنی ہوگی۔ اگر میں کسی مُرشد کے ہمراہ نہیں ہوتا تو پھر وہ (کان ) اطاعت کیسے کریں گے؟ تب میں اپنے نفس کی باتیں سُن رہا ہوں اور اپنے نفس کی اطاعت کررہاہوں۔یہ نا ممکن ہے۔ یہی شریک ہے اور یہی وہ شراکت ہے جس کے بارے خدا نے فرمایا کہ محتاط رہو۔ اگر آپ صرف اپنے ہی نفس کی اطاعت کر رہے ہیں تو پھر آپ اطاعت گزار کیسے ہو سکتے ہیں؟ آپ کا نفس پہلے ہی شریک ہے، بُری خواہشات اور جسے وہ شیطان کہتے ہیں، بری خواہشات اور بُری عادات کے ساتھ (شریک ہے) ۔ لہذا اس کا مطلب ہے کہ آپ کو ایک مُرشد ، استاد کو ڈھونڈنا ہے اور تلاش کرنا ہے۔ اُن کی تعلیمات اور تادیب سننے سے اور اطاعت کی اپنی بھرپور کوشش کرنے سے ، میں اپنے نفس کی نوک پلک ٹھیک کرنے کے قابل بنوں گا۔
𝐓𝐫𝐚𝐧𝐬𝐥𝐢𝐭𝐞𝐫𝐚𝐭𝐢𝐨𝐧: Phir woh ( Murshid ) taleem dete hain ke samaat ko kaamil karne ke liye uss kaamil darjay taq pohanchna hai. Toh phir meri tawajju mere kaanon par honi chahiye, mere kaanon ko itaat karni hogi. Agar mein kisi Murshid ke hamrah nahi hota to phir woh ( kaan ) itaat kaisay karen ge? Tab mein apne nafs ki battain sun raha hon aur apne nafs ki itaat kar raha hon. Yeh na mumkin hai. Yahi shareek hai aur yahi woh shiraakat hai jis ke baarey Khuda naay farmaya ke mohtaat raho. Agar aap sirf apne hi nafs ki itaat kar rahay hain to phir aap itaat guzaar kaisay ho satke hain? Aap ka nafs pehlay hi shareek hai, burii khwahisaat aur jisay woh Shaytan kehte hain, buri khwahisaat aur burii aadaat ke sath ( shareek hai ). Lehaza is ka matlab hai ke aap ko aik Murshid, ustaad ko dhondhna hai aur talaash karna hai. unn ki talemaat aur Tadeeb sun'nay se aur itaat ki apni bharpoor koshish karne se, mein apne nafs ki nok-palak theek karne ke qabil bano'n ga .
𝐎𝐫𝐢𝐠𝐢𝐧𝐚𝐥 𝐀𝐫𝐭𝐢𝐜𝐥𝐞: Then they are teaching the perfection of hearing is to reach that level of perfection. So then my focus is on my ears, my ears have to be in submission. So then how are they going to be in submission if I don't accompany a guide? Then I am listening to myself and submitting to myself. It is impossible! That is the sharik and that is the partnership that God said, 'Watch out for.' How can you be submitting if you are only submitting to yourself? Your self is already partner with bad desires and what they call Satan; the bad desires and bad characteristics. So it means you have to find and seek a guide, a teacher. By listening and trying our best to submit to their teachings, to their understandings, I am able to calibrate myself.
بیان سُننے کیلئے
Listen: https://youtu.be/M7aLywd0q30
مکمل مضمون پڑھنے کیلئے
Read: https://nurmuhammad.com/stay-silent-and-control-all-your-senses
1/4