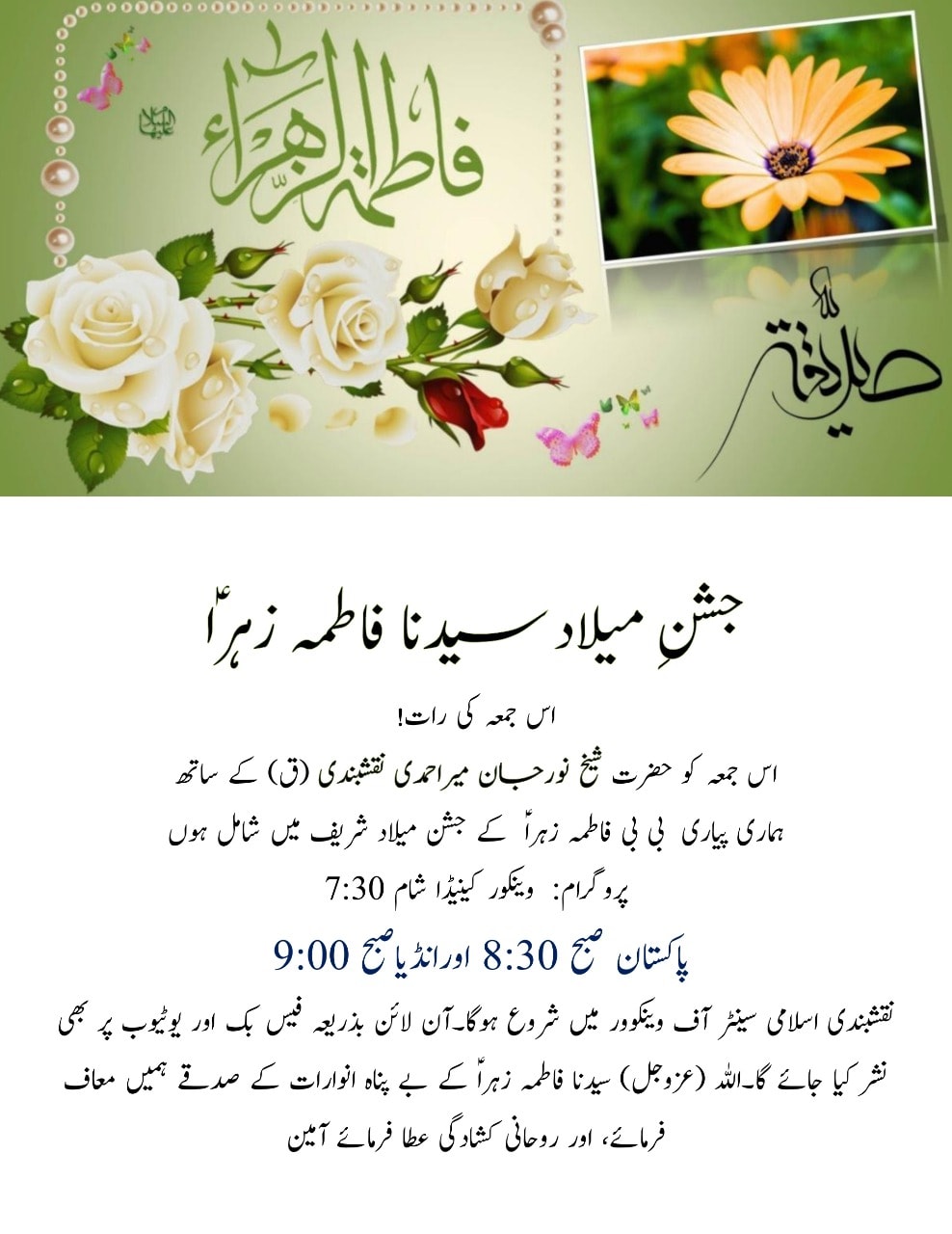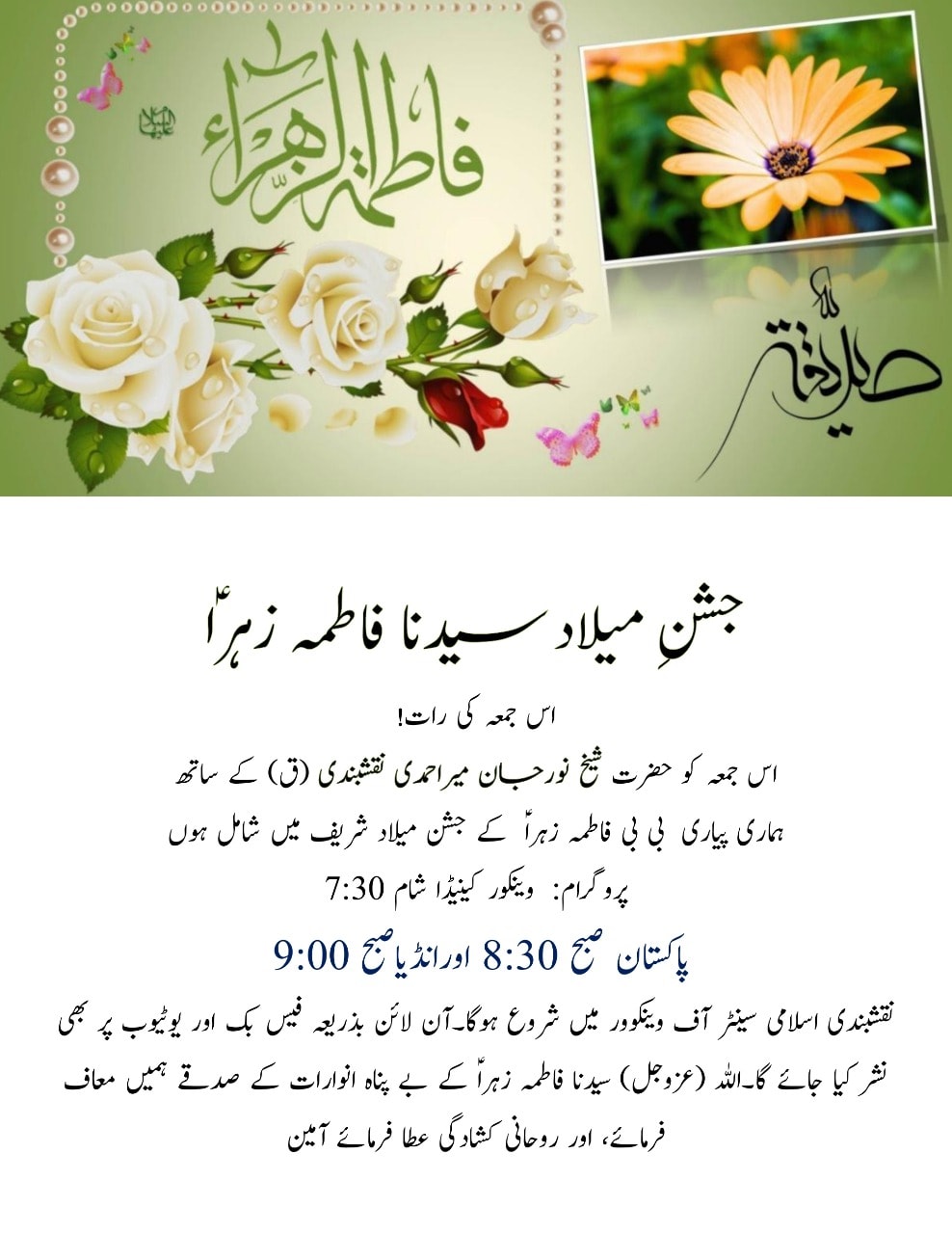 Urdu – حضرت سیدتنا فاطمہ زہراؑ کا جشنِ میلاد مبارک اس جمعہ کی رات! اس جمعہ کو حضرت ش…
حضرت سیدتنا فاطمہ زہراؑ کا جشنِ میلاد مبارک❤️?
اس جمعہ کی رات! ?
اس جمعہ کو حضرت شیخ نورجان میراحمدی نقشندی (ق)
کے ساتھ ہماری پیاری بی بی فاطمہ زہراؑ کے
جشن میلاد شریف میں شامل ہوں
پروگرام
وینکور کینیڈا شام 7:30
(پاکستان صبح 8:30 اور انڈیا صبح 9:00)
نقشبندی اسلامی سینٹر آف وینکوور میں شروع ہوگا
آن لائن بذریعہ فیس بک اور یوٹیوب پر بھی نشر کیا جائے گا
اللہ (عزوجل) سیدنا فاطمہ زہراؑ کے بے پناہ انوارات کے صدقے ہمیں معاف فرمائے اور روحانی کشادگی عطا فرمائے______آمین
?????
سیــدنا عبداللہ بن زید رضی اللہ عنہ کہتے ہیں کہ رسول اکرم صلی اللہ علیہ وسلم نے فرمایا:
✨"جو حصہ میرے گھر[حجرہ سیــدتنا عائشــہ رضی اللہ عنہا] اور میرے منبر کے درمیان ہے وہ جـــنت کی کیاریوں میں سے ایک کیاری ہے"
?#سنن_نسائی696(صحیح)?
صحیح البخاری ،اسکے ساتھ ساتھ سنن الترمذی و مسند احمد بن حنبل کی مستند روایات سے معلوم ہوتا ہے کہ سیدتنا حضرت بی بی فاطمہؓ مسجدِ نبویﷺ میں حجرہِ رسولﷺ اور منبرِ رسولﷺ کے درمیان مدفون ہیں۔
Birthday of Sayyidina Fatima Zahra AS ❤️?
This Friday Night! ?
Join Shaykh Nurjan Mirahmadi this Friday
night in celebration of the blessed birthday
of our Beloved Lady Fatima Zahra. Program
will start at 7:30pm at the Naqshbandi
Islamic Center of Vancouver, as well as
online via FaceBook and YouTube. May Allah
(swt) forgive us and grant us spiritual
openings for the sake of the immense lights
of Sayidina Fatima Zahra. Ameen!
"What is between my house and my
minbar is a meadow of the meadows of Paradise."
Sayyidina Muhammad (ﷺ)??
Authentic narration found in the Sahih al-Bukhari, as well as the Sunan of Tirmidhi and the Musnad of Ahmad Ibn Hanbal, state that Sayidina Fatima Zahra is buried in the Mosque of the Sayyidina Muhammad (s), between his house and the Minbar.