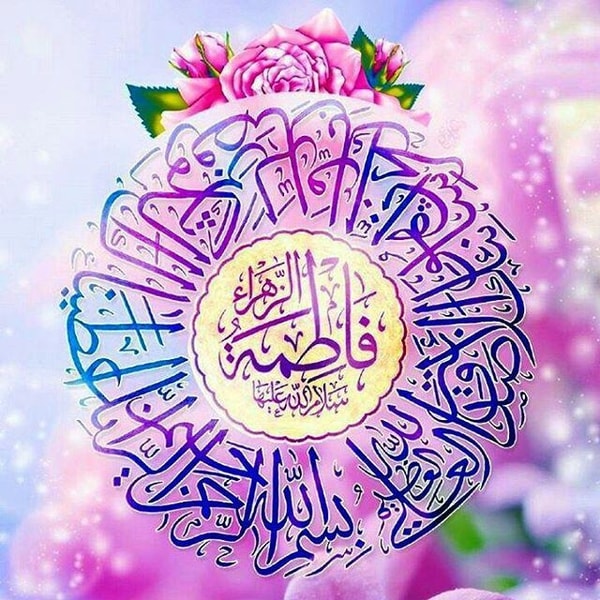 Urdu – جشن میلاد گل یاس محمد آمدہ گل بریزید عاشقان زاھرای اطھر آمدہ فاطمه یا فاطمه یا…
جشن میلاد گل یاس محمد آمدہ
گل بریزید عاشقان زاھرای اطھر آمدہ
فاطمه یا فاطمه یا فاطمه
عصمتِ ذاتِ خداوندی به دنیا آمدہ
یہ ہمارے گُلِ جیسمین، حضرت سیدنا محمد(ﷺ) کی پیاری شہزادی ، کا جشنِ میلاد ہے۔ 'اے حقیقی عاشقو! ، ہر جگہ پھول بکھیر دو، ہماری مقدس بی بی زہرا علیہ السلام تشریف لارہی ہیں۔ہماری پیاری بی بی سیدہ فاطمہؓ ، ذاتِ باری تعالیٰ کی عصمت ، اِس جہان میں تشریف لارہی ہیں۔
It is the birthday celebration of our Jasmine flower, beloved daughter of Hazrat Muhammad(SAW). O' real lovers, shower everywhere with flowers, our Holy Zahra is coming. O' our beloved Fatemeh, the holiness of the divine essence, is coming to this world.
عیدی از مولا بگیریدای که زھرا آمدہ
ذکر جنت، ذکر رضوان فاطمه جان فاطمه جان آمدہ
فاطمه یا فاطمه یا فاطمه
کوثر قرآن چہ زیبا و مطھر آمدہ
اے مومنو! ہمارے مولیٰ پاک کی طرف سے اپنا سحر انگیز تحفہ وصول کیجئے، کیونکہ ہماری پیاری بی بی جان سیدہ زہراء علیہ السلام (ہمارے پیارے نبی سیدنا محمد صلی اللہ علیہ وآلہ وسلم کی پاک صاحبزادی) کا پاک فضل تخلیق میں ظہور پایا ہے۔جنت کے تمام درجات گنگناتے ہیں کہ: "رحمتِ فاطمہؓ کا ظہور ہوگیا، فاطمی رحمت ہمیں برکت دینے ظاہر ہوگئی"۔ اے ہماری پیاری سیدہ فاطمہؓ ، آپ قرآن پاک کی خوبصورت کوثری مثال ہیں اور ہمارے لئے پاکیزگی لائی ہیں۔(قرآن کریم -سورۃ 108)
O' believers! take your surprise gift from our Holy Master, because the holy grace of our beloved Zahra (the holy Daughter of our beloved prophet Muhammad (saw)) has manifested in the creation. Every level of the heavens is chanting: "Fatematan mercy has come, Fatematan mercy has come to bless us". O our beloved Fatemeh, you are the beautiful Kawthar manifestation of the holy Quran and has brought purity for us. (Holy Quran-Chapter 108)
گویم از جان، با دلی شاد
یاخدیجه تھنیت باد، فاطمه جان آمدہ
میں کہہ رہا ہوں ، "اے پیاری سیدہ حضرت خدیجۃ الکبریٰ ع(ہمارے پیارے نبی سیدنا محمد صلی اللہ علیہ وآلہ وسلم کی مقدس زوجہ مطہرہ) ہماری پیاری بی بی جان سیدہ فاطمہؓ (ع) کی آمد پر(ہمارے)شاد و فرحاں قلب و روح مبارکباد پیش کرتے ہیں۔"
I'm telling from my soul with a joyful heart, O' beloved Khadijeh (The holy wife of our beloved prophet Muhammad (saw)) congratulation for the arrival of our dear Fatemeh (A.S).
حضرت ام ابیھا آمدہ خوش آمدہ
رکن و بیت و زمزم است او
آبروی عالم است او فاطمه جان آمدہ
آئیے سیدہ اُمِّ ابیھا کی مبارک آمد کا خیرمقدم کرتے ہیں ، جو اسرارِ کائنات ہیں اور اللہ (عزوجل) کی محبت کا گھر ہیں اور حوضِ زمزم کا سرچشمہ ہیں۔
Let's welcome the arrival of our holy mother, who is the principles of the universe and the house of love of Allah (A.V) and is the source of the well of Zamzam.
#AlSayyidShaykhNurjanMirahmadiNaqshbandiQs
#FatemehJaanAmade
#SMC #JashneMiladShareef #NurMuhammad #SallallahuAlayhiwasallam