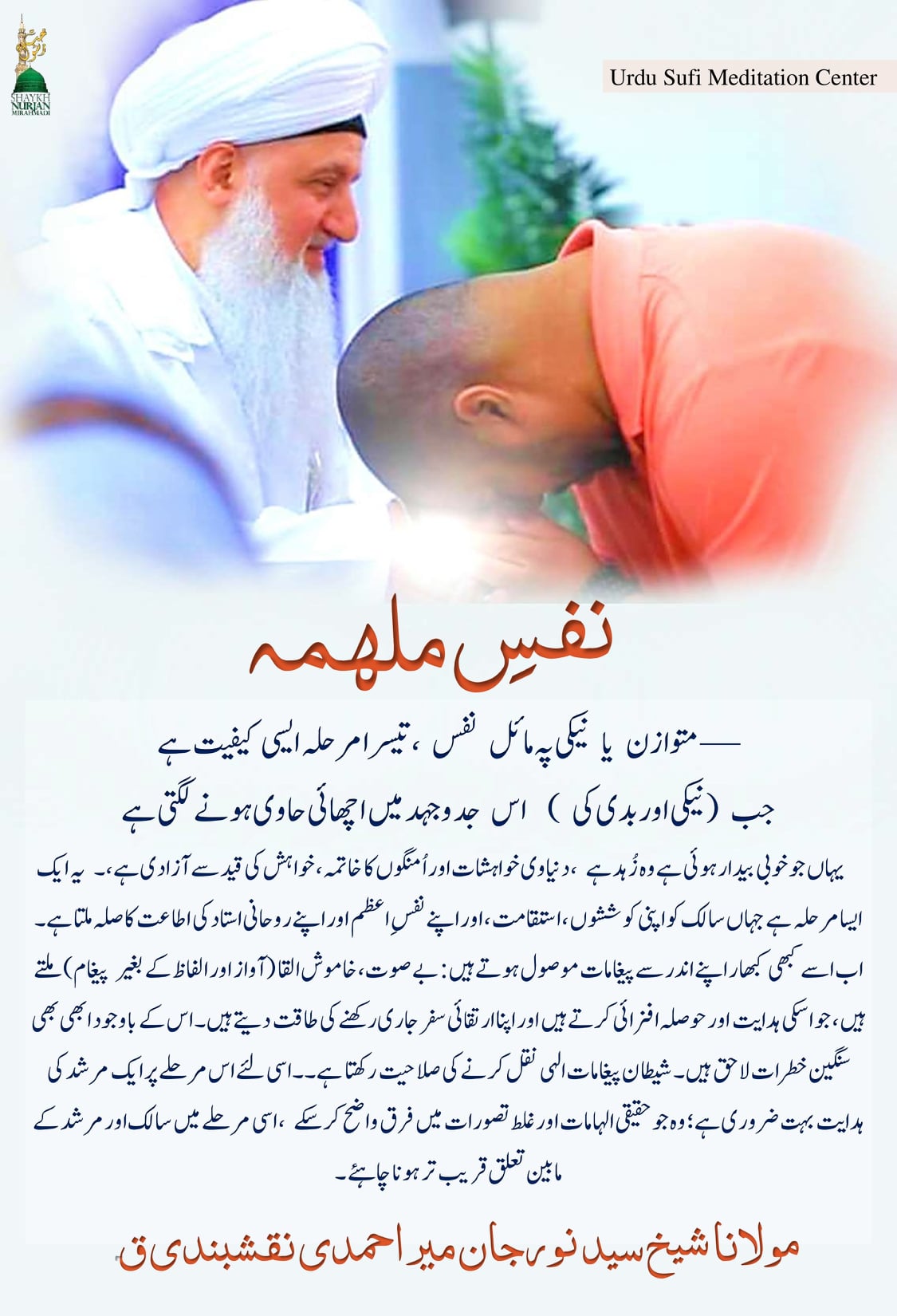 Urdu – تیسرا مرحلہ : نفس ملھمہ (نیکی پہ مائل نفس) |Teesra Darjaa : Nafs Al-Mulhima ( N…
تیسرا مرحلہ : نفس ملھمہ (نیکی پہ مائل نفس)
|Teesra Darjaa : Nafs Al-Mulhima ( Naeki pe mayel nafs )|
Level Three: Nafs Al-Mulhima (The Inspired Self)
اَعُوْذُ بِاللہ مِنَ الشَّیْطٰنِ الرَّجِیْمِ ۞
بِسْمِ اللہ الرَّحْمٰنِ الرَّحِیْمِ ۞
اللہ کی پناہ مانگتا ہوں شیطان مردود سے۔
اللہ کے نام سے شروع کرتا ہوں جو نہایت مہربان رحم کرنے والا ہے ۔
ہم نفس ملھمہ ، کے بارے تھوڑا سا پڑھتے ہیں، نیکی پہ مائل نفس۔ لہذا ، جب ہم بد اعمالی چھوڑ دیتے ہیں اور ہم یہ سوچتے ہیں کہ شاید ہم برے کام ترک کرنے کے قابل ہو گئے اور تکبر نہیں کرتے اور غرور نہیں کرتے؛ اور یہ تکبر اور غرور منافقت کا سمندر ہے۔ تکبر اور غرور کی وجہ سے ڈھونڈرا پیٹنے کوشش کرنا ، جبکہ وہاں کچھ (کوئی خوبی ) بھی نہ ہو اورتمہیں اندازہ ہو کہ تم کس برائی میں مبتلا ہو اور پھر بھی اپنی نیک نامی کی تشہیر کرنا چاہو۔ ملھمہ ( کے بارے میں پڑھیے) انشاء اللہ ۔
|Hum Nafs al-Mulhima, ke baray thora sa parhte hain, inspired self (ilham qubool karne wala nafs ). Lehaza, jab hum bad aamali chore dete hain aur hum yeh sochte hain ke shayad hum buray kaam tark karne ke qabil ho gaye aur taqqabur nahi karte aur ghuroor nahi karte; aur yeh taqqabur aur ghuroor munafqat ka samandar hai. Taqqabur aur ghuroor ki wajah se dhondora peetnay ki koshish karna, jabkay wahan kuch ( koi khoobi ) bhi nah ho aur tumhe andaza ho ke tum kis buraiee mein mubtala ho aur phir bhi apni naik nami ki tashheer karna chaho. Nafs al-Mulhima ( ke baray mein parhiye ) Insha Allah .|
We can read a little bit of Nafs al-Mulhima, The Inspired Self. So, that when we leave the bad actions and we think that if we're capable of leaving the bad actions and not having arrogance and not having pride. And this arrogance and pride is based on the ocean of hypocrisy. The arrogance and pride of trying to promote and there's nothing there and you know the badness that you do and then promote yourself as good. Mulhima, inshaAllah.
دنیاوی خواہشات ترک کردینے کی جدوجہد
| dunyawi khwahisaat tark kardainay ki jad-o-jehad|
Struggle to Renounce Worldly Desires
|قاری|
نفس ملھمہ — متوازن یا الہام قبول کرنے والا نفس، تیسرا مرحلہ ایسی کیفیت ہے ، جب اس (نیکی اور بدی کی ) جدوجہد میں اچھائی حاوی ہونے لگتی ہے۔ انا پرستی کا ظلم قابو ہو چکا ہے ، اور کم و بیش متوازن نفس حاصل ہوچکا ہے۔ یہاں جو خوبی بیدار ہوئی ہے وہ زُہد ہے ۔ دنیاوی خواہشات اور اُمنگوں کا خاتمہ ، خواہش کی قید سے آزادی ہے۔ بیشتر مذہب اور نفسیات کا مقصد اسی کیفیت کو حاصل کرنا ہے۔ اسے روایتی ( علمِ نفسیات میں) انا کے ارتقاء کی آخری حد سمجھا گیا ۔جبکہ صوفی نظام کے تحت ، یہ انسانی ارتقاء کا محض تیسرا درجہ ہے ، لیکن یہ کوئی معمولی کامیابی نہیں۔ کچھ لوگوں کو (اس مرحلے تک پہنچنے) کیلئے بڑے پیمانے پر ذاتی ، نفسیاتی کوشش کے ساتھ یقینا، اللہ (عزوجل) کا انعام درکار ہوتا ہے۔ یہ ایک ایسا مرحلہ ہے جہاں سالک کو اپنی کوششوں ، استقامت ، اور اپنے نفسِ اعظم اور اپنے روحانی استاد کی اطاعت کا صلہ ملتا ہے۔ اب اسے کبھی کبھار اپنے اندر سے پیغامات موصول ہوتے ہیں: بے صوت، خاموش القا (آواز اور الفاظ کے بغیر الہامات) ملتے ہیں ، جو اسکی ہدایت اور حوصلہ افزائی کرتے ہیں اور اپنا ارتقائی سفر جاری رکھنے کی طاقت دیتے ہیں۔ اس کے باوجود ابھی بھی سنگین خطرات لاحق ہیں۔ شیطان پیغامات الہی نقل کرنے کی صلاحیت رکھتا ہے۔
| Qaari: Nafs al-Mulhima — mutawazan ya ilham qubool karne wala nafs, teesra marhala aisi kefiyat hai, jab is ( neki aur badi ki ) jad-o-jehad mein achai haawi honay lagti hai. Anaa parasti ka zulm qaboo ho chuka hai, aur kam o besh mutawazan nafs haasil hochuka hai. Yahan jo khubi bedaar hui hai woh zuhad hai. Dunyawi khwahisaat aur umangon ka khtama, khwahish ki qaid se azadi hai. Beshtar mazhab aur nafsiat ka maqsad isi kefiyat ko haasil karna hai. Usay riwayati (ilm-e-nafsiat mein ) anaa ke irtiqa ki aakhri had samjha gaya. Jabkay Sufi nizaam ke tehat, yeh insani irtiqa ka mehez teesra darja hai, lekin yeh koi mamooli kamyabi nahi. Kuch logon ko ( is marhalay tak pounchanay ) ke liye barray pemanay par zaati, nafsiati koshish ke sath yaqeenan, Allah (AJ) ka inaam darkaar hota hai. Yeh aik aisa marhala hai jahan salik ko apni koshisho, istiqamat, aur apne nafs-e aazam aur apne rohani ustaad ki itaat ka sila milta hai. Ab usay kabhi kabhar apne andar se paighamaat masool hotay hain : Bey-sot, khamosh ilqaa ( aawaz aur alfaaz ke baghair ilhamat ) mlitay hain, jo uski hadaayat aur hosla afzai karte hain aur apna irtiqai safar jari rakhnay ki taaqat dete hain. Is ke bawajood abhi bhi sangeen khatraat la-haq hain. Shaytan paighamaat ellahi naqal karne ki salahiyat rakhta hai.|
Reader: The Inspired Self. The balanced or inspired self, the third level, is the state in which the good has begun to predominate in this struggle. The tyranny of egoism has been overcome, and a more or less integrated self is attained. The quality awakened here is the renunciation, zuhd, of worldly longings and ambitions, a freedom from the conditions of desire. This state is the aim of most religion and psychology. It is the boundary of conventional ego development.
Although it is only the third level of human development in the Sufi system, it is no minor accomplishment. For some, it requires a great deal of personal, psychological work, and of course, the blessings of Allah (AJ). This is a stage where the seeker is rewarded for his efforts, persistence, and obedience to his highest self and his spiritual teacher. Now he occasionally receives messages from inside of himself: soundless, wordless inspirations which give him direction, encouragement, and the strength to continue in his advancement. Yet there are still grave dangers. The devil is capable of imitating Divine inspirations.
ہر فرد کو منافقت کے سمندر میں غوطہ لگانا ہو گا
|Har fard ko munafqat ke samandar mein ghouta lagana hoga|
Everyone Must Swim Through the Ocean of Hypocrisy
|مولانا شیخ (ق)|
جی ، ٹھیک ہے۔ لہذا ، ہم اس مقام پر پہنچ گئے ، جہاں ہم عمومی برائی ، تکبر، جذباتی طرزِ عمل ، منافقت کا سمندر کنٹرول کرنے کی کوشش کرتے ہیں۔ ہر ایک فرد اس میں سے گزرے گا۔ اگر آپ کو محسوس نہیں ہوا کہ آپ یہاں سے گزرے ہیں، تو شاید آپ یہاں پہنچے ہی نہیں۔ اس سے فرار کا کوئی راستہ نہیں ۔ آپ اس سمندر کے اوپر سے کود نہیں سکتے ۔ منافقت کے سمندر کا احساس لازم ہے ؛ آپ اچھے اخلاق کی مثال بننے کی کوشش کرتے ہیں ، جبکہ گھر میں آپ چیخ رہے ہیں۔ تم اچھے کردار کی مثال بننے کی کوشش کر تے ہو ، جبکہ اپنے دفتر میں تم چیخ چِلا رہے ہو جہاں تمہیں لگتا ہے کہ کوئی تمہیں دیکھ نہیں رہا ۔ آپ انٹرنیٹ پر معیوب حرکات کر رہے ہیں۔ یہ سب باتیں منافقت کا سمندر ہیں۔ لوگوں کو نصیحت کرنا ، جبکہ تم خود جانتے ہیں کہ تم بالکل خالی ہو ، کہ تم پاگل ہو اور جا کر لوگوں کی ازدواجی زندگی اور اُن کی زندگیوں کیلئے مشورے دیتے ہو۔ زیادہ تر ماہرِ نفسیات پاگل ہیں اور وہ لوگوں کو مشورے دیتےہیں۔ لہذا ، نفاق اور منافقت کے سمندر سے ، لوگوں کو مشورہ دینا جبکہ مشورہ خود اپنی ذات کیلئے ہونا چاہئے۔
| Mawlana Shaykh Q : jee, theek hai. Lehaza, hum is maqam par pahonch gaye, jahan hum umomi buraiee, taqqabur, jazbati trzِ amal, munafqat ka samandar control karne ki koshish karte hain. Har aik fard is mein se guzray ga. Agar aap ko mehsoos nahi hwa ke aap yahan se guzray hain, to shayad aap yahan puhanche hi nahi. Is se faraar ka koi rasta nahi. Aap is samandar ke oopar se kood nahi satke. Munafqat ke samandar ka ehsas lazim hai; aap achay ikhlaq ki misaal ban'nay ki koshish karte hain, jabkay ghar mein aap cheekh rahay hain. Tum achay kirdaar ki misaal ban'nay ki koshish kar te ho, jabkay apne daftar mein tum cheekh Chala rahay ho jahan tumhe lagta hai ke koi tumhe dekh nahi raha. Aap internet par mayoob harkaat kar rahay hain. Yeh sab baatein munafqat ka samandar hain. Logon ko naseehat karna, jabkay tum khud jantay hain ke tum bilkul khaali ho, ke tum pagal ho aur ja kar logon ki azdawaji zindagi aur unn ki zindagion ke liye mashwaray dete ho. ziyada tar maahir nafsiat pagal hain aur woh logon ko mashwaray dete hain. Lehaza, nifaq aur munafqat ke samandar se, logon ko mahswara dena jabkay mahswara khud apni zaat ke liye hona chahiye .|
Mawlana Shaykh Nurjan Mirahmadi (Q): Oh, right here. So, we reach a point in which we try to control the obvious bad, the arrogance, the wildness of the character, the ocean of hypocrisy. Everyone's going to go through it. If you don't feel that you've been through it then maybe you're not there yet. There's no way to leave it. You don't jump over that ocean. The ocean of hypocrisy has to be felt, that you're trying to exemplify good character and you're yelling at home. You're trying to exemplify good character, you're yelling at work where you think nobody sees you. You're doing bizarre things on the internet.
All of these things is an ocean of hypocrisy. Giving advice to people when you yourself know that you're completely empty, that you're crazy and going, giving advice for marital life and people's lives. Most psychiatrists are crazy and they're giving people advice. So, from an ocean of nifaq and hypocrisy, to give people advice when the advice should've been for yourself.
نفس ملھمہ کے اوصاف—
صرف خود کو نصیحت کریں ، دوسروں کو نہیں
| Nafs Al-Mulhima Ke Ausaaf- sirf khud ko naseehat karen, doosron ko nahi|
Characteristics of Nafs Al-Mulhima—
Advise Only Yourself, Not Others
|مولانا شیخ (ق)|
لہذا ، پھر طریقہ (روحانی راستہ ) تشریف لاتا ہے اور فرماتا ہے: صرف خود کو نصیحت کریں، صرف خود سے بات کریں، اپنی شخصیت تعمیر کریں کہ اللہ (عزوجل) آپ کو ایک منافق کی طور پر نہ دیکھے۔ اسی وجہ سے، اس راستے کی بنیاد خاموشی ہے۔ اُس کی طرف مت دیکھو جو باتیں کرتا ہے اور سوچنے لگو کہ مجھے بھی بات کرنی چاہئے۔ اپنے منہ میں پتھر رکھ لیں ۔ جو بات کر رہا ہے اپنی منافقت کی وجہ سے اللہ (عزوجل) کے سامنے بڑی مشکل میں ہے خواں مرد یا عورت ہو ۔ یہ اس بارے میں نہیں کہ آپ منافقت روک دینا چاہتے ہیں۔ آپ اس راہ پر گامزن ہیں جہاں خود کو تعمیر کرنا مقصود ہے۔ جب بھی آپ سے غلطی ہو جائے ، استغفراللہ (کہیے)، جب بھی آپکے گھر والے آپ سے ناراض ہوں ، 'مجھے معاف کر دیں، مجھے معافی دے دیں'۔ ان سے معافی مانگیں اور پھر اللہ (عزوجل) سے معافی کی دعا مانگیں: 'یا ربی ، مجھے اس منافقین کے سمندر سے باہر نکال دیجئے، مجھے اس منافقین (نفاق)کی حالت میں مرنے نہ دیجئے '۔
لہذا ، ہمیں ( یہ سمندر) عبور کرنا ہے۔ آپ جانتے ہیں ، یہ صراط المستقیم کے جیسا ہے اور ( اگر کوئی ) کہے کہ میں آگ سے نہیں گزروں گا۔ تو نہیں ، ہر ایک کو اس پل سے گزرنا ہے ، کوئی اسے چھوڑ نہیں سکتا ۔ لہذا ، ہر وہ (نیک) کام جو آپ کرتے ہیں اور اپنا تعارف ( اچھا چاہتےہیں) لیکن آپ غصے والے ،لال پیلے ہونے والے اور آتشی ہیں اور یہ تمام وصف رکھتے ہیں جو ہم نے بیان کیے ہیں ، تب اللہ (عزوجل) آپ کو دیکھتا ہے کہ آپ منافق ہیں۔ لہذا ، منافقت سے نکلنے کیلئے ، آپ کو ہر رات آہ زاری کرنی ہوگی ۔ یہ نہیں کہ آپ اپنا اسلام اُتار دیں لیکن آپ شیطان کو اُتار پھینکیں ۔ اللہ (عزوجل) کو مت چھوڑیں کہ شیطان کے ہاتھوں لگ جائیں بلکہ شیطان پھینک دیں تاکہ آپ رحمن کے ساتھ ہوں۔
اگلا مرحلہ جب وہ اس سمندر میں قدم رکھنا شروع کریں گے اب بے انتہافیض اور قوتیں ، اُنکی مشقیں ( روحانی آداب) اور اُنکا تمام ڈسپلن ، اُن کی طرف بڑھے گا، ان پر آراستہ ہوگا ، انھیں برکت عطا ہو گی اور جو علم وہ حاصل کرتے ہیں وہ ان کیلئے حقیقی ہیں اور وہ ایک پختہ ایمان رکھتے ہیں۔ اور انہوں نے اپنے کردار کی منافقت کے خلاف ثابت قدمی سے جدوجہد کی۔ اور وہ اس وقت تک نہیں بولے جب تک کہ انہیں بولنے کا حکم ہوا، کیونکہ وہ اپنی منافقت جانتے ہیں۔ اب آگے ( پڑھیے)؟
|Mawlana Shaykh Q : lehaza, phir tareeqa (ruhani rasta ) tashreef lata hai aur farmata hai : sirf khud ko naseehat karen, sirf khud se baat karen, apni shakhsiyat taamer karen ke Allah (AJ) aap ko aik munafiq ki tor par nah dekhe. Isi wajah se, is rastay ki bunyaad khamoshi hai. Uss ki taraf mat dekho jo baatein karta hai aur sochnay lagu ke mujhe bhi baat karni chahiye. Apne mun mein pathar rakh len. Jo baat kar raha hai apni munafqat ki wajah se Allah (AJ) ke samnay barri mushkil mein hai khwan mard ya aurat ho. yeh is baray mein nahi ke aap munafqat rokkk dena chahtay hain. Aap is raah par gamzan hain jahan khud ko taamer karna maqsood hai. jab bhi aap se ghalti ho jaye, astaghfirullah ( kahiye ), jab bhi apke ghar walay aap se naraaz hon,' mujhe maaf kar den, mujhe maffi day den '. Un se maffi mangeen aur phir Allah (AJ) se maffi ki dua mangeen :' ya rabbi, mujhe is munafiqeen ke samandar se bahar nikaal dijiye, mujhe is munafiqeen ( nifaq ) ki haalat mein marnay nah dijiye' . Lehaza, hamein ( yeh samandar ) uboor karna hai. Aap jantay hain, yeh Siraat al Mustaqeem ke jaisa hai aur ( agar koi ) kahe ke mein aag se nahi guzron ga. to nahi, har aik ko is pal se guzarna hai, koi usay chore nahi sakta. Lehaza, har woh ( naik ) kaam jo aap karte hain aur apna taaruf ( acha chahtay hain ) lekin aap ghusse walay, laal peelay honay walay aur aatshi hain aur yeh tamam wasf rakhtay hain jo hum ne bayan kiye hain, tab Allah (AJ) aap ko daikhta hai ke aap munafiq hain. Lehaza, munafqat se niklny ke liye, aap ko har raat aah zaari karni hogi. Yeh nahi ke aap apna islam utaar den lekin aap Shaytan ko utaar phenkay. Allah (AJ) ko mat choden ke Shaytan ke hathon lag jayen balkay Shaytan pheink den taakay aap Rehman ke sath hon . Agla marhala jab woh is samandar mein qadam rakhna shuru karen ge ab be-inteha faez aur quwaten, unkee mashqain ( ruhani aadaab ) aur unkaa tamam discipline, unki taraf barhay ga, un par aarasta hoga, unhein barket ataa ho gi aur jo ilm woh haasil karte hain woh un ke liye haqeeqi hain aur woh aik pukhta imaan rakhtay hain. Aur unhon ne apne kirdaar ki munafqat ke khilaaf saabit qadmi se jad-o-jehad ki. Aur woh is waqt tak nahi bolay jab tak ke inhen bolnay ka hukum hwa, kyunkay woh apni munafqat jantay hain. Ab agay ( parhiye ) ?|
Mawlana Shaykh Nurjan Mirahmadi (Q): So, then tariqah comes and says, 'Advise only yourself. Talk only to yourself. Build yourself so that Allah (AJ) doesn't keep looking at you as a hypocrite.' That's why then the path was based on silence. Don't look at the one who talks and think, 'I should be talking too.' Put a rock in your mouth. The one who's talking is in big trouble with Allah (AJ) for his hypocrisy or her hypocrisy. It's not about that, you want to stop the hypocrisy. You're on a path on which to build yourself. Every time you make a mistake, 'Astagfirullah.' Every time your family's angry with you, 'Forgive me, forgive me.' Ask them for forgiveness and then begin to pray to Allah (AJ) for forgiveness, 'Ya Rabbi, take me out of this ocean of the munafiqeen (hypocrites). Don't let me to die in this state of munafiqeen.'
So, we have to traverse. You know, this is like the siratal mustaqim and say, 'I'm not going to go over the fire.' No, everyone walks the line; nobody has left it. So, everything you do and identify yourself but you're angry and explosive and fiery and all these characteristics that we described, then Allah (AJ) looks to you, 'You're a hypocrite.' So, then you should be crying every night to get out of hypocrisy. Not that you take off your Islam but you take off shaitan. Don't leave Allah (AJ) to run into the hands of shaitan but to throw out shaitan so that you are with Rahman (The Most Beneficent).
The next level that they begin to step into that ocean is that the overwhelming faiz and energies, their practices and all of their disciplines are now moving in onto them, dressing them, blessing them and the knowledges they acquired are real for them and they have a firmness in their faith. And they firmly fought against the hypocrisy of their character. And they didn't speak until they were ordered to speak because they knew their hypocrisy. Now what?
مرشد سے رہنمائی حاصل کریں – روحانی ارتقا کیلئے مظبوط تعلق اہم ہے
|Murshid se rahnumai haasil karen – Rohani irtiqa ke liye mazboot talluq ahem hai|
Seek Guidance From a Master – A Solid Relationship is Vital for Spiritual Growth
|قاری|
اسی لئے اس مرحلے پر ایک مرشد کی ہدایت بہت ضروری ہے؛ وہ جو حقیقی الہامات اور غلط تصورات میں فرق واضح کرسکے ۔ اسی مرحلے میں سالک اور مرشد کے مابین تعلق قریب تر ہونا چاہئے ۔ سالک کو اپنے مرشد سے کوئی چیز پوشیدہ نہیں رکھنی چاہئے۔ اُسے اپنی ساری اُمیدیں، اپنے خوفوں اور اپنے عیب ظاہر کرنے چاہئے۔ یہاں تک کہ اگر اسے اپنے استاد سے ناراضگی یا اختلافِ رائے کا سامنا ہوتو ، اسے شیخ کے سامنے اقرار کرنا پڑے گا۔ یہ مرض کے آثار کی طرح ہے جو بیمار کو اپنے قابلِ اعتماد ڈاکٹر کے سامنے ضروررکھنے چاہیے۔ جیسے ہی وہ دیئے گئے مشورے یا غذا کی پرہیزی کرتا ہے ، یا دی گئی دوا پوری تندہی سے لیتا ہے۔ اگر وہ اپنے مرشد کی صلاح پر عمل کرے گا تو وہ آگے بڑھے گا۔
اس عرصے کے دوران ایک اور مشکل یہ پڑتی ہے کہ سوجھ بوجھ تبدیل ہو جاتی ہے ۔ ایسا ہے گویا ، وہ سب کچھ بھول جاتا ہے ، یہاں تک کہ اپنی ذات کا خیال بھی۔ نئے تاثرات پرانے سے مطابقت نہیں رکھتے۔ وہ معاملات کو مختلف طور پر دیکھنے ، ان کا غلط معنی سمجھنے اور غلطیاں کرنے لگتا ہے۔ اسے یوں محسوس ہوتا ہے جیسے اس کا وجود نہیں ہے۔ ہو سکتا ہے وہ خود کو' فنا فی اللہ ' کے درجے پہ تصور کرے ، کہ اللہ(عزوجل) کی ذات میں فنایئت تک جا پہنچا ہے۔ لیکن اِس احساس کا اس اعلی درجے سے قظعاً کوئی تعلق نہیں ۔ اُسے یہ سمجھنا چاہئے کہ یہ بے بسی ، خالی پن ، اشد ضرورت کی حالت ہے۔ یہ نفس کے خطرے کا آخری درجہ ہے ، تاہم نفس کا نچلے درجات، امارہ اور لوامہ میں گرنے کا خطر ابھی لاحق ہے۔ اس مرحلے پر ، ابدیت اور اقتدار کی دو خواہشات معطل ہو جاتی ہیں، ما سوائے گزرتے ہوئےخیال میں ۔
|Qaari: Isi liye is marhalay par aik murshid ki hadaayat bohat zaroori ha; woh jo haqeeqi ilhamaat aur ghalat tasawurat mein farq wazeh kar sakay. Isi marhalay mein Salik aur murshid ke mabain talluq qareeb tar hona chahiye. Salik ko apne murshid se koi cheez posheeda nahi rakhni chahiye. ussay apni saari umeedein, apne khufon aur apne aib zahir karne chahiye. Yahan tak ke agar usay apne ustaad se narazgi ya akhtlaf-e-raye ka saamna hoto, usay Shykh ke samnay iqraar karna parre ga. Yeh marz ke assaar ki terhan hai jo bemaar ko apne qabil e aetmaad dr ke samnay zaror rakhna chahiye. Jaisay hi woh diye gaye mashwaray ya ghiza ki parhezi karta hai, ya di gayi dawa poori tndahi se laita hai. Agar woh apne murshid ki Salah par amal kere ga to woh agay barhay ga .
Is arsay ke douran aik aur mushkil yeh padtee hai ke soojh boojh tabdeel ho jati hai. Aisa hai goya, woh sab kuch bhool jata hai, yahan tak ke apni zaat ka khayaal bhi. Naye tasurat puranay se mutabqat nahi rakhtay. Woh mamlaat ko mukhtalif tor par dekhnay, un ka ghalat maienay samajhney aur ghalatiyan karne lagta hai. Usay yun mehsoos hota hai jaisay is ka wujood nahi hai. ho sakta hai woh khud ko' fanaa fi Allah ' ke darjay pay tasawwur kere, ke Allah (AJ) ki zaat mein fanayet tak ja pouncha hai. Lekin iss ehsas ka is aala darjay se qatan koi talluq nahi. Ussay yeh samjhna chahiye ke yeh be basi, khaali pan, ashad zaroorat ki haalat hai. Yeh nafs ke khatray ka aakhri darja hai, taham nafs ka nichale darjaat, ammarah aur lawama mein girnay ka khatar abhi la-haq hai. Is marhalay par, abdiyat aur Iqtidaar ki do khwahisaat moattal ho jati hain ma siwaye gzrte hue khayalat ke? .|
Reader: That is why at this stage the guidance of a master is so necessary; one who will be able to distinguish the true inspirations from the false imaginations. It is during this period that the relation between the seeker and his master has to be the closest. The seeker should not hide anything from his teacher. He should reveal all his hopes, his fears, and his faults; even if he feels resentment or opposition to his teacher, he has to confess these to him. They are like the symptoms of a disease which a sick person must reveal to the doctor in whom he has confidence. Just as he heeds the advice given or the diet prescribed, or diligently takes the medicine given; if he obeys the counsel of his master, he will be able to advance.
Another affliction during this period is a change in understanding and sensibility. It is as if he forgets all that he knew, even his idea of himself. New impressions do not correspond to the old ones. He is apt to see things differently, to misunderstand them, to make mistakes. He feels as if he does not exist. He may imagine that he has reached the final level of fana fillah, to lose oneself in Allah (AJ). But this feeling has nothing to do with that high state. He should realize that it is a state of helplessness, of emptiness, a state of desperate need. This is the last level of danger for the self, for it is still vulnerable to descending to the lower stages of blame and commanding. At this stage, the two desires for immortality and sovereignty are dormant except in passing thoughts.
شیخ کے ساتھ مضبوط تعلق ہی بقا ہے
|Shykh ke sath mazboot talluq hi baqa hai|
Survival is Through a Strong Relation With the Shaykh
|مولانا شیخ (ق)|
یعنی پھر اس کی بقاء شیخ کے ساتھ مضبوط تعلق میں ہے۔ کیوں؟ تاکہ آپ اپنی خیالی دنیا میں نہیں جی رہے ۔ آپ اپنے الہامات نہیں سن رہے ، آپ اپنے الہامات سننے اور ان کی پیروی کرنے کی ضرورت نہیں ۔ آپ کے الہامات صرف آپ کی 'عبادت کیلئے ہیں۔ جو آپ کے دل میں (خیال) آرہے ہیں اس پر مبنی آپ کوئی فیصلہ نہیں کرتے کیونکہ اس تربیت میں وہ تعلیم دے رہے ہیں ، یہ آپ کا دل نہیں جس کے ساتھ آپ معاملہ کر ہے ہیں۔ آپ قُربِ حق میں موجود نہیں ۔ آپ شیطان اور اپنے نفس ، دو شریکوں کی موجودگی میں ہیں ، اور وہ آپ کو ترغیب دینے کی کوشش کر رہے ہیں کہ جاو، اپنے مرشد سے پوچھے بغیر کام کرو۔ اور اب ہیلپ می @نورمحمد کے ذریعہ ( آپ پوچھ سکتے ہیں) ، آپکو اپنے گھر کے پینٹ (سفیدی) کا رنگ پوچھنے کی ضرورت نہیں ۔ یہ صرف بڑے فیصلے ہیں جہاں آپ فیصلہ کرنے جارہے ہیں ،'میں طریقہ چھوڑ رہا ہوں، میں ذکر چھوڑ رہا ہوں ، میں یہ کر رہا ہوں ، میں اب اس شخص سے اس جادو سے مدد مانگنے جا رہا ہوں'۔ اپنے شیخ سے بات کرنے کے علاوہ اس نوعیت کا کوئی کام نہیں کرنا چاہیے۔
| Mawlana Shaykh Q : Yani phir is ki baqaa Shykh ke sath mazboot talluq mein hai. kyun? Taakay aap apni khayaali duniya mein nahi jee rahay. Aap apne ilhamaat nahi sun rahay, aap apne ilhamat suneney aur un ki pairwi karne ki zaroorat nahi. aap ke ilhamat sirf aap ki' ibadat ke liye hain. Jo aap ke dil mein ( khayaal ) arhay hain is par mabni aap koi faisla nahi karte kyunkay is tarbiyat mein woh taleem day rahay hain, yeh aap ka dil nahi jis ke sath aap maamla kar hai hain. aap Qurb haq mein mojood nahi. Aap Shaytan aur apne nafs, do shareeko ki mojoodgi mein hain, aur woh aap ko targheeb dainay ki koshish kar rahay hain ke jao, apne murshid se pouchye baghair kaam karo. Aur ab helpme@nurmuhammad.com ke zareya ( aap pooch satke hain ), aapko apne ghar ke paint ( safedi ) ka rang poochnay ki zaroorat nahi. yeh sirf barray faislay hain jahan aap faisla karne jarahay hain,' mein tareeqa chor raha hon, mein zikar chor raha hon, mein yeh kar raha hon, mein ab is shakhs se is jadu se madad mangnay ja raha hon '. Apne Shykh se baat karne ke ilawa is noiyat ka koi kaam nahi karna chahiye .|
Mawlana Shaykh Nurjan Mirahmadi (Q): This means then its survival is a strong relation with the shaykh. Why? So that you're not living in your imaginary world. You're not to listen to your inspirations, you're not to listen and follow your inspirations. Your inspirations are only for your 'ibadah (worship). You don't make any decisions based on what you feel is coming to your heart because in this training they're teaching, it's not your heart that you're dealing with. You're not in Divinely Presence. You're in the presence of shaitan (satan) and your nafs, the two sharik (partner), and they're trying to inspire you to go and do things without asking your living guide.
And now by helpme@nurmuhammad.com, you don't have to ask about the colour of the paint of your house. These are just major decisions in which you're going to make a decision, 'I'm leaving the tariqah. I'm leaving the zikr (Divine remembrance), I'm doing this, I'm going to go now seek out this person to help me with this magic.' Not supposed to do anything of that nature other than deal with your shaykh.
شیطان ہمیں نیک کاموں میں بھی بے وقوف بنا سکتا ہے
|Shaytan hamein naik kamon mein bhi bewaquf bana sakta hai|
Shaitan Fools Us Even in Acts of Piety
کیونکہ اب شیطان آپ کے ساتھ دینی اور متقی امور میں کھیلنے کی کوشش کر رہا ہے۔ اور ہم نے عرض کیا کہ جب آپ دیکھیں کہ کسی کمیونٹی کے تمام لوگ اپنے اپنے مراکز بنانا شروع کردیں ، (جبکہ) ان کے پاس ایک کمیونٹی مسجد ہے۔ وہ ایک اور مسجد بنانے لگتے ہیں۔ ان کا خیال ہے کہ خدا نے اُنہیں یہ کام کرنے کیلئے انسپائر کیا ہے کہ ایک کمیونٹی توڑیں۔ کس لئے؟ یہ بری انا (نفس) ہے اور یہی وجہ ہے کہ جب لوگ اس کا شکار ہو جاتے ہیں کیونکہ ان کا کوئی شیخ نہیں ہوتا ۔ اور جب وہ اپنے مرشد کے ساتھ ثابت قدمی سے رہتے ہیں— تو ، ایسا نہیں ہے کہ وہ اُنہیں (مرشد کو ) سنتے ہیں کیونکہ کوئی بھی مرشد کی نہیں سنتا ۔ لیکن کم سے کم آپ اُن کا مشورہ لے سکتے ہیں اور کہتے ہیں کہ اُن کا مشورہ ان دو لوگ سے بہت مختلف لگتا ہے جو میرے کانوں میں سرگوشی کررہے ہیں۔ کیونکہ جو سرگوشی کر رہا ہے وہ دھوکہ دہی اور نیکی کے معاملے سے ہمیں بے وقوف بنانے کی کوشش کر رہا ہے۔
جیسا کہ ہم نے پہلے عرض کیا( شیطان کہے گا ) اپنی منافقت (یعنی دینی حلیہ) ختم کر دو۔نہیں ، نہیں ، نہیں ، اپنی منافقت دور نہ کرو۔ اسے فخر سے پہنو بلکہ شیطان اتار دو۔ اللہ (عزوجل) کا راستہ کبھی نہ چھوڑیں۔ آپ اس حالت میں مرنا چاہتے ہیں جہاں آپ اللہ (عزوجل) کے راستے پر پوری طرح عمل پیرا تھے۔ شیطانی راستے پر نہیں چلنا اور اسی طرح وہ لوگوں کو یہ سوچنے پر بے وقوف بناتا ہے کہ یہ ایک مذہبی الہام ہے۔ اور بہت ساری مثالیں ہیں ، جن میں سے زیادہ تر کے بارے آپ انٹرنیٹ پر بات نہیں کرسکتے ہیں جو ناقابل تصور چیزیں لوگ سوچتے ہیں کہ انہیں ایسا کرنا چاہئے ، انہیں ایسا کرنا چاہئے ، انہیں یہ کام کرنا چاہئے۔ نہیں ، نہیں ، نہیں ، نہیں ، کیا آپ کو معلوم ہے ، یہ نفس (انا) کے جنگلی وسوسے ہیں کہ طالب علم ایک کھائی میں گر پڑے اور مشکل کے سمندر میں کود جائے۔
| kyunkay ab Shaytan aap ke sath deeni aur mut-taqi umoor mein khailnay ki koshish kar raha hai. aur hum ne arz kya ke jab aap dekhen ke kisi community ke tamam log apne apne marakaz banana shuru kar dein, ( jabkay ) un ke paas aik community masjid hai. woh aik aur masjid bananay lagtay hain. un ka khayaal hai ke kkhuda ne unhen yeh kaam karne ke liye anspayr kya hai ke aik community toreen. kis liye? yeh buri anaa ( nafs ) hai aur yahi wajah hai ke jab log is ka shikaar ho jatay hain kyunkay un ka koi Shykh nahi hota. aur jab woh apne murshid ke sath saabit qadmi se rehtay ہیں— to, aisa nahi hai ke woh unhen ( murshid ko ) suntay hain kyunkay koi bhi murshid ki nahi santa. lekin kam se kam aap unn ka mahswara le satke hain aur kehte hain ke unn ka mahswara un do log se bohat mukhtalif lagta hai jo mere kaanon mein sargoshi kar rahay hain. kyunkay jo sargoshi kar raha hai woh dhoka dahi aur neki ke muamlay se hamein be waqoof bananay ki koshish kar raha hai .
Jaisa ke hum ne pehlay arz kya ( Shaytan kahe ga ) apni munafqat ( yani deeni huliya ) khatam kar do. nahi, nahi, nahi, apni munafqat daur nah karo. Usay fakhr se pehanu balkay Shaytan utaar do. Allah (AJ) ka rasta kabhi nah choden. Aap is haalat mein marna chahtay hain jahan aap Allah (AJ) ke rastay par poori terhan amal pera thay. Shaytani rastay par nahi chalna aur isi terhan woh logon ko yeh sochnay par be waqoof banata hai ke yeh aik mazhabi ilham hai. Aur bohat saari misalein hain, jin mein se ziyada tar ke baray aap internet par baat nahi kar saktay hain jo na qabil tasawwur cheeze log sochte hain ke inhen aisa karna chahiye, inhen aisa karna chahiye, inhen yeh kaam karna chahiye. nahi, nahi, nahi, nahi, kya aap ko maloom hai, yeh nafs ( anaa ) ke jungli was wasay hain ke taalib ilm aik khayi mein gir parre aur mushkil ke samandar mein kood jaye .|
Because now shaitan is trying to play with you in religious and pious matters. And we said, that's when you see all the people in a community start to make their own centers. They have one community masjid. They go make another masjid. They think they've been inspired by God to do that – to break a community. For what? This is the bad ego and that's when people are falling prey to that because they don't have a shaykh. And when they have firmness with their guide, it's not that they listen to him because nobody listens to the guide. But at least you can take his advice and say his advice seems to be very different than these two guys who are whispering in my ears. Because the one who's whispering is trying to fool us with deceit and in acts of piety.
Like we said before, 'Take off your hypocrisy.' No, no, no, don't take off your hypocrisy. Wear it proudly and take shaitan off. Never leave Allah's (AJ) way. You want to die in a state where you're completely following Allah's (AJ) way. Not to follow the satanic way and that's how he fools people in thinking this is a religious inspiration. And there are many examples, most of which you can't talk about onto the internet of unbelievable things that people are thinking they should do this, they should do that, they should do this. No, no, no, no, these are, you know, these are the wild whisperings of the nafs (ego) to make the student to fall into a hole and into an ocean of difficulty.
اللہ (عزوجل) سے دعا کریں کہ مجھے منافقت سے پاک فرما دے
| Allah (AJ) se dua karen ke mujhe munafqat se pak farma day|
Pray to Allah (AJ) – Take Away My Hypocrisy
ہماری دعا ہے کہ اللہ (عزوجل) ہماری رہنمائی فرمائے۔ یہ راستہ غار میں، سیدنا محمد (ﷺ) کے قلب ِ اقدس کی طرف جاتاہے اور یہ کہ اللہ (عزوجل) ہمیں (نورِ محمدی ﷺ سے ) آراستہ فرمائے اور ہمیں برکت عطا فرمائے ۔جو خود کو جان لیتا ہے وہ اپنے رب کو پہچان جاتا ہے۔
مَنْ عَرَفَ نَفْسَهْ فَقَدْ عَرَفَ رَبَّهُ
"جو اپنے نفس کو جانتا ہے ، اپنے رب کو پہچان جاتا ہے۔"
سیدنا محمد المصطفی (ﷺ)
اس حقائق کے راستے پہ ، مجھے اپنی ذات کو جاننا ہے ، اپنے نفس کو پہچاننا ہے ، یہ جاننا ہے کہ کیا ہو رہا ہے اور مجھ پر کیا تدبیریں ہورہی ہیں ، اور پھر مجھے ( یہاں سے ) نکلنا ہوگا۔ 99.9٪ (لوگ) منافقت کے سمندر میں ہیں۔ اور ساری رات انھیں دعائیں مانگتے رہناچاہئے اور ہم یہ دعائیں مانگتے رہنا ہے :یا ربی ، یہ نفاق دور فرما دے ، یہ ساری منافقت دور فرما دے۔ مجھے بطور منافق نہ مرنے دیجیے۔
اَللّهُمَّ طَهِّرْ قَلْبِىْ مِنَ النِّفَاقِ
"اے اللہ (عزوجل) ! میرے دل کو منافقت سے پاک فرمادے ۔ "
اس بیان کو تحریری شکل دینے کیلئے خدمتگاروں کا خصوصی شکریہ۔
بیان کی اصل تاریخ: 16 اکتوبر، 2020
|Hamari dua hai ke Allah (AJ) hamari rahnumai farmaiye. Yeh rasta ghaar mein, Sayedena Muhammad (saws) ke Qalb Aqdes ki taraf jata hai aur yeh ke Allah (AJ) hamein (Nur-e-Muhammadi saws se ) aarasta farmaiye aur hamein barket ataa farmaiye. Jo khud ko jaan laita hai woh apne rab ko pehchan jata hai .[Hadith Mubaraka:" jo apne nafs ko jaanta hai, apne rab ko pehchan jata hai. "Sayedena Muhammad (saws)]. Is haqayiq ke rastay pay, mujhe apni zaat ko janna hai, apne nafs ko pehchanana hai, yeh janna hai ke kya ho raha hai aur mujh par kya tadbeerye horahee hain, aur phir mujhe ( yahan se ) niklana hoga. 99. 9٪ ( log ) munafqat ke samandar mein hain. aur saari raat unhein duayen mangte rehna chahye aur hum yeh duaen mangte rehna hai : Ya Rabbi, yeh nifaq daur farma day, yeh saari munafqat daur farma day. mujhe bator-e-munafiq nah marnay degiye .( Aye Allah (AJ)! mere dil ko munafqat se pak farmade. "|
We pray that Allah (AJ) guide us. This is a path into the cave, in the heart of Sayyidina Muhammad (saws) and that Allah (AJ) dress us and bless us. 'Who knows himself will know his Lord.'
مَنْ عَرَفَ نَفْسَهْ فَقَدْ عَرَفَ رَبَّهُ
"Man 'arafa nafsahu faqad 'arafa Rabbahu"
"Who knows himself, knows his Lord." Prophet Muhammad (pbuh)
In this way of realities is to know myself, know my nafs, know what's happening and what tricks are coming upon me, and then I have to leave. 99.9% are in the ocean of hypocrisy. And all night long they should be praying and we should be praying, 'Ya Rabbi, take away nifaq, take away all this hypocrisy. Don't let me to die as a munafiq.'
اَللّهُمَّ طَهِّرْ قَلْبِىْ مِنَ النِّفَاقِ
"Allahumma tahir qalbi minan nifaq."
"O Allah! Purify my heart of hypocrisy."
Subhana rabbika rabbal 'izzati 'amma yasifoon, wa salaamun 'alal mursaleen, walhamdulillahi rabbil 'aalameen. Bi Hurmati Muhammad al-Mustafa wa bi Siri Surat al-Fatiha.
Special thanks to our transcribers for their help with transcribing this suhbah.
Original Date of Suhbah: October 16, 2020
یہ بیان اس لنک پر دیکھا جا سکتا ہے
Watch this Bayan on YouTube
youtu.be/ABdAyVimdJU
اپنے سوالات اور دعا کی درخواست ای میل کیجئے
Ask Your Questions or Need Prayers.
Email: helpme@nurmuhammad.com
حصہ اول
|Part-I|
https://nurmuhammad.com/urdu-%d9%86%d9%81%d8%b3-%da%a9%…
/
حصہ دوئم
|Part-II|
https://nurmuhammad.com/urdu-%d8%af%d9%88%d8%b3%d8%b1%…/
3/3