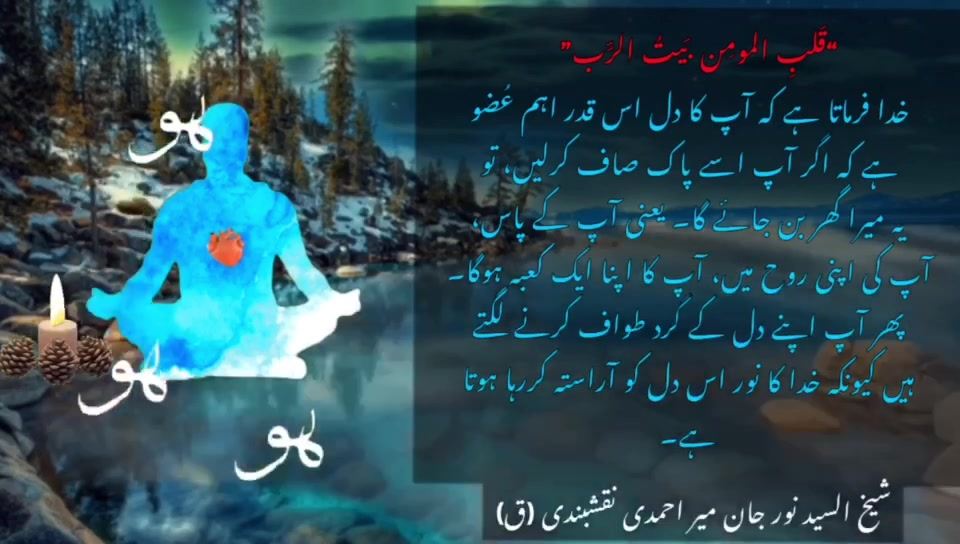 Urdu – بِسْمِ اللَّـهِ الرَّحْمَـٰنِ الرَّحِيمِ- شیخ سید نور جان میر احمدی نقشبندی کی …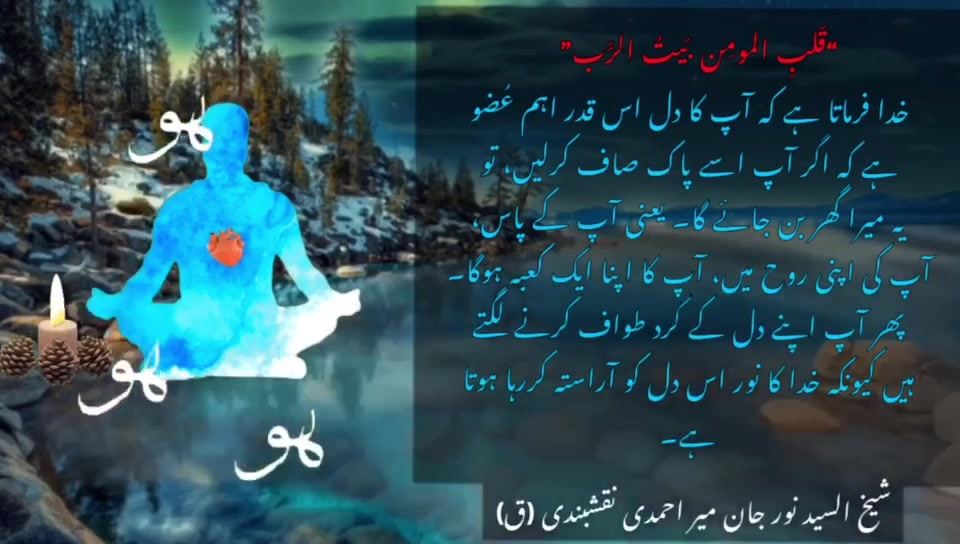 بِسْمِ اللَّـهِ الرَّحْمَـٰنِ الرَّحِيمِ-
شیخ سید نور جان میر احمدی نقشبندی کی تعلیمات سے اقتباس
الّھمَّ صَلِّ عَلَی سیدِنَا محَمَّدٍ ﷺ وَعَلَی آلِ سیَّدِنا محَمَّد ﷺ
قلب المؤمن بیت اللہ:
[..] ‎پھر طریقہ اور تصوف کہتا ہے، ہر چیز دل پر مبنی ہے۔ اگر دل صاف ہے، وہ اُس خون کو لے کر جاتا ہے اور اُس پر 'اللہ' کی چھاپ چھوڑ دیتا ہے، اللہ عزوجل کے ذکر (یاد) سے اور پھر وہ گیارہ ١١ اہم اعضاء میں جاتا ہے۔ اگر دل ناپاک ہے اور جو سانس آرہی وہ آلودہ ہے، پورے کا پورا انسان پھر اُس سارے بہنے والے ناپاک خون سے ناپاک کر دیا جائے گا۔ اسکا مطلب یہ ہوا کہ اگر حوض ناپاک ہے اور نجس اور گندگی سے بھرا ہوا ہے، آپ اس میں جو بھی ڈالیں گے وہ ہر اُس چیز کو ناپاک کر دے گا جو اس سے رابطے میں آئے گی۔
‎پھر طریقہ آتا ہے اور کہتا ہے، یہ اپکے پورے وجود کا حوض ہے۔ آپ کیوں اپنی ٹانگ پر اور سر پر اور کمر پر اور اِس لطائف ستہ (chakra) اور اُس لطائف ستہ (chakra) پر دھیان دیتے ہو؟ آپکی علم الحیات کا مرکزی حوض، نا کہ آپکی علم الحیات کا کوئی جھوٹا موٹا (حوض)، اندر آنے والی سانس، پھیپھڑوں میں جانے والی، آپکے خون سے آپکے دل میں جانے والی۔ اگر دل بیمار ہو، آپ ﷺ حدیثِ مبارکہ میں بیان کرتے ہیں، 'اگر آپ کا ایک حصہ بیمار ہے، (تو) آپ پورے کے پورے بیمار ہیں' اور فرمایا، 'وہ حصہ آپکا قلب (دل) ہے۔'
‎جسم میں ایک گوشت کا ٹکڑا ہے ، اگر وہ اچھا (سُدھر) جائے پورا جسم اچھا ہو جاتا ہے لیکن اگر وہ خراب ہو جائے تو پورا جسم خراب ہو جاتا ہے اور وہ دل ہے۔" حضرت محمد (صَلَّى اللّٰهُ عَلَيْهِ وَسَلَّم)
‎اور وہی حصہ، دل، اگر وہ صاف ہو تو خدا فرماتا ہے، 'پھر میں جنتوں میں نہیں ہوں اور نہ ہی میں زمین پر ہوں؛ بلکہ میں تو اُس کہ دل میں ہوں جو مجھ پر یقین رکھتا ہے
‎اسکا مطلب یہ ہوا " قلب المؤمن بیت الله۔" اللہ کا فرمان ہے کہ یہ اِس قدر اہم عضو ہے کہ اگر آپ پاک کریں گے، دھوئیں گیں، صاف کریں گے، آپ اس کے گرد طواف کریں گے، یہ آپکی ذات میں میرا خدائی گھر بن جائے گا۔ اسکا مطکب یہ ہوا کہ آپکی روح میں میرا کعبہ ہوگا، آپکا اپنا ایک کعبہ جسے آپ دھوئیں گے، صاف کریں گے، پاک کریں گے اور آپ اپنا طواف اپنے دل کے گرد کریں گے؛ کیونکہ خدائی نور اب سورج کی روشنی کی طرح ہے جو کہ آپکے دل کو ملبوس کرتا ہے۔ […]
———————————————
URDU TRANSLITERATION:
QALB AL-MOMIN BAITULLAH:
[…] phir tareeqa aur tasawuf kehta hai, har cheez dil par mabni hai. agar dil saaf hai, woh uss khoon ko le kar jata hai aur uss par' Allah ' ki chhap chore deta hai, Allah azzwajal ke zikar ( yaad ) se aur phir woh gayarah ⁠⁠⁠⁠11 ahem aaza mein jata hai. agar dil napak hai aur jo saans aa rahi woh aaloda hai, poooray ka poora ensaan phir uss saaray behnay walay napak khoon se napak kar diya jaye ga. uska matlab yeh hwa ke agar hoz napak hai aur najas aur gandagi se bhara hwa hai, aap is mein jo bhi dalain ge woh har uss cheez ko napak kar day ga jo is se raabtey mein aeye gi .
Phir tareeqa aata hai aur kehta hai, yeh aap k poooray wujood ka hoz hai. aap kyun apni taang par aur sir par aur kamar par aur iss lataif e sitta( chakra ) aur uss lataif e sitta ( chakra ) par dheyaan dete ho? Ap ki ilm al-Hayat ka markazi hoz, na k appki ilm al-hayaat ka koi jhoota mota ( hoz ), andar anay wali saans, pehphron mein jaaney wali, apke khoon se apke dil mein jaaney wali. agar dil bemaar ho, Nabi Pak (s) hadees mubarikah mein bayan karte hain,' agar aap ka aik hissa bemaar hai, ( to ) aap poooray ke poooray bemaar hain' aur farmaya,' woh hissa aapka qalb ( dil ) hai. '
Jis mein aik gosht ka tukda hai, agar woh achha ( sudhar) jaye poora jism achha ho jata hai lekin agar woh kharab ho jaye to poora jism kharab ho jata hai aur woh dil hai." Hazrat Mohammad (s).
wohi hissa, dil, agar woh saaf ho to kkhuda farmata hai,' phir mein jannaton mein nahi hon aur nah hi mein zameen par hoon; balkay mein to uss ke dil mein hon jo mujh par yaqeen rakhta hai
Is ka matlab yeh hwa" qalb al-momin baitullah." Allah ka farmaan hai ke yeh iss qader ahem uzw hai ke agar ap isay pak karen ge, dhowen gay, saaf karen ge, aap is ke gird tuwaf karen ge, yeh appki zaat mein mera khudai ghar ban jaye ga. uska matlab yeh hwa ke appki rooh mein mera Kabah hoga, aapka apna aik Kabah jisay aap dhowen ge, saaf karen ge, pak karen ge aur aap apna tuwaf apne dil ke gird karen ge ؛ kyunkay khudai noor ab Sooraj ki roshni ki terhan hai jo ke apke dil ko malboos karta ha. […]
……………………………………………………………….
TRANSCRIBED LECTURE:
HEART OF THE BELIEVER IS HOUSE OF GOD :
[…] Then tariqa and Sufism says, everything is based on the heart. If the heart is pure, it takes that blood and then stamps it with 'Allah', with the zikr (remembrance) of the Divine, and then moves to 11 essential organs. If the heart is dirty, and the breath coming in contaminated, all of the being is going to be then made dirty from all the dirty blood flowing. It means if the reservoir is filthy and filled with najas and dirtiness, whatever you pour into it will sicken everything that comes in contact with it.
Then tariqa comes and says, that is the reservoir of your entire being. Why you want to focus on your leg and your head and your back and this chakra and that chakra? The main reservoir of your physiology, not hocus pocus of your physiology, is your breath coming in, going into your lungs, your blood into your heart. If that heart is sick, Prophet ﷺ described from holy hadith, 'If one part of you is sick, all of you will be sick' and said, 'that one part is the qalb (heart).'
أَلا وَإِنَّ فِى الْجَسَدِ مُضْغَةً إِذَا صَلَحَتْ صَلَحَ الْجَسَدُ كُلُّهُ، وَإِذَا فَسَدَتْ فَسَدَ الْجَسَدُ كُلُّهُ، أَلا وَهِى الْقَلْبُ
"Ala wa inna fil Jasadi mudghatan idha salahat salahal jasadu kulluho, wa idha fasadat fasadal jasadu kulluho, ala wa heyal Qalb."
"There is a piece of flesh in the body, if it becomes good (reformed) the whole body becomes good but if it gets spoiled the whole body gets spoiled and that is the heart." Prophet Muhammad (pbuh)
And that same part, the heart, if it's purified, the Divine says, 'Then I'm not in heavens and I'm not on earth; but I'm in the heart of the one who believes in Me.'
"Maa wasi`anee laa Samayee, wa la ardee, laakin wasi'anee qalbi 'Abdee al Mu'min."
"Neither My Heavens nor My Earth can contain Me, but the heart of my Believing Servant." (Hadith Qudsi conveyed by Prophet Muhammad (pbuh))
"Qalb al mu'min baytur rabb." Ka'bah – Heart of Believer
"The heart of the believer is the House of the Lord." (Hadith Qudsi)
It means "qalb al mu'min baytullah." The Divine's saying that's such an important organ that if your purify it, you wash it, you cleanse it, you circumambulate around it, it will become My Divinely house within your being. It means you will have a Ka'bah within your soul, your very own Ka'bah that you wash, you clean, you purify and you begin to make your tawaf (circumambulation) around your heart; because Divinely light is now like rays of sun dressing your heart. […]
Watch here FULL LECTURE:
https://youtu.be/I1M-HZTpwPc
Source