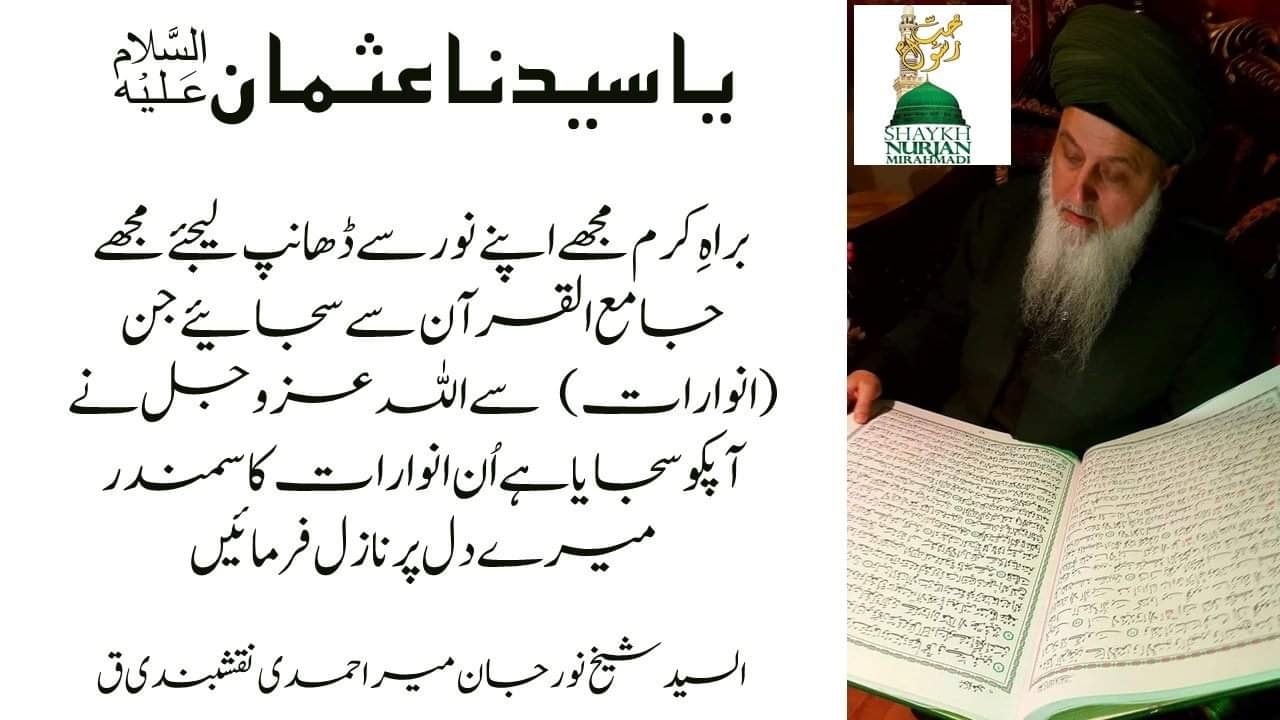 Urdu – بِسْمِ اللَّـهِ الرَّحْمَـٰنِ الرَّحِيمِ الّھمَّ صَلِّ عَلَی سیدِنَا محَمَّدٍ ﷺ…
بِسْمِ اللَّـهِ الرَّحْمَـٰنِ الرَّحِيمِ
الّھمَّ صَلِّ عَلَی سیدِنَا محَمَّدٍ ﷺ وَعَلَی آلِ سیَّدِنا محَمَّد ﷺ
شیخ سَیَّد نورجان مِیراَحمَدِی نَقشبَندِی (ق) کی سنہری تعلیمات سے اقتباس
ShaykhTalk#12
"حقیقتِ سیدنا عثمان ؓ،انوار القرآن المجید"
رسول اللہ(ﷺ) کے زمانے میں کوئی ظاہری کتاب نہیں تھی، پھر سیدنا عثمانؑ کی روح کی حقیقت جو عطا کرنے آتی ہے وہ یہ ہے کہ مجھے اللہ عزوجل کی طرف سے نبی اکرم(ﷺ) نے اِن ورقوں کو مرتب کرنے کی ذمہ داری سونپی تھی ، نہ صرف یہ بلکہ مجھے اِس(قرآنِ مجید)کے تمام راز عطا کیے گئے تاکہ سیکڑوں ہزاروں تشکیلات لا سکوں۔سطحی طور پر وہ کہتے ہیں کہ نہیں یہ (مرکبِ قران) عجمیوں کے پڑھنے کے لئے تھا۔نہیں!!اس کا راز یہ نہیں تھا۔نہیں!!بلکہ یہ اُنکا اِس(قرآن مجید) کے تمام حقائق کو آشکار کرنے کا راز تھا۔ لہذا یہ بہت عظیم (حقیقت) ہے۔
سیدنا عثمانؑ کی محبت کے بغیر نہ روح پر کوئی عطا ہے نہ نورِ قرآن کا فیضان, کیونکہ نبی کریمﷺ نے فرمایا آپ اُن کے ساتھ ہونگے جن سے آپ محبت کرتے ہیں سو جب طُرُوْقْ(سلاسلِ تصوف)آتے ہیں اور تعلیم دیتے ہیں کہ اُن(سیدنا عثمانؑ) کی محبت برقرار رکھیں۔اُن(سیدنا عثمانؑ)کا احترام ملحوظ رکھیں اور دعا کرتے رہیں یاربی جیسے آپ اُن کے انوارات سے عطا فرما رہے ہیں، میرے نور کو بھی نوازیں.
یاسیدنا عثمانؑ براہِ کرم مجھے اپنے نور سے ڈھانپ لیجئے مجھے جامع القرآن سے سجائیے۔جن (انوارات) سے اللہ عزوجل نے آپکو سجایا ہے اُن انوارات کا سمندر میرے دل پر نازل فرمائیں۔کیونکہ ملکوت سے وہ یہ درس دے رہے ہیں کہ عالمِ ملکوت سے جُڑ جائیں اور عَالمِ نور کو یاد رکھیں۔مادی دنیا کی طرف متوجہ نہ ہوں۔ یہ بہت عارضی ہے اور یہ مادی جسم قبر میں(زیرِ زمین) جانے والا اور تحلیل ہونے والا ہے۔
السید شیخ نورجان میراحمدی نقشبندی ق
Transcription :
In time of Prophet (PBUH) there was no manifested kitab so then what the reality of the soul of sayyidina usman RA Comes to give is that I was given the responsibility from Allah by prophet(PBUH) to compile these papers into the kitab and not only that but I was given all of its secrets to bring how many hundreds of thousands of Taskhkilaat. Superficially they say no this was for non Arabs to read. No this was his secret of encoding all of its haqaiqs.so it is Immense immense.without the love of sayyidina usman RA as there is no dress upon the soul.No openings of the lights of holy quran because prophet (PBUH) say you with be with whom u love so when the Tarooq come and teach keep their love.keep their respect keep asking ya rabbi as u granted from their lights grant to my light.Ya sayyidina usman RA please dress me from your lights dress me from jaaami al Quran what Allah Azzawwajjal dressed upon you send the oceans of those lights upon my heart. Because from malakoot they are teaching that connect with malakoot and remember the world of light. Don't be destracted by the world of form.it is so temporary and this physical body is going to grave and will dissolve.
Urdu Transliteration:
RasulAllah Sallallahu Alayhi wa sallam ke zamanay mein koi zahiri kitaab nahi the, phir Sayyidina Usman AS ki ruh ki haqeeqat jo ata karnay aati ha wo ye ha ke mjhe Allah AJ ki traf se Nabi Akram Sallallahu Alayhi wa sallam ne inn warqon ko murattab karnay ki zemmedari sonpii thi na sirf ye balkay mjhe iss(Quran Majeed) ke tmam raaz ataa kiye gae takay sainkaroon hazaroon tashkilaaat la sakon. Sat'hi torr per wo kehte hain ke ye (Muraqqab Quran ) Ajmion ke parhnay ke liye tha. nahi Balkay ye onka iss (quran majeed) ke tamam haqaiq ko ashkaar karnay ka raaz tha lehaza ye bht azeem(haqeeqat) ha.Sayyidina Usman AS ki muhabbat ke bagair na ruh per koi ataaa ha na nur e Quran ka faizaan, kyun ke Nabi Kareem Sallallahu Alayhi wa sallam ne farmaya App onkay sath hongay jinsay App Muhabbat kartay hain su jab Turoooq (salasil e Tasawuf) atay hain aur taleem detay hain ke onn (Sayyidina Usman AS) ki Muhabbat barqarar rakhein onn (Sayyidina usman AS) ka ihtiraam malhooz rakhein aur dua kartay rahein ya Rabbi jesay App onnkay Anwaar se ataa frma rahe hein meray Nur ko bhi nawazein Ya Sayyidina Usman AS barah e karam mjhe Apnay Nur se dhanp lijye mjhe jaami'al quran se sajaiye jin (anwaarat) se Allah AJ ne Apko sajaya ha unn anwarat ka samundar meray Dil per naazil frmaein kyun ke malaqoot se wo ye Dars De rahe hain ke Alam e malakoot se jurr jaein aur alam e nur ko yaad rakhein Maadi Duniya ki traf muttwajjeh na hun ye bhtt Arzi ha aur ye Maadi jism qabar mein (zair e zameen) janay wala aur tehlil honay wala ha.
Watch here