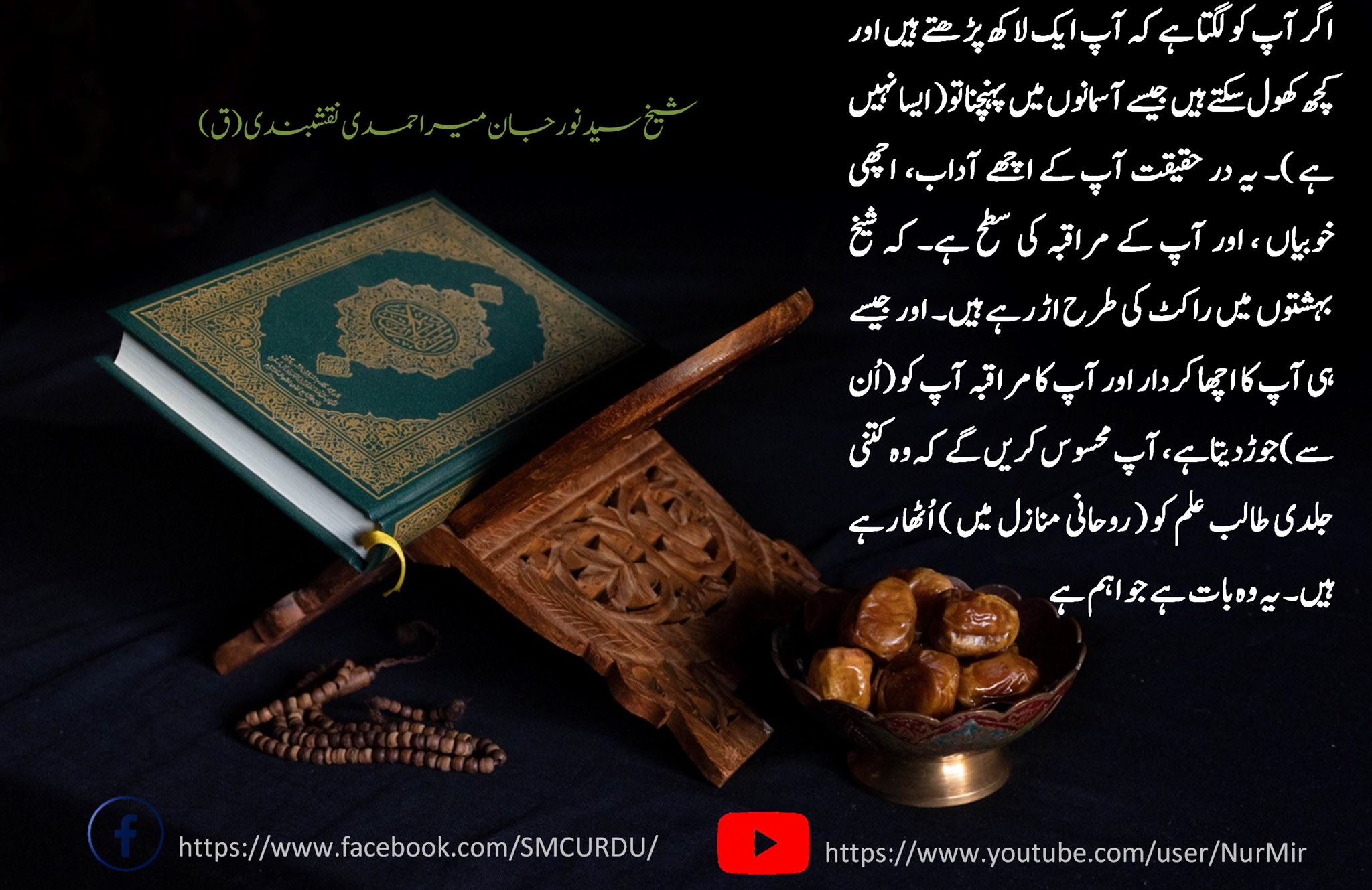 Urdu – بِسْمِ اللَّـهِ الرَّحْمَـٰنِ الرَّحِيمِ اَلَّھُمَّ صَلِّ عَلَی سَیَّدِنَا محَم…
بِسْمِ اللَّـهِ الرَّحْمَـٰنِ الرَّحِيمِ
اَلَّھُمَّ صَلِّ عَلَی سَیَّدِنَا محَمَّدٍ ﷺ وَعَلَی آلِ سَیَّدِنَا محَمَّدٍ ﷺ
شیخ سید نورجان میراحمدی نقشبندی (ق) کے ساتھ روحانی سوال و جواب
سوال: کیا ہم 48،000 مرتبہ اللہ (ذکر) کر سکتے ہیں؟
شیخ نورجان میراحمدی نقشبندی (ق):
[شیخ ہنستے ہیں] ذرا پہلے آہستہ آہستہ چلیئے۔ اگر آپ نے گارگوئلز (شیاطین) اور تمام بد روحوں اور تمام مشکل چیزوں کو دیکھنا شروع کردیا اور آپ نےچیخنا شروع کردیا تو آپ شکایت کریں گے۔ تو پھر زندگی میں سب کچھ آہستہ آہستہ ، آہستہ آہستہ ہوتا ہے۔ کوئی بھی چیز جو آپ بہت زیادہ کرتے ہیں اور آپ اُس درجے اور اسکی سمجھ کیلئے تیار نہیں ہوتے ، اور آپ ایک پردہ اُٹھا دیتے ہیں آپ ایک ایسا پردہ کھول دیتے ہیں جس کے کھلنے کیلئے آپ تیار نہیں ہوتے ، آپ کو پریشانی کا سامنا کرنا پڑے گا۔ لہذا ہم نے پہلے بھی ان امور پر بات کی ہے۔ کہ آپ بہت زیادہ( ذکر) کرنا چاہتے ہیں اور بہت کچھ کہنا چاہتے ہیں ، پھر آپ پر جو کھلے گا اس میں پریشانی ہوگی۔ لہذا اس کتاب (ایپ) سے صرف وظائف کرنے کی کوشش کریں کہ یہ وظائف شیوخ کے دیے ہوئے ہے ، اور یہ گرینڈ شیخ داغستانی (ق) ، شیخ مولانا محمد ناظم الحقانی (ق) سے لے کر تمام زندہ شیوخ تک ہیں۔ یہی نقشبندی وظائف ہیں۔ اور ان وظیفوں کی اجازت ملی ہوئی ہے ، لہذا یہی کریں الحمداللہ ، یہ کافی ہوگا۔ اور مراقبہ سب سے اہم ہے۔ مرقبہ آپ کا رابطہ ہے ، آپ کی تمام مشقیں۔ دوسری گفتگو میں جو ہم نے بیان کی ہے ، یہ آپ کے ذکر نہیں ہیں جو کچھ کھول رہے ہیں۔ اگر آپ کو لگتا ہے کہ آپ ایک لاکھ پڑھتے ہیں اور کچھ کھول سکتے ہیں جیسے آسمانوں میں پہنچنا تو ( ایسا نہیں ہے )۔ یہ در حقیقت آپ کے اچھے آداب، اچھی خوبیاں ، اور آپ کے مراقبہ کی سطح ہے۔ کہ شیخ بہشتوں میں راکٹ کی طرح اڑ رہے ہیں۔ اور جیسے ہی آپ کا اچھا کردار اور آپ کا مراقبہ آپ کو (اُن سے ) جوڑدیتا ہے ، آپ محسوس کریں گے کہ وہ کتنی جلدی طالب علم کو ( روحانی منازل میں ) اُٹھا رہے ہیں۔ یہ وہ بات ہے جو اہم ہے۔
یہ نہیں کہ میں خود پر انحصار کر رہا ہوں اور میں یہ تمام اعمال کروں گا اور ان اعمال کی تعداد بڑھا چڑھا کر بتاؤں گا ، تو یہ خود کو اوپر اٹھانے کے بارے میں نہیں ہے۔ یہ اچھی خوبیوں اور مراقبہ کی سمجھ میں مہارت حاصل کرنے کے بارے میں ہے ، اس گفتگو کے آغاز میں ہم نے کیا بات کی تھی۔ آپ کا راستہ تقریبا دو انچ لمبا ہے ، کیا آپ اس پر عمل کرسکتے ہیں؟ اور پھر اس "اے" A سے B "بی"تک آپ کو کچھ شامل کرنے کی ضرورت نہیں ہے۔ کوئی آتا ہے (اور کہتا ہے کہ ) 'میں یہ (تسبیح ) شامل کرنا چاہتا ہوں ، میں شامل کرنا چاہتا ہوں' ، ٹھیک ہے ، لیکن آپ اس مقصد سے ہٹ رہے ہیں ، بس "اے" A سے B "بی"تک جاؤ۔ کیا آپ اُس ہدایت سے جوکہ آپکو ملتی ہے ، کے قابل ہو گئے ہیں ، (اگر ہاں تو ) آپ کو انعام مل جاتا ہے [شیخ ہنستے ہوئے]۔ پھر (اگلہ مرحلہ) B "بی" سے C "سی" ہے ، اب آپ تیار ہیں۔ "بی" B سے C سی" ( کا رستہ ) تھوڑا سا زیادہ ناہموار ہے [شیخ نے ہنستے ہوئے]۔
سُبْحَانَ رَبِّکَ رَبِّ الْعِزَّۃَ عَمَّا یَصِفُوْنَ وَالسَّلامُ عَلَی الْمُرْسَلِیْنَ وَالْحَمْدُ لِلّٰہِ رَبِّ الْعَالَمِیْنَ وَبِحُرْمَةِ مُحَمَّدِ الْمُصْطَفیٰ وَبِسِرِّ سُورَۃِ الْفَاتِحَه.
⚡For English:
https://m.facebook.com/1621830444573407/posts/3169496983140071/?d=n
⚡Watch Link:
https://web.facebook.com/shaykhnurjanmirahmadi/videos/582215665760073/
⚡Please Subscribe Now:
https://www.youtube.com/user/NurMir
⚡Please Like Our Main Page:
https://facebook.com/shaykhnurjanmirahmadi/
………………………………………………………………………………………………………………………………………….
Urdu Transliteration:
Sawal : kya hum 48, 000 martaba Allah ( zikar ) kar satke hain ?
Sheikh Sayed Nurjan Mirahmidi Naqshbandi ( q ) : [ Sheikh hanstay hain ] zara pehlay aahista aahista chliye. Agar aap naay gargoyles ( shyatin ) aur tamam bad roohon aur tamam mushkil cheezon ko dekhanaa shuru kardiya aur aap naay cheekhna shuru kardiya to aap shikayat karen ge. To phir zindagi mein sab kuch aahista aahista, aahista aahista hota hai. Koi bhi cheez jo aap bohat ziyada karte hain aur aap uss darjay aur uski samajh ke liye tayyar nahi hotay, aur aap aik parda uttah dete hain aap aik aisa parda khol dete hain. Jis ke khilnay ke liye aap tayyar nahi hotay, aap ko pareshani ka saamna karna parre ga. Lehaza hum ny pehlay bhi un umoor par baat ki hai. Ke aap bohat ziyada ( zikar ) karna chahtay hain aur bohat kuch kehna chahtay hain, phir aap par jo khulay ga is mein pareshani hogi. Lehaza is kitaab ( app ) se sirf wazaif karne ki koshish karen ke yeh wazaif shyokh ke diye hue hai, aur yeh grand Sheikh Dageshtani ( q ), Sheikh molana Mohammad Naazim Al Haqqani ( q ) se le kar tamam zindah shyokh taq hain. Yahi naqshbndi wazaif hain. Aur in wazifon ki ijazat mili hui hai, lehaza yahi karen alhamdulillah, yeh kaafi hoga. Aur muraqba sab se ahem hai. Muraqba aap ka rabita hai, aap ki tamam mashqen. Doosri guftagu mein jo hum ny bayan ki hai, yeh aap ke zikar nahi hain jo kuch khol rahay hain. Agar aap ko lagta hai ke aap aik laakh parhte hain aur kuch khol satke hain jaisay asmano mein pohanchna to ( aisa nahi hai ). Yeh Dur haqeeqat aap ke achay aadaab, achi khoobiyan, aur aap ke muraqba ki satah hai. Ke Sheikh bahishtoon mein rocket ki terhan urr rahay hain. Aur jaisay hi aap ka achcha kirdaar aur aap ka muraqba aap ko ( unn se ) jor deta hai , aap mehsoos karen ge ke woh kitni jaldi taalib ilm ko ( Rohani Manazil mein ) uttha rahay hain. Yeh woh baat hai jo ahem hai .
Yeh nahi ke mein khud par inhisaar kar raha hon aur mein yeh tamam aamaal karoon ga aur un aamaal ki tadaad barha charha kar batau ga, to yeh khud ko oopar uthany ke baray mein nahi hai. Yeh achi khoobiyon aur muraqba ki samajh mein mahaarat haasil karne ke baray mein hai, is guftagu ke aaghaz mein hum ney kya baat ki thi. Aap ka rasta taqreeban do inch lamba hai, kya aap is par amal kar saktay hain? Aur phir is" A" se" B" taq aap ko kuch shaamil Karne ki zaroorat nahi hai. Koi aata hai ( aur kehta hai ke )' mein yeh ( tasbeeh ) shaamil karna chahta hon, mein shaamil karna chahta hon ', theek hai, lekin aap is maqsad se hatt rahay hain, bas A se B tak jao. Kya aap uss Hadayat se jo kay aapko millti hai, ke qabil ho gay hain, ( agar haan to ) aap ko inaam mil jata hai [ Sheikh hanstay hue ]. Phir ( aglaa marhala ) b se c hai, ab aap tayyar hain. b se c ( ka rasta ) thora sa ziyada na hamwar hai [ Sheikh nay hanstay hue ] .
Subhana rabbika rabbal 'izzati 'amma yasifoon, wa salaamun 'alal mursaleen, walhamdulillahi rabbil 'aalameen. Bi hurmati Muhammad al-Mustafa wa bi siri Surat al-Fatiha.🤲