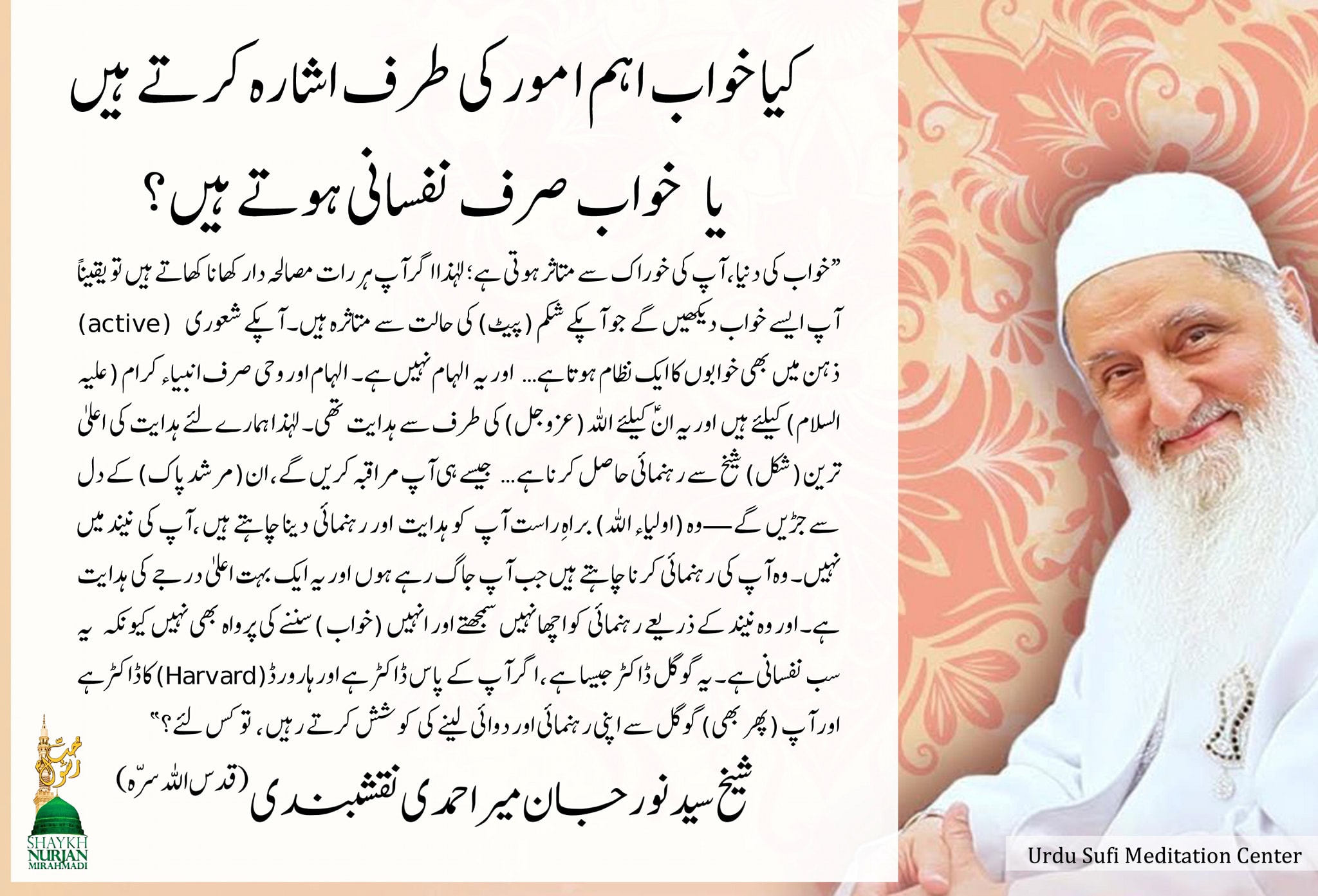 Urdu – بُری نظر سے کیسے خود کو محفوظ رکھا جائے — سوالات و جوابات۔ (حصہ سوم) Buri Naze…
بُری نظر سے کیسے خود کو محفوظ رکھا جائے — سوالات و جوابات۔ (حصہ سوم)
Buri Nazer se kesay khud ko Mahfooz rakha jaye — Sawalaat o jawabaat (Hissa Soyam)
How to protect yourself from evil eye Q&A- [PART-3]
سوال: کیا خواب اہم امور کی طرف اشارہ کر سکتے ہیں یا یہ(خواب) صرف نفس سے ہوتے ہیں؟ کیا ہمیں اس پر بالکل بھی توجہ نہیں دینی چاہئے؟ میں جب بھی خود فیصلہ کرتا ہوں یہ پریشانیوں کا سبب بنتا ہے۔
مولانا شیخ نورجان میراحمدی نقشبندی (ق) :
نقشبندی مشائخ میں سے امام الربانی (ق) نے ہمارے لئے بیان فرمایا ہے کہ ، 'افضل زندگی (راہِ) تفکر ہے۔' ہمارے لیے خواب کا تصور یہ ہے کہ آپ کا نفس /انا اتنی بڑی اور اتنی تگڑی ہے کہ آپ کو نیند درکار ہے تاکہ آپ ( کی روح) صرف ایک الہام (اشارہ ، ہدایت) لے سکے ؟ لہذا ، ہم اس ( خواب سے رہنمائی )کو اپنا مقصد بنانے کی کوشش نہیں کرتے۔ کہ ، میرا نفس اتنا بڑا ہوجائے اور اسے اتنا طاقتور بنا دیا جائے کہ میں ہدایت صرف تب لے سکتا ہوں جب میرا جسم نیند میں ہو ۔ نیند ایک ایسی حالت ہے جس میں آپ کا جسم (مادی وجود) راستے سے ہٹا دیا جاتا ہے، تاکہ آپ(کی روح) رہنمائی لے سکے ۔ اور خواب کی دنیا ، آپ کے کھانے سے متاثر ہوتی ہے۔
لہذا اگر آپ ہر رات مصالحہ دار کھانا کھاتے ہیں ، یقیناً آپ ایسے خواب دیکھنے والے ہیں جو آپ کے شکم کی حالت سے متاثر ہونگے۔ آپ کے شعوری ذہن میں بھی خوابوں کا ایک نظام ہوتا ہے۔ آپ کا ذہن ایک فلم کی طرح ہے اور آپ کے ذہن میں بہت سارے خیالات اور بہت ساری چیزیں چل رہی ہیں ، پھر ( ذہن) یہ سمیٹتا جاتا ہے ، اور سمیٹتا جاتا ہے اور سمیٹتا جاتا ہے ۔ آخرکار جس وقت آپ سوتے ہیں، یہ (ریکارڈ) ' فلم جو ابھی پلے نہیں ہوئی ' آپ کے ذہن میں چلنا / پلے ہونا شروع ہوجائے گی۔ آپ کے خیالات کے تمام ادھورے واقعات آپ کے دماغ میں چلنا شروع ہوجائیں گے۔
اور یہ کوئی الہام (ہدایت ) نہیں ہے۔ الہام اور وحی صرف انبیاء (علیہ السلام) کے لئے ہے۔ اور یہ اللہ (عزوجل) کی طرف سے ان کے لئے ہدایت تھی۔ لہذا ہماری اعلیٰ ترین رہنمائی شیخ سے رہنمائی پانا ہے۔ لہذا ، اس کا مطلب ہے کہ جائیے اور ایک شیخ تلاش کریں اور اپنی ہدایت طلب کریں اور اپنے روزمرہ کے کورڈنیٹس ( اشارے، ہدایت ) حاصل کریں ، اور دیکھیں کہ یہ ہدایت کس طرح آپ کے دل کی چاہت اور آپ کے دماغ کی خواہش سے مختلف ہوگی۔ اور پھر ، جب شیخ آپ کی تربیت آپ کے تفکر ، مراقبہ ، غور و فکر کے ذریعے کرنا شروع کرتے ہیں، وہ آپ کو یہ سکھاتے ہیں کہ آپ کس طرح اپنے کردار میں عاجزی لائیں، اپنے نفس ( انا) پر زوال لائیں اور اپنی ھدایت بیداری میں حاصل کریں۔
جیسے ہی آپ مراقبہ کریں گے ، ان(مرشد پاک) کے دل سے جڑیں گے، وہ براہِ راست آپ کو فیضیاب کرنا اور (آپ کی)رہنمائی کرنا چاہتے ہیں ،آپ کی نیند میں نہیں۔ وہ (اولیاء اللہ) آپ کے جاگتے میں آپ کی رہنمائی کرنا چاہتے ہیں۔ اور یہ ایک بہت اعلیٰ درجے کی رہنمائی ہے۔ اور وہ نیند کے ذریعے رہنمائی کو اچھا نہیں سمجھتے اور وہ اسے سننے کی پرواہ بھی نہیں کرتے کیونکہ یہ سب نفسانی ہے۔ یہ گوگل ڈاکٹر کی طرح ہے ، اگر آپ کے پاس ڈاکٹر اور ہارورڈ کا(اعلیٰ تعلیم یافتہ) ڈاکٹر ہے ، اور آپ گوگل سے اپنی رہنمائی اور دوائی لینے کی کوشش کرتے رہتے ہیں تو ، کس لئے؟
________________________________
sawal : kya khawab ehem umoor ki taraf ishara kar satke hain ya yeh ( khawab ) sirf nafs se hotay hain? kya hamein is par bilkul bhi tawajah nahi deeni chahiye? mein jab bhi khud faisla karta hon yeh pareshaniyon ka sabab bantaa hai .
Mawlana Shaykh Nurjan Mirahmadi Naqshbandi ( qs ) :
Naqshbandi mashaiykh mein se imam Ar-Rabbani ( q ) ne hamaray liye bayan farmaya hai ke,' afzal zindagi ( raah e ) tafakar hai.' hamaray liye khawab ka tasawwur yeh hai ke aap ka nafs / anaa itni barri aur itni tagry hai ke aap ko neend darkaar hai taakay aap ( ki rooh ) sirf aik ilham ( ishara, hadaayat ) le sakay? lehaza, hum is ( khawab se rahnumai ) ko apna maqsad bananay ki koshish nahi karte. ke, mera nafs itna bara hojaye aur usay itna taaqatwar bana diya jaye ke mein hadaayat sirf tab le sakta hon jab mera jism neend mein ho. neend aik aisi haalat hai jis mein aap ka jism ( maadi wujood ) rastay se hata diya jata hai, taakay aap ( ki rooh ) rahnumai le sakay. aur khawab ki duniya, aap ke khanay se mutasir hoti hai.
lehaza agar aap har raat masalha daar khana khatay hain, yaqeenan aap aisay khawab dekhnay walay hain jo aap ke shikam ki haalat se mutasir hunge. aap ke shaori zehen mein bhi khowaboon ka aik nizaam hota hai. aap ka zehen aik film ki terhan hai aur aap ke zehen mein bohat saaray khayalat aur bohat saari cheeze chal rahi hain, phir ( zehen ) yeh samait'ta jata hai, aur samait'ta jata hai aur samait'ta jata hai. aakhir kaar jis waqt aap sotay hain, yeh ( recorded )' film jo abhi play nahi hui' aap ke zehen mein chalna / play hona shuru hojaye gi. aap ke khayalat ke tamam adhooray waqeat aap ke dimagh mein chalna shuru ho jaien ge .
aur yeh koi ilham ( hadaayat ) nahi hai. ilham aur wahi sirf anbia ( alaihi salam ) ke liye hai. aur yeh Allah ( azzwajal ) ki taraf se un ke liye hadaayat thi. lehaza hamari aala tareen rahnumai Shaykh se rahnumai paana hai. lehaza, is ka matlab hai ke jaiye aur aik Shaykh talaash karen aur apni hadaayat talabb karen aur –apne roz marrah ke coordinance ( isharay, hadaayat ) haasil karen, aur dekhen ke yeh hadaayat kis terhan aap ke dil ki chahat aur aap ke dimagh ki khwahish se mukhtalif hogi. aur phir, jab Shaykh aap ki tarbiyat aap ke tafakar, muraqba, ghor o fikar ke zariye karna shuru karte hain, woh aap ko yeh sikhate hain ke aap kis terhan –apne kirdaar mein aajzi layein, –apne nafs ( anaa ) par zawaal layein aur apni hadaiyat baydaari mein haasil karen .
jaisay hi aap muraqba karen ge, un ( murshid pak ) ke dil se jarrain ge.
woh barahay raast aap ko fizyab karna aur ( aap ki ) rahnumai karna chahtay hain, aap ki neend mein nahi. woh (Awliya Allah ) aap ke jagtay mein aap ki rahnumai karna chahtay hain. aur yeh aik bohat aala darjay ki rahnumai hai. aur woh neend ke zariye rahnumai ko acha nahi samajte aur woh usay suneney ki parwah bhi nahi karte kyunkay yeh sab nafsaani hai. yeh Google dr ki terhan hai, agar aap ke paas dr aur Harvard ka ( aala taleem Yafta ) dr hai, aur aap Google se apni rahnumai aur dawai lainay ki koshish karte rehtay hain to, kis liye ?
______________________________
QUESTION: Can dreams give signs towards important matters or is it just from nafs (ego)? Should we not pay attention to it at all? Every time I decide by myself it causes problems.
Shaykh Nurjan Mirahmadi: Imam ar-Rabbani (Q) from the Naqshbandi shaykhs described for us that, 'The higher is the living, is the tafakkur (contemplation).' The concept of dreaming for us is that your nafs (ego) is so big and so strong that you have to go to sleep just to get an inspiration. So, we don't try to shoot that as our goal. That, my nafs be so big and keep it to be so strong that I only can get guidance by putting my body to sleep. That the sleep is a state in which your body has to be taken out of the way for you to get guidance. And as a result of the dream world, is influenced by your food.
So if you have spicy food every night, of course you're going to have dreams that are affected by the condition of your belly. Dreams also have a system within your active mind. Your mind is like a movie, and you have many thoughts and many things playing out in your mind, then it's like winding, and winding, and winding, and winding. By the time you finally sleep this 'un-played movie' will begin to play within your mind. All the unfinished events of your thoughts will begin to play in your mind.
And that's not an inspiration; inspiration and wahy (revelation) is for only the Prophets (as). And that was a guidance for them from Allah (AJ). So our highest level of guidance is to be guided by a shaykh. So, it means go and find a shaykh and ask for your guidance and get your daily coordinates, and see how that guidance is going to differ from what your heart wants and what your mind wants. And then, when the shaykh begins to train you through your tafakkur, your meditation, your contemplation, he's teaching you how to bring down your character, bring down your nafs and get your living guidance.
As soon as you meditate, connect with their heart, they want to give you feed and the guidance live, not in your sleep. They want to guide you while you are awake. And that's a much higher level of guidance. And they look down upon the guidance through sleep and they don't even care to hear from it because it's all nafsani (egocentric). It's like Google doctor, if you have a doctor and the doctor from Harvard, and you keep trying to take your guidance and medicine from Google, for what?
________________________________
سوال: مجھے نہیں معلوم کہ میرے ساتھ کیا ہو رہا ہے ، میں کبھی ڈپریشن میں چلا جاتا ہوں۔ کبھی میں کچھ چاہتا ہوں ، کبھی یہ زندگی مجھے (خود) پر بوجھ لگنے لگتی ہے ، کیا میں مدد حاصل کر سکتا ہوں؟
مولانا شیخ سید نورجان میراحمدی نقشبندی (ق):
جی ، مجھے لگتا ہے کہ ہم نے پہلے بھی اس بارے میں بات کی تھی ، کہ نقشبندیہ میں اور طریقت (روحانی راہ) پر چلنے والا ہر شخص بائی پولر ہے۔ اب ، یہ بائی پولر کی کلینیکل تشخیص نہیں ہے کیونکہ ہم ویسے بھی ان کلینیکل تشخیص سے اتفاق نہیں کرتے ہیں۔ لیکن ہمارے لئے بائی پولر کی سمجھ پولیریٹی(Polarity) ہے۔یا تو آپ اوپر ہیں، اپنے شمالی قطب(نارتھ پول،بلند درجے) پر، یا آپ اپنے جنوبی قطب(ساوتھ پول،نچلے درجے)پر واقعتاً افسردہ ہیں۔ جیسے ہی آپ کو اچھا احساس ملتا ہے ، ایک اچھا ذکر ، ایک اچھا الہام ، اوہ ، آپ شمال کی طرف ہیں! آپ اتنے اونچے درجے پر ہیں کہ آپ کو لگتا ہے کہ آپ دنیا کے خلیفہ (نائب) ہیں اور پھر اچانک آپ کے پاس کوئی (فیض) نہیں پہنچتا۔ ایک دن ، دو دن ، ایک ہفتہ ، دو ہفتے اور آپ شمالی سرحد پر میکسیکو کے نیچے ہیں اور ، 'بس اسے بھول جاؤ ، مجھے کچھ نہیں چاہیئے۔' لہذا وہ اونچائی(اعلیٰ درجات) سے بہت نیچے(نچلے درجات) جارہے ہیں۔
اور اللہ (عزوجل) اس بندے کی رہنمائی فرما رہا ہے کہ ، 'اپنے اعمال کو صرف مشاہدات کرنے اور تجربات کرنے کے لئے نہ کریں۔ جو کرنا ہے محبت کیلئے کریں۔ اور محبت میں آپ کو کسی اجر کی توقع نہیں کرنی چاہئے لیکن آپ کو خدمت میں رہنے کی توقع کرنی چاہئے۔ 'اور اسی وجہ سے پھر وہ(اولیاء اللہ) آپ کو صبر کرنا اور حقیقی طور پر حالتِ صبر میں داخل ہونا سکھاتے ہیں جہاں کوئی توقعات نہیں ہونی چاہیے۔ لہذا ، 'جب میں زندگی میں کسی چیز کی توقع نہیں کرتا تو ، میں ہر چیز سے خوش رہوں گا۔ لہذا ، میں نے ایک بڑا چندہ دیا اور میں توقع نہیں رکھتا کہ اللہ (عزوجل) اسے قبول کرے۔ اور جب اللہ (عزوجل) چاہے گا ، تو وہ مجھے دکھا دے گا کہ اس نے اسے(صدقہ) قبول کر لیا۔ اور یہ بات مجھے بہت پیاری ہوجاتی ہے۔ '
لیکن اگر میں سب کچھ سوچتا ہوں کہ میں پانچ ڈالر دوں گا اور اس کے عوض میں، میں دس ڈالر دیکھنا چاہتا ہوں تو یہ ایک کاروبار ہے۔ یہ اللہ (عزوجل) کے ساتھ کاروباری لین دین ہے اور یہ اچھا نہیں ہے ، اور یہ (راہِ)سلوک نہیں ہے۔ اس امید(توقع) کی وجہ سے لوگ روحانی دنیا میں بہت افسردہ ہوجاتے ہیں۔ وہ خدمت میں حاضر ہیں ، وہ (صدقات)دے رہے ہیں ، وہ (خدمت)کررہے ہیں ، وہ اللہ(عزوجل) کے وقت کی بجائے اپنے وقت پر ہر طرح کی قبولیت (فتوحات ) کی توقع کر رہے ہیں۔
اور یہ تسلیم کرنے کے بارے میں ہے اور ہم اللہ (عزوجل) کے سامنے سر تسلیم خم کرتے ہیں اور اللہ (عزوجل) ہمارے سامنے تسلیم نہیں فرماتا ، استغفر اللہ۔ لہذا وہ سارا پیکیج سکھاتے ہیں ، 'جو کام آپ کو کرنا ہے وہ محبت سے کریں اور زندگی میں کسی سے کوئی توقع نہ رکھیں!' اب حقیقت یہ ہے کہ نہ صرف اس کی توقع نہ رکھو ،بلکہ آپ کو (یہ)امید رکھنی چاہئے کہ ہر ایک(شخص) آپ سے جتنا بدترین پیش آسکتا ہے آئے گا اور آپ صرف وہی کر رہے ہیں جو آپ اللہ (عزوجل) اور اس کے رسول(ﷺ) کی محبت کے لئے کرتے ہیں ، نہ کہ لوگوں کے لئے۔
________________________________
Sawal : mujhe nahi maloom ke mere sath kya ho raha hai, mein kabhi depression mein chala jata hon. kabhi mein kuch chahta hon, kabhi yeh zindagi mujhe ( khud ) par boojh lagnay lagti hai, kya mein madad haasil kar sakta hon ?
Mawlana Shaykh Sayyed Nurjan Mirahmadi Naqshbandi (q) :
jee, mujhe lagta hai ke hum ne pehlay bhi is baray mein baat ki thi, ke Naqshbandiya mein aur tareqat ( Rohani raah ) par chalne wala har shakhs bi-polar hai. ab, yeh bi-polar ki clinical tashkhees nahi hai kyunkay hum waisay bhi un clinical tashkhees se ittafaq nahi karte hain. lekin hamaray liye bi polar ki samajh polarity hai. ya to aap oopar hain, –apne shumali qutub ( north pole, buland darjay ) par, ya aap –apne janoobi qutub ( south pole, nichale darjay ) par vaqyatan afsurdah hain. jaisay hi aap ko acha ehsas milta hai, aik acha zikar, aik acha ilham, oh, aap shumal ki taraf hain! aap itnay ounchay darjay par hain ke aap ko lagta hai ke aap duniya ke khalifa ( naib ) hain aur phir achanak aap ke paas koi ( Faiz ) nahi pohanchta. aik din, do din, aik hafta, do haftay aur aap shumali sarhad par mexico ke neechay hain aur,' bas usay bhool jao, mujhe kuch nahi chahiye.' lehaza woh oonchai ( aala darjaat ) se bohat neechay ( nichale darjaat ) jarahay hain .
aur Allah ( azzwajal ) is bande ki rahnumai farma raha hai ke,' –apne aamaal ko sirf mushahdaat karne aur tajarbaat karne ke liye na karen. jo karna hai mohabbat ke liye karen. aur mohabbat mein aap ko kisi ajar ki tawaqqa nahi karni chahiye lekin aap ko khidmat mein rehne ki tawaqqa karni chahiye.' aur isi wajah se phir woh ( aulia Allah ) aap ko sabr karna aur haqeeqi tor par halat-e sabr mein daakhil hona sikhate hain jahan koi tawaquaat nahi honi chahiye. lehaza,' jab mein zindagi mein kisi cheez ki tawaqqa nahi karta tou, mein har cheez se khush rahon ga. lehaza, mein ne aik bara chanda diya aur mein tawaqqa nahi rakhta ke Allah ( azzwajal ) usay qubool kere. aur jab Allah ( azzwajal ) chahay ga, to woh mujhe dikha day ga ke ousne issay ( sadqa ) qubool kar liya. aur yeh baat mujhe bohat pyari hojati hai. '
lekin agar mein sab kuch sochta hon ke mein paanch dollar dun ga aur is ke iwaz mein, mein das dollar dekhna chahta hon to yeh aik kaarobar hai. yeh Allah ( azzwajal ) ke sath karobari lain deen hai aur yeh acha nahi hai, aur yeh ( raah e ) sulooq nahi hai. is umeed ( tawaqqa ) ki wajah se log Rohani duniya mein bohat afsurdah ho jatay hain. woh khidmat mein haazir hain, woh ( sadqat ) day rahay hain, woh ( khidmat ) kar rahay hain, woh Allah ( azzwajal ) ke waqt ki bajaye –apne waqt par har terhan ki qabuliat ( fatohat ) ki tawaqqa kar rahay hain .
aur yeh tasleem karne ke baray mein hai aur hum Allah ( azzwajal ) ke samnay sir tasleem e kham karte hain aur Allah ( azzwajal ) hamaray samnay tasleem nahi farmata,Astaghfirullah . lehaza woh sara package sikhate hain,' jo kaam aap ko karna hai woh mohabbat se karen aur zindagi mein kisi se koi tawaqqa na rakhen !' ab haqeeqat yeh hai ke nah sirf is ki tawaqqa nah rakho, balkay aap ko ( yeh ) umeed rakhni chahiye ke har aik ( shakhs ) aap se jitna bad tareen paish aasakta hai aaye ga aur aap sirf wohi kar rahay hain jo aap Allah ( azzwajal ) aur is ke rasool (ﷺ) ki mohabbat ke liye karte hain, nah ke logon ke liye .
_______________________________________
Question: I don't know what is happening to me, I'm going into a depression sometimes. I want something, sometimes this life seems to be a burden upon me, can I get help?
Shaykh Nurjan Mirahmadi: Yeah, I think we talked about that before, that everyone in Naqshbandiya and following a tariqah (spiritual path) is bi-polar. Now, it's not a clinical diagnosis of bi-polar because we don't agree with those clinical diagnoses anyways. But for us the understanding of bi-polar is the polarity. You're either up, on your north pole, or you're really depressed on your south pole. As soon as you get a good feeling, a nice zikr (remembrance), a good inspiration, oh, you're north! You're up so high you think you're the khalifa (deputy) of the world. And then all of sudden nothing comes to you. One day, two day, one week, two weeks and you're north of the border below Mexico and, 'Just forget it, I don't want anything.' So they're going from high to very low.
And Allah (AJ) is inspiring the servant that, 'Don't do your deeds just to have visions and to have experiences. Do what you have to do because of love. And in love you should expect no reward but you should expect to be of service.' And that's why then they teach you to have sabr (patience) and to really enter into a state of sabr where it's to have no expectations. So, 'When I don't expect anything in life, I'll be happy with everything. So, I gave a big donation and I don't expect Allah (AJ) to accept it. And when Allah (AJ) wants, He'll show me that He accepted it. And that becomes something very sweet to me.'
But if everything I think I'm going to give five dollars and I'm going to see ten dollars in return, it's a business then. It's a business transaction with Allah (AJ) and that's not good, and that's not the manners. Because of that expectation people become very depressed in the spiritual world. They're being of service, they're giving, they're doing, they're expecting all sorts of openings on their time instead of Allah's (AJ) time.
And this is about submitting and we submit to Allah (AJ) and Allah (AJ) doesn't submit to us, astaghfirullah. So they teach the whole package, 'Do what you got to do out of love and in life expect nothing from anyone!' As a matter of fact now only don't expect it, but you should expect that everybody is going to do their worst to you. And you're only doing what you do for the love of Allah (AJ) and His Rasul ﷺ, and not for people.
__________________________________________
سوال: جب ہم سوچتے ہیں کہ ہماری موت واقع ہو گی تو کسی شخص کی ذہنی کیفیت کیا ہونی چاہئے؟ مجھے جب بھی اس طرح (موت ) کے خیالات آتے ہیں تو ہمیشہ مجھے خوف طاری ہوتا ہے اور میں نے ایک بیان میں سنا ہے کہ خوف ایمان کے مخالف ہے۔ میں اسے(ایمان کو) کس طرح بہتر اور (خوف کو) حل کرسکتا ہوں؟
مولانا شیخ سید نورجان میراحمدی نقشبندی (ق):
تصورِ ایمان، وہ تقسیم کرتے ہیں اور وہ ہمارے لئے تقسیم کرتے رہتے ہیں۔ ایمان و ایقان محبت ہے۔ اگر آپ کے پاس محبت نہیں ہے تو آپ کے پاس ایمان نہیں۔ ایمان (نمازِ)جمعہ کے لئے جانا نہیں ہے اور نہ نماز ادا کرنا ایمان ہے اور خیرات کرنا ایمان نہیں ہے۔ان اعمال کا مقصد آپ کے دل میں محبت جگانا تھی۔ اگر بندہ محبت سے خالی ہے تو اسکا کوئی ایمان نہیں۔ اگر اللہ (عزوجل) آپ سے محبت کرتا ہے اور وہ آپ کو (کچھ) عطا فرمانا چاہتا ہے تو وہ آپ کو عشق و محبت عطا فرماتا ہے۔ اور ایمان کی حقیقت وہ محبت اور عشق ہے۔
لہذا جب آپ یہ محسوس کرتے ہیں کہ آپ نبی کریم (ﷺ ) سے محبت کرتے ہیں ، اور آپ ان لوگوں سے پیار کرتے ہیں جو نبی کریم(ﷺ )سے محبت کرتے ہیں ، اور یہ محبت اللہ (عزوجل)کے لئے شدید محبت اور عقیدت اجاگر کر رہی ہے۔ محبت سے کہ ، 'میں اس سے پیار کرتا ہوں اور میں اسے مایوس نہیں کرنا چاہتا ، میں اس سے پیار کرتا ہوں اور میں کام(خدمت) کرتے ہوئے کوشش کر رہا ہوں کہ وہ ( عزوجل) مجھ سے راضی رہے ، اور زیادہ سے زیادہ کچھ کرنے کی کوشش کرتا رہتا ہوں(جیسے) خیرات کرنا، قربانی دینا ، حتی کہ اللہ (عزوجل) سے اپنی محبت کی خاطر لوگوں کی بدسلوکی سہنا۔ '' یہ ہی محبت ہے! جب آپ کو وہ محبت محسوس ہوتی ہے ، تو پھر آپ موت سے کیوں ڈرتے ہیں؟ کیونکہ جب آپ واقعی کسی سے محبت کرتے ہو تو آپ ان سے ملنے اور ان کے ساتھ رہنے ، ان کو دیکھنے کیلئے بے چین ہو تےہیں ، آپ ان سے ملنے سمندر پار چلے جائیں گے ، کیونکہ یہ محبت ہے۔ جب آپ واقعی میں محبت کرتے ہیں تو آپ ایک اُس دن کے انتظار میں رہتے ہیں کہ جب یہ زندگی ختم ہوجائے اور میں نبی اکرم ( ﷺ) کے ساتھ رہوں۔ کہ ، یہ ساری دشواری ختم ہوجائے گی اور یہ رنج و الم مٹ جائے گا ، اور مجھے ہمیشہ کے لئے آپ( ﷺ) کے قدمین شریفین میں ابدی خدمت کیلئے اٹھایا جائے گا۔
جب آپ اس محبت کو محسوس کرتے ہیں تو پھر ڈرنے کی کیا ضرورت ہے؟ اور جو کچھ اب ہو رہا ہے وہ بہت اہم ہے۔ میں نے کہا اگر کوئی چاہے تو تین نمبر گوگل کریں۔ تین اعداد اور لفظ 'نئے کیس' ٹائپ کرے؛ گوگل میں کوئی بھی تین نمبر ٹائپ کریں اور صرف 'نئے کیسز ٹائپ کریں۔' اور اچانک اس نمبر کے حامل یہ تمام مضامین اس نئی وبائی بیماری(کرونا وائرس) کے بارے میں ظاہر ہوتے ہیں۔ کیا یہ عجیب نہیں ہے؟ یہ آئی فونز کے کیسسز ہوسکتے تھے۔ یہ قانونی کیسسز ہوسکتے تھے۔ یہ کسی بھی چیز کے کیسسز ہوسکتے تھے ، لیکن اس دنیا میں ابھی جو کچھ ہو رہا ہے، جس وجہ سے بھی ہو رہا ہے، اس لیئے کہ وہ ( شیاطین ) خوف کے ذریعہ حکمرانی کرنا چاہتے ہیں۔
وبا بیماری نہیں ہے ، بلکہ (یہ )خوف ہے۔ زمین پر کیا ہو رہا ہے اور کس طرح شیطان خوف کے ذریعہ حکمرانی کرتا ہے۔ اور خوف ایمان کا مخالف (متضاد) ہے۔ اور سب کچھ جو شیطان کرنا چاہتا ہے(وہ یہ ہے کہ)، لوگوں کو خوف ، ڈر ،خدشے اور ہیبت سے دوچار کرنا ، اور اس سے پہلے کہ آدمی کو یہ پتا لگے ، ان کے پاس ایمان نہیں بچے گا ۔ کیونکہ انہوں نے اللہ (عزوجل) سے خوف نہیں کیا ، جب اللہ (عزوجل) قرآن کریم میں ارشاد فرمایا ، 'تم صرف مجھ سے ڈرو۔ اگر تم میرے ساتھ غلط ہو تو کوئی بھی تمہیں نہیں بچا سکتا— نہ ماسک ، نہ وینٹیلیٹر ، اور نہ ہی کوئی دوا۔ اور اگر میں یہ چاہوں تو میں آپ کو بس کے ذریعہ مار ڈالوں ، آپ کو ایک پہاڑ سے پھینک دوں یا میں آپ کے ہوائی جہاز کو نیچے گرادوں۔ 'لہذا ، خوف صرف اللہ (عزوجل)سے ہے۔ لیکن اب آپ جانتے ہو کہ یہ 'ایک آنکھ والا ڈبہ(ٹیلیوژن)' ہر ایک کو خوف زدہ ،دہشت زدہ کر رہا ہے۔ وہ اپنے کمروں میں چھپ رہے ہیں۔
وَاتَّقُوا اللَّـهَ وَيُعَلِّمُكُمُ اللَّـهُ ۗ وَاللَّـهُ بِكُلِّ شَيْءٍ عَلِيمٌ (٢٨٢)
اور اﷲ سے ڈرتے رہو، اور اﷲ تمہیں (معاملات کی) تعلیم دیتا ہے اور اﷲ ہر چیز کا خوب جاننے والا ہے،[2:282]
آپ جانتے ہیں کہ یہ سیدنا نوح (علیہ السلام) کی علامت ہے اور ہم نے بہت سال پہلے بتایا تھا کہ جب نوح (علیہ السلام) اپنا جہاز بنا رہے تھے۔ ان (علیہ السلام) کا جہاز ایمان کا سفینہ ہے ، اور ہر شیخ جہاز بنا رہا ہے ، اور وہ لوگوں کو کہتے ہیں ، '' ہمارے جہاز پر آؤ ، ہمارے محفوظ جہاز پر آجاؤ۔ '' اور آخر ان (علیہ السلام) کے بیٹے نے کیا کہا ، "آہ! بابا مجھے آپ کے ساتھ آنے کی ضرورت نہیں ، میں حفاظت کے لئے اپنا پہاڑ تلاش کروں گا۔ 'اور یہی شیطان چاہتا ہے ، کہ لوگ بغیر دماغ کے مرغے جیسا (بزدلانہ ) بھاگ رہے ہوں۔ ہر چیز سے خوفزدہ ہوں اور وہ نہ جانتے ہوں کہ کس پر یقین کرنا ہے، وہ نہ جانتے ہوں کہ انھیں کیا بچانے والا ہے۔
ایک دن وہ انھیں کہتے ہیں ، 'سارا دن اس ماسک کو اپنے چہرے پر رکھیں ، اور بعد میں لوگ یہ کہتے رہے ،' وہ سانس نہیں لے سکتے ، انھیں دمہ ہے۔' اپنے کاربن ڈائی آکسائیڈ ، یا مونو آکسائیڈ سے ان کا دم گھٹ رہا ہے۔ اور پھر وہ کہتے ہیں ، 'ٹھیک ہے ، شاید ماسک ہر وقت پہننا اتنا محفوظ نہیں ہوتا۔' لیکن ہر روز ان کی رہنمائی بدل رہی ہے ، لیکن اصل بات خوف ہے۔ اور اب یہ امتحان کیا ہے، اولیاء اللہ سمجھتے ہیں کہ ہم ان اولیاء اللہ کے طالب علم ہیں ، کہ آپ کو صرف اللہ (عزوجل) کا ڈر ہونا چاہئے۔ اپنے اونٹ کو باندھیں ( تدبیر کریں) جو ہو سکے اسکی پوری کوشش کریں۔ اور آپ اللہ (عزوجل) کیلئے جو بہترین کام کر سکتے ہیں وہ کریں۔ اور وہ اللہ (عزوجل) ہی ہے جو آپ کے آنے اور جانے کا تعین کرسکتا ہے— آپ کی زندگی ، آپ کی موت ، آپ کی پریشانی اور خوشی۔ اگر آپ اس تناظر میں دیکھتے ہیں تو (کہہ اُٹھتے ہیں ) : الحمدللہ! جب ہمیں (دنیا) سے جانا ہو گا، ہم چلےجائیں گے ، ان شاء اللہ۔
_______________________________________
sawal : jab hum sochte hain ke hamari mout waqay ho gi to kisi shakhs ki zehni kefiyat kya honi chahiye? mujhe jab bhi is terhan ( mout ) ke khayalat atay hain to hamesha mujhe khauf taari hota hai aur mein ne aik bayan mein suna hai ke khauf imaan ke mukhalif hai. mein usay ( imaan ko) kis terhan behtar aur ( khauf ko ) hal kar sakta hon?
Mawlana Shaykh Sayyed Nurjan Mirahmadi Naqshbandi ( q ) :
Tasawwur e imaan, woh taqseem karte hain aur woh hamaray liye taqseem karte rehtay hain. imaan o Aiqan mohabbat hai. agar aap ke paas mohabbat nahi hai to aap ke paas imaan nahi. imaan ( namaz-e ) jumma ke liye jana nahi hai aur na namaz ada karna imaan hai aur khairaat karna imaan nahi hai. un aamaal ka maqsad aap ke dil mein mohabbat jagana thi. agar banda mohabbat se khaali hai to uska koi imaan nahi. agar Allah ( azzwajal ) aap se mohabbat karta hai aur woh aap ko ( kuch ) ataa farmana chahta hai to woh aap ko ishhq o mohabbat ataa farmata hai. aur imaan ki haqeeqat woh mohabbat aur ishhq hai .
lehaza jab aap yeh mehsoos karte hain ke aap Nabi kareem (ﷺ) se mohabbat karte hain, aur aap un logon se pyar karte hain jo Nabi kareem (ﷺ) se mohabbat karte hain, aur yeh mohabbat Allah ( azzwajal ) ke liye shadeed mohabbat aur aqeedat ujagar kar rahi hai. mohabbat se ke,' mein ous se pyar karta hon aur mein usay mayoos nahi karna chahta, mein ous se pyar karta hon aur mein kaam ( khidmat ) karte hue koshish kar raha hon ke woh (Allah azzwajal ) mujh se raazi rahay, aur ziyada se ziyada kuch karne ki koshish karta rehta hon ( jaisay ) khairaat karna, qurbani dena, hatta ke Allah ( azzwajal ) se apni mohabbat ki khatir logon ki bud sulooki sehna.' ' yeh hi mohabbat hai! jab aap ko woh mohabbat mehsoos hoti hai, tou phir aap mout se kyun dartay hain? kyunkay jab aap waqai kisi se mohabbat karte hou tou aap un se milnay aur un ke sath rehne, un ko dekhnay ke liye be chain hote hain, aap un se milnay samandar paar chalay jayen ge, kyunkay yeh mohabbat hai. jab aap waqai mein mohabbat karte hain to aap aik uss din ke intzaar mein rehtay hain ke jab yeh zindagi khatam hojaye aur mein Nabi Akram (ﷺ) ke sath rahon. ke, yeh saari dushwari khatam hojaye gi aur yeh ranj o alam mit jaye ga, aur mujhe hamesha ke liye aap (ﷺ) ke qadmain shreefain mein abdi khidmat ke liye uthaya jaye ga .
jab aap is mohabbat ko mehsoos karte hain tou phir darnay ki kya zaroorat hai? aur jo kuch ab ho raha hai woh bohat ehem hai. mein ne kaha agar koi chahay tou teen number Google karen. teen adaad aur lafz' naye case' type kere ؛ Google mein koi bhi teen number type karen aur sirf' naye cases type karen.' aur achanak is number ke haamil yeh tamam mazameen is nai wabai bemari (Corona virus ) ke baray mein zahir hotay hain. kya yeh ajeeb nahi hai? yeh i phones ke cases ho saktay thay. yeh qanooni cases ho saktay thay. yeh kisi bhi cheez ke cases ho saktay thay, lekin is duniya mein abhi jo kuch ho raha hai, jis wajah se bhi ho raha hai, is liye ke woh ( shayateen ) khauf ke zareya hukmarani karna chahtay hain .
waba bemari nahi hai, balkay ( yeh ) khauf hai. zameen par kya ho raha hai aur kis terhan shetan khauf ke zareya hukmarani karta hai. aur khauf imaan ka mukhalif ( mutazaad ) hai. aur sab kuch jo shetan karna chahta hai ( woh yeh hai ke ), logon ko khauf, dar, khadshay aur Haibat se dochar karna, aur is se pehlay ke aadmi ko yeh pata lagey, un ke paas imaan nahi bachay ga. kyunkay unhon ne Allah ( azzwajal ) se khauf nahi kya, jab Allah ( azzwajal ) quran kareem mein irshad farmaya,' tum sirf mujh se daro. agar tum mere sath ghalat hou tou koi bhi tumhe nahi bacha sakta— na mask, na ventilator, aur na hi koi dawa. aur agar mein yeh chahoon to mein aap ko bus ke zareye maar daloon, aap ko aik pahar se pheink dun ya mein aap ke hawai jahaaz ko neechay giraa doon.' lehaza, khauf sirf Allah ( azzwajal ) se hai. lekin ab aap jantay ho ke yeh' aik aankh wala dabba ( television )' har aik ko khauf zada, dehshat zada kar raha hai. woh –apne kamron mein chup rahay hain .
2:282 – "…Wat taqollaha, wa yu'allimukumullahu, wallahu bi kulli shayin 'Aleem." (Surat Al-Baqarah)
Aur Allah se dartay raho, aur Allah tumhe ( mamlaat ki ) taleem deta hai aur Allah har cheez ka khoob jan-nay wala hai, [ 2 : 282 ]
aap jantay hain ke yeh sayyedina Nuh ( alaihi salam ) ki alamat hai aur hum ne bohat saal pehlay bataya tha ke jab Nuh ( alaihi salam ) apna jahaaz bana rahay thay. un ( alaihi salam ) ka jahaaz imaan ka safena hai, aur har Shaykh jahaaz bana raha hai, aur woh logon ko kehte hain,' ' hamaray jahaaz par aao, hamaray mehfooz jahaaz par aajao.' ' aur aakhir un ( alaihi salam ) ke betay ne kya kaha, "Ahh! baba mujhe aap ke sath anay ki zaroorat nahi, mein hifazat ke liye apna pahar talaash karoon ga.' aur yahi shetan chahta hai, ke log baghair dimagh ke murghay jaisa ( buzdilana ) bhaag rahay hon. har cheez se khaufzadah hon aur woh na jantay hon ke kis par yaqeen karna hai, woh na jantay hon ke unhein kya bachanay wala hai .
aik din woh unhein kehte hain,' sara din is mask ko –apne chehray par rakhen, aur baad mein log yeh kehte rahay,' woh saans nahi le satke, unhein asthma hai.' –apne carbon dioxide, ya mono oxide se un ka dam ghutt raha hai. aur phir woh kehte hain,' theek hai, shayad mask har waqt pehnana itna mehfooz nahi hota.' lekin har roz un ki rahnumai badal rahi hai, lekin asal baat khauf hai. aur ab yeh imtehaan kya hai, aulia Allah samajte hain ke hum un aulia Allah ke taalib ilm hain, ke aap ko sirf Allah ( azzwajal ) ka dar hona chahiye. –apne oont ko bandhen ( tadbeer karen ) jo ho sakay uski poori koshish karen. aur ap Allah ( azzwajal ) ke liye jo behtareen kaam kar satke hain woh karen. aur woh Allah ( azzwajal ) hi hai jo aap ke anay aur jane ka taayun karsakta hai — aap ki zindagi, aap ki mout, aap ki pareshani aur khushi. agar aap is tanazur mein dekhte hain to ( keh uthte hain)!ALHAMDU'LILLAH jab hamein ( duniya ) se jana ho ga, hum chalay jayen ge, IN SHAA ALLAH
________________________________________
QUESTION: What should be one's state of mind when we think we're going to die? I always have a fear whenever I have such thoughts and I heard from one of the speeches that fear is the opposite to faith. How can I rectify it and resolve it?
Shaykh Nurjan Mirahmadi: The concept of faith, they divide and they keep dividing for us – faith and iman is love. If you don't have love you don't have faith. Faith is not going for Jum'ah and faith is not praying and faith is not giving. Those acts were supposed to open love in your heart. If the servant is void of love they have no faith. If Allah (AJ) loves you and He wants to give you, He gives you love and muhabbat. And that love and muhabbat is the reality of iman.
So when you feel that you love Prophet ﷺ, and you love those who love Prophet ﷺ, and that love is opening a deeper love and a respect for Allah (AJ). Out of love that, 'I love Him and I don't want to disappoint Him, I love Him and I'm trying to make Him happy with me by keep working, keep trying to do something more and more. To give, to sacrifice, even take the abuse of people because of my love for Allah (AJ).' That's love! When you feel that love, then why are you fearing death? Because when you really love somebody you're anxious to go meet them and be with them, to see them, you would go oceans to be with them, because that's love. When you really love you're waiting for a day that this life ends and I can be with Prophet ﷺ. That, all this difficulty will end and these sadnesses will end, and I can be resurrected at his ﷺ feet to be of service to him eternally.
When you feel that love then what is there to fear? And what's happening now is very important; I said if anyone wants, you Google three numbers. Type in three numbers and the word 'New cases.' Type in any three numbers in Google and just type 'New cases.' And all of a sudden all of these articles with that number appears about this new pandemic. Isn't that bizarre? It could have been cases for iPhones. It could have been cases for legal. It could have been cases for anything, but what's happening now in this world for whatever reason is they want to rule by fear.
The pandemic is not the sickness, but it's the fear. What's happening on earth and how shaitan (satan) rules by fear. And fear is the opposite of faith. And that's all that shaitan wants to do is make people to fear, fear, fear, and before the person knows it they have no more faith. Because they took their fear not from Allah (AJ), when Allah (AJ) says in Qur'an, 'You fear only Me. If you're wrong with Me no one can save you, not a mask, not a ventilator, and not any medicine. And if I want I'll kill you by a bus, throw you off a cliff or I'll make your plane to fall down.' So, the only fear is for Allah (AJ). But now you know this 'one-eyed box' is making everybody to fear. To panic, they're hiding in their rooms.
﴾وَاتَّقُوا اللَّـهَ ۖ وَيُعَلِّمُكُمُ اللَّـهُ ۗ وَاللَّـهُ بِكُلِّ شَيْءٍ عَلِيمٌ ﴿٢٨٢…
2:282 – "…Wat taqollaha, wa yu'allimukumullahu, wallahu bi kulli shayin 'Aleem." (Surat Al-Baqarah)
"…And Be conscious of/Fear Allah, And Allah teaches you. And Allah is the All-Knower of everything." (The Cow, 2:282)
You know that's the symbol from Sayyidina Nuh (as) and we told many years ago that when Nuh (as) was building his ship; his ship is the ship of faith, and every shaykh is building a ship, and they tell people, 'Come to our ship, come to our ship of safety.' And what did his son say in the end, 'Ah! Baba I don't need to come with you, I'll find my own mountain for safety.' And that's what shaitan wants, is people just running like a chicken without their head; scared of everything and they don't know what to believe, they don't know what's going to save them.
One day they tell them, 'Put this mask on your face all day long,' and later people saying, 'They can't breathe they have asthma,' they're choking from their carbon dioxide, or monoxide. And then they say, 'Okay, maybe the mask isn't so safe to wear all the time.' But everyday their guidance is changing, but the main thing is fear. And what this test now that awliya (saints) understand that we're students of these awliyaullah, that you have fear only for Allah (AJ). Tie your camel, do the best that you can, and do the best work that you can for Allah (AJ), and Allah (AJ) is the only one who can determine your coming and your going; your life, your death, your misery and your happiness. If you keep that in perspective then, alhamdulillah, when we got to go, we got to go. InshaAllah.
————————————–
بیان کا حصہ دوم پڑھنے کے لیے:
To Read PART 2 of Suhbah:
https://www.facebook.com/103516737706142/posts/375480680509745/
یہ بیان یو ٹیوب کے اس لنک پر دیکھا جا سکتا ہے
YouTube link to watch this Suhbah: How To Protect Yourself From Evil Eye Q&A
https://www.youtube.com/watch?v=R_eep_W7YEw
یہ بیان انگلش میں پڑھنے کیلئے
To read in English:
https://nurmuhammad.com/how-to-protect-yourself-from-e…/
مضامین کے اُردو ترجمہ پڑھنے کیلئے
Translation of Other Articles:
https://nurmuhammad.com/category/urdu/
یو ٹیوب چینل ابھی سبسکرایب کیجئے۔
Subscribe Now: The Muhammadan Way Sufi Realities
https://www.youtube.com/channel/UC4E8QX7OgwYDgyuuXTBMrcg
شیخ سید نور جان میر احمدی نقشبندی (ق) کا آفشیل فیس بک پیج لائک کیجئے
Official Page: Shaykh Nurjan Mirahmadi
https://facebook.com/shaykhnurjanmirahmadi/
Please Like and Share