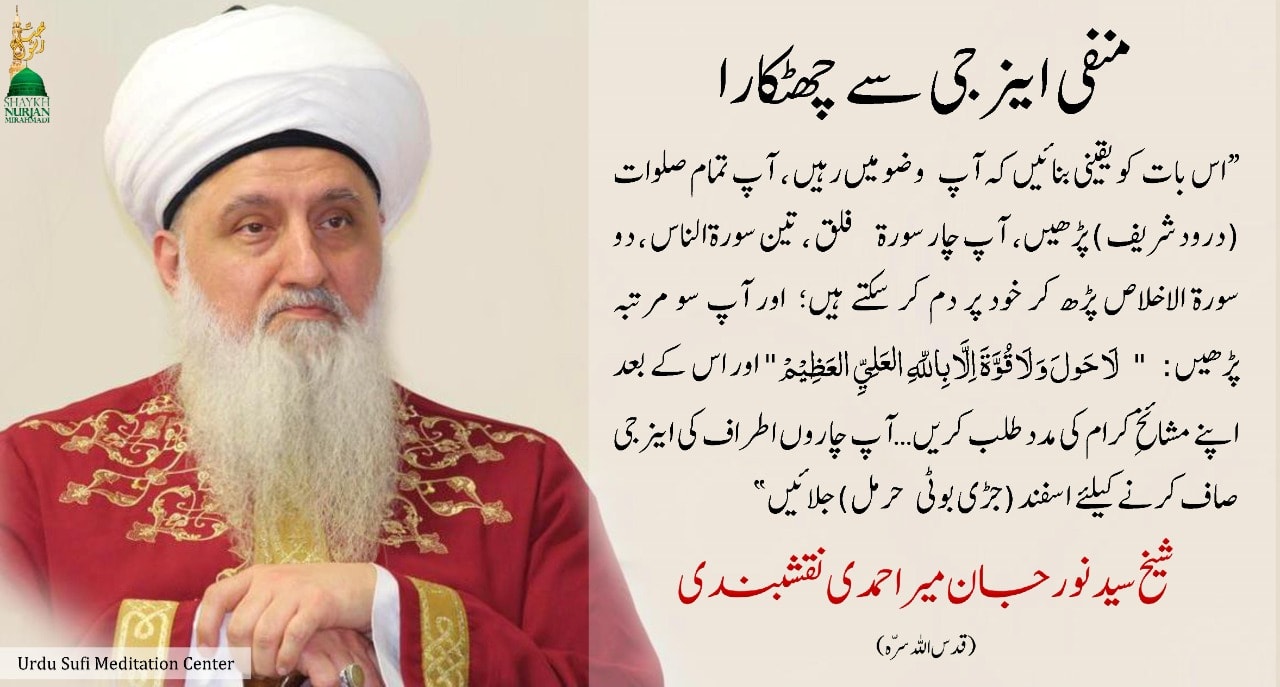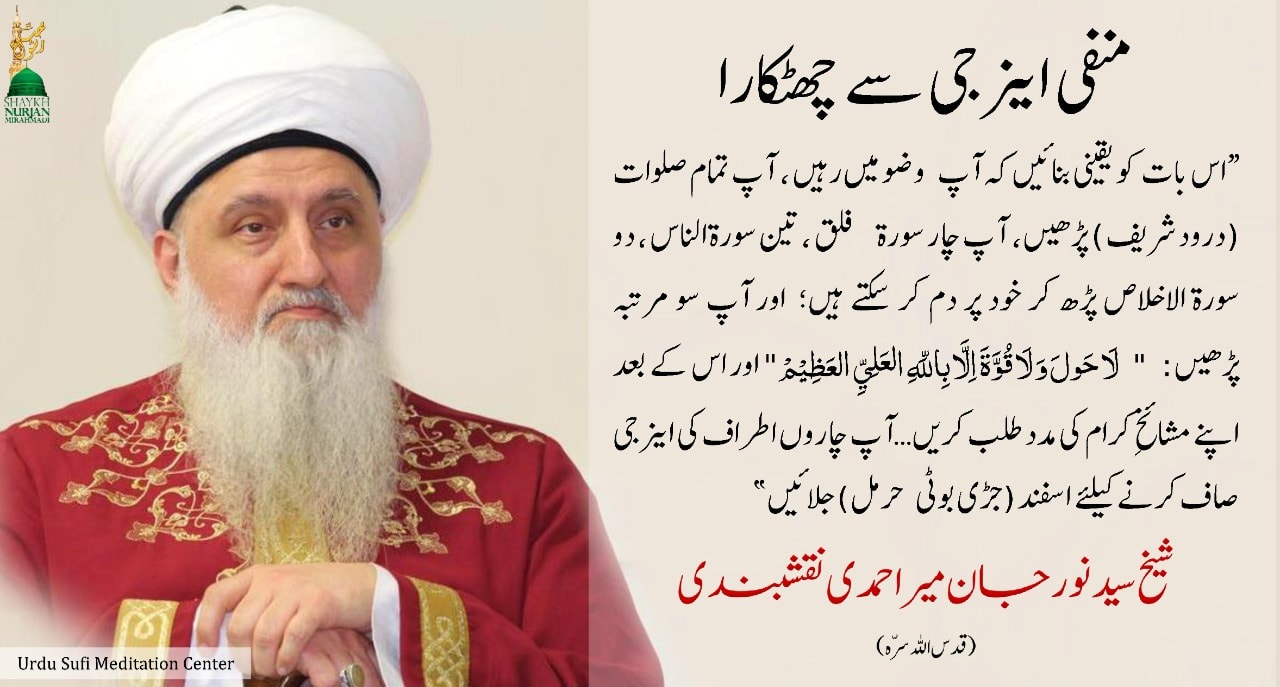 Urdu – بُری نظر سے کیسے خود کو محفوظ رکھا جائے — سوالات و جوابات۔ (حصہ چہار) Buri Naz…
بُری نظر سے کیسے خود کو محفوظ رکھا جائے — سوالات و جوابات۔ (حصہ چہار)
Buri Nazer se kesay khud ko Mahfooz rakha jaye — Sawalaat o jawabaat (Hissa Cha'har)
How to protect yourself from evil eye Q&A- [PART-4]
سوال: ہم ذوالحجہ کے ان دس دنوں (پہلے عشرے) کی برکات کیسے حاصل کر سکتے ہیں ؟
مولانا شیخ نورجان میراحمدی نقشبندی (ق):
دس دن؛ اپنی عبادت کو بڑھا دیجئے۔ اپنے اذکار کیجیے، حج کے حقائق کے بارے میں پڑھیے۔ اپنے صلوات (نبی اکرم صلی اللہ علیہ وآلہ وسلم کو درودوسلام ھدیہ) کیجیے اور مراقبے کی تمام مشقیں(کریں)، ہر چیز کریں کہ اللہ (عزوجل) ہمیں اس رحمت سے ملبوس فرما ، ہمیں اس نعمت سے ملبوس فرما ، ان دنوں یہ کہتے ہوئے مراقبہ کریں کہ یا ربی ، میرا عمل کمزور ہے ، میرا کردار برا ہے لیکن اے میرے رب میں تیرے درِ توبہ سے آرہا ہوں ، اور کہ مجھے سیدنا محمد ﷺ کے نور سے(نور)عطا فرما ، اور اس نور کے ساتھ رہنا اور نبیین ، صدیقین ، شھدا اور صالحین کا ساتھ نصیب فرما۔ اور اللہ (عزوجل) ارشاد فرماتا ہے کہ، یہ بہترین کردار ہے ، یہ ہی بہترین ساتھی ہیں۔
وَمَن يُطِعِ اللّهَ وَالرَّسُولَ فَأُوْلَـئِكَ مَعَ الَّذِينَ أَنْعَمَ اللّهُ علىيْهِم مِّنَ النَّبِيِّينَ وَالصِّدِّيقينَ وَالشُّهَداءِ وَالصَّالِحِیْنَ وَحَسُنَ أُوْلَـئِكَ رَفِیقًا(69)
4:69 – اور جو کوئی اللہ اور رسول(صلی اللہ علیہ وآلہ وسلم) کی اطاعت کرے تو یہی لوگ (روزِ قیامت) ان (ہستیوں) کے ساتھ ہوں گے جن پر اللہ نے (خاص) انعام فرمایا ہے جو کہ انبیاء، صدیقین، شہداءاور صالحین ہیں، اور یہ بہت اچھے ساتھی ہیں۔
تو مجھے ان کی صحبت میں رہنے دیں کیونکہ ان سے محبت کرنے سے ، میں وہیں ہوں گا جہاں وہ ہیں۔ اور ان کی محبت ہمیں وہیں لے جائے گی جہاں وہ تشریف فرما ہیں ، اور ایک (شیخ) کی یہ محبت اُس جگہ لے جاتی ہے جہاں وہ سب محبت میں ہیں ، جب تک کہ ہم انبیاء، صدیقین، شہداء اور صالحین کے پاس نہ پہنچ جائیں۔" اور یہ ہماری زندگی بن جاتی ہے ، اور یہی خانہ کعبہ کی حقیقت بن جاتی ہے۔ اگر آپ نبیین کے ساتھ ہیں ، اگر آپ صدیقین کے ساتھ ہیں ، یا اگر آپ شھداء کے ساتھ ہیں ، یا اگر آپ کسی حقیقی صالحین کے ساتھ ہیں تو آپ کعبے کے ساتھ ہیں۔ اور ابھی اس زمین پر 124000 کعبے ہیں۔ کہ ان کے دل صالحین ہیں ، کیوں کہ وہ شھداء کے ساتھ ہیں ، اور ان میں سے بہت سے مقامِ شھود پر ہیں کہ وہ مشاہدہ کر رہے ہیں۔اور جو کچھ وہ دیکھتے ہیں وہ صدیق ہیں ، وہ سیدنا ابوبکر الصدیق (علیہ السلام) کا دیدار کرتے ہیں ، وہ امام علی (علیہ السلام ) کی زیارت کرتے ہیں ، اور اس کے نتیجے میں وہ سیدنا محمد ﷺ کی حضوری میں ہمیشہ موجود رہتے ہیں۔ تو مطلب یہ ہے کہ وہ دراصل کعبہ سے بلند تر ہیں۔ وہ کعبہ کی چلتی پھرتی ،زندہ و جاوید حقیقت ہیں۔ کعبہ پتھروں کا گھر ہے ، یہ کعبہ کے اندر(موجود) ارواحِ(مقدسہ) ہیں جو اس کی شرافت اور برکات لاتی ہیں۔ اور وہ روحیں اللہ (عزوجل) نے زمین پر منتشر فرما دی ہیں۔ ذرا تصور کریں جب وہ ظاہری مکان، حقائق کے قدیم گھر، کی ظاہری موجودگی ( کعبہ) بند کرنے کا حکم دیتا ہے ، لیکن اللہ (عزوجل) فرماتا ہے ، 'ان کے گھر بند نہیں ہیں ، یہ ارواح قید نہیں ہیں'۔ تو ، اس کا مطلب یہ ہے کہ کس قسم کی رحمت اور برکت سے ان اروح کو مزین کیا جا رہا ہے اور وہ ( سورج کی ) کِرنیں – ایک لاکھ چوبیس ہزار (اروحِ مقدسہ) زمین پر موجود ہیں ۔ ان شاء اللہ
______________________
sawal : hum Dhul Hijjah ke inn das dinon ( pehlay ashray ) ki Barkaat kaisay haasil kar satke hain ?
Mawlana Shaykh Nurjan Mirahmadi Naqshbandi ( q ) :
das din, apni ibadat ko barha dijiye. –apne azkar kijiye, hajj ke haqayiq ke baray mein parhiye. –apne salwaat ( Nabi akram salla Allah alaihi wa-alehe wasallam ko drodoslam hadiya ) kijiye aur mraqbe ki tamam mashqen ( karen ), har cheez karen ke Allah ( azzwajal ) hamein is rehmat se malbos farma, hamein is Nemat se malbos farma, inn dinon yeh kehte hue muraqba karen ke ya rabbi, mera amal kamzor hai, mera kirdaar bura hai lekin ae mere rab mein tairay dar-e tauba se araha hon, aur ke mujhe syedna Muhammad ﷺ ke noor se ( noor ) ataa farma, aur is noor ke sath rehna aur Nabiyyeen,Siddiqeen,, shuhada aur saliheen ka sath naseeb farma. aur Allah ( azzwajal ) irshad farmata hai ke, yeh behtareen kirdaar hai, yeh hi behtareen saathi hain .
4:69 – "Wa man yuti' Allaha war Rasula faolayeka ma'al ladheena an'ama Allahu 'alayhim minan Nabiyeena, was Siddiqeena, wash Shuhadai, was Saliheena wa hasuna olayeka rafeeqan." (Surat An-Nisa)
"aur jo koi Allah aur rasul ( sallal Allahu alaihi wa-alehe wasallam ) ki itaat kere to yahi log ( roz-e- qayamat ) un ( hastiyon ) ke sath hon ge jin par Allah ne ( khaas ) inaam farmaya hai jo ke anbia, Siddiqeen, shu-hada aur Saliheen hain, aur yeh bohat achay saathi hain"
tou mujhe un ki sohbat mein rehne den kyunkay un se mohabbat karne se, mein wahein hon ga jahan woh hain. aur un ki mohabbat hamein wahein le jaye gi jahan woh tashreef farma hain, aur aik ( Shaykh ) ki yeh mohabbat uss jagah le jati hai jahan woh sab mohabbat mein hain, jab tak ke hum anbia,Siddiqeen, shu-hada aur Saliheen ke paas na pahonch jayen." aur yeh hamari zindagi ban jati hai, aur yahi khana kaaba ki haqeeqat ban jati hai. agar ap Nabiyeen ke sath hain, agar aap Siddiqeen ke sath hain, ya agar ap Shuhada ke sath hain, ya agar aap kisi haqeeqi Saliheen ke sath hain to aap kaabay ke sath hain. aur abhi is zameen par 124000 kaabay hain. ke un ke dil Saliheen hain, kyun ke woh Shuhada ke sath hain, aur un mein se bohat se mqam e shahood par hain ke woh mushahida kar rahay hain. aur jo kuch woh dekhte hain woh Siddiq hain, woh syedna abu baker As Siddiq ( alaihi salam ) ka deedar karte hain, woh imam Ali ( alaihi salam ) ki ziyarat karte hain, aur is ke nateejay mein woh syedna Muhammad ﷺ ki huzoori mein hamesha mojood rehtay hain. tou matlab yeh hai ke woh darasal kaaba se buland tar hain. woh kaaba ki chalti phirti, zinda o Javed haqeeqat hain. kaaba patharon ka ghar hai, yeh kaaba ke andar ( mojood ) arwah ( e Muqaddisa ) hain jo is ki sharafat aur Barkaat latyien hain. aur woh roohein Allah ( azzwajal ) ne zameen par muntashir farma di hain. zara tasawwur karen jab woh zahiri makaan, haqayiq ke qadeem ghar, ki zahiri mojoodgi ( kaaba ) band karne ka hukum deta hai, lekin Allah ( azzwajal ) farmata hai,' un ke ghar band nahi hain, yeh arwah qaid nahi hain '. tou, is ka matlab yeh hai ke kis qisam ki rehmat aur barket se un Arwah ko muzayyan kya ja raha hai aur woh ( Sooraj ki ) kiranen – aik laakh chobees hazaar ( Arwah e Muqaddisa ) zameen par mojood hai .In shaa Allah
____________________
QUESTION: How do we get the blessings of Dhul Hajj in these ten days?
Shaykh Nurjan Mirahmadi: Ten days; increase your worshipness, do your zikr (remembrance), read about the Hajj (pilgrimage) realities. Make your salawats (praisings upon Prophet Muhammad ﷺ) and all the practices of the meditation, everything. That Allah (AJ) dress us from this rahmah (mercy), dress us from this blessing, meditating these days saying, 'Ya Rabbi, my 'amal (action) is weak, my character is bad but I'm coming through the door of Your forgiveness, Ya Rabbi. And that grant me from the light of Sayyidina Muhammad ﷺ, and to be with that light and to be with Nabiyeena, Siddiqeen, Shuhadai was Saliheen.' And Allah (AJ) say, 'This is the best of character, these are the best of association.'
وَمَن يُطِعِ اللّهَ وَالرَّسُولَ فَأُوْلَـئِكَ مَعَ الَّذِينَ أَنْعَمَ اللّهُ عَلَيْهِم مِّنَ النَّبِيِّينَ وَالصِّدِّيقِينَ وَالشُّهَدَاء وَالصَّالِحِينَ وَحَسُنَ أُولَـئِكَ رَفِيقًا ﴿٦٩﴾
4:69 – "Wa man yuti' Allaha war Rasula faolayeka ma'al ladheena an'ama Allahu 'alayhim minan Nabiyeena, was Siddiqeena, wash Shuhadai, was Saliheena wa hasuna olayeka rafeeqan." (Surat An-Nisa)
"And whoever obeys Allah and the Messenger (pbuh) are in the company of those on whom Allah has bestowed His Favours/Blessings – of the prophets, the sincere Truthful, the witnesses to the truth (who testify), and the Righteous, and excellent are those as companions." (The Women, 4:69)
So let me to be in their association because by loving them, I'll be where they are. And their love will take us where they are, and this one's love takes where the other one loves, until we are with, "Nabiyeen, Siddiqeena, Shuhadai was Saliheena." And that becomes our life, and that becomes the reality of the Ka'bah. If you're with Nabiyeen, if you're with Siddiqeen, or if you're with Shuhada, or if you're with a real Saliheen then you are with the Ka'bah. And there are 124,000 Ka'bahs on this earth right now. That their heart is saliheen, because they are with shuahada, and many of them they are maqam as-Shuhood (station of witnessing), that they see.
And what they see is the siddiqs (truthful), they see Sayyidina Abu Bakr as-Siddiq (as), they see Imam 'Ali (as), and as a result they're always in the presence of Sayyidina Muhammad ﷺ. So means they are actually higher than the Ka'bah. They are the walking, living reality of the Holy Ka'bah. The Ka'bah is the house of stones, it's the souls inside the Ka'bah that bring its nobility and bring its blessings. And those souls Allah (AJ) has dispersed onto the earth. Imagine when He close the physical presence of the physical house, the ancient house of realities, but Allah (AJ) says, 'Their houses are not closed, these souls are not closed.' So, means what type of rahmah and dressing coming upon their souls. And those emanations are upon the Earth, 124,000 of them. InshaAllah.
_______
سوال: کیا کسی طالب علم کیلئے یہ جاننا ممکن ہے کہ آیا وہ شیخ کے ساتھ رابطہ قائم کرنے کے عمل کی صحیح کوشش کررہا ہے؟
مولانا شیخ نورجان میراحمدی نقشبندی (ق):
جی ، جاننے کیلئے ایک عمل یہ ہے کہ آپ کی محبت بڑھ رہی ہے۔ آپ کی سیدنا محمد (ﷺ) سے محبت بڑھ رہی ہے ، آپ کا کردار اچھا ہے ، آپ کی سخاوت اچھی ہے۔ آپ جتنا زیادہ کرسکتے ہیں کر رہے ہیں۔ آپ نیکیوں اور اعمال صالحہ جو ہم کرنے کی کوشش کر رہے ( ان کے ) ذریعے جان جاتے ہیں لیکن آپ کو کبھی بھی ایسا محسوس نہیں کرنا چاہئے کہ آپ نے ترقی کرلی ہے۔
یہ ایک ایسی حقیقت ہے جس میں ہر قدم جو آپ آگے بڑھاتے ہیں گویا آپ سے فاصلہ دس ہزار میل (مزید ) بڑھ گیا ۔ ایسا کوئی مقام نہیں ہے جس میں آپ کو یہ محسوس ہونے لگے کہ آپ بہت اچھا کر رہے ہیں اور کہ آپ اسطرح ہوجائیں (کہ)، 'واہ ، یہ تو لاجواب ہے!(اگر ایسا ہو تو)' اس کا مطلب ہے کہ آپ کے نفس میں کوئی چیز (انا) آپ کے ساتھ کھیل رہی ہے۔ اور اولیاء کرام(صوفیاء)، جب بھی سیدنا محمد ﷺ کی حقیقت سے رجوع کرتے ہیں ، وہ فرماتے ہیں جیسے ان میں ستر ہزار حجابات بڑھ گئے ہیں۔ کیونکہ جتنا بھی آپ اس(نورِ محمدیﷺ) تک پہنچتے ہیں ، وہ چاہتے ہیں کہ آپ محسوس کریں کہ آپ کو ابھی بھی بہت طویل سفر طے کرنا ہے۔ یہ مت سمجھو کہ آپ پہنچ گئے ہو اور یہ کہ آپ کا نفس اب آپ کو بے وقوف بنائے گا۔
اپنے خلاف جنگ جاری رکھیں ، اپنے خلاف جدوجہد کرتے رہیں۔ اور واحد تحفظ جو آپ کے پاس ہے (صرف) اسوقت(میسر آئے گا) جب آپ کے چہرے پر خاک پھینکی جائے ، آپ قبر میں داخل ہوں گے۔ تو پھر یہی وجہ ہے کہ وہ ریٹائرمنٹ نہیں لیتے ، ان کی ساری زندگی کوشش کرنے ، کام کرنے ، جدوجہد کرنے کے بارے میں ہے جب تک کہ کوئی ان پر خاک نہ ڈال دے اور کہے کہ ، '' تمہارا سفر ختم ہو گیا ہے۔ '' اور الحمد للہ، وہ اللہ (عزوجل) کی طرف لوٹ گئے۔ لہذا ، اس کا مطلب ہے کہ ہم سب جدوجہد کرتے ہیں لیکن ایسا لگتا ہے کہ فاصلہ ہمیشہ مزید دور ہوتا جارہا ہے۔ اور یہ ایک اچھی حالت ہے اگر آپ نفس کو خود کو بیوقوف بنانے نہیں دے رہے کہ آپ عظیم ہیں ، لیکن آپ کو اپنے کردار میں اچھا ہونا چاہئے۔ کہ جب لوگ ہمیں نقصان پہنچاتے ہیں اور ہمیں تنگ کرتے ہیں تو، کیا (ہمارا)کردار اچھا ہے؟ کہ ، 'یا ربی ، میں اپنی پوری کوشش کر رہا ہوں ، میرے تمام امتحانات(آزمائشوں) کے ذریعے مجھے اچھا کردار عطا فرما' ۔ اور یہی اہم بات ہے۔ان شاء اللہ
_______________________
sawal : kya kisi taalib e ilm ke liye yeh jan'na mumkin hai ke aaya woh Shaykh ke sath rabita qaim karne ke amal ki sahih koshish kar raha hai ?
Mawlana Shaykh Nurjan Mirahmadi Naqshbandi ( q ) :
jee, jan-nay ke liye aik amal yeh hai ke aap ki mohabbat barh rahi hai. aap ki syedna Muhammad (ﷺ ) se mohabbat barh rahi hai, aap ka kirdaar acha hai, aap ki sakhavat achi hai. aap jitna ziyada kar saktay hain kar rahay hain. aap nakiyon aur aamaal Saleha jo hum karne ki koshish kar rahay ( un ke ) zariye jaan jatay hain lekin aap ko kabhi bhi aisa mehsoos nahi karna chahiye ke aap ne taraqqi karli hai .
yeh aik aisi haqeeqat hai jis mein har qadam jo aap agay berhate hain goya aap se faasla das hazaar mil ( mazeed ) barh gaya. aisa koi maqam nahi hai jis mein aap ko yeh mehsoos honay lagey ke aap bohat acha kar rahay hain aur ke aap istarah ho jaien ( ke ),' wah, yeh to lajawab hai! ( agar aisa ho tou )' is ka matlab hai ke aap ke nafs mein koi cheez ( anaa ) aap ke sath khail rahi hai. aur awliya karaam (Sufiya ), jab bhi syedna Muhammad ﷺki haqeeqat se rujoo karte hain, woh farmatay hain jaisay un mein sattar hazaar hjabat barh gaye hain. kyunkay jitna bhi aap is ( noor e Muhammadi ﷺ ) tak pahunchte hain, woh chahtay hain ke aap mehsoos karen ke aap ko abhi bhi bohat taweel safar tay karna hai. yeh mat samjhoo ke aap pahonch gaye ho aur yeh ke aap ka nafs ab aap ko be waqoof banaye ga .
–apne khilaaf jung jari rakhen, –apne khilaaf jad-o-jehad karte rahen. aur wahid tahaffuz jo aap ke paas hai ( sirf) ous waqt ( muyassar aaye ga ) jab aap ke chehray par khaak pehnki jaye, aap qabar mein daakhil hon ge. tou phir yahi wajah hai ke woh retirement nahi letay, un ki saari zindagi koshish karne, kaam karne, jad-o-jehad karne ke baray mein hai jab tak ke koi un par khaak na daal day aur kahe ke,' ' tumhara safar khatam ho gaya hai.' ' aur alhmdulillah, woh Allah ( azzwajal ) ki taraf lout gaye. lehaza, isska matlab hai ke hum sab jad-o-jehad karte hain lekin aisa lagta hai ke faasla hamesha mazeed dur hota ja raha hai. aur yeh aik achi haalat hai agar aap nafs ko khud ko bewaqoof bananay nahi day rahay ke aap azeem hain, lekin aap ko –apne kirdaar mein acha hona chahiye. ke jab log hamein nuqsaan pohanchate hain aur hamein tang karte hain tou, kya ( hamara ) kirdaar acha hai? ke,' ya rabbi, mein apni poori koshish kar raha hon, mere tamam imtehanaat ( aazmayishon ) ke zariye mujhe acha kirdaar ataa farma '. aur yahi ehem baat ha In shaa Allah
____________________
QUESTION: Is it possible for a student to know if he or she is doing right in their process of connecting with the Shaykh?
Shaykh Nurjan Mirahmadi: Yeah, there is a process in knowing that your love is growing. Your love for Sayyidina Muhammad ﷺ is growing, your character is good, your generosity is good. You're doing the most that you can. You know by the good deeds and the good actions that we are trying to do. But you should never feel that you progressed.
This is a reality in which every step you take forward, as if the distance between ten-thousand miles away from you. There's never a point in which you should feel that you're doing great and that you're like, 'Wow, this is fantastic!' It means something in your nafs (ego) is playing with you. And awliyaullah (saints), every time they approach Sayyidina Muhammad's ﷺ reality, they say as if seven-hundred thousand veils have increased in them. Because as much as you approach it, they want you to feel still you have a long way to go. Don't think you arrived and that your nafs will now fool you.
Continue to fight against yourself, continue to struggle against yourself. And the only safety you have is when the dirt is thrown onto your face, you've entered into the grave. So then that's why they don't retire, their whole life is about working, working, working until somebody throws dirt on them and says, 'Your journey is finished.' And alhamdulillah they return back to Allah (AJ). So, means we all struggle but the distance seems to always be getting further away. And that's a good condition if you're not letting the nafs fool you into thinking you're great, but you should be good in your character. That when people harm and brother us, is the character good? That, 'Ya Rabbi, I'm trying my best, give me good character through all my testing.' And that's what is important, inshaAllah.
________________________
سوال: میرا سوال اصل میں ایک طریقہ کار (تکنیک جاننے کے متعلق) ہے۔ کوئی سگریٹ پینا کیسے چھوڑ سکتا ہے جب تین نسلوں سے اسکی فیملی (سگریٹ پیتی) آئی ہو اور جب اپنے والدین کو سگریٹ پیتا دیکھتے ہوئے، وہ بڑا ہوا ہو اور جب کوئی خلوصِ دل سے ترک کرنا چاہے؟
مولانا شیخ نورجان میراحمدی نقشبندی (ق):
جی ان شاءاللہ آپ کو اس سے دور رہنے کی کوشش کرنی ہوگی اور سگریٹ نوشی ترک کرنے کی کوشش کی نیت سے چالیس (مرتبہ) سورۃ فاتحہ پانی کے برتن میں (دم کریں) ۔ کہ ، 'یا ربی ، میں درخواست کر رہا ہوں کہ اس شیطان کو مجھ سے نکال دیجئے ' ۔ آپ پانی لے کر اس پانی پر چالیس سورۃ الفاتحہ پڑھیں اور آپ اسے پینا شروع کر دیں۔ اور ہر روز جب پانی کم ہو، اس میں نیا پانی بھرتے جائیں اور سات فاتحہ مزید پڑھتے رہیں۔ اور آپ فاتحہ کا وہ پانی پیتے رہیں اور آپ یہ نیت کرتے رہیں۔ اپنا درودشریف(پڑھیں) اور مراقبہ کرتے رہیں ان شاء اللہ۔ اور اللہ (عزوجل) ان شاء اللہ یہ خواہش (لت) دور فرما دے گا۔
_______________________________
sawal : mera sawal asal mein aik tareeqakar ( technic jan-nay ke mutaliq ) hai. koi cigrette peena kaisay chor sakta hai jab teen naslon se uski family ( cigrette peeti ) aayi ho aur jab –apne walidain ko cigrette peeta dekhte hue, woh bara hua ho aur jab koi khuloos dil se tark karna chahay ?
Mawlana Shaykh Nurjan Mirahmadi Naqshbandi ( q ) :
jee In shaa Allah aap ko is se dur rehne ki koshish karni hogi aur cigrette noshi tark karne ki koshish ki niyat se 40 ( martaba ) surah Fatiha pani ke bartan mein ( dam karen ). ke,' ya rabbi, mein darkhwast kar raha hon ke is shetan ko mujh se nikaal dijiye '. aap pani le kar is pani par 40 surah Fatiha parheen aur aap usay piinaa shuru kar den. aur har roz jab pani kam hou, is mein naya pani bhartay jayen aur 7 Fatiha mazeed parhte rahen. aur aap Fatiha ka woh pani peetay rahen aur aap yeh niyat karte rahen. apna Darood Shareef ( parheen ) aur muraqba karte rahen in shaa Allah . aur Allah ( azzwajal ) in shaa Allah yeh khwahish ( latt ) dur farma-de ga .
_________________________
QUESTION: My question is really a technique. How someone can stop smoking when it's in his family for three generations and when he grows up with it seeing his parents smoking, and when someone wants to sincerely stop?
Shaykh Nurjan Mirahmadi: Yeah, inshaAllah, you have to try to stay away from it. And the forty Surah Fatiha in a pot of water with the intention to try to stop smoking. That, 'Ya Rabbi, I'm asking for this devil to be taken out of me.' You take the water and recite forty Surah Fatiha on that water and you begin to drink it. And everyday when the water goes down, keep filling new water into it and reciting another seven Fatiha. And you keep drinking that water of Fatiha and you keep making that intention, your salawat (praisings upon Prophet Muhammad ﷺ) and your meditation inshaAllah. And Allah (AJ) take away, inshaAllah, that desire.
_______________________________
سوال: اگر کوئی خود پر منفی اینرجی محسوس کرے تو ، کیا اس منفی اینرجی سے چھٹکارا پانے کے لئے کوئی عمل ہے؟جو کیا جائے ؟
مولانا شیخ نورجان میراحمدی نقشبندی (ق)
جی، آپ اپنا درود شریف پڑھتے رہیں، اس بات کو یقینی بنائیں کہ آپکا وضو قائم ہو۔ کہ آپ تمام صلوات پڑھیں۔ آپ چار سورۃ فلق ، تین سورۃ الناس ، دو سورۃ الاخلاص کی تلاوت کرسکتے ہیں اور خود پر دم کر سکتے ہیں۔ اور " لاحول ولا قوۃ الا باللہ العلی العظیم، لاحول ولا قوۃ الا باللہ العلی العظیم" کا ذکر کیجئے۔
لَا حَولَ وَ لَا قُوَّةَ اِلَّا بِاللَّهِ العَلِيِّ العَظِيْمْ
"اللہ عزوجل کے سوا نہ تو کوئی مدد ہے اور نہ ہی کوئی طاقت ، جو سب سے عظیم الشان ہے۔"
اور آپ سو مرتبہ(یہ ذکر ) تلاوت کریں اور اس کے بعد اپنے مشائخِ کرام کی مدد طلب کریں اور درخواست کریں ان کی مدد ملتی رہے ، ہمارے پاس موجود مدد(نشید) پڑھیں۔ اور یہ آپ کیلئے وظائف ہیں۔ ہر بار جب آپ محسوس کریں کہ کوئی چیز آپ پر حملہ کرنے کی کوشش کر رہی ہے تو ، تمام اوراد پڑھیں اور مدد طلب کریں۔ خود کو وضو میں رکھیں اور اس رابطے کو قائم رکھنے اور اس نیگیٹیوٹی (منفی اینرجی )کو دور کرنے کیلئے اپنی مدد(طلب)کریں ، ان شاء اللہ۔
آپ کچھ اسفند (حرمل) کی دھونی دے سکتے ہیں، اور اس کو وائلڈ ریو بیج(تخم اسفند/حرمل)کہتے ہیں ، آپ اسے ایمیزون پر یا کہیں سےبھی حاصل کرسکتے ہیں۔ اور آپ چاروں اطراف کی اینرجی کو صاف کرنے کے لئے حرمل جلائیں۔ اور یہ وہ مشقیں ہیں جب اللہ (عزوجل) آپ کو اس پر عمل کرنے کی اجازت دیتا ہے کہ(منفی) اینرجی کو کس طرح دور رکھا جائے۔ اور نیگیٹو اینرجی کو کیسے دور رکھیں ، ان شاء اللہ۔
سُبْحَانَ رَبِّکَ رَبِّ الْعِزَّۃِ اَمَّا یَصِفُونْ وَسَلَامٌ عَلیٰ الْمُرْسَلِیْنْ وَاَلْحَمْدُ لِلّٰهِ رَبِّ الْعَالَمِیْنِ وَ بِحُرْمَةِ مُحَمَّدٍ الْمُصْطَفیٰ وَ بِسِرِّ سُوْرَۃِ اْلْفَاتِحَہ.🤲✨
__________________________________
sawal : agar koi khud par manfi energy mehsoos kere tou, kya iss manfi energy se chutkara panay ke liye koi amal hai? jo kya jaye ?
Mawlana Shaykh Nurjan Mirahmadi Naqshbandi ( q ) :
jee, aap apna duroood shareef parhte rahen, is baat ko yaqeeni banayen ke aapka wudu qaim h. ke aap tamam salawaat parheen. aap chaar surah falaq, teen surah al naas, 2 surah ikhlas ki tilawat kar saktay hain aur khud par dam kar satke hain. aur " La hawla wa la quwwata illa billahil 'Aliyil 'Azheem. La hawla wa la quwwata illa billahil 'Aliyil 'Azheem." ka ziker krein.
La hawla wa la quwwata illa billahil 'Aliyil 'Azheem
" Allah azzwajal ke siwa na tou koi madad hai aur na hi koi taaqat, jo sab se azeem ul shan hai. "
aur aap 100 martaba ( yeh zikar ) tilawat karen aur is ke baad –apne mashaiykh karaam ki madad talabb karen aur darkhwast karen un ki madad millti rahay, hamaray paas mojood madad ( Nasheed ) parheen. aur yeh aap ke liye wazaif hain. har baar jab aap mehsoos karen ke koi cheez aap par hamla karne ki koshish kar rahi hai tou, tamam Awrad parheen aur madad talabb karen. khud ko wudu mein rakhen aur is raabtey ko qaim rakhnay aur is negativity ( manfi energy ) ko daur karne ke liye apni madad ( talabb ) karen,in shaa Allah.
aap kuch asfand ( harmal ) ki dhoni day satke hain, aur is ko wild rio beej ( tukham asfnd / harmal ) kehte hain, aap usay amazon par ya kahin se bhi haasil kar saktay hain. aur aap charon atraaf ki energy ko saaf karne ke liye harmal jalayen. aur yeh woh mashqein hain jab Allah ( azzwajal ) aap ko is par amal karne ki ijazat deta hai ke ( manfi ) energy ko kis terhan dur rakha jaye. aur negative energy ko kaisay dur rakhen, In shaa Allah .
Subhana rabbika rabbal 'izzati 'amma yasifoon, wa salaamun 'alal mursaleen, walhamdulilahi rabbil 'aalameen. Bi hurmati Muhammad al-Mustafa wa bi siri Surat al-Fatiha.
___________________________
QUESTION: If someone feels like a negative energy upon them, is there any practice to do to get rid of that negative energy?
Shaykh Nurjan Mirahmadi: Yeah, you do your salawats, make sure that you have wudu (ablution). That you do all the salawats. You can recite the four Suratul Falaq, three Suratul Nas, two Suratul Iklhas and blow upon yourself. And make the zikr, "La hawla wa la quwwata illa billahil 'Aliyil 'Azheem. La hawla wa la quwwata illa billahil 'Aliyil 'Azheem."
لا حَولَ و لا قوٌَةَ إلّا باللَّه العَليِّ العَظيم
La hawla wa la quwwata illa billahil 'Aliyil 'Azheem
"There is no Support and no Power except in Allah, the most high."
And you recite 100 times and then make your madad (support) with the Shaykhs, asking to keep their madad, recite the madad that we have. And these become practices for you; everytime you feel something is trying to attack you, do all the practices and madad. Keep yourself in wudu and make your madad to keep that connection and push that negativity away, inshaAllah. You can blow some esphand, and it's called wild rue seed, you can get it on Amazon or anywhere. And you burn the esphand to clean the energy all around you. And that becomes practices when Allah (AJ) lets you to practice on how to keep energy away. And how to keep bad energy away, inshaAllah.
Subhana rabbika rabbal 'izzati 'amma yasifoon, wa salaamun 'alal mursaleen, walhamdulilahi rabbil 'aalameen. Bi hurmati Muhammad al-Mustafa wa bi siri Surat al-Fatiha.
————————————–
بیان کا حصہ اوّل پڑھنے کے لیے:
To Read PART-1 of Suhbah:
https://www.facebook.com/…/a.130668968324…/380760969981716/…
بیان کا حصہ دوم پڑھنے کے لیے:
To Read PART 2 of Suhbah:
https://www.facebook.com/103516737706142/posts/375480680509745/
بیان کا حصہ سوم پڑھنے کے لیے:
To Read PART 3 of Suhbah:
https://www.facebook.com/103516737706142/posts/378562056868274/
یہ بیان یو ٹیوب کے اس لنک پر دیکھا جا سکتا ہے
YouTube link to watch this Suhbah: How To Protect Yourself From Evil Eye Q&A
https://www.youtube.com/watch?v=R_eep_W7YEw
یہ بیان انگلش میں پڑھنے کیلئے
To read in English:
https://nurmuhammad.com/how-to-protect-yourself-from-e…/
مضامین کے اُردو ترجمہ پڑھنے کیلئے
Translation of Other Articles:
https://nurmuhammad.com/category/urdu/
یو ٹیوب چینل ابھی سبسکرایب کیجئے۔
Subscribe Now: The Muhammadan Way Sufi Realities
https://www.youtube.com/channel/UC4E8QX7OgwYDgyuuXTBMrcg
شیخ سید نور جان میر احمدی نقشبندی (ق) کا آفشیل فیس بک پیج لائک کیجئے
Official Page: Shaykh Nurjan Mirahmadi
https://facebook.com/shaykhnurjanmirahmadi/
Please Like and Share