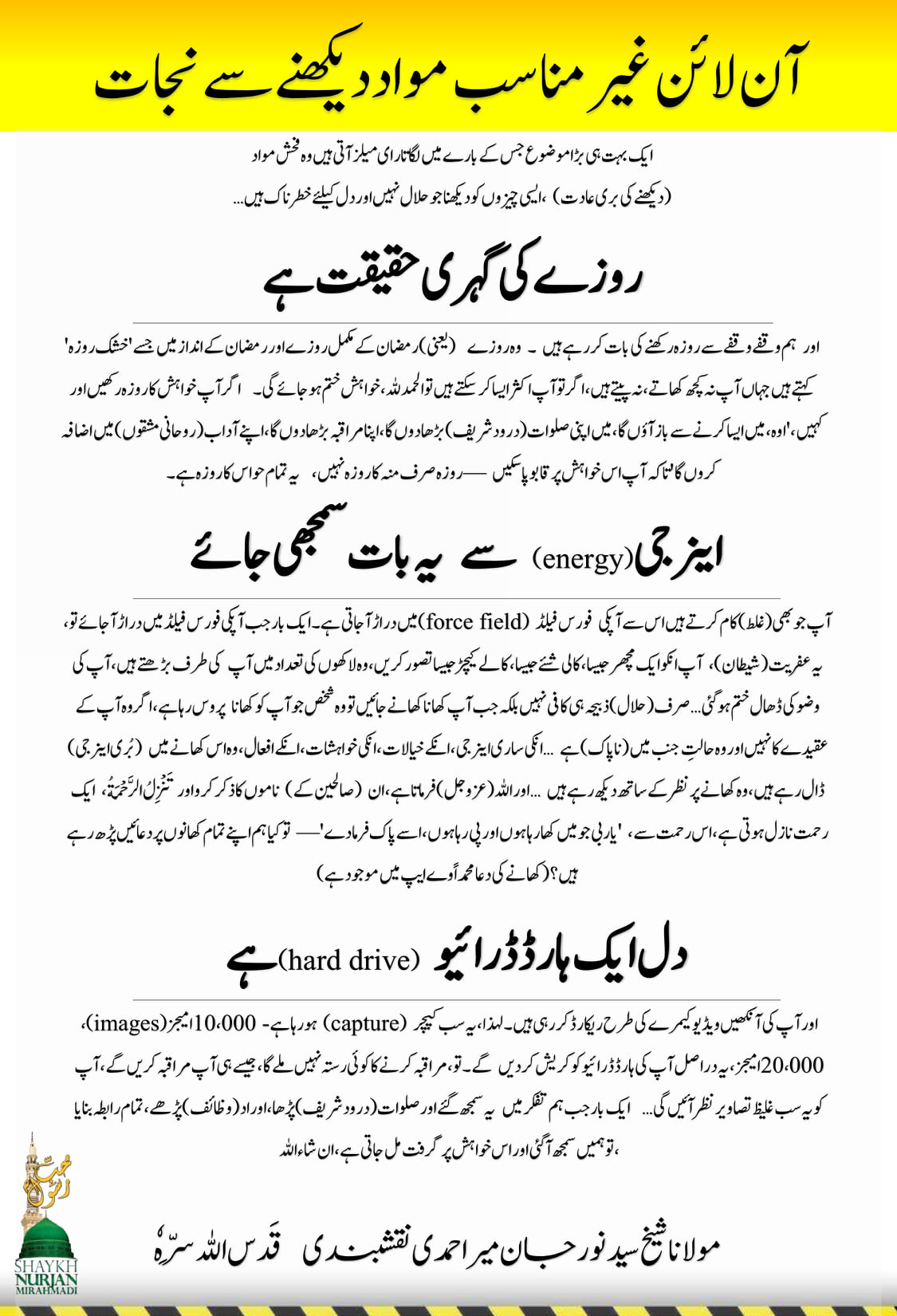 Urdu – بری خواہشات کم کرنے کیلئے اپنی آنکھوں کا روزہ رکھیں |Buri Khuwahishat Kam Karne…
بری خواہشات کم کرنے کیلئے اپنی آنکھوں کا روزہ رکھیں
|Buri Khuwahishat Kam Karne Keliye Apni Ankho Ka Roza Rakhen|
Fast with Your Eyes to Lower the Bad Desires
مولانا شیخ سید نورجان میراحمدی نقشبندی (ق) کی تعلیمات، مولانا (ق) کے حقائق سے
اَعُوْذُ بِاللہ مِنَ الشَّیْطٰنِ الرَّجِیْمِ ۞
بِسْمِ اللہ الرَّحْمٰنِ الرَّحِیْمِ ۞
اللہ کی پناہ مانگتا ہوں شیطان مردود سے۔
اللہ کے نام سے شروع کرتا ہوں جو نہایت مہربان رحم کرنے والا ہے ۔
سوال: محترم مولانا شیخ (ق)، آن لائن غیرمناسب مواد دیکھنے کی بُری عادت کی حقیقت کے بارے میں رہنمائی فرمائیں کہ اس کا کسی کی اینرجی پر کیا اثر پڑتا ہے؟
مولانا شیخ (ق): ایک بہت ہی بڑا موضوع جس کے بارے میں لگاتار ای میلز آتی ہیں وہ فحش مواد (دیکھنے کی بری عادت) ہے ۔ ایسی چیزوں کو دیکھنا جو حلال نہیں اور دل کیلئے خطرناک ہیں اور ان سب چیزوں کو دیکھنے کے نتیجے میں ، ایک ایسی خواہش پیدا ہوتی ہے جو انھیں قابو کر لیتی ہے،اور پھر وہ لگاتار اپنی تسکین کا شکار رہتے ہیں۔ فحش مواد دیکھنے کا خطرہ ہے اور پھر خود کی لگاتار تسکین کا( بھی ) خطرہ ہے ۔ نفس کی تسکین ، کھانا کھانے کے مترادف ہے، کوئی بھی کام جو ہم کریں اور ہم اکثر کرتے جائیں تو اس کی بھوک بڑھتی جاتی ہے اور اسی وجہ سے نبی کریم (صلی اللہ علیہ وآلہ وسلم ) نے ہمارے لئے روزے کا حکم دیا ہے کیونکہ شیطان خون میں دوڑتا ہے۔
قَالَ رَسُولُ اللَّهِ صَلَّى اللَّهُ عَلَيْهِ وَسَلَّمَ:
"إنَّ الشَّيْطَانَ يَجْرِي مِنْ ابْنِ آدَمَ مَجْرَى الدَّمِ"
رسول اللہ (ﷺ) نے ارشاد فرمایا:
"شیطان بنی آدم میں خون کے ذریعے رواں ہے"
|Sawal : Mohtaram Mawlana Shaykh (Q), online gher munasib mawaad dekhnay ki burii aadat ki haqeeqat ke baray mein rahnumai farmaen ke is ka kisi ki energy par kya assar parta hai ?
Mawlana Shaykh (Q) : Aik bohat hi bara mauzo jis ke baray mein lagataar e-mails aati hain woh fehash mawaad ( dekhnay ki buri aadat ) hai. Aisi cheezon ko dekhna jo halal nahi aur dil ke liye khatarnaak hain aur un sab cheezon ko dekhnay ke nateejay mein, aik aisi khwahish peda hoti hai jo unhein qaboo kar layte hai, aur phir woh lagataar apni taskeen ka shikaar rehtay hain. Fehash mawaad dekhnay ka khatrah hai aur phir khud ki lagataar taskeen ka ( bhi ) khatrah hai. Nafs ki taskeen, khana khanay ke mutradif hai, koi bhi kaam jo hum karen aur hum aksar karte jayen to is ki bhook barhti jati hai aur isi wajah se Nabi Kareem (saws) ne hamaray liye rozay ka hukum diya hai kyunkay Shaytan khoon mein dorta hai .[Rasul Allah (saws) ne irshad farmaya:" Shaytan bani aadam mein khoon ke zariye rawan hai "]
From the Realities of Mawlana (Q) as taught by Shaykh Nurjan Mirahmadi.
A'udhu Billahi Minash Shaitanir Rajeem
Bismillahir Rahmanir Raheem
I seek refuge in Allah from Satan, the rejected one
In the Name of Allah, the Most Beneficent, the Most Merciful
Question: Dear Shaykh, can you please provide me the reality about Online addiction to watching un-Islamic things and how it affects one's energy?
Big, big subject that keeps coming in all the emails is pornography. That to look at things that are not halal (permissible) and dangerous for the heart. And as a result of looking at all those things, one then develops a desire that can overtake them. And then they're continuously sort of self-gratification. The danger on the pornography and then the danger of continuously gratifying yourself – the one on the gratification of the self is like eating. Anything that we do and we do often, the appetite for it is growing. And that's why Prophet (pbuh) described for us fasting because shaitan runs through the blood.
[قَالَ رَسُولُ اللَّهِ صَلَّى اللَّهُ عَلَيْهِ وَسَلَّمَ: "إنَّ الشَّيْطَانَ يَجْرِي مِنْ ابْنِ آدَمَ مَجْرَى الدَّمِ" ] صَحِيحْ اَلْبُخَارِيْ، صَحِيحْ مُسْلِمْ وَ مُتَّفَقُ عَلَيْهِ
Qala Rasulullahi (saws): "Innash shaitana yajri min ibni Adama (as) majra addami." [Sahih Bukhari, Sahih Muslim wa Muttafaqu 'alyhi]
The Prophet of Allah (pbuh) said: "Satan moves/flows in sons of Adam (pbuh) through the blood."
جیسے ہی ہم روزہ رکھتے ہیں اور روزے کو ایک عادت بنا لیتےہیں – ایک تو جسم سے بہت سی اینرجیز (بری قوتیں) ختم ہوتی جاتی ہیں۔ شیطان جو کہ انسان کے خون کے ذریعے بھاگ رہا ہے ، محدود ہو جائے گا اور کوئی بھی چیز جس سے پرہیز کرنے کی پوری کوشش کریں گے اپنی ذات کو تسکین پہنچانے سے (پرہیز کریں گے) تو اسکی خواہش ختم ہوجائے گی۔ آپ جتنا زیادہ اسے بڑھاوا دیتے ہیں، یہ سوچتے ہوئے کہ 'اوکے ،' (کوئی بات نہیں) تب اس میں اضافہ ہوتا چلا جاتا ہے۔ اس سے پہلے کہ آپکو پتہ چلے، اسکی خواہش بڑھتی جارہی ہے، پھر یہ ایک شیطانی چکر بن جاتا ہے۔ اندر کی خواہش بڑھتی جارہی ہے تو پھر وہ شخص خود کو تسکین دیتا ہے، پھر ان کی آنکھوں سے ہوس ، اسکے ذریعے ہر چیز بھوکی ہو جاتی ہے۔
|Jaisay hi hum roza rakhtay hain aur rozay ko aik aadat bana letay hain – aik to jism se bohat si energies ( buri quwaten ) khatam hoti jati hain. Shaytan jo ke insaan ke khoon ke zariye bhaag raha hai, mehdood ho jaye ga aur koi bhi cheez jis se parhaiz karne ki poori koshish karen ge apni zaat ko taskeen pohanchanay se ( parhaiz karen ge ) to uski khwahish khatam hojaye gi. Aap jitna ziyada usay brhhawa dete hain, yeh sochte hue ke 'okay' ( koi baat nahi ) tab is mein izafah hota chala jata hai. Is se pehlay ke aapko pata chalay, uski khwahish barhti jarahi hai, phir yeh aik shaytani chakkar ban jata hai. Andar ki khwahish barhti jarahi hai to phir woh shakhs khud ko taskeen deta hai, phir un ki aankhon se hawas, uskay zariye har cheez bhukhi ho jati hai .|
As soon as we fast and take a way of fasting – one, many energies are being depleted from the body. Shaitan that is running through the blood of insan (human being) is going to be restricted. And anything that you try your best to abstain from gratifying yourself, its desire will drop. The more you give to it thinking, 'Ok,' then it keeps increasing. Before you know, that desire is increasing. Then it becomes a vicious cycle. The desire within is increasing so then the person gratifies themselves. Then the desire through their eyes, everything is becoming hungry from that.
لہذا ، روزے کی گہری حقیقت ہے اور اب ہم وقفے وقفے سے روزہ رکھنے کی بات کر رہے ہیں ، وہ روزے (یعنی) رمضان کے مکمل روزے اور رمضان کے انداز میں جسے 'خشک روزہ' کہتے ہیں جہاں آپ نہ کچھ کھاتے، نہ پیتے ہیں، اگر توآپ اکثر ایسا کرسکتے ہیں تو الحمدللہ ، خواہش ختم ہو جائے گی۔ اگر آپ خواہش کا روزہ رکھیں اور کہیں ، 'اوہ ، میں ایسا کرنے سے باز آؤں گا، میں اپنی صلوات (درود شریف) بڑھا دوں گا ، اپنا مراقبہ بڑھادوں گا ، اپنے آداب (روحانی مشقوں) میں اضافہ کروں گا' تاکہ آپ اس خواہش پر قابو پاسکیں۔ آپ جتنا اس سے پرہیز کرسکیں گے ، اتنی ہی اس کی خواہش کم ہوجائے گی۔ جتنا آپ اسے آگ کی طرح بڑھاوا دیتے ہیں ، آپ اس میں تھوڑی سی تیلی لگاتے ہیں ، یہ اس قدر سلگ جاتی ہے کہ آپ اسے کنٹرول نہیں کرسکتے ۔
|Lehaza, rozay ki gehri haqeeqat hai aur ab hum waqfay waqfay se roza rakhnay ki baat kar rahay hain, woh rozay ( yani ) ramadaan ke mukammal rozay aur ramadaan ke andaaz mein jisay' khushk roza' kehte hain jahan aap nah kuch khatay, nah peetay hain, agar toh aap aksar aisa kar saktay hain to Alhamdulilah, khwahish khatam ho jaye gi. Agar aap khwahish ka roza rakhen aur kahin,' oh, mein aisa karne se baz aon ga, mein apni salawat ( durood shareef ) barha dun ga, apna muraqba bhara don ga, apne aadaab ( Rohani mashqon ) mein izafah karoon ga' taakay aap is khwahish par qaboo paskin. Aap jitna is se parhaiz kar saken ge, itni hi is ki khwahish kam hojaye gi. Jitna aap usay aag ki terhan brhhawa dete hain, aap is mein thori si teeli lagatay hain, yeh is qader sulag jati hai ke aap usay control nahi kar saktay .|
So, the deep reality of fasting and we're now talking about intermittent fasting, the fasting, full fasting of Ramadan and the style of Ramadan what they call 'dry fast' where you eat and drink and nothing. If you can do that often, then alhamdulillah, that desire should go. If you can fast from the desire and say, 'Oh, I'm going to refrain from doing that. I have to increase my salawats (praises upon Prophet Muhammad pbuh ), increase my meditation, increase my practices,' so that you can control that desire. The more you can abstain from it, the more that desire would diminish. The more you give to it like a fire, you put a little bit of a match to it, it starts to grow where you can't control it.
جتنا بھی آپ پرہیز کرتے ہیں، کہیے: 'میں اس سے پرہیز کروں گا اور جہاد کی طرح اس پر قابو پانے کی کوشش کروں گا'۔ تمام بری عادتوں کے خلاف جدوجہد کرنی ہوگی، اللہ (عزوجل) آپ کو اس اینرجی پہ اختیار عطا فرما دے گا اور یہ کم ہونا شروع ہوجائے گی۔ پھر روزوں کی حقیقت ، اس اینرجی کے بڑھنے ( آپ پہ قابو پالینے) کا سبب کیا ہے؟ ہم نے اِسی وجہ سے بیان کیا تھا ، سیآتِ اعمالنا (ہمارے اعمال) کے گناہ ہیں جو آپ پر سوار ہو رہے ہیں۔ جیسے ہی آپ نے گناہ کا ارتکاب کیا— کچھ کھایا، پی لیا یا دیکھ لیا ، آپ نے اپنی فورس فیلڈ ( ہمارے اردگرد موجود طاقت کی ڈھال) کمزور کر دی۔ لہذا ، سب سے آسان اور واضح طریقہ یہ ہے کہ اینرجی کے ذریعے یہ بات سمجھی جائے۔
|Jitna bhi aap parhaiz karte hain, kahiye :' mein is se parhaiz karoon ga aur jehaad ki terhan is par qaboo panay ki koshish karoon ga '. tamam buri aadato ke khilaaf jad-o-jehad karni hogi, Allah (AJ) aap ko is energy pay ikhtiyar ataa farma day ga aur yeh kam hona shuru hojaye gi. phir rozon ki haqeeqat, is energy ke bherne ( aap pay qaboo paline ) ka sabab kya hai? Hum ne isi wajah se bayan kya tha, Sayiaat amalina ( hamaray aamaal ) ke gunah hain jo aap par sawaar ho rahay hain. Jaisay hi aap ne gunah ka irtikaab kia— kuch khaya, pi liya ya dekh liya, aap ne apni force field ( hamaray ird gird mojood taaqat ki dhaal ) kamzor kar di. Lehaza, sab se aasaan aur wazeh tareeqa yeh hai ke energy ke zariye yeh baat samjhi jaye .|
As much as you abstain, say, 'I'm going to abstain from that and try to take a control,' like a struggle. All the characteristics have to be struggled against. Allah (AJ) give you command over that energy and it begin to diminish. Then the reality of the fasting – what's causing that energy to overtake? And that's why we said this sayyiat-e-amalina (sins of our actions) that there are sins that are coming into you. As soon as you commit a sin whether by eating, drinking or seeing, you opened up your force-field. So, this is the easiest and most clear way of talking is through energy.
آپ جو بھی (غلط) کام کرتے ہیں اس سے آپ کی فورس فیلڈ میں دراڑ آجاتی ہے۔ ایک بار جب آپ کی فورس فیلڈ میں دراڑ آجائے تو ، یہ عفریت (شیطان)؛ آپ ان کو ایک مچھر جیسا ، کالی شئے جیسا ، کالے کیچڑ جیسا تصور کریں۔ وہ لاکھوں کی تعداد میں آپکی طرف بڑھتے ہیں۔ آپ کی وضو کی ڈھال ختم ہوگئی۔ آپ کے اچھے کردار اور اچھے اعمال کی ڈھال میں سوراخ ہو گیا۔ یہ عفریت (ڈھال سے) گزر رہے ہیں۔ جب وہ گزرتے ہیں تو ، وہ آپ کے کھانے کے ذریعہ آتے ہیں۔ آپ وقت پیچھے موڑ کے سوچیں ، کیا جو کھانا میں کھا رہا تھا ، کیا وہ حلال تھا؟ اس معنی میں کہ کیا اس چیز کی مجھے اجازت دی گئی ہے؟ جو کھانامیں نے کھایا، کیا اسے کسی ایسے شخص نے ہاتھ لگایا جس میں بری اینرجی ہے؟ ' کیونکہ آپ اپنی تمام اینرجی پر تفکر کرنے لگتے ہیں کہ آپکی اینرجی کے زرائع میں کہاں کمی رہ گئی ؟
|Aap jo bhi ( ghalat ) kaam karte hain is se aap ki force field mein darar ajati hai. Aik baar jab aap ki force field mein darar aajay to, yeh ifrit ( Shaytan ) ؛ aap un ko aik machar jaisa, kaali shye jaisa, kalay keechar jaisa tasawwur karen. Woh lakhoon ki tadaad mein apkee taraf barhatay hain. Aap ki wuzu ki dhaal khatam hogayi. Aap ke achay kirdaar aur achay aamaal ki dhaal mein sorakh ho gaya. Yeh ifrit ( dhaal se ) guzar rahay hain. Jab woh guzarte hain to, woh aap ke khanay ke zareya atay hain. Aap waqt peechay mourr ke sochen, kya jo khana mein kha raha tha, kya woh halal tha? Is maienay mein ke kya is cheez ki mujhe ijazat di gayi hai? Jo khana mai ne khaya, kya usay kisi aisay shakhs ne haath lagaya jis mein buri energy hai ?' kyunkay aap apni tamam energy par tafakar karne lagtay hain ke apkee energy ke zraya mein kahan kami reh gayi ?|
Anything that you do that opens your force-field. Once you open the force-field, these ifrit (demon); you visualize them like a mosquito, like black things, like a black sludge. They're in the millions coming towards you because your shield is gone. Your shield of wudu (ablution) is gone. Your shield of good characteristic and good actions is – it has a hole in it. These ifrit are coming through. When they come through, they come through the food you eat. You begin to look back and say, 'Was the food I was eating, was this halal? In the sense that, was this something allowed for me? The food I ate – did it have a person who had a bad energy in it?' Because you start to make your tafakkur about all your energy. Where were you deficient on your energy sources?
لہذا ، پھر آپ نے اینرجی کو سمجھا کہ کیوں ہم حلال کھانے کے بارے میں بات کرتے ہیں، صرف (حلال) ذبیحہ ہی کافی نہیں بلکہ جب آپ کھانا کھانے جائیں تو وہ شخص جو آپ کو کھانا پروس رہا ہے، اگر وہ آپ کے عقیدے کا نہیں اور وہ حالتِ جنب میں (ناپاک) ہے، کہ اس نے ابھی کچھ کیا ، وہ کبھی غسل نہیں کرتے، انہیں غسل کی کوئی پرواہ نہیں ۔ ان کی ساری اینرجی ، ان کے خیالات ، ان کی خواہشات ، ان کے افعال ، وہ اس کھانے میں ڈال رہے ہیں۔ وہ کھانے پر نظر کے ساتھ دیکھ رہے ہیں ۔
|Lehaza, phir aap ne energy ko samjha ke kyun hum halal khanay ke baray mein baat karte hain, sirf ( halal ) zbiha hi kaafi nahi balkay jab aap khana khanay jayen to woh shakhs jo aap ko khana pros raha hai, agar woh aap ke aqeday ka nahi aur woh halat-e Junb mein ( napak ) hai, ke is ne abhi kuch kya, woh kabhi ghusal nahi karte, inhen ghusal ki koi parwah nahi. Unki saari energy, un ke khayalat, un ki khwahisaat, un ke af-aal, woh is khanay mein daal rahay hain. Woh khanay par nazar ke sath dekh rahay hain .|
So, then you understood in energy – why we talk about halal food is not so much the zabiha (slaughter) but when you go to eat, the person who's serving you food. If they're not from your belief and they're in junub (ritually impure) that they just did something, they don't ever wash, they don't care about washing. All of their energy, their thoughts, their desires, their actions, they're putting into this food. They're looking with nazar onto the food.
لہذا ، جو کھانا ہم کھاتے ہیں وہ بہت ساری اینرجی چن لیتا ہے۔ ذبیحہ کا سوال تو بھول جائیں ، صرف اس کھانے کی اینرجی کے ذرائع ۔ پھر مجھے کہنا ہے، 'ٹھیک ہے، میری اینرجی اور میری خوراک جو میں کھا رہا ہوں کیا میں اس پر دعا پڑھتا ہوں کم ازکم میں اس کی اینرجی متوازن کر سکتا ہوں یہ پڑھ کہ إِلَى شَرَفِ النَّبِيِّ (صَلَّى اللهُ عَلَيْهِ وَسَلَّمَ) اور (محمداً) ایپ میں کھانے کی دعا ہے۔ سیدنا محمد (ﷺ) کی مقدس اور عظیم روح کے توسط سے؛ إِلَى شَرَفِ النَّبِيِّ (صَلَّى اللهُ عَلَيْهِ وَسَلَّمَ) )وَاِلَى آلِهِ وَصَحْبِهِ الْكِرَامِ، وَإِلَى أَرْوَاحِ مَشَائِخِنَا…..لہذا ، میں سیدنا محمد(ﷺ) ، اولیااللہ، صحابہ کرام ، اھل البیتؑ اور اپنے مشائخ کے پاک نام سے( شروع کرتا ہوں) ان کی ارواح جو میرے کھانے اور طعام پہ نظر فرمائیں گی ، میرے پینے ( مشروب ) پہ آپ کی برکت ہو گی، اور اللہ ( عزوجل) فرماتا ہے ، ان ناموں کا ذکر کرو اور تَنْزِلُ الرَّحْمَةُ، ایک رحمت نازل ہوتی ہے ، اس رحمت سے ، یا ربی جو میں کھا رہا ہوں اور پی رہا ہوں، اسے پاک فرما دے۔
عِنْدَ ذِكْرِ الصَّالِحِينَ تَنْزِلُ الرَّحْمَةُ
صالحین کے ذکر (ان کا نام لینے سے) سے رحمت نازل ہوتی ہے
رسول ِکریم، سیدنا محمد (ﷺ)
|Lehaza, jo khana hum khatay hain woh bohat saari energy chunn laita hai. Zabiha ka sawal to bhool jayen, sirf is khanay ki energy ke zaraye. Phir mujhe kehna hai, ' theek hai, meri energy aur meri khoraak jo mein kha raha hon kya mein is par dua parhta hon kam azkam mein is ki energy mutawazan kar sakta hon Ila sharifin Nabi (sws)yeh parh ke aur (Muhammadan Way) app mein khanay ki dua hai. Sayedena Muhammad (saws) ki muqaddas aur azeem rooh ke tavassut se Ila sharifin Nabi (sws) wa ila aalihi wa sahbihil kiram, Wa ila mashayikhina…"lehaza, mein Sayedena Muhammad (saws), Awliya-Allah, Sahaba karaam, Ahlul Bayt aur apne mashaykh ke pak naam se ( shuru karta hon ) un ki arwah jo mere khanay aur ta-aam pay nazar farmaen gi, mere peenay ( mashroob ) pay aap ki barket ho gi, aur Allah (AJ) farmata hai, un naamon ka zikar karo aur, aik rehmat nazil hoti hai, is rehmat se, ya Rabbi jo mein kha raha hon aur pi raha hon, usay pak farma day .[Hadith Mubaraka: Saleehin ke zikar ( un ka naam lainay se ) se rehmat nazil hoti hai. Rasul Kareem, Sayedena Muhammad (saws)|
So, the food that we eat picks up many energy sources. Forget about if it was the zabiha question, just the energy sources of that food. Then I have to say, 'Ok, my energy and my food of what I'm eating, am I making my du'a (supplication) over everything?' At least I can balance this energy by saying "Ila sharifin Nabi pbuh…" and in the app (Muhammadan Way App) we have du'a for food. By the sanctity and the noble soul of Sayyidina Muhammad pbuh "Ila sharifin Nabi (sws) wa ila aalihi wa sahbihil kiram, Wa ila mashayikhina…"
So, I'm asking in the name of the nobleness of Sayyidina Muhammad pbuh, the awliya (saints), the sahabi (holy companions of Prophet pbuh), Ahlul Bayt (as) (Holy Family of Sayyidina Muhammad pbuh) and my shaykhs. Their arwah (souls) that now gaze upon my food and my ta'am (meal), my drink that with your barakah (blessing). And Allah (AJ) say that, 'Mention these names and "Tanzilur Rahmah" and a rahmah (mercy) come,' that rahmah, 'Ya Rabbi clean every badness in what I'm about to eat and to drink.'
عِنْدَ ذِكْرِ الصَّالِحِينَ تَنْزِلُ الرَّحْمَةُ
Inda dhikres Saliheena Tanzilur Rahma.
In mentioning the names of the pious people, Allah's Mercy descends.
Prophet Muhammad (pbuh)
تو کیا ہم اپنے تمام کھانوں پر دعائیں پڑھ رہے ہیں ؟ کیا ہم یہ سمجھ رہے ہیں کہ میرے اندر جو بھی اینرجی آرہی ہے ، میں کون سی اینرجیز کھینچ رہا ہوں ؟ اس کے بعد یہ اینرجی کی ریل ہے کہ اس کو کیسے سمجھا جائے ، 'کیوں ؟ یہ اینرجی مجھ پہ کیوں آرہی ہے؟' اگر یہ اینرجیز میرے پاس آرہی ہیں تو ، کوئی شک نہیں کہ آپ کی خواہش قائم ہو گی! پھر جب آپ اس کو دیکھنا شروع کریں تو ، آپ کو یہ سوچنا چاہیے کہ ہر بار جب آپ ان چیزوں کو دیکھتے ہیں تو آپ تفکر نہیں کر پاتے ۔ کیونکہ جیسے ہی آپ مدینہ المنورہ میں ہونے کا تصور کریں گے اور رابطہ شریف کیلئے آنکھیں بند کریں گے ، یہ تمام بھیانک تصاویر آپ کی آنکھوں کے سامنے ہوں گی ۔ اور شیطان دراصل یہی کرنا چاہتا تھا۔
|Toh kya hum apne tamam khaano par duayen parh rahay hain? Kya hum yeh samajh rahay hain ke mere andar jo bhi energy aa rahi hai, mein kon si energies khech raha hon? is ke baad yeh energy ki rail hai ke is ko kaisay samjha jaye,' kyun? yeh energy mujh pay kyun aa rahi hai ?' Agar yeh energies mere paas aa rahi hain to, koi shak nahi ke aap ki khwahish qaim ho gi! phir jab aap is ko dekhna shuru karen to, aap ko yeh sochna chahiye ke har baar jab aap un cheezon ko dekhte hain to aap tafakar nahi kar paate. Kyunkay jaisay hi aap Madina al-Munawarah mein honay ka tasawwur karen ge aur rabita shareef ke liye ankhen band karen ge, yeh tamam bhayanak tasaveer aap ki aankhon ke samnay hon gi. aur Shaytan darasal yahi karna chahta tha.|
So then, are we making the du'a on all the food? Are we understanding that whatever energy is coming into me what am I picking up of these energies? That then is the trail of energy how to understand that, 'Why, why is this energy coming to me?' If these energies are coming to me, no doubt you're going to have desire! Then when you start to look at it, you have to think that every time you're looking at these things you can't meditate. Because as soon as you want to close your eyes to connect and visualize you're in Madina, you have all these horrific images are coming to your eyes. And that's exactly what shaitan wanted to do.
اسی لئے ہم نے بیان کیا کہ روزہ صرف منہ کا روزہ نہیں ، یہ تمام حواس کا روزہ ہے۔ جب سیدنا محمد (ﷺ) سے رابطے کی کوشش کیلئے، آپ اپنا دل استعمال کرنے کی کوشش کر رہے ہیں، لیکن شیطان کہتا ہے ، 'نہیں نہیں ، یہ تصویر دیکھو!' جیسے ہی آپ نے یہ تصویر دیکھی ، تصویر ، آپ کی نظروں سے ہوتی ہوئی روح میں اُتر گئی کیونکہ یہ (نظر) روح کی کھڑکی ہے۔ تصویر آپ کی آنکھوں سے ہوتی ہوئی ، پھر دل پر اُتر جاتی ہے۔ لہذا ، دل ایک ہارڈ ڈرائیو ہے اور آپ کی آنکھیں ویڈیو کیمرے کی طرح ریکارڈ کر رہی ہیں۔ لہذا ، یہ سب کیپچر ہو رہا ہے – 10،000 امیجز ، 20،000 امیجز ، یہ دراصل آپ کی ہارڈ ڈرائیو کو کریش کردیں گی ۔ تو ، مراقبہ کرنے کا کوئی رستہ نہیں ملے گا، جیسے ہی آپ مراقبہ کریں گے ، آپ کو یہ سب غلیظ تصاویر نظر آئیں گی ۔ اور فحش مواد دیکھنے کا یہ مفہوم ہے، شیطان آنکھوں کو آلودہ کرنے کی کوشش کیوں کر رہا ہے؟ کیونکہ وہ آپ کے دل کو شکست دینے کی کوشش کر رہا ہے۔
|Isi liye hum ne bayan kya ke roza sirf mun ka roza nahi, yeh tamam hawaas ka roza hai. jab Sayedena Muhammad (saws) se raabtey ki koshish ke liye, aap apna dil istemaal karne ki koshish kar rahay hain, lekin Shaytan kehta hai,' nahi nahi, yeh tasweer dekho !' jaisay hi aap ne yeh tasweer dekhi, tasweer, aap ki nazron se hoti hui rooh mein utar gayi kyunkay yeh ( nazar ) rooh ki khirki hai. Tasweer aap ki aankhon se hoti hui, phir dil par utar jati hai. Lehaza, dil aik hard-drive hai aur aap ki ankhen video camera ki terhan record kar rahi hain. Lehaza, yeh sab capture ho raha hai – 10, 000 images, 20, 000 images, yeh darasal aap ki hard-drive ko crash kar dein gi. Toh, muraqba karne ka koi rasta nahi miley ga, jaisay hi aap muraqba karen ge, aap ko yeh sab ghaleez tasaveer nazar ayen gi. Aur fehash mawaad dekhnay ka yeh mafhuum hai, Shaytan aankhon ko aaloda karne ki koshish kyun kar raha hai? kyunkay woh aap ke dil ko shikast dainay ki koshish kar raha hai .|
That's why we said in fasting is not fasting of the mouth; it's fasting of all the senses. When you're trying to use your heart to connect to Sayyidina Muhammad (pbuh) but shaitan says, 'No no, that look at this image!' As soon as you look at this image, the image went from your eyes because it's the window to the soul. The image goes from your eyes and then burned onto the heart. So, the heart is the hard drive and your eyes are capturing like a video camera. So, all this capturing – 10,000 images, 20,000 images – it's actually going to crash your hard drive. So, there's no way to meditate. As soon as you meditate, you're seeing all these horrible images. And that was the understanding in pornography. Why shaitan is trying to contaminate the eyes? Because he's trying to collapse your heart.
تو ایک بات یہ ہے کہ ، جو کچھ میں کھاؤں گا، پیوؤں گا ، جن ذرائع سے اینرجیز آرہی ہیں اس پر میں دعا کروں گا اور پھر یہ سمجھنا کہ ان سب کے خلاف اپنا دفاع کیسے کرنا ہے ، صلوات ( درود شریف ) سے، اپنا وضو قائم کر کے ، دھونے کی کوشش کر کے ۔ کہ جب میں نے اس طرح کی چیزیں دیکھ بیٹھوں ، جب میں صبح غسل کروں ، میں تصور کروں کہ میری روح سے یہ تمام غلاظت صاف ہو رہی ہے ، یا ربی ، میری روح کو ان اعمال کی گر دش سے، اس ساری منفی اینرجی جو میری آنکھوں میں داخل ہونے کی کوشش کرتی ہے، یہ صاف ہو جائے ، پاک ہو جائے' ۔
|To aik baat yeh hai ke, jo kuch mein khaoun ga, piyon ga, jin zaraye se energies aa rahi hain is par mein dua karoon ga aur phir yeh samjhna ke un sab ke khilaaf apna difaa kaisay karna hai, salawat ( durood shareef ) se, apna wuzu qaim kar ke, dhoney ki koshish kar ke. Ke jab mein ne is terhan ki cheeze dekh bhethon, jab mein subah ghusal karoon, mein tasawwur karoon ke meri rooh se yeh tamam ghalazat saaf ho rahi hai, ya Rabbi, meri rooh ko un aamaal ki gardish se, is saari manfi energy jo meri aankhon mein daakhil honay ki koshish karti hai, yeh saaf ho jaye, pak ho jaye'.|
So one is, what am I going to eat, drink, make my prayers over all of the ways energies are coming in? And then to understand how to defend myself against that by making my salawats (praises upon Prophet Muhammad pbuh), by keeping my wudu, by trying to wash. That when I've seen things like that, that when I take a shower in the morning, that to see my soul washing away all of these negativities, 'Ya Rabbi, let my soul in the whirling of its actions. Let all this negativity that try to come into my eyes to be washed away, to be washed away.'
اور آپ وضو کرتے ہیں، جو دل میں ( گندگی ) ہے، اور ایسی تصاویر جو دل میں ہیں جیسے ہارڈ ڈرائیو کی صفائی کی جاری ہو ۔ آپ غسل میں ہارڈ ڈرائیو صاف کررہے ہیں یہ تصور کرتے ہوئے کہ روح پانی سے دُھل رہی ہے اور ایسی تصاویر صاف ہو رہی ہیں، جو آنکھوں کے دیکھنے کیلئے اچھی نہیں ہیں۔ ایک بار جب ہم یہ سمجھ گئے ہیں ، تفکر (مراقبہ، غوروفکر) میں اور صلوات ( درود شریف ) پڑھا ، اوراد ( وظائف) پڑھے ، تمام رابطہ بنایا ، تو ہمیں سمجھ آ گئی اور اس خواہش پر گرفت مل جاتی ہے، ان شاءاللہ
|Aur aap wuzu karte hain, jo dil mein hai, aur aisi tasaveer jo dil mein hain jaisay hard-drive ki safai ki jari ho. Aap ghusal mein hard-drive saaf kar rahay hain yeh tasawwur karte hue ke rooh pani se dhull rahi hai aur aisi tasaveer saaf ho rahi hain, jo aankhon ke dekhnay ke liye achi nahi hain. Aik baar jab hum yeh samajh gaye hain, tafakar ( muraqba, ghor-o-fikar ) mein aur salawat ( durood shareef ) parha, Awraad ( wazaif ) parhay, tamam Rabita banaya, to hamein samajh aa gayi aur is khwahish par girift mil jati hai, in'sha-Allah.|
And you make a wudu (ablution) from what's in the heart and the images that are in the heart like a hard drive cleaning. You're cleaning the hard drive in the shower by visualizing the soul being washed by water and washing away images that were not good for the eyes to see. Once we understand that in the tafakkur and do the salawats, do the awrads (daily practices), do all the connections, then we should have an understanding and a grasp of that desire, inshaAllah.
Subhana rabbika rabbal 'izzati 'amma yasifoon, wa salaamun 'alal mursaleen, walhamdulillahi rabbil 'aalameen. Bi hurmati Muhammad al-Mustafa wa bi siri Surat al-Fatiha.
Special thanks to our transcribers for their help with transcribing this suhbah.
Original Date of Suhbah: July 30, 2020
یہ بیان اس لنک پر دیکھا جا سکتا ہے
Watch this bayan here @15:00
https://youtu.be/hXlGATlCa2E