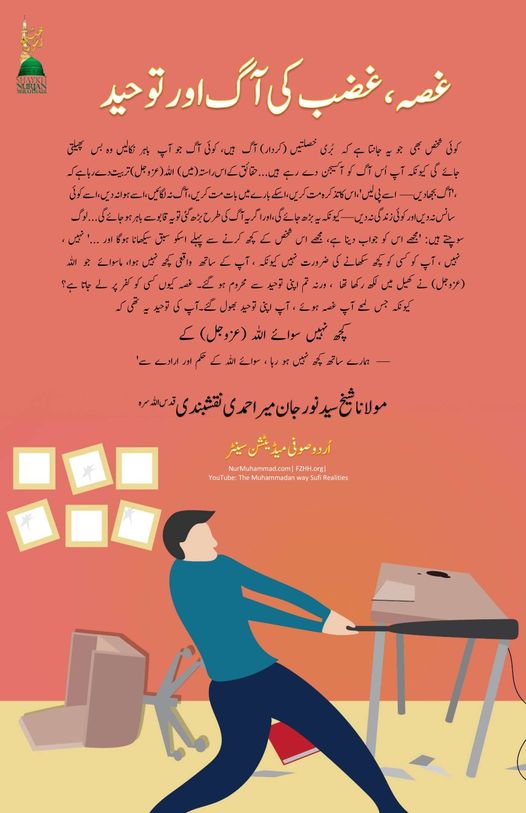 Urdu – اپنا غصہ کیسے پیا جائے؟ جب آپ غصہ کرتے ہیں تو آپ کفر کے مرتکب ہوتے ہیں کیونکہ آپ…

اپنا غصہ کیسے پیا جائے؟ جب آپ غصہ کرتے ہیں تو آپ کفر کے مرتکب ہوتے ہیں کیونکہ آپ اللہ (عزوجل) کے خلاف کھڑے ہو گئے (حصہ اول)
|Apna ghusa kaise piyen? Jab Ap ghusa karte hain toh aap kufr ke murtakib hote hain kion ke ap Allah (AJ) ke khilaaf khare ho gaye|Hisa-I
??? ?? ??????? ???? ?????. ???? ??? ??? ????? ??? ????? ????????? ??????? ??? ??? ?????? ??????? ????? [????-?]
مولانا شیخ سید نورجان میر احمدی نقشبندی (ق) کی سنہری تعلیمات سے اقتباس
اَعُوْذُ بِاللہ مِنَ الشَّیْطٰنِ الرَّجِیْمِ ۞
بِسْمِ اللہ الرَّحْمٰنِ الرَّحِیْمِ ۞
اَلَّھُمَّ صَلِّ عَلَی سَیَّدِنَا محَمَّدٍ ﷺ وَعَلَی آلِ سَیَّدِنَا محَمَّدٍ ﷺ
سوال: آیت اکرسی کا مفہوم اور معانی جاننا چاہتا ہوں؟ کیا آپ اس بارے میں بیان فرمائیں گے؟
|Ayat al-Kursi ka mafhom aur maani janna chahta hon? Kia aap is baary mein bayan farmain gey?|
??????? : Wishing to know the reality and meaning of Ayatul Kursi. Can you speak about the Kursi?
|مولانا شیخ سید نور جان میراحمدی نقشبندی (ق)|
اوہ … اُن … اُن آیت القرآن کے بارے کسی کے اصرار پربیان کرنا مشکل ہوتا ہے۔ وہ اُس لمحے کی تجلی (کے تحت) ہوتا ہے اور اس ( آیت کی تفسیر ) میں جانے کیلئے ۔ ہمارے بیانات میں یہ (تفسیر) موجود ہے، آپ گوگل کر سکتے ہیں: " الہی (ڈیوائن) وائی فائی "۔ مَن ذَا الَّذِي يَشْفَعُ — کہ کوئی بھی اس علم کا احاطہ نہیں کرسکتا جو اللہ (عزوجل) نے اس حقیقت کو عطا کیے ہیں مگر جتنا کہ وہ اس علم کا ادراک چاہے۔ ہم نے اس پہ بیان دیا تھا، "الہی (ڈیوائن) وائی فائی" کے بیان میں۔ لیکن جی ، ہم اس رات کے تجلی کے تحت(بیان ) دیتے ہیں، انشاء اللہ ، اگر وہ (تجلی )آجائے تو۔
مَن ذَا الَّذِي يَشْفَعُ عِندَهُ إِلَّا بِإِذْنِهِ ۚ يَعْلَمُ مَا بَيْنَ أَيْدِيهِمْ وَمَا خَلْفَهُمْ ۖ وَلَا يُحِيطُونَ بِشَيْءٍ مِّنْ عِلْمِهِ إِلَّا بِمَا شَاءَ ۚ…۞
کون ایسا شخص ہے جو اس کے حضور اس کے اِذن کے بغیر سفارش کر سکے، سکے جو کچھ لوگوں کے روبرو ہو رہا ہے اور جو کچھ ان کے پیچھے ہوچکا ہے اسے سب معلوم ہے ، اور وہ اس کی معلومات میں سے کسی چیز کا بھی احاطہ نہیں کر سکتے مگر جس قدر وہ چاہے…
سورۃ البقرۃ (2) آیت (255)
|???????????????: uh. .. unn. .. unn ayatul Qur'an ke barey kisi ke israar par bayan karna mushkil hota hai. Woh uss lamhay ki tajallii ( ke tehat ) hota hai aur is ( aayat ki Tafseer ) mein janae ke liye. Hamaray bayanaat mein yeh ( Tafseer ) mojud hai, aap Google kar satke hain :" The Divine Wi-Fi " — ke koi bhi is ilm ka ihata nahi karsaktha jo Allah (AJ) ne is haqeeqat ko ataa kiye hain magar jitna ke woh is ilm ka idraak chahay. Hum ne is pay bayan diya tha," IllahiThe Divine Wi-Fi ke bayan mein. Lekin jee, hum is raat ke tajallii ke tehat ( bayan ) dete hain, Insha Allah , agar woh ( tajallii ) aajay toh. [2:255 Tarjuma: "kon aisa shakhs hai jo is ke huzoor is ke azan ke baghair sifarish kar sakay, sakay jo kuch logon ke rubaroo ho raha hai aur jo kuch un ke peechay hochuka hai usay sab maloom hai, aur woh is ki maloomat mein se kisi cheez ka bhi ihata nahi kar satke magar jis qadre who chahy" |
?????? ?????? ??????? : Uhh… those are… those are difficult to on command give talks of ayatul Qur'an (the verse of Holy Qur'an). So, that has to be the tajjali (manifestation) of that moment and to go into that. We have from the talks, you can google: 'The Divine Wi-Fi.' "Man zal lazee yashfa'u" that Allah (AJ)… no one can encompass the knowledge that Allah (AJ) is giving that reality except what it wants to understand of that knowledge. We gave that talk in a talk on Divine Wi-Fi. But yeah, that we have to do under the tajjali of that night inshaAllah, if that comes.'
مَن ذَا الَّذِي يَشْفَعُ عِندَهُ إِلَّا بِإِذْنِهِ ۚ يَعْلَمُ مَا بَيْنَ أَيْدِيهِمْ وَمَا خَلْفَهُمْ ۖ وَلَا يُحِيطُونَ بِشَيْءٍ مِّنْ عِلْمِهِ إِلَّا بِمَا شَاءَ ۚ…
﴿٢٥٥﴾2:255 – "Man zal lazee yashfa'u indahooo illaa bi-iznih. Ya'lamu maa baina aydeehim wa maa khalfahum wa laa yuheetoona bishai'im min 'ilmihee illaa bimaa shaaa." (Surat Al-Baqarah)
"Who is it that can intercede with Him except by His permission? They do not compass anything from His knowledge except what he wills/permits." (The Cow, 2:255)
اگر ہم اپنا غصہ ظاہر نہ کریں، لیکن اپنے اندر غصہ محسوس کریں تو کیا یہ ہماری روحانیت کیلئے بُرا ہے اور کیا ہم اس کے لئے جوابدہ ہونگے؟
|Agar hum apna ghussa zahir nah karen, lekin apne andar ghussa mehsoos karen to kya yeh hamari rohaniyat ke liye bura hai aur kya hum is ke liye jawabdeh hunge ?|
????????: If we don't show our anger but feel angry inside, is it bad for our spirituality and are we accountable for that?
|مولانا شیخ سید نور جان میراحمدی نقشبندی ق|
اگر … وعلیکم السلام … اگر ہم اپنا غصہ ظاہر نہیں کرتے تو… مولانا شیخ (ق) اکثر اس پر بیان دیتے تھے ، 'اگر آپکو غصہ آیا ہے تو اسے پی لیں' ۔ جبکہ لوگ (غصہ) باہر نکالتےہیں۔ اور میرے خیال میں ، جدید نفسیات جو اس 'ہو' (ڈبلیو ایچ او، عالمی ادارہ صحت ) کے تحت ہے— وہ آسمانی 'ھو' نہیں ہے( مولاناشیخ ہنستے ہوئے) — وہ سانپوں کا وہی نشان استعمال کرتے ہیں۔ یہ (جدید نفسیات) اپنا غصہ باہر نکالنے پر مبنی ہے۔ آپکو غصہ باہر نکالنا ہے ، جیسے آپ کو تکیے لینے ہیں اور ایک دوسرے کو پیٹنا ہے۔ سب کچھ ان کی تعلیم میں یہ ہے کہ اس آگ کو باہر آنا ہوگا ۔ اور کوئی شخص بھی جو یہ جانتا ہے کہ بُری خصلتیں (کردار) آگ ہیں ، کوئی آگ جو آپ باہر نکالیں وہ بس پھیلتی جائے گی کیونکہ کہ آپ اُس آگ کو آکسیجن دے رہے ہیں اور اُسے بڑھنے کیلئے بس تھوڑی بہت آکسیجن کی ضرورت ہے۔ حقائق کے اس راستہ (میں) اللہ (عزوجل) تربیت دے رہا ہے کہ ، 'آگ بجھادیں — اسے پی لیں'۔ اس کا تذکرہ مت کریں ، اس کے بارے میں بات مت کریں ، آگ نہ دیں ، اسے ہوا نہ دیں ، اسے کوئی سانس نہ دیں اور کوئی زندگی نہ دیں— کیونکہ یہ بڑھ جائے گی ، اور اگر یہ آگ کی طرح بڑھ گئی تو یہ قابو سے باہر ہو جائے گی ۔ اگر آپ نے کبھی ایسی آگ دیکھی ہو جو آپ سے حادثاتی طور پہ شروع ہوئی اور اچانک چنگاری بھڑک اُٹھی اور 'وہو' سب کچھ لپیٹ میں لے لیا — تو یہ ایسی بات نہ رہی ، جس پراب آپ قابو پاسکتے ہو۔
|???????????????: Agar. .. walaikum salam. .. Agar hum apna ghussa zahir nahi karte to. .. Mawlana Shaykh ( Q ) aksar is par bayan dete they,' agar aapko ghussa aaya hai to usay pi len '. Jabkay log ( ghussa ) bahar nikaltay hain. Aur mere khayaal mein, jadeed nafsiat jo is ' WHO' (aalmi idaara sehat ) ke tehat hai — woh aasmani' HU' nahi hai ( Mawlana Shaykh hanstay hue ) — woh saanpon ka wohi nishaan istemaal karte hain. Yeh ( jadeed nafsiat ) apna ghussa bahar nikaalte par mabni hai. Aapko ghussa bahar nikalna hai, jaisay aap ko takiye lainay hain aur aik dosray ko peetna hai. Sab kuch un ki taleem mein yeh hai ke is aag ko bahar aana hoga. Aur koi shakhs bhi jo yeh jaanta hai ke burii khasltain ( kirdaar ) aag hain, koi aag jo aap bahar nikalen woh bas phelti jaye gi kyunkay ke aap uss aag ko oxygen day rahay hain aur ussay bherne ke liye bas thori bohat oxygen ki zaroorat hai. Haqayiq ke is rasta ( mein ) Allah (AJ) tarbiyat day raha hai ke,' aag bujha dain — usay pi len '. is ka tazkara mat karen, is ke barey mein baat mat karen, aag nah den, usay hwa nah den, usay koi saans nah den aur koi zindagi nah den— kyunkay yeh barrh jaye gi, aur agar yeh aag ki terhan barh gayi to yeh qaboo se bahar ho jaye gi. Agar aap ney kabhi aisi aag dekhi ho jo aap se hadsati tor pay shuru hui aur achanak chingari bharak utthee aur' woh sab kuch lapait mein le liya — to yeh aisi baat nah rahi, jis pr ab aap qaboo paskte ho.|
?????? ?????? ??????? : If… Walaykum As Salaam. If we don't show our anger… Mawlana Shaykh (Q) would often give talks of: 'If you're angry, swallow it.' And people come out, and I think modern psychiatry which is under that 'WHO' not the heavenly 'Hu' [shaykh laughs]. They use the same signs of snakes. Is based on letting your anger out, your anger has to come out, you have to get like pillows and beat each other. Everything about their teaching is that this fire has to come out. And anybody who knows when bad characters are fire, any fire that you let out it only grows because you're giving that fire oxygen and all it needs to grow is a little bit more oxygen. This way of realities, Allah (AJ) is training is that, 'Put the fire out – swallow it.' Don't mention it, don't talk about it, don't give it any fire, don't give it any air, don't give it any breath and any life because it will grow, and if it grows like a fire it goes out of control. If you've ever seen a fire that you start by accident and all of a sudden the amber moves and 'Whoo' everything catches, it's not something you can control anymore.
لہذا اپنی آگ کوسنبھالنا اور اسے پی لینا آپکی تربیت ہے۔ آپ اسے پیتے ہیں ، پیتے ہیں ، نگل جاتے ہیں ، اور آپ اپنے غصے میں اپنے اندر جلنا سیکھنے لگتے ہیں ، جس میں آپ اللہ (عزوجل) کی جانب رجوع کرتے ہیں ، آپ اپنے سجدےمیں جاتے ہیں اور آپ کہتے ہیں ، یا ربی مجھے ایسی ہمت عطا فرما کہ میں اس غصہ پہ قابو پا لوں، اگر اللہ (عزوجل) اس غضب کو ہمت اور جوش میں بدل دے، ایسی آگ بنا دے ، جس میں دل جلتا ہے کہ زیادہ کام کریں کیلئے اور بھلائی کے کام کریں ۔ لہذا ، ہماری ساری زندگی کی غرض ہے کہ غصے پر کیسے قابو پا جائے اور اِسے کیسے پیا جائے۔ لوگ سوچتے ہیں: 'مجھے اس کو جواب دینا ہے، مجھے اس شخص کے کچھ کرنے سے پہلے اسکو سبق سیکھانا ہوگا اور …' نہیں ، نہیں ، آپ کو کسی کو کچھ سکھانے کی ضرورت نہیں کیونکہ ، آپ کے ساتھ واقعی کچھ نہیں ہوا، ماسوائے جو اللہ (عزوجل) نے کھیل میں لکھ رکھا تھا ، ورنہ تم اپنی توحید سے محروم ہو گئے۔ غصہ کیوں کسی کو کفر پر لے جاتا ہے کیونکہ جس لمحے آپ غصہ ہوئے ، آپ اپنی توحید بھول گئے ۔ آپ کی توحید یہ تھی کہ: ' کچھ نہیں ہے، سوائے اللہ (عزوجل) کے— ہمارے ساتھ کچھ نہیں ہو رہا ، سوائے اللہ کے حکم اور ارادے سے'۔
|???????????????: Lehaza apni aag ko sambhalna aur usay pi lena appki tarbiyat hai. Aap usay peetay hain, peetay hain, nigal jatay hain, aur aap apne ghusse mein apne andar jalna seekhnay lagtay hain, jis mein aap Allah (AJ) ki janib rujoo karte hain, aap apne sajday mein jatay hain aur aap kehte hain, ya Rabbi mujhe aisi himmat ataa farma ke mein is ghussa pay qaboo pa lon, agar Allah (AJ) is gazab ko himmat aur josh mein badal day, aisi aag bana day, jis mein dil jalta hai ke ziyada kaam karen aur bhalai ke kaam Karen. Lehaza, hamari saari zindagi ki gharz hai ke ghusse par kaisay qaboo pa jaye aur isay kaisay piya jaye. Log sochthay hain :' mujhe is ko jawab dena hai, mujhe is shakhs ke kuch karne se pehlay usko sabaq seekhna hoga aur. ..' nahi, nahi, aap ko kisi ko kuch sikahnay ki zaroorat nahi kyunkay, aap ke sath waqai kuch nahi hwa, masiwaye jo Allah (AJ) nay khail mein likh rakha tha, warna tum apni toheed se mahroom ho gaye. Ghussa kyun kisi ko kufar par le jata hai kyunkay jis lamhay aap ghussa hue, aap apni toheed bhool gaye. Aap ki toheed yeh thi ke :' kuch nahi hai, siwaye Allah (AJ) ke — hamaray sath kuch nahi ho raha, siwaye Allah (AJ) ke hukm aur irady se|
So, to take your fire and swallow it is your training. You swallow it, swallow it, swallow it, and that you begin to learn how to burn inside with your anger in which you turn to Allah (AJ), you go into your sujood (prostration) and you say, 'Ya Rabbi grant me a strength in which to overcome this anger.' If Allah (AJ) turns this anger of ghadab into the anger of himmah and zeal, makes it a fire in which the heart burns to do more and to do good. So, our whole life is about the control of anger, and how to swallow it. People think: 'I have to respond to it, I have to teach the person before they're going to do something and…' No, no you don't have to teach anyone anything because nothing really happening to you other than what Allah's (AJ) writing in the play, because then you lost your tawheed (oneness). Why anger brings somebody to kufr is because the minute you're angry you forgot your tawheed. Your tawheed was that: 'Nothing but Allah (AJ), nothing is happening to us except by Allah's (AJ) order and command.'
لہذا ، جس لمحے ایک مومن کو غضب ( غصہ) آیا ، وہ اسے حکمت سے نکال دے گا اور فوراکسی پر غصہ ہوجائے گا اور (کہے گا) 'اُس شخص نے یہ کیا'۔ جبکہ حقیقت میں — نہیں ، اللہ (عزوجل) نے ایسا کیا۔ لیکن غصے نے تمہیں اپنی طمانیت (سکون ) سے باہر نکال دیا اور ایمان کی سمجھ سے باہر نکال دیا۔ کسی بیان میں اسکے بارے میں گفتگو کرنا آسان ہے ، جیسے ہی ، ایسا ہوتا ہے، کیسے شیطان کے کھیل سے ایک شخص کوغصہ آجاتا ہے —وہ جواب دینا چاہتے ہیں اور بولنا چاہتے ہیں اور پھر وہ اپنا ادراک (سمجھ) بھول جاتے ہیں ، اور وہ اپنا ایمان کا درجہ کھو دیتے ہیں کیونکہ وہ توحید کی سمجھ کھو بیٹھےکہ یہ اللہ (عزوجل) کی طرف سے تھا۔
|???????????????: Lehaza, jis lamhay aik momin ko gadab ( ghussa ) aaya, woh usay hikmat se nikaal day ga aur foran kisi par ghussa hojaye ga aur ( kahe ga )' uss shakhs ne yeh kya '. jabkay haqeeqat mein — nahi, Allah (AJ) ne aisa kya. Lekin ghusay ne tumhe apni tamaniat ( sukoon ) se bahar nikaal diya aur imaan ki samajh se bahar nikaal diya. Kisi bayan mein uskay baray mein guftagu karna aasaan hai, jaisay hi, aisa hota hai, kaisay Shaytan ke khail se 1 shakhs ko ghusa ajatha hai —woh jawab dena chahtay hain aur bolna chahtay hain aur phir woh apna idraak ( samajh ) bhool jatay hain, aur , aur woh apna imaan ka darja kho dete hain kyunkay woh toheed ki samajh kho baithy ke yeh Allah (AJ) ki taraf se tha. |
So, the minute ghadab (anger) comes for a believer will take him out of that understanding and immediately become angered at somebody, and 'This person did this.' When in reality – no, Allah (AJ) did that. But the anger took you out of your calm and understanding of belief. It's easy to talk about it in a talk, as soon as it happens how shaitan (satan) plays makes the person angry, they want to respond and say and then they forgot their understanding, and they lost their level of faith because they lost the understanding of tawheed that, 'This was from Allah (AJ).'
لہذا ، جو لوگ اپنی تربیت میں ہیں اور اہلِ ودود میں شامل ہونے کی تربیت مانگتے ہیں،وہ جانتے ہیں سب سے بڑی مشکلات یہی ہیں ، وہ خود کو یاد دلانے کیلئے ایک ظاہری ریمائنڈر لگاتے ہیں ؟ اور وہ اپنے ہاتھ (کلائی ) پر ایک بینڈ باندھتے ہیں تاکہ یاد رہے کہ وہ غصے پر کام کر رہے ہیں۔ وہ خود کو وضو میں رکھتے ہیں۔ اگر ان کا منہ بہت زیادہ (بولتا) ہے تو پھر انھوں نے منہ میں لالی پوپ ڈال دی ہے تاکہ وہ جواب نہ دیں۔ وہ لوگ جو اپنی انگلیوں پر قابو نہیں رکھتے اور مضحکہ خیز ای میلز کرتے ہیں ، اُنہیں چاہئے ، وہ اپنی انگلیوں کو جیسے تالا ہی لگا دیں یا فون بند کردیں ، یا فون پر کچھ ایسا پیغام لگا دیں کہ 'ٹیکسٹنگ اور ٹائپنگ مت کرنے لگ جانا، اور اپنی انگلیوں کو منہ کی جگہ استعمال مت کرنا۔ '
| ???????????????: Lehaza, jo log apni tarbiyat mein hain aur Ahl-e wadud mein shaamil honay ki tarbiyat mangte hain, woh jantay hain sab se barri mushkilaat yahi hain, woh khud ko yaad dilanay ke liye aik zahiri reminder lagatay hain? Aur woh apne haath ( kalayi ) par aik band bandhte hain taakay yaad rahay ke woh ghusse par kaam kar rahay hain. Woh khud ko wudu mein rakhtay hain. Agar un ka mun bohat ziyada ( boltaa ) hai to phir unhon ne mun mein lollipop daal di hai taakay
taakay woh jawab nah den. Woh log jo apni unglio par qaboo nahi rakhtay aur mazhaka khaiz emails karte hain, unhen chahiye, woh apni unglio ko jaisay tala hi laga den ya phone band kar dein, ya phone par kuch aisa pegham laga den ke' texting aur typing mat karne lag jana, aur apni unglio ko mun ki jagah istemaal mat karna.' |
لہذا ، ان سب کو قابو میں رکھنا ہوگا ، بصورت دیگر وہی لوگ ہیں جو کہتے ہیں ،' کبھی بھی کچھ نہیں ہو رہا ، کوئی ترقی نہیں ہو رہی ۔ 'ہاں ، جب آپ کسی چیز کو کنٹرول نہیں کررہے ، یہ ترقی کیسے ہوگی ، جب دن بدن تمام خراب خصلتیں (کردار) صرف پھیل رہے ہوں؟ آپ کا غصہ اور برا کردار جنگل جیسا بن چکا ہے ، ایک جنگل کے جیسا۔ آپ کو اسے خالی اور ہمواربنانا چاہئے اور اسے کاٹنا ہوگا تاکہ یہ ایک میدان کی طرح دکھائی دے جسے ہموا ر کیا گیا ہے اس میں کچھ بھی نہیں ہے۔ لیکن لوگ چاہتے ہیں کہ ان کے برے کردار ایمیزون کے جنگل کی طرح بڑھیں ، یہ ہر طرف بڑھ رہا ہے۔ پھر وہ واپس آتے ہیں اور کہتے ہیں ، '' اوہ دیکھو مجھے کچھ کیوں نہیں ہو رہا ؟ میرے لئے کبھی کچھ بھی نہیں بدلا۔ مجھے کوئی علم نہیں پہنچا۔ 'تو انشاء اللہ، اللہ ہمیں ان تمام بد خصائل (کردار) کے خلاف کھڑے ہونے کی ہمت عطا فرمائے۔
So, those who are under their training and has training to be from the people of Wadood (The Most Loving) they know that this is the greatest difficulties that they put an outside reminder and they put a band on their hand to remember that they're working on anger. They keep themselves in wudu (ablution). If their mouth is too much then they put a lollipop in their mouth so that they don't reply. People who cannot control their fingers and making ridiculous emails they should like lock up their fingers or put away their phone or put some sort of a message on the phone that, 'Don't start texting and typing, and don't use your fingers now in place of your mouth.'
| ???????????????: Lehaza, un sab ko qaboo mein rakhna hoga, basorat deegar wohi log hain jo kehte hain,' kabhi bhi kuch nahi ho raha, koi taraqqi nahi ho rahi.' Haan, jab aap kisi cheez ko control nahi kar rahay, yeh taraqqi kaisay hogi, jab din badan tamam kharab khaslatain ( kirdaar ) sirf phail rahay hon? Aap ka ghussa aur bura kirdaar jungle jaisa ban chuka hai, aik jungle ke jaisa. Aap ko usay khaali aur hamwar banana chahiye aur usay kaatna hoga taakay yeh aik maidan ki terhan dikhayi day jisay hamwar kya gaya hai is mein kuch bhi nahi hai. Lekin log chahtay hain ke un ke buray kirdaar Amazon ke jungle ki terhan barheen, yeh har taraf barh raha hai. Phir woh wapas atay hain aur kehte hain,' ' oh dekho mujhe kuch kyun nahi ho raha? mere liye kabhi kuch bhi nahi badla. Mujhe koi ilm nahi pouncha.' to Insha'Allah , Allah hamein in tamam bad khasail (kirdaar) ke khilaaf khare hone ki himmat ata farmaye|
So, all of these have to be controlled, otherwise those same people are the ones saying, 'Nothing's ever happening, nothing's ever growing.' Yeah, you're not controlling anything, how can it grow when all the bad character day by day is just flourishing? Your anger and bad character has become like jungal – like a jungle. You're supposed to make it bare and burdened and cut down so it look like a field that has been sort of decimated – there's nothing there of it. But people want their bad character to grow like the Amazon jungle, it's growing everywhere. Then they come back and say, 'Oh look why is nothing happen to me? Nothing ever changed for me. No knowledge came to me.' So inshaAllah Allah (AJ) give us strength to come against all these bad characteristics.
یہ بیان اس لنک پر دیکھا جا سکتا ہے:
Watch this Bayan on Youtube

مضامین کے اُردو ترجمہ پڑھنے کیلئے
Read Urdu Translations:
Nurmuhammad.com/category/urdu/
شیخ سید نور جان میر احمدی نقشبندی (ق) کا فیس بک پیج لائک کیجئے
Official Page: Shaykh Nurjan Mirahmadi
facebook.com/shaykhnurjanmirahmadi/
فاطمہ زہراء ہیلپنگ ہینڈ— یتیم بچوں کی کفالت ،صدقات وعطیات کیلئے
Fatima Zahra Helping Hand
fzhh.org