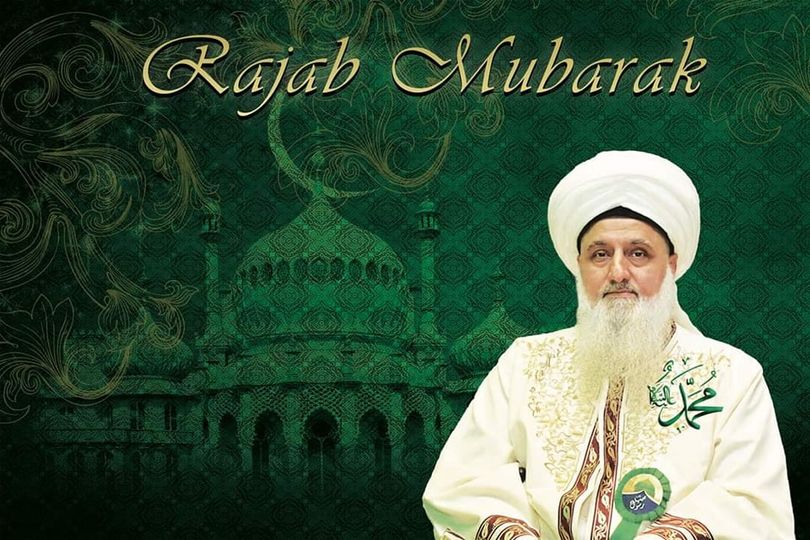 Urdu – اَدَبُ لَّيْلَةُ الرَّغَائِبْ – ليلة الرغائب کے آداب Practices of the Lailat ur…

اَدَبُ لَّيْلَةُ الرَّغَائِبْ – ليلة الرغائب کے آداب
Practices of the Lailat ur Raghaib (Sacred Night of Desires)
شبِ رغائب – رجب کی پہلی جمعرات کو لیلۃ الرغائب (شب رغائب) کہا جاتا ہے۔ یہ اسلامی تاریخ میں ایک اہم ترین رات ہے۔ یہ وہ شب ہے جب نبی اکرم سیدنا محمد (ﷺ) اپنے والد سے ماں کے رحم میں منتقل فرمائے گئے۔ اس رات میں جو کچھ آپ چاہتے ہیں خدا تعالیٰ اپنے پیارے محبوب (ﷺ) کی خاطر عطا فرماتا ہے۔
The first Thursday of Rajab is called Laylat ar-Ragha'ib. It is one of the most important nights in Islamic history. It is the night that the Prophet (s) was transferred from his father to his mother's womb. All that you wish for on this night, God gives you for the sake of His beloved Prophet (s).
رجب کی پہلی جمعرات کے دن کا روزہ رکھیے۔
رجب کی پہلی جمعرات/شبِ جمعہ(لیلتہ الرغائب) کو مندرجہ ذیل اوراد کیجئے۔
Fast on the First Thursday of Rajab
The following are the practices to be performed at night in the first Thursday of Rajab:
1) نیت –
نُوَيْتُ الْاَرْبَعِينْ، نُوَيْتُ الْاَعْتِكَافْ، نُوَيْتُ الْخَلْوَةَ، نُوَيْتُ الْعِزْلَة، نُوَيْتُ الرِّيَاضَة،نُوَيْتُ السُّلُوكْ لِلِّہِ تَعَالَيِ اَلْعَظِيمْ فِي هَذَا الْمَسْجِد۔ فِي هَذَا الْجَامِعْ
میں نیت کرتا ہوں چالیس (دن کی خلوت) کی؛ میں اعتکاف کی نیت کرتا ہوں ، میں خلوت کی نیت کرتا ہوں، میں عزلت (گوشہ نشینی) کی نیت کرتا ہوں ، میں ریاضت نظم و ضبط (انا پر قابو پانے ) کی نیت کرتا ہوں ، میں خدا کی راہ میں سفر کرنے کی نیت کرتا ہوں، اس مسجد میں۔ اس جگہ پر۔
Intention (Al Niyyah)
I intend the forty (days of seclusion), I intend seclusion in the mosque, I intend seclusion, I intend isolation, I intend discipline (of the ego), I intend to travel in God's Path, I intend to fast for the sake of God in this mosque.
2) روزانہ کے نقشبندی اوراد / سلسلہ نقشبندیہ پڑھیں۔
Daily Practice (Adab Ul Tariqa)
Read the Daily Adab/Spiritual Practice of the Silsila Naqshbandia
3) دعاء ألعظم المأثور– سلطان اولیاءمولانا الشيخ عبد الله الفائز الداغستانی (قدس اللہ سرہ ) کی دعائے اعظم المأثور پڑھیے ۔
Du'a Ul Mathur
Read the grand transmitted supplication (Ad dua ul 'Azam ul mathur) of Sultan al Awliya Grandshaykh Abdallah Al Faiz Addaghestani (Q)
https://nurmuhammad.com/wp-content/uploads/Dua-al-Mathur-Grand-Transmitted-Supplication-Shaykh-Abdullah-Daghestani-20200226.pdf
4) ختم الخواجگان– سلسلہ نقشبندیہ کے ذکر ختم الخواجگان کی محفل
Zikr in Congregation (Khatm ul Khwajagan) Recite the Naqshbandi Dhikr, divine chanting Khatm ul Khwajagan
5) مولد–حمد و ثناء، نبی کریم (ﷺ) پر درود سلام کا اہتمام کریں
Praises (Salawats/MAWLID(Recite praises/Salawats/duroods on Prophet Muhammad (pbuh).
6) صلوٰۃ التسبیح –چار رکعت صلوٰۃ التسبیح ادا کریں۔
Salat ut Tasabih (Prayer of Praises): Pray four raka'at (cycle) of salat ut Tasabih.
7) صلوٰۃالشکر––دو رکعت شکرانے کی نماز ادا کریں اور اللہ (عزوجل ) کی عطا کردہ ہر نعمت کا شکر ادا کریں۔
Shukur Ash Salat–Pray 2 rak'at (cycle) Salatul Shukur to thank Allah for everything He has given us
of His bounty.
8) اھداء–(تحفہ، ہدیہ پیش کریں ) دعاء اھداء پڑھیں:
.IHDA (Gift) Read the Ihda invocation
https://nurmuhammad.com/wp-content/uploads/Ihda-Gift.pdf
9) دعاو الفاتحہ – دعا مانگیں اور قرآن مجید کی پہلی سورۃ (الفاتحہ) کی تلاوت کریں۔
Du'a Wal Fatiha– Make Invocation and Read The First Chapter Of Quran (Al Fatiha)
https://quran.com/1