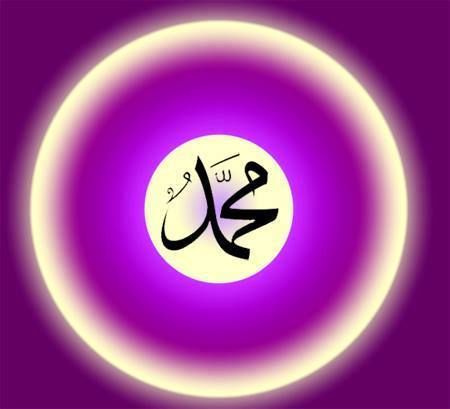 Saints Are Tuning Forks God Frequency
From the Realities of Mawlana (Q) as taught by Shaykh Nurjan Mirahmadi.
A'udhu Billahi Minash Shaitanir Rajeem
Bismillahir Rahmanir Raheem
I seek refuge in Allah from Satan, the rejected one
In the Name of Allah, the Most Beneficent, the Most Merciful
The Heart is the Nucleus of the Body
By the name of His Almightiness that Allah (AJ), God almighty, to wash away the bad character and the bad actions that He's not pleased with and the power of sound is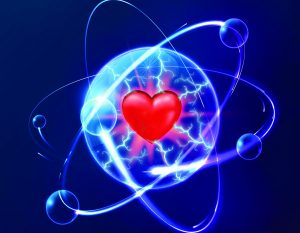 something that can't be imagined. That asking always in these associations and when we go home to be from the people of tafakkur, the people of meditation and contemplation. Whatever language people want to call it, it's all the same. It's a light that deposited within the heart of every human being, every creation. That our responsibility on this earth is to nourish that light and wise men, gurus, come to bring the realities of the prophets of the Divine. They are like radiuses that emanate from the center. They all have an equal distance to reach to the circumference.
Amanar Rasul – Love All the Prophets
So, Amanar Rasul is that love all the prophets and that their brotherhood, their reality, because everything is symbolic in the circle. That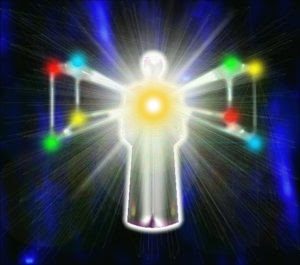 there's only one center, one nucleus where all of this creation reduce into one atom, Adam, insan (human being). This one atom has only one center. It doesn't have five centers fighting over the circumference. And this one center is the source of power. The inside controls the outside. The inside power of the nucleus is sending the energy to the electrons. So, there's no difference between our form. This form is not the one controlling anything, it's the energy inside. If this energy doesn't come from the heart, the nucleus of our body is the heart. If this energy doesn't come from the heart, this form falls apart and is dead. 
﴾آمَنَ الرَّ‌سُولُ بِمَا أُنزِلَ إِلَيْهِ مِن رَّ‌بِّهِ وَالْمُؤْمِنُونَ ۚ كُلٌّ آمَنَ بِاللَّـهِ وَمَلَائِكَتِهِ وَكُتُبِهِ وَرُ‌سُلِهِ لَا نُفَرِّ‌قُ بَيْنَ أَحَدٍ مِّن رُّ‌سُلِهِ ۚ وَقَالُوا سَمِعْنَا وَأَطَعْنَا ۖ غُفْرَ‌انَكَ رَ‌بَّنَا وَإِلَيْكَ الْمَصِيرُ‌ ﴿٢٨٥
2:285 – "Amanar Rasulu bima onzila ilayhi min rabbihi wal muminoona kullun amana billahi wa malaikatihi wa kutubihi wa rusulihi, la nufarriqu bayna ahadin min rusulihi, wa qalu samina wa a'tana ghufranaka Rabbana wailayka almaseer." (Surat Al-Baqarah)
"The Messenger has believed in what was revealed to him from his Lord, and [so have] the believers. All of them have believed in Allah and His angels and His books and His messengers, [saying], 'We make no distinction between any of His messengers…'. And they say, "We hear and we obey. [We seek] Your forgiveness, our Lord, and to You is the [final] destination." (The Cow, 2:285)
God Gave Us All a Temporary Light For Us to Make Eternal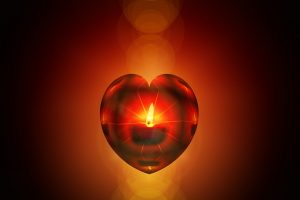 So, then all these spiritual masters and spiritual teachings was to come and emphasize that the heart has to be worked on. The nucleus has to be sort of worked on. That power and that emanation that is emanating in that center is what we have to nourish – that little drop of light that God gave us. And then they come and describe like we're a candle that God everybody gave, God gave everybody a candle and lit a temporary light. It was not permanent until you nourish it and light the eternal flame. This means that you can live a life in which you just come, you burn out your candle and you go. Or you come into this world and God destines us for guidance; through many different avenues, we find guidance. When He wants to guide, He guides and He guides and teaches that this candle is temporary. 
﴾وَقَالُوا الْحَمْدُ لِلَّـهِ الَّذِي هَدَانَا لِهَـٰذَا وَمَا كُنَّا لِنَهْتَدِيَ لَوْلَا أَنْ هَدَانَا اللَّـهُ ۖ لَقَدْ جَاءَتْ رُسُلُ رَبِّنَا بِالْحَقِّ…﴿٤٣…
7:43 – "…wa qalo Alhamdulillahi al ladhee hadana lihadha wa ma kunna linahtadiya lawla an hadana Allahu, laqad jaa at Rusulu Rabbina bil Haqqi…" (Surat Al-A'raf)
"… And they will say, Praise be to Allah, who has guided us to this [joy and happiness]; and we would never have been guided if Allah had not guided us. Certainly the messengers of our Lord had come with the truth…" (The Heights, 7:43)
Nourish the Light of Your Heart!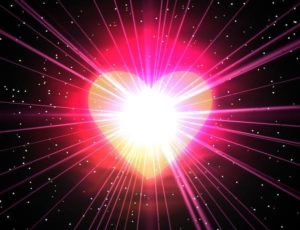 Don't be lost by the illusion of this, this world and all its fun. Balance your life to have fun and pray and play. But that light within the heart, nourish it, bring its reality out, strengthen it. So, then all spiritual practices begin to teach you, nourish that light. And that nucleus has sent out over time radiuses, radiuses what we call rasul, messengers of God. God Almighty sends a radius to the circumference and remind them of this nucleus. Remind them of their origin. Remind them of their source of power. For, if the electron should think it has its own power, it will be lost. It will leave its orbit. It's actually orbiting around the nucleus because it is the source of power pulling it and attracting it. If the nucleus didn't care for it, it would release its attraction and that electron would go flying out into never-neverland. It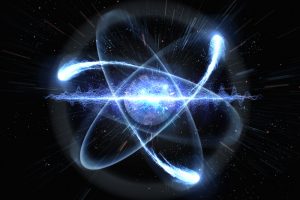 means that everything of our practices is about that inner core and that inner reality. But when we're sitting and trying to nourish that light as we ask to see ourself in an ocean of light in front of us, to the right of us, to the left of us, behind us, above us and below. In all six directions that, 'Ya Rabbi, my lord, dress me from light. Fill me with Your Light. Fill me with Your Grace and Your Majesty and take away my difficulties.'
Use Your Heart in Actions of Religion, Not Your Brain
We said before that all the actions of every religion, you know, every action that you do is through your head. So, many people pray, many people fast and of all different religions and that can be through their brain. It's not a gift from God because there are terrorists out there who are praying and reading all day long and that wasn't a gift by God. That was just using their brain. They used their brain, they pick a religion that maybe accommodates their craziness or whatever their belief is and they start to do it. And they think through that brain-action, they'll get somewhere.
Fill Your Heart With Love and Compassion
But no, whom God really loves and whom He's granted the treasures of all eternity is one whom He's granted light and love within his heart or her heart. There are many people who pray through their head. All day long, they pray. But they're completely dark within the inside, so it wasn't the action that was pleasing to God. It wasn't the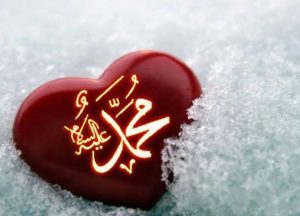 label in which what people call themselves because now everybody is a label. Everybody has a designer label upon themselves. Allah (AJ) is not like that, labelling people, because that would be like a caste system of different characters of people. But what only contains and what only Allah's (AJ) interest is that, 'I don't look to your form but I look to the heart of the believer and that heart should be heart filled with love and compassion.'
قَالَ رَسُول اللَّهِ صلى الله عليه و سلم: إنَّ الله لا ينْظُرُ إِلى أجْسَامِكُمْ ، ولا إِلى صُوَرِكمْ ، وَلَكن ينْظُرُ إلى قُلُوبِكمْ 
"Qala RasulAllah ﷺ, 'Inna Allaha la yanzuru ila ajsamikum, wa la ila Suwarikum, wa laaken yanzuru ila Qulobukum.'" [Muslim]
Abu Hurairah (ra) narrated that Prophet Muhammad (pbuh) said: "Allah does not look at your figures, nor at your attire but He looks at your hearts [and deeds]." [Muslim]
Don't Take Your Faith For Granted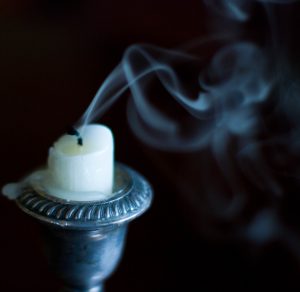 If the heart has love and compassion it should speak with a softness, with a love-ness, with a good character. That love and compassion should be exemplified with every action that the servant is doing. So, it means that whatever practices we do to the outside, the most important to Divinely Presence is what's happening inside. Are you devoid of compassion and mercy and love? Then what's the importance of that label? So, then these spiritual programs are to develop the inner reality, to nourish what's in that little nucleus in the heart right now. It's like a small little light, a flame, that, my lord, it's a very precious flame. For, if you should yell and scream and do bad things as if you've blown out that flame. Think of the subtlety and Prophet ﷺ was describing, 'Don't think faith is something just granted, you're always going to have it.'
At every moment pray Allah (AJ) keep you in faith and increase you in faith. Faith isn't just something you come, it's like you've got a lottery ticket you'll always have it. Many people leave faith, whatever their faith background. It's a grant, it's a gift, it's a ni'mat (blessing). Ya Rabbi, if this is what I have is faith, then please give me more. What you granted of good character give me more, what you granted of love give me more.
Being of Service to Others Nourishes the Heart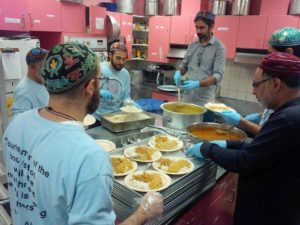 And then these pious people come into our lives and describe that little flame, nourish it. Be very careful with it. Don't let the bad character and anger and all the desires of this world to extinguish it. Because that's all it wants to do, is extinguish the flame and then you become black-hearted, dark-hearted. Everything is like a void. Everything is negative. Your eyes become like a vacuum of vampiring everything, just 'swooh' swallowing up everything it can. And they come and describe no, no nourish that flame, nourish that light. Find practices that will empower that light and those are usually selfless practices. When you go out and feed people. Go out and give to people. Go out and be of service to people. These gentlemen who are coming here, they're being of service cause that's the training. They come, they spend their own money to buy their ticket, whoever can afford it. They come to be of service. They're not going to get any reward; we don't share in anything. But our life was to be of service, to give to be selfless.
Calculate Your Daily Account of Actions
That empowers the flame because that brings a Divine Light and blessing. Meditate and contemplate. Every night you do a meditation say, 'My lord what have I done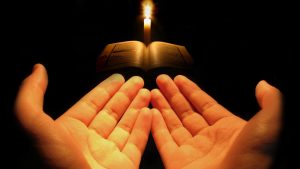 wrong today?' Tonight. 'What did I do wrong today?' And take a daily accounting, a daily hisab (account) that every day, every night, 'Ya Rabbi, what did I do wrong?' And if you're truly honest with yourself, you'll hear many things that were wrong, many things that were done wrong physically with your actions and most importantly with the mouth to people. People talk very rude to people. They talk nice to their mom and they talk bad to everybody else. This is a big anger from Allah (AJ). If you're good with your mom or your dad, you should talk to everybody like that and then you have a good khuluq. What Allah (AJ) love from Prophet ﷺ, 'Khuluq al-Azeem, you are of a magnificent character.' 
﴾وَإِنَّكَ لَعَلَىٰ خُلُقٍ عَظِيمٍ ﴿٤
68:4 – "Wa innaka la'ala khuluqin 'azheem." (Surat Al-Qalam)
"Truly, You (O Muhammad!) are of a magnificent character." (The Pen, 68:4)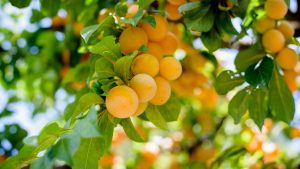 Whatever people do bad to you, you always do something good. And so we can find that example not only in the prophets, but in nature. Why we have to think we're so great and so big because we have a big head and we understand absolutely nothing. Go to a tree, a fruit tree, kick the tree and what does it give you? Gives you fruit. The tree gives you fruit. It doesn't take the branch and 'clckk' hit you back in the head. So, the Divine is teaching us that be of service. Give goodness to everything. Try to find a way in which to continuously nourish the light.
Muhammad Means 'The Most Praised'
Then comes the praising and the meditation. That as soon as I sit and meditate this importance of sound is not something that can be understood. The prophets of the last day started to bring the realty of sound because they knew the world was coming to its end. So, the book of Sayyidina Isa (as), Jesus Christ, peace and blessings be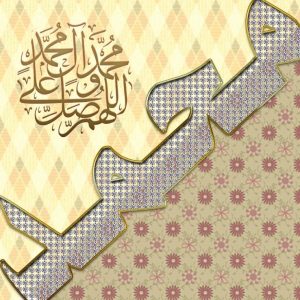 upon him, is called the Injil (Bible). It's spoken. It was not a written message. It was a spoken message. It means that he was signifying the end is coming and as the end is coming, the word is powerful.
The sound is powerful and Holy Qur'an is a rhythmic book in which to be recited in a rhythmic tone. They have 7 qira'ats (variants in recitation), some say up to 14 qira'at. Why? Because there's a power. And the last Prophet of Allah (AJ) MU-HAMMAD: HAMD means 'praise', MU means 'the most praised'. It means importance of sound. So, the last prophets were coming to teach us this world's coming to an end. This understanding coming to an end. 
Zikr is a Form of Attuning Frequency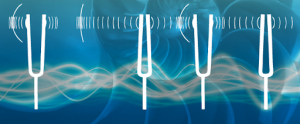 You're going to reach a technology where you begin to understand your most powerful weapon is sound and for everything is a sound, what they call vibration. We're playing for them tonight the video that they understood from Tesla on what we call 'attuning' in spirituality. They take a pitchfork and they go 'weyon' and they have another pitchfork next to it for sound attuning. They hit the pitchfork it begins to make its resonance, resonance what we call 'zikr'. It makes a zikr, it makes a resonance and because of the nature of it is the same, this resonance influences the one they didn't touch and begins to resonate with the same frequency. So, one object can influence the resonance of another object and that's a piece of metal. What about what God created from His Divinely hands and blew unto his holy spirit? 
﴾فَإِذَا سَوَّيْتُهُ وَنَفَخْتُ فِيهِ مِن رُّوحِى فَقَعُواْ لَهُ سَـجِدِينَ ﴿٢٩
15:29 – "Fa idha sawwaytuhu wa nafakhtu feehi min Rohee faqa'o lahu sajideen." (Surat Al-Hijr)
"So when I have proportioned him and breathed into him of My [created] soul/spirit, then fall down to him in prostration." (The Rocky Tract, 15:29)
Shaykhs Are Like Tuning Forks – Resonate on Their Frequency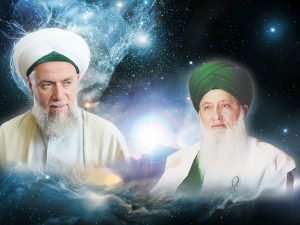 That what power you have that when you resonate and you recite and when you go to these shaykhs and teachers? They are like a pitchfork, they have been tuned the way Prophet ﷺ wanted them tuned. Their zikr, their resonance, is of a certain frequency. As soon as people come into their vicinity, you begin to resonate on their frequency. So, then these associations, why do they have chanting? Because like and if you watch that video on Tesla and attuning, they're now picking up that a person could hit a glass, hear the frequency, what hertz it's resonating at, he could mimic it and he would begin to make a sound and shatter glass. Then they wanted to know the 'magic frequency' they call. They say somewhere between a hundred thousand to three hundred thousand megahertz, they found out the cellular level could be influenced. So, now they have cells that are six cells and they can begin to put a frequency and shatter the cell. So the understanding now where Allah (AJ) says, 'Yusabbihu bihamdihi. For verily, everything is praising me.'
﴾تُسَبِّحُ لَهُ السَّمَاوَاتُ السَّبْعُ وَالْأَرْضُ وَمَن فِيهِنَّ ۚ وَإِن مِّن شَيْءٍ إِلَّا يُسَبِّحُ بِحَمْدِهِ وَلَـٰكِن لَّا تَفْقَهُونَ تَسْبِيحَهُمْ ۗ إِنَّهُ كَانَ حَلِيمًا غَفُورًا ﴿٤٤
17:44 – "Tusabbihu lahus samawatus sab'u wal ardu wa man fee hinna wa in min shayin illa yusabbihu bihamdihi wa lakin la tafqahoona tasbeehahum innahu kana haleeman ghafoora." (Surat Al-Isra)
"The seven heavens and the earth and whatever is in them exalt [praises] Him. And there is not a thing except that it exalts [Allah] by His praise, but you do not understand their [way of] exalting. Indeed, He is ever Forbearing and Forgiving." (The Night Journey 17:44)
Everything Can Be Obliterated With One Sound
It means everything has a resonance. Everything has a frequency. If you hit the frequency, you can influence it. They want to use it for weapons. They want to know the frequency of a structure. The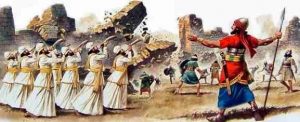 y pick up the frequency and they put out another frequency to change it at its molecular level and crush it and bring it down like dust. In Holy Qur'an and the Bible describes the trumpet of Jericho. The Messenger of Allah (AJ) was taught to go to that village, go to that town, to that castle, circle, circumambulate it seven times. He went seven times, seven times, on the seventh time he was ordered by Allah (AJ), 'Blow your shofar' and he blew the trumpet and immediately all the walls of that kingdom came down; this is in their book. And Allah (AJ) throughout Holy Qur'an sayhatan wahidatan, it was but one shout and we obliterated everything.
﴾إِن كَانَتْ إِلَّا صَيْحَةً وَاحِدَةً فَإِذَا هُمْ خَامِدُونَ ﴿٢٩
36:29 – "In kanat illa sayhatan wahidatan fa idha hum khamidoon." (Surat YaSeen)
"It was not but one shout, and immediately they were extinguished/destroyed." (YaSeen, 36:29)
It was but one shout and we brought everybody back.
﴾إِن كَانَتْ إِلَّا صَيْحَةً وَاحِدَةً فَإِذَا هُمْ جَمِيعٌ لَّدَيْنَا مُحْضَرُونَ ﴿٥٣
36:53 – "In kanat illa sayhatan wahidatan fa idha hum jamee'un ladayna muhdaroon." (Surat YaSeen)
"It will be no more than a single Blast/Shout, when at once, they will all be brought up before Us!" (YaSeen, 36:53)
You Will Attune to the Shaykh's Frequency When in Their Presence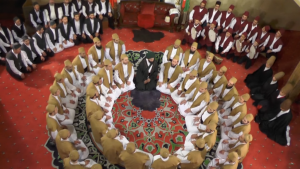 This means that the importance of sound is something that can't be imagined. So, as soon as you come into the presence of the shaykhs, their whole system is moving at a frequency of their light and this light is everywhere. As soon as you come with your lights into that ocean, you begin to be attuned into their frequency. As they begin to resonate and begin to make the zikr, you come with an open heart and begin to chant. Their frequency can begin to match. And that's what Allah (AJ), 'Qul ja al Haq.' That when this light of haq is moving what is it 'zahooqaa.'
﴾وَ قُلْ جَآءَالْحَقُّ وَزَهَقَ الْبَطِلُ، إِنَّ الْبَطِلَ كَانَ زَهُوقًا ﴿٨١
17:81 – "Wa qul jaa alhaqqu wa zahaqal baatil, innal batila kana zahoqa." (Surat Al-Isra)
"And say, Truth has come, and falsehood has perished. Indeed falsehood, [by its nature], is ever perishing/bound to perish." (The Night Journey, 17:81)
It will shatter and obliterate every falsehood. So, means that whatever difficulties and badness people come into the association with, the zikr and the chanting, the lights and the energies – they are crushing all the badness and bad characteristics until people go away feeling fresh and reformed, revitalized that the burden and heaviness was taken off of them until they can put more in next five minutes and soon is they walk out. But at least it was like a shower. You know taking a shower once, you feel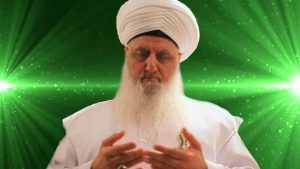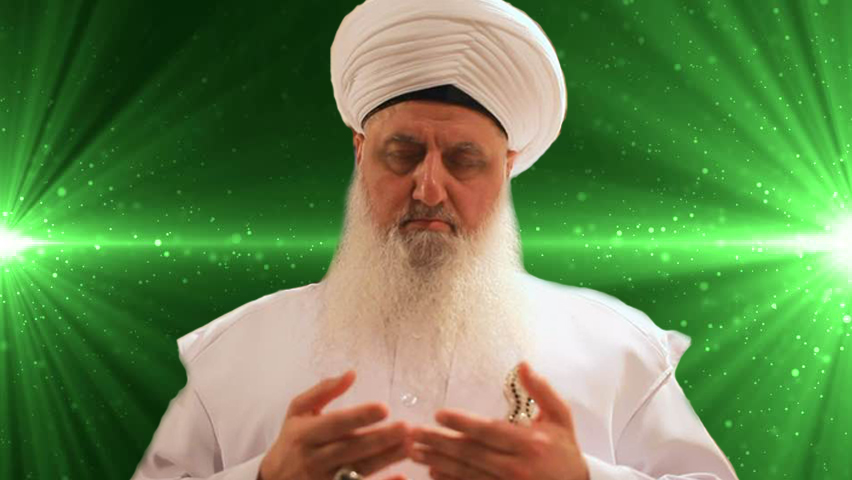 good and then you go out back into the material world and get yourself dirty again. But the circles of remembrance, they were like a shower, like a cleansing. Every week, they enter into the circle to be washed of all the bad characteristics. And if there's a real shaykh there, their vibration will begin to obliterate all of the bad characteristics and begin to make them like they're new and reborn. We pray that Allah (AJ) expand our understanding and that everybody research a little bit about the importance of sound and what type of influence the sound can make, the resonance can make upon the soul, upon the reality of our entire being, inshaAllah. 
Subhana rabbika rabbal 'izzati 'amma yasifoon, wa salaamun 'alal mursaleen, walhamdulillahi rabbil 'aalameen. Bi hurmati Muhammad al-Mustafa wa bi siri Surat al-Fatiha.
Special thanks to our transcribers for their help with transcribing this suhbah.
Original Date of Suhbah: February 3, 2020
Related Articles:
Please Donate and support us to spread these heavenly knowledges.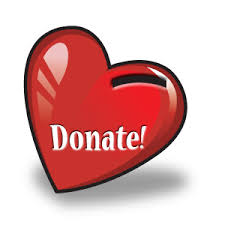 Copyright © 2020 Naqshbandi Islamic Center of Vancouver, All Rights Reserved.