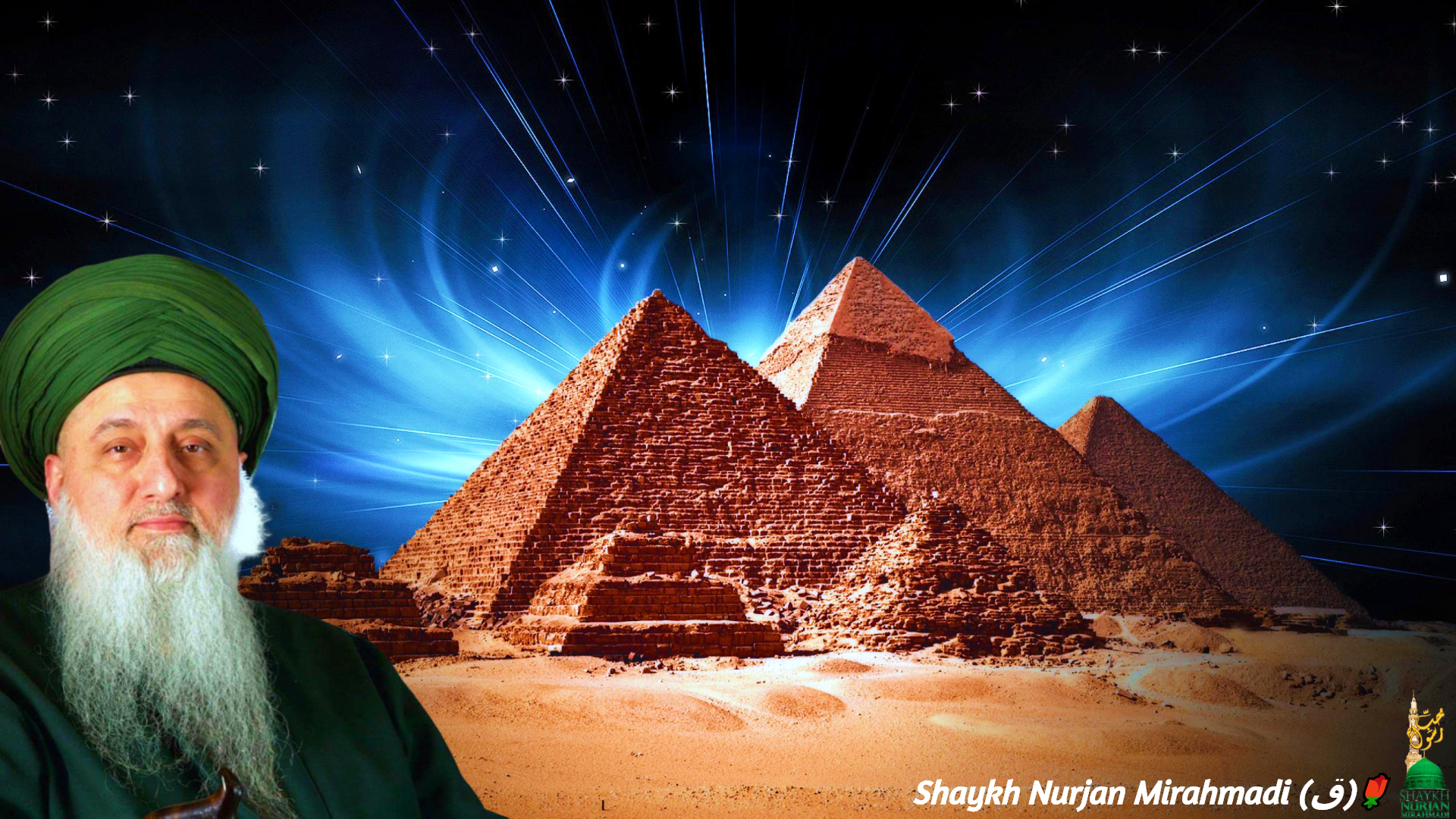 Prophet Musa Moses (as) & the Power of the Pyramids – Sunnah Q&A
From the Realities of Mawlana (Q) as taught by Shaykh Nurjan Mirahmadi.
A'udhu Billahi Minash Shaitanir Rajeem
Bismillahir Rahmanir Raheem
I seek refuge in Allah from Satan, the rejected one
In the Name of Allah, the Most Beneficent, the Most Merciful
Question: Sayyidi, how do we maintain the spiritual momentum that we've built up in Ramadan into post-Ramadan?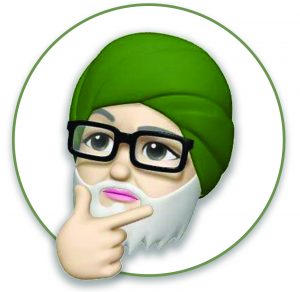 Shaykh Nurjan Mirahmadi: Inshallah, A'udhu Billahi Minash Shaitanir Rajeem Bismillahir Rahmanir Raheem. That the feeling and the euphoria from Ramadan is uniquely Ramadan. Because of the fasting and entering into a state of fasts and the feelings, the energies, all these experiences are meant to be uniquely in Ramadan.
But it gives us like a head-start to continue that himmah and the zeal in which to attend the zikrs (remembrance), do the awrads (daily practices), do all the practices, keep the connection, so that Allah (AJ) can continue to send that faiz (downpouring blessings) and that energy. And know that from Mawlana Shaykh's (Q) teachings, 'Every night is Laylatal Qadr (the Night of Power).' Don't think these are once in a lifetime events. That, for these Qadiri (powerful) souls, and the souls in which they operate in this reality, they're continuously teaching their students every night is zikr, "Salamun, hiya hatta matla'il Fajr."
﴾سَلَامٌ هِيَ حَتَّىٰ مَطْلَعِ الْفَجْرِ‌ ﴿٥
97:5 – "Salamun, hiya hatta matla'il Fajr." (Surat Al-Qadr)
"Peace it is until the emergence of dawn." (The Power, 97:5)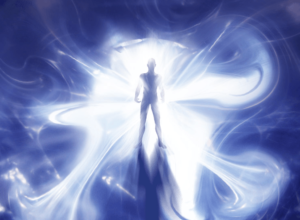 There is a tajalli (manifestation) coming every morning. Every Tahajjud all the way till Fajr. As much as you can attend their associations, watch on live, do their practices, these faiz, these lights and these dressings should be coming upon the soul, feeling, feeling a lot more energy. So we pray that Allah (AJ) give an opening; that's why we said, 'These ninety days of this difficulty upon the earth is like an opening for an awakening.' Many people are experiencing. And we said that these difficulties are not diminishing, they are all going to be increasing. So, now we hope we have more of the tools to survive them. Keep your supplies, keep your practices, don't run on empty, make sure your home has supplies.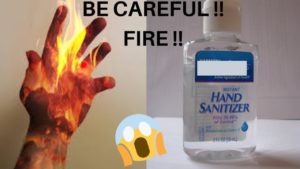 Get your hydrogen peroxide for cleaning, put it in a little spray, spray your hands. Try not to use only those alcohol wipes and those things that have alcohol in them, they actually burn more. So, you put the little alcohol sanitizer in a plate, and then they showed you that put a match near that, and then take the match away. It looks like nothing's burning, then you put a little piece of tissue near it and then it sets on fire. The fire from that isn't even visible. And that from spiritual teachings, 'That we don't rub ourselves with alcohol to be clean.'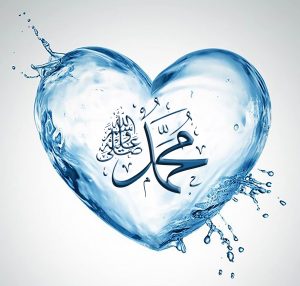 So hydrogen peroxide is a 'magnified water.' So try to keep these supplies around so that you always have these supplies. If they open up and now everything is short on sales, keep these in your home. These are necessary tools for viruses and pandemics. Keep your masks, keep your hydrogen peroxide, keep vitamins, keep your supplies in the home for days of difficulty, inshallah. If something eases up, then that is a time in which for us to prepare again and to have the necessary supplies in our home, inshallah.
Question: Sayyidi, a question was asked yesterday on how to view oneself in the presence of Prophet Muhammad ﷺ? I'm a little confused, I thought we were to negate ourselves during tafakkur?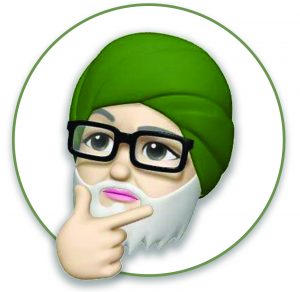 Shaykh Nurjan Mirahmadi: Yes, what was the answer that we gave yesterday, 'Every day is a new tajalli (manifestation).' This was somebody asking that, 'They want to see themselves at Rauza Sharif (Sacred Chamber/Burial site of Prophet ﷺ).' So the concept of negating yourself is to continuously tell yourself and your nafs (ego) that, 'You're nothing, you're nothing, you're nothing, you're nothing.' But to see yourself always at Rauza Sharif, so that 'I am always at Rauza Sharif, but I'm telling my nafs I'm nothing.' So nobody can see themselves as nothing, unless they've trained themselves to be nothing; then they would feel themselves disappearing.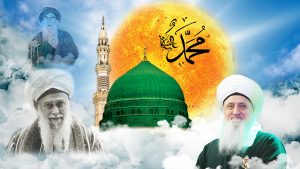 That's a different level of training. When you close your eyes and see yourself as nothing; you'll probably see a silhouette of yourself to show you that you can't really believe that you're nothing. Later, when you ask to be in the hudur (presence) of the Shaykh is that, 'I am asking to be in the presence of my shaykh and that I'm just a dust in his jubba (robe).' And see if you can keep the image of the shaykh and that you're non-existent there, very difficult. People can't see that, then they only see themselves. That's your nafs telling you that it's not disappearing, 'I am right here, you can dream all you want but I'm right here!'
So that is the sign you need a lot more scrubbing, a lot more scrubbing. So one is the understanding, 'I am nothing.' And then the most important is to place myself always at Rauza Sharif that, 'I am nothing, I'm no one; I don't think I deserve anything, but I'm here at Rauza Sharif to be under the nazar (gaze) of Sayyidina Muhammad ﷺ and to reach to just be a carpet under the holy feet of Sayyidina Muhammad ﷺ.'
Question: Sayyidi, if we feel excess positive energy, is it recommended to carry the excess negative energy from our beloved family members through meditation and salawats?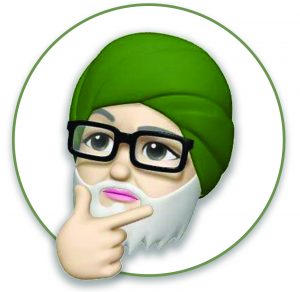 Shaykh Nurjan Mirahmadi: You carry the excess positive energy and that you seal yourself and your energy with your practices. Allah (AJ) will release it the way He wants the soul to release it. I wouldn't advise going around thinking, 'I want to bless everyone, dress everyone,' because you may empty yourself too fast. And there may be somebody that you're not aware of that has a tremendous amount of burdens that can make you sick very fast. Right now, we have to worry about building ourselves and not others. They say that, 'You can't give what you don't have!' Everybody wants to be a spiritual healer but they don't want to heal themselves. Because this is a sickness, they want to be something, but the whole way is to be nothing!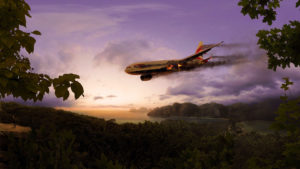 Once you're nothing, you don't want to be anything, you don't want to help anyone, you want to help yourself first to be nothing. So they teach you on the plane, when the place is about to go down, 'Put the mask on yourself and then work on your child.' For, if you are busy putting the mask on your child and you lose altitude, you're going to pass out and the child is not going to have a mask on their face. So they say, 'First secure yourself.' Once you're all secure then you start to work on other people. But you go out and try to do da'wah and healing and this and that and you're not puhktah, you're not cooked, you're not ripe, you're going to make everyone sick.
What did we use to say about the uncooked turkey? Because you're not cooked, right? On the outside you look like you're brown, 'Mmm, that looks delicious'; you bite in and what you get is salmonella poisoning. Because it's not cooked on the inside. So it's one thing when the nation is more of an outside cooked; they wear nice white, they put all these outfits on, they put all these things, and they look like, 'Oh, these are real cooked guys you know, they look very pious.' But inside empty, no time, inside is poisonous.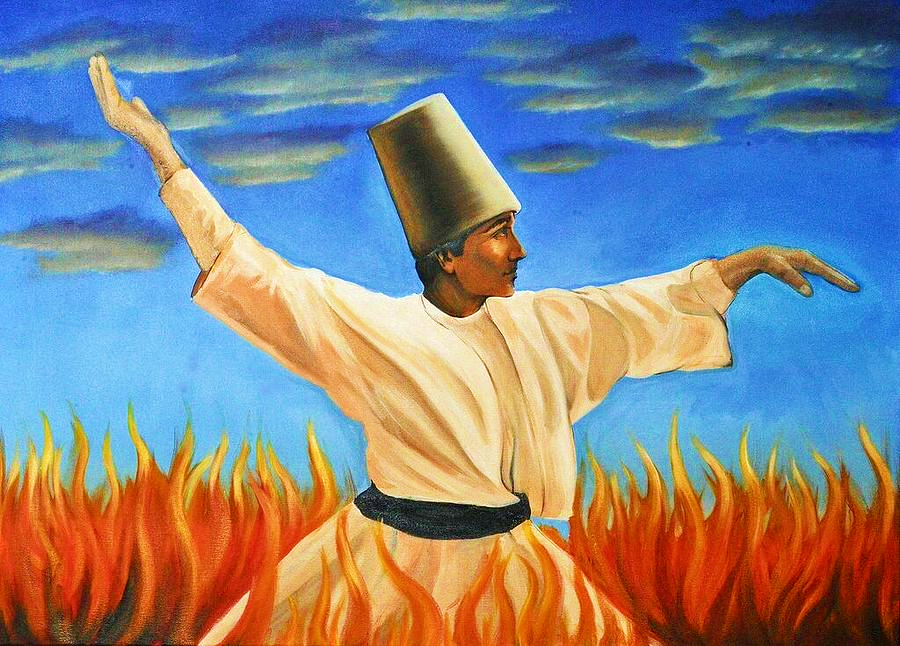 Because they didn't want the way of tazkiyah (purification). So the inside is more important. Better to cook the chicken for a long time; the browning and roasting you can do in a few minutes. Just put it near the boiler and it roasts really quick. The outside you can fix right away, but the inside is the one that has the work and the difficult part, inshallah. You like chicken? [Shaykh asks audience member and everyone laughs]. I didn't know if he's hungry for dinner because we're going too long.
Question: Sayyidi, what can be the minor leaks in energy that one might easily overlook?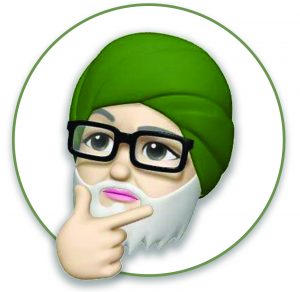 Shaykh Nurjan Mirahmadi: Yes, not following the sunnah (way of Prophet ﷺ). The sunnah of Sayyidina Muhammad ﷺ is a great defense. It's an immense weapon, it's an ancient pyramid. If you look at the ancient pyramids, those were the power plants. These were not tombs. There's nobody buried in those. Those big pyramids were brought onto this earth from a technology that these men don't understand and it was about insulation and the production of power.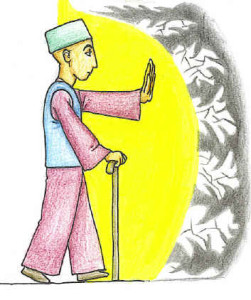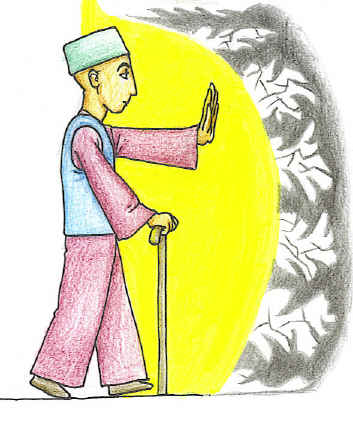 Prophet's ﷺ sunnah is more powerful. He brought the sunnah and the garment and the ring, the 'asaa (cane), the topi (hat), the hat, the turban, all of that are energy. And all of those are to produce the energy, secure the energy, and then the person becomes a sealed energy plant. That any nazar comes, their ring is a defense against them. Their 'asaa is a grounding for them, because they have two prongs of their feet and these energies are continuously conflicting. From negative energy coming from the earth, and the heavenly coming upon their soul, the third is a grounding. So it's the grounding line that pushes all the negative energy back into the earth.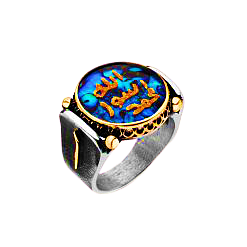 The ring is a gift from Prophet ﷺ that he gave to Sayyidina Suleiman (as), that controls a mulk (earthly realm) and a majesty, if Prophet ﷺ energizes that reality. So it means everything from Prophet ﷺ is a power, the beard is a power, it has the power of protection against these lataif (subtle energy points), for talking and for healing [Shaykh points to neck] and for everything.
There is nothing that Prophet ﷺ brought that didn't have an immense reality. They say even the hair to be short to take away the wild energy. So, everything that Prophet ﷺ brought is of an immense reality. As much as we can keep that, keep the concept of wudu (ablution), pray the two rakahs (cycle of prayer) of Salatul Wudu (prayer of ablution) to seal the energy, then you're sealing more than what you are losing. And then the mouth; how to control the mouth and the character.
So there's nothing like that you'll fill up from the zikr (remembrance) you get all this good energy, and no doubt that shaitan (satan) is waiting outside the door. Soon as you get in the car, something is going to happen, argument's going to happen by the time you're home because shaitan wants to pull that barakah (blessing) out. He doesn't want the person to be excess and begin to make a positive charge. So, it's like those solar dishes. What's the point of having a solar dish if you can't store the power coming in? You're just putting it there for design? Putting twenty-thousand dollars worth of cells on the roof.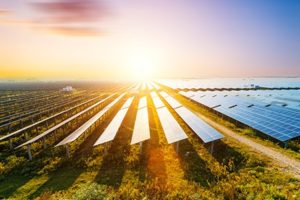 So, then the storage technology was more important than the cellular technology, that, 'How am I going to store this energy that's coming on my roof so I have a benefit? If I'm going to put that type of money into it, I better store it.' So then now some of the top, more smarter people came up with very powerful storage.
Where enough people store it, they're giving back to the power companies and charging them, that, 'You want to use my power.' It means the [Elon] Musk technology; put ten-thousand homes with the cellular storage, and now he becomes a power company, more powerful than the power company. Because these ten-thousand homes that are working with him are producing an immense amount of energy from the sun free, not the power plant that's running with gas and turbine engines.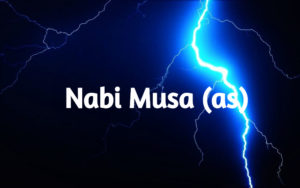 This was the old knowledges. This is what the pyramid was doing; it was using water and sunlight, and they were running the water under the pyramid and the electrons and the energy that the water would give off from the natural sun in that region that was so intense, this energy would be released, the pyramid structure would hold that energy. And every energy and vibration was happening inside. Why Fir'aun (Pharaoh) didn't want Nabi Musa (as) to leave? Musa (as) meant like lightning, that his secret for that nation was he had the power. When he left he took the technology and cast them into darkness. And that's why he didn't want him to go. Power's gone.
Question: Sayyidi, how would we know we've achieved that level to be nothing that we're cooked?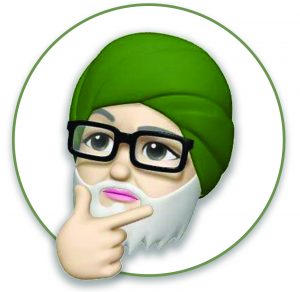 Shaykh Nurjan Mirahmadi: When you're cooked, oh you'll feel that you are cooked. When everything is in difficulty, every type of crushing, every type of crushing-ness, you'll understand when life is crushing you, and sadness is surrounding you, and every type of difficulty is all around. You feel yourself, 'It's been crushed.' You'll know it when you get there. And the more you're crushed and the more these types of difficulties come in life, the stronger your connection is, if you're practicing. Because your practicing works best with the sad and broken-hearted. So that when they build that connection through difficulty, then when everything becomes good and the days are sunny, their connection is also strong and made.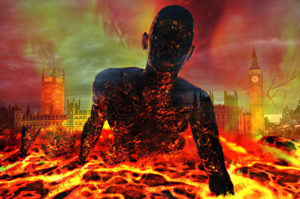 But to make the connection with everything great, it doesn't work that way. Tell somebody to sit down and  meditate, 'Oh I can't I have to go to the beach, I have to go here, I have to go there, I'm doing all these things.' Then Allah (AJ) put everybody, said, 'Beach is even closed. Pandemic is coming you're all going to die, you're all going to die'. 'What you mean?' Say: 'You're all going to die.'
'Body pictures everywhere say all these people are going to die, I got to go to the room and meditate now.' Because that room became like a qabr (grave) for you. You think, 'I am really going to die so I better make sure I'm good with Allah (AJ) and my room becomes like my grave and I start making my zikr.' Then we understood through difficulty, there is an understanding of why Allah (AJ) sends that difficulty. When it makes us to cry, makes our heart to become soft and this then draws us near to that reality, inshallah.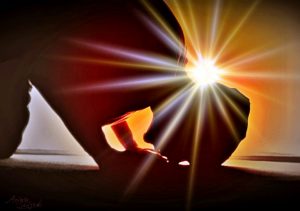 So that when days are good we've made that connection, we're thankful to Allah (AJ), that, 'Ya Rabbi I don't need another beating, I got it, I understand, and I'm going to submit to the best of my ability. So I don't need to see more of the difficult days,' and then the believer begins.
But there are some people who only function through crises. Every time something is good they forget and they go, their practices are gone, you don't see them, nothing. They're crisis actors. As soon as things become horrible again, 'Oh Shaykh I'm here again, everything's falling apart.' So we try to not be of those, we try to be that, 'Ya Rabbi when difficulty comes I learned, and in good days I believe more and do more Ya Rabbi.' And inshallah, they become more istiqam and firm in what they believe, inshallah.
Subhana rabbika rabbal 'izzati 'amma yasifoon, wa salaamun 'alal mursaleen, walhamdulillahi rabbil 'aalameen. Bi hurmati Muhammad al-Mustafa wa bi siri Surat al-Fatiha.
Special thanks to our transcribers for their help with transcribing this suhbah.
Original Date of Suhbah: May 21, 2020
Related Articles: 
Please Donate and support us to spread these heavenly knowledges.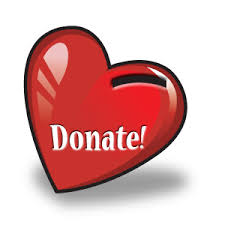 Copyright © 2020 Naqshbandi Islamic Center of Vancouver, All Rights Reserved.