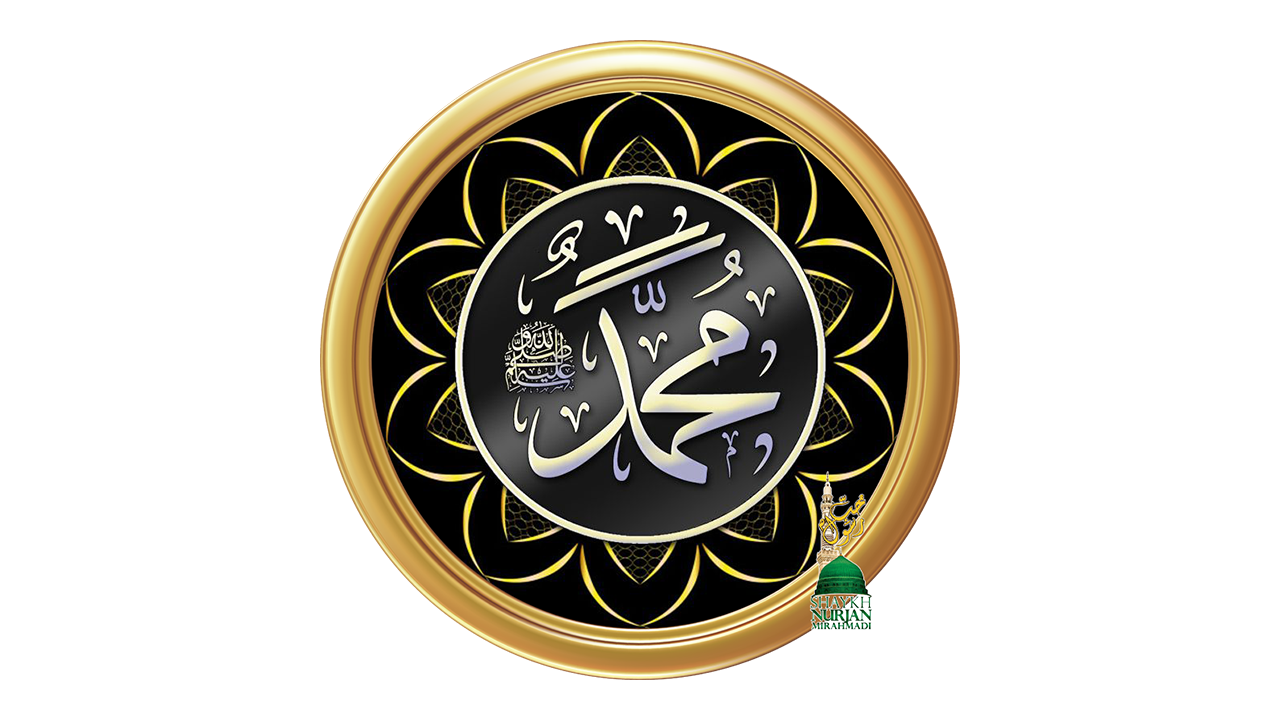 Our Way is to Destroy the Ego Before Death
From the Realities of Mawlana (Q) as taught by Shaykh Nurjan Mirahmadi.
A'udhu Billahi Minash Shaitanir Rajeem
Bismillahir Rahmanir Raheem
I seek refuge in Allah from Satan, the rejected one
In the Name of Allah, the Most Beneficent, the Most Merciful
As Salamu alaikum warahmatullahi wa barakatuh,
Ya Rabbi madad, madadakum abidoona bi madadakum. Bless our association with endless blessings, fill our association with endless lights khasatan from Your Habib Sayyidina wa Mawlana Muhammad Mustafa ﷺ wa Ahlul Bayt al Kiram wa khasatan Sadatan Naqshbandiyun unzur halana wa ishfalana ya Imam at tariqah Ghawth al Khaliqa Shah Bahauddin Naqshband Muhammad al Uwaisi al Bukhari (Q), Sultan al Awliya Shaykh Mawlana AbdAllah Fai'z ad Daghestani (Q), Sultan Awliya Muhammad Nazim Adil Haqqani (Q), Mawlana Shaykh Hisham Kabbani (Q), Shaykh Adnan Kabbani (Q), Sahib al Zaman Sayyidina Muhammad Mahdi (as) Saifullah Sayyidina Ali (as), wa sairi sadatina wa siddiqin al Fatiha.
Muharram Marks Prophet Muhammad's ﷺ Hijrah From Makkah to Madina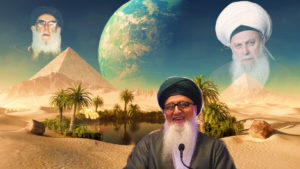 InshaAllah, always asking – our voice is gone doing hadrah – always asking for support and that our association be under the flag of Sultanul Awliya Mawlana Shaykh Muhammad Nazim Adil al Haqqani (Q), and that they are the shaykh. They are the guide, they are the perfected being, that we are not a shaykh, not a guide. And we are trying our best to follow their teachings, to follow their example and to enter the ocean of nothingness. That, Allah (AJ), our Creator, and we are but His creation.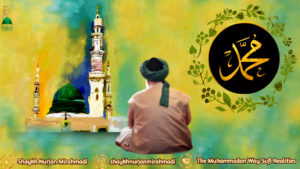 And our life, its flavour, its beauty is based on understanding that servanthood, according to Naqshbandi and Sufi teachings. In this holy month of Muharram, many realities and many teachings, and now entering a new year and our year, and calendar of Muharram is based on the hijrah (migration) of Prophet ﷺ.
That, Sayyidina Muhammad ﷺ was under oppression and the order to leave that oppression, move from Makkah to Madinatul Munawwara (luminous city of Prophet ﷺ). From the movement of Makkah to Madinatul Munawwara begins the hijrah calendar. The year 1432, one thousand four hundred and thirty two years since that movement. And Sufi teachings that as Prophet ﷺ was leaving Makkah under attack from the people of Makkah, the tribal leaders, that he was ordered to go to the Cave – the Siddiqiya Cave of Sayyidina Abu Bakr as-Siddiq (as), the cave of happiness, the cave of realities, the cave of truth. From that cave then into Madinatul Munawwara, and that reality for us is like a formula that many different realities are opening. That, if Muharram is the first month, and we said before, that as we are going on this journey, we are asking to open from the reality of Bismillahir Rahmanir Raheem.
Understand A'udhu Billah Before Opening the Reality of Bismillahir Rahmanir Raheem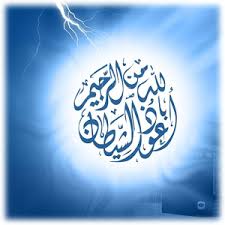 Every journey begins with Bismillahir Rahmanir Raheem. But before we can open the reality of Bismillahir Rahmanir Raheem, that Mawlana Shaykh (Q) is teaching for us, is then you have to have, we have to have, I have to have the understanding of A'udhu Billah. A'udhu Billahi Minash Shaitanir Rajeem.
أعوذُ بِٱللَّهِ مِنَ ٱلشَّيۡطَٰنِ ٱلرَّجِيمِ 
بِسْمِ اللَّـهِ الرَّحْمَـٰنِ الرَّحِيمِ
A'udhu Billahi Minash Shaitanir Rajeem
Bismillahir Rahmanir Raheem
I seek refuge in Allah from Satan, the rejected one
In the Name of Allah, the Most Beneficent, the Most Merciful
That, that A'udubillah is to seek refuge, that reality is opening for us in that cave. That, La ilaha illAllah Hu Muhammadun Rasulallah ﷺ. In the kalimah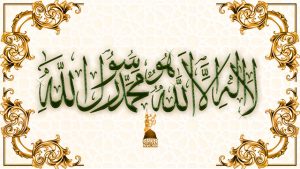 (testimony) of La ilaha illAllah, the Hu and then cuts and moves to Muhammadun Rasulallah ﷺ.
لَا إِلَهَ إلاَّ اللهُ مُحَمَّدٌا رَسُولْ الله 
"La ilaha illallahu Muhammadun Rasulallah." 
"There is no deity but Allah, Prophet Muhammad is the messenger of Allah." 
Naqshbandiya teaching that that reality of the Allah Hu on the kalimah is the reality of that cave. La ilaha illAllah is Makkah, Madinatul Munawwara is Muhammadun Rasulallah ﷺ. The connection between Makkah and Madina of La ilaha illAllah because the kalimah is not broken. There is no break in the kalimah when you say, "Ashadu an La ilaha illAllah wa ashadu an Muhammadun Rasulallah ﷺ," is La ilaha illAllah Muhammadun Rasulallah ﷺ. So, then from Makkah all the way to Madina, that parting, that reality is the reality of the cave.
أَشْهَدُ أَنْ لَا إِلَهَ إلاَّ الله وَأَشْهَدُ أَنَّ مُحَمَّدًاعَبْدُهُ وَرَسُولُهُ  
"Ashhadu an la ilaha illallah, wa ashhadu anna Muhammadan 'abduhu wa Rasulu." 
"I bear witness that there is no god but Allah, and I bear witness that Muhammad is the messenger of Allah." 
Seek Refuge in Your Lord at Every Moment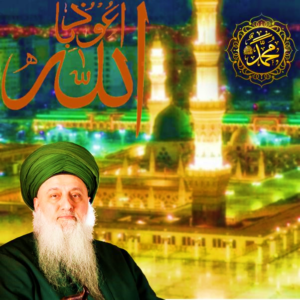 We are asking for these realities to open, we are asking for our journey to begin and Mawlana Shaykh (Q) teaching us then seek refuge. Seek refuge at every moment. And the reality of seeking refuge is that, 'My Lord, all these realities that I want, all these goodnesses that I want, I am asking to seek refuge in You from myself, from my bad characteristics, from all the external difficulties and hardships that are coming at me.' And then, only then, can we expect for emanations and openings. Nothing can open if we are under attack. Nothing can open if we are under the influence of our bad characteristics. Anything that opens under the influence of bad characteristics is just bad, intensified bad characteristics. That's why you see many gurus, many spiritual people abuse people and create hardship and inflict tremendous difficulty upon people. Power corrupts and ultimate power ultimately corrupts.
We Are Heavenly Beings Sent to Earth, Not Earthly Beings Sent to Heaven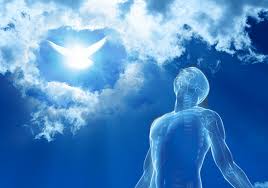 So then, that reality can only be achieved if first we have refugee status. So, we are asking because this is the kingdom of shaitan (satan), this dunya (material world). That is the whole example of Adam (as) coming to this dunya is that from you are a heavenly being. We are heavenly souls for a dunya experience. We have been sent here as heavenly beings for a dunya experience and to return back, "Inna lillahi wa inna ilayhi raji'oon."
﴾إِنَّا لِلَّـهِ وَإِنَّا إِلَيْهِ رَاجِعُونَ ﴿١٥٦
2:156 – "Inna lillahi wa inna ilayhi raji'oon." (Surat Al-Baqarah)
"Indeed we belong to Allah, and indeed to Him we will return." (The Cow, 2:156)
That you are meant to come here, experience and go. You are not from here (Earth) hoping to taste from the Heavens. You are heavenly beings sent to experience and quickly go back up, not become attached to what is here. So, then as soon as you land on this soil, you see the oppression, you see the difficulty, you see the hardship and then Allah (AJ) says, 'Seek refuge.' Just like refugees, now everybody coming into airports from oppressed countries and immediately they go to the airport, they have visa. No visa, they say, 'I am refugee,' and you are put aside and safety, given food, given apartment, given salary, and the Divine is saying, 'This is an example. That why don't you seek a refuge in Me from all of these difficulties and seek My way?'
Don't Think You Are Anything – Ask to Be Nothing!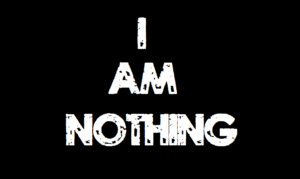 So, I am repeating again, alhamdulillah, they say third time is a blessing. Because talking from Thursday, Friday, Saturday, so repeating for myself so that it goes deeper into my reality and my understanding. That, at every moment Mawlana Shaykh's (Q) warning for me, 'Seek refuge, seek refuge, seek refuge first from yourself. Don't think that you are something. Don't think that you are anything. Don't think that you have achieved anything, but seek refuge in your Lord and ask to be nothing.' Although all the world may come to try to make you something, make you to be important. Everyone telling their children that, 'You are special. You are the best one' and all of that influence to make us sick. And awliyaullah (saints) come into our lives and say, 'No, no, no, you make sure you are nothing. Only in that nothingness, you can achieve the reality that they want to give to us.
Prophet Muhammad ﷺ is in a State of Fana in Allah's (AJ) Presence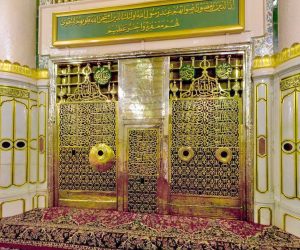 So, then Prophet ﷺ is teaching that as his moving alayhi 's-salaam from Makkah is the opening in Muharram. And Muharram is the month of opening, that I am moving. As I moved, Prophet's ﷺ movements are eternal. It means there was a time in which he did it, but there is an eternal reality that is meant for us. So we don't read their history as, 'Oh, that event happened to them.' The event happened for them but his teaching is that you are eternally in that movement. As I am moving from Makkah to Madina it means I am moving from the busyness of the heart to Madinatul Munawwara is the 'City of Light.' Where is the maqam of Prophet ﷺ? Where his body is buried. It means he is in a state of fana and annihilation, in Allah's (AJ) Presence. Move from the busyness of your heart to the fana of your soul. So, we are asking to move from the busyness of this material world and all of its attachments, all of its attractions, to the reality of the soul. Then we have to seek refuge in the cave, and we have to be from the People of the Cave.
Sacrifice Your Bad Character to Move Towards the Cave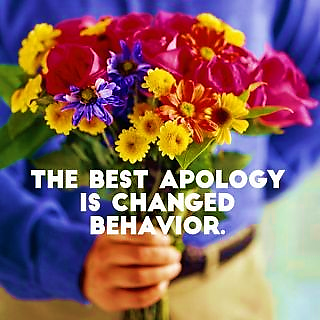 So, then they begin to teach us that we don't understand what that cave is. Because we are asking to come into that cave, come near the cave, be with Ashab ul Kahf, the People of the Cave. This means all of these teachings and all of these traditions, that cave is the ninth month, Surat at-Tawbah. The Surat at-Tawbah, they are moving from the reality of 9, 18, 27, 36… I think in this world we are base ten, everything based on ten, their reality is base nine. They are moving at the reality of nine; so they take the first, the ninth surah of the Qur'an, Surat Tawbah, Surat of Repentance. No Bismillahir Rahmanir Raheem. Because Bismillahir Rahmanir Raheem, in this repentance, you have to sacrifice yourself. So, when you sacrifice something, you don't say, 'Bismillahir Rahmanir Raheem.' You say, 'Bismillah Allahu Akbar.'
So they are asking, 'Sacrifice your bad character. Don't say Bismillahir Rahmanir Raheem to your bad character' because then you are asking Allah (AJ) to excuse it. You say I am sorry which means I am sorry which means, 'I'm sorry.' What? What is this, 'I'm sorry' mean? It means, 'Let me do it again, let me use this bad character again.' So they are teaching us: no, there is no sorry. There is no Bismillahir Rahmanir Raheem, just Bismillah Allahu Akbar. Sacrifice that bad character. So, they are asking us then to move towards that cave.
Seek Refuge With Those Who Are Already Protected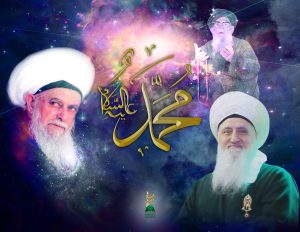 Then the next month opens the reality of 18 which 9 is the first month, second month is 18. Surah 18 is Surat al-Kahf, secret of Ashab ul Kahf. To prove that we are in that Cave with awliyaullah, they are taking us on their journey in Divine Presence. It is not about our journey. Our journey is to accompany them on their journey towards Prophet ﷺ. Prophet ﷺ is on a journey towards Allah (AJ). It means seek refuge with those who are already in Allah's (AJ) refuge. Before we try to find where we are going to be safe, where we are going to have protection, where all of these realities going to open for us, very difficult. Seek refuge with those who are already in that protection. Hold their hand, they pull you in. That is why Allah (AJ), "Yubayi'oonaka innama yubayi'on Allaha."
﴾إِنَّ الَّذِينَ يُبَايِعُونَكَ إِنَّمَا يُبَايِعُونَ اللَّـهَ يَدُ اللَّـهِ فَوْقَ أَيْدِيهِمْ ۚ فَمَن نَّكَثَ فَإِنَّمَا يَنكُثُ عَلَىٰ نَفْسِهِ ۖ وَمَنْ أَوْفَىٰ بِمَا عَاهَدَ عَلَيْهُ اللَّـهَ فَسَيُؤْتِيهِ أَجْرًا عَظِيمًا ﴿١٠
48:10 – "Innal ladheena yubayi'oonaka innama yubayi'on Allaha yadullahi fawqa aydeehim, faman nakatha fa innama yankuthu 'ala nafsihi, wa man awfa bima 'ahada 'alayhu Allaha fasayu teehi ajran 'azheema." (Surat Al-Fath)
"Indeed, those who give Bayah (pledge allegiance) to you, [O Muhammad] – they are actually giving Bayah (pledge allegiance) to Allah. The hand of Allah is over their hands. So, he whoever breaks his pledge/oath, only breaks it to the detriment/Harm/loss of himself. And whoever fulfills their covenant (Bayah) that which he has promised Allah (AJ) – He will grant him a great reward." (The Victory, 48:10)
Follow the Ulul Amr to Be in the Cave of Prophet's ﷺ Presence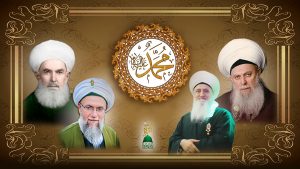 Hold the hand of Prophet ﷺ, you are holding Allah's (AJ) Hands. So, Atiullaha wa atiur Rasula wa Ulil amre minkum.
﴾ياأَيُّهَا الَّذِينَ آمَنُوا أَطِيعُواللَّه وَأَطِيعُوٱلرَّسُولَ وَأُوْلِي الْأَمْرِ مِنْكُمْ… ﴿٥٩
4:59 – "Ya ayyu hal latheena amanoo Atiullaha wa atiur Rasula wa Ulil amre minkum…" (Surat An-Nisa)
"O You who have believed, Obey Allah, Obey the Messenger, and those in authority among you…" (The Women, 4:59)
That Allah (AJ) says you want to be in that Cave? And you want to be in the Cave in the presence of Prophet ﷺ? Then follow these ulul amr (saints). So, then Mawlana Shaykh (Q) begins to teach us that that Cave is something very confusing. Our hearts are all inspired to be from ahle zikr (people of Divinely remembrance) because we come to the associations. We watch on the Internet, we read through the books of Sufism and these masters, but we get extremely confused as we approach the cave. And they keep reminding us that as you're trying to enter into the reality of the cave, this dunya keeps making you into something.
Do Not Approach the Cave Seeking to Become Something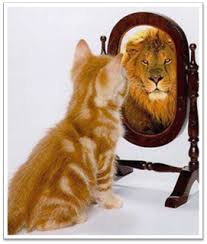 So for understanding, you are born one. Later, you become like a two, later you become like three, four, five, ten, a one thousand. It means the ego becomes so inflated in who it is, that it become very difficult to enter into that Cave. That Cave is the cave of nothingness. So then when we look into that Cave, we say, 'Yeah, yeah I want to be in that Cave', but everything that happening in that Cave makes no sense to us. So, many people run away from the Cave and they don't understand what the objective of that Cave is. They think if they come into that Cave, that Cave is supposed to make them bigger than what they were, more powerful than what they were, bigger titles than what they were.
And Mawlana Shaykh (Q) teaching that people come and say, 'O Mawlana Shaykh, open my heart with realities so that I can go around the world and teach.' It means you are coming to this Cave to be something? You are coming to this cave to broadcast something? Or you are coming into this Cave to die? Hoping not to talk like a shaykh, but talk for our brothers and sisters who are on this path with us under the tarbiyah (discipline) of these awliyaullah, to realize what this Cave is. For people who have been in the Cave, trying to taste the reality of the Cave, that you are here to die.
Your Good Actions Should Deflate You, Not Inflate You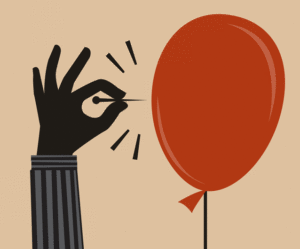 If you are here to be inflated, its the wrong cave. This Cave, they have a shamsheer and they poke this sword – poof – and they bring all the air out. And they know exactly where to keep poking and keep taking this air out. They want to take us from this big, inflated being into nothing. And every time they give you a medallion, it means every time there is a spiritual dress, a spiritual opening, it means you are going to be deflated even more – not that you are going to be given an award and praise. Every good action that we do in this Cave – we are talking now about entering into the Cave – every action that we are doing inside the Cave they give us a medallion, but it is not like dunya. In dunya you get a medallion and everybody is congratulating you, mashaAllah mashaAllah, Alhamdulillah. You came up in front of like this school, like diploma, everybody clapping. No, this Cave, every time you get a medallion this room is going to curse you. Then you know that you got a nice good medallion because they deflated. Their job is to deflate us. When we are able to take the abuse of the room, then they are going to send you to be abused by bigger rooms, and bigger communities, and be abused by the Internet, and be abused by thousands of societies, and groups and organizations that will curse you. "Qul jaa alhaqqu wa zahaqal baatil."
﴾وَ قُلْ جَآءَالْحَقُّ وَزَهَقَ الْبَطِلُ، إِنَّ الْبَطِلَ كَانَ زَهُوقًا ﴿٨١
17:81 – "Wa qul jaa alhaqqu wa zahaqal baatil, innal batila kana zahoqa." (Surat Al-Isra)
"And say, Truth has come, and falsehood has perished. Indeed falsehood, [by its nature], is ever perishing/bound to perish." (The Night Journey, 17:81)
Tariqah is the School of Mercy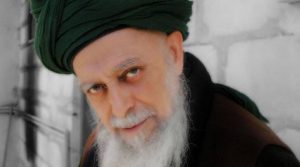 There is not one person now who can speak the truth and this dunya is going to be happy with them. Can you imagine a wali (saint) come on television and say, 'This dunya is going. The stock markets are going to collapse,' and the television is going to come out and praise? This dunya, if you spoke, will come to kill you. If awliyaullah speak, the whole of dunya will come after them. So, then they are teaching for us is that as we are entering in that Cave, come prepared to die, not die as suicide bomber. Die in bad characteristics. We need somebody to deflate us and we deflate each other very well. We are the best at purifying each other and that's what awliyaullah know, but the thing is, if we don't know what is supposed to happen in this Cave, we run out. These people are all majnun. So yeah, exactly, that is exactly what they want. The Cave is the cave of crazy people because they want everything to be down.
And it is Allah's (AJ) Mercy. Allah (AJ) says, 'I can bring you down a different way.' And you can look all over the news how people are brought down with horrific difficulty. That, you can be brought down very quickly like that, and that's overnight. Your house disappeared, something blown up, a flood has come. Divine says, 'I can bring you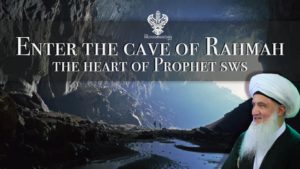 down in one second or with love, I put you into this school. They bring you down slowly, slowly.' Because each descent you have to re-adjust, then they give you another medallion, and they bring you down even further. Then they give you another medallion. It is a plane, that if it crash landed it is too difficult. Although there are people who live that way where Allah (AJ) wants them to be purified and they are purified instantly. And this school of rahmah and mercy is tariqah (spiritual path). Tariqah comes and says, This 'Cave is a Cave of Mercy'. We are going to deflate you slowly and they keep deflating us, and deflating us and deflating us.
Lovers of the Cave Are Always Asking to Enter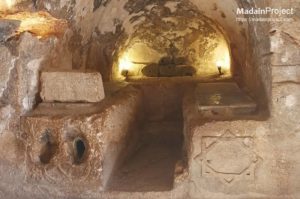 So, then a reminder for myself and all people who are interested is that we came to be deflated, not inflated! So they take all these characteristics, this is not a shaykh, this not even a mureed (devoted disciple). These are the muhibeen, the Lovers of the Cave. The lovers of the cave are asking, 'Please let me in. We have one of these salawats (praisings) playing, 'O people of the Door, ya Ahlul Baab, the People of the Door' and, 'O Ahle Habaib, and the Lovers of the Reality, let me in, let me in 'O People of the Door.' And the people of the Lovers of Realities who are inside there, they say, 'But you can't come with this characteristic. We have to deflate you.'
أهْلَ بَابَكَ أَحْبَابِكَ
يَا رَبَّ يَا رَبَّ يَا رَبَّ
أَنَعَمْ عَلِيْنَا عَلِيْنَا
مَدَدَ مَدَد مَدَد
Ahle babak, Ahbabak
Ya Rab, Ya Rab, Ya Rab
An'am 'alayna 'alayna
Madad, madad, madad
Your beloveds are the people of the door
O Lord, O Lord, O Lord
Send your blessings upon us
Help us, send us your support
Stay Silent As You Approach Spiritual Death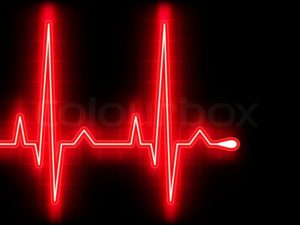 So every time we do something good, your being is thinking, it should be raised. And then you are surprised why you are deflated. So, then they are reminding for us, and for myself – always, every medallion that comes to you should be deflating you, deflating you, deflating you and knocking you down, knocking you down, knocking you down until they can take you to zero. At zero, you are neutral. You are not here and you are not there. And our life, we see that as the EKG machine. The EKG machine for the heart, it goes up, it goes down, goes up, goes down, goes up, goes down. So, we feel our life going up and down, up and down, up and down, up and down. They are trying to bring us down slowly. As they hit with a test your heart is panicking. I am not used to this, I don't know why I am getting angry, I don't know why I am upset. An erratic heartbeat, you are up and down, up and down, up and down. And they are telling us, as you slowly begin to die, you have to train yourself not to speak. As we said, show up, suit up, let's use a better word, stay silent.
We Are Striving to Reach Mawt Qablil Mawt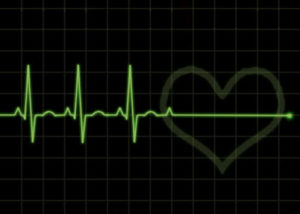 Everyone, myself included, this was all our training. As these big awliyaullah decide that you want to get into the cave and you want to enter into this reality, then you keep suiting up. This means keep the dress of your Sufism, keep the dress of your path. Show up, go to as many of these events as possible. Each event, each chanting, each meditation, each practice we do at home, everything has its own dress. Every event has a unique dress and we need these dresses to deflate ourself. The more of them we attend, the faster the deflating until we can stay silent. If we can stay silent while they deflate, we reach quicker towards that reality until we become neutral point – where the heartbeat is not up, the heartbeat is not down; you become flat line, like dead, that they poke you, you don't get excited, they give to you, you don't go down, you are dead! Mawt Qablil Mawt (death of desires before physical death), you are dead before death. That is the spiritual reality that we are trying to reach. That, when you are not affected by happy or by sad, that your heart is content, you understand the testing. Then at that time they start to give you a title because you are dying before dying, you are annihilating before annihilating.
Mawlana's (Q) Representatives Carry Burdens of Other Mureeds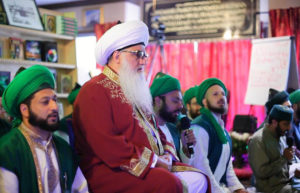 Then they tell you that, 'You are my representative. Put here a turban, a hat and go and represent me.' And then you think you are something. And only at that time they are teaching us that, 'No, you are not a shaykh. You are now asking just from muhibeen to enter the ocean of mureed.' And the mureed is that they crown you with a fake title of a shaykh. He is not a real shaykh. A fake title of a shaykh that Mawlana (Q) has many people that they don't understand the system of tariqah and says, 'Oh, you are representing me here, there, wherever.' At that time, it means they are trying to take us down, down, down. At that time, they put something on your head, say, 'You go represent us.' It means now learn what it is to be a mureed in Sufism. It means carry the burdens of all the other mureeds. Not that you are a shaykh but to realize tariqah today everyone is a shaykh, and you are the only mureed. Because everyone going to be upset, and you have to chase after them and ask their forgiveness. You have to beg them for forgiveness. You have to carry their burdens. They know it or they don't know it, doesn't matter. Carry their difficulties.
True Representatives Seek a Path of Complete Annihilation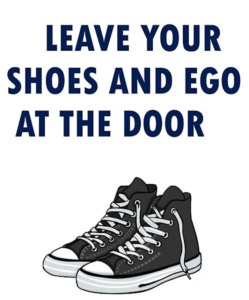 When Mawlana Shaykh (Q) is teaching about the people in the back who clean the shoes. What the shoes mean in tariqah? Shoe means ego. The one who sits in the back and cleans the shoe is that one who is like a mureed for the shaykh. He goes amongst the other muhibeen and carries their burdens. He cleans the shoes of those egos, that constantly washing, spiritually and physically. What difficulties come to them, they absorb, and they pray for forgiveness. And if they offended you, they chase after you and beg your forgiveness. It's not a shaykh, eh, if you go in the presence of the shaykh he speaks, he speaks. You like it, you like it, they don't care. These representatives and anybody representing Mawlana Shaykh (Q) anywhere in the world, we have to know our job is just to run after people. Job is to run after people and make people happy, make people to love the Shaykhs. Ask to carry the burdens and the difficulties and to clean the shoes of the followers, to make sure that they are happy on their journey. That our whole purpose is to die, is not to be anything, not to be anyone, but to seek a path of complete annihilation.
We pray that in this month and the month opening, that they open more and more realities for us, more and more understanding of nothingness, that we are all trying our best to be nothing in an eternal, vast ocean of everything.
Subhana rabbika rabbal 'izzati 'amma yasifoon, wa salaamun 'alal mursaleen, walhamdulillahi rabbil 'aalameen.
Special thanks to our transcribers for their help with transcribing this suhbah.
Original Date of Suhbah: October 18, 2012
Related Articles: 
Please Donate and support us to spread these heavenly knowledges.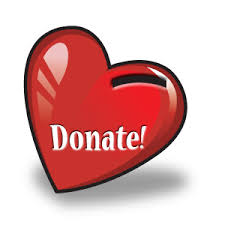 Copyright © 2020 Naqshbandi Islamic Center of Vancouver, All Rights Reserved.